Cancun is known for its great stretches of beaches and interesting Mayan history. But in recent years, it has been making it to the headlines for not so good reasons. Once an undisputed holiday destination, the city is now being tagged as a drug war zone, making some tourists ask whether is Cancun safe or not.
It all started in 2006 when Mexico's bitter battle against illegal drugs reignited. In the hit of drug cartel dismantling, the government says that at least 60,000 people died, way too far from the 120,000 death estimate of Trans-Border Institute. These unjustified deaths haven't just put Mexico in the international spotlight, it also had a major setback in the country's tourism industry. Although the present Mexican president has already declared an end to the drug battle, some still cast doubt about the safety of traveling to Mexico, or at least to Cancun.
Where Is Cancun?
Cancun is a city located in the northeast of Mexico and southeast of Quintana Roo. The city is a major tourist destination in the country and an important cultural center as well. It is famous for a vast coast consisting of resorts and white sand beaches. The city also has rich stories to tell through Mayan ruins and artifacts. Far from the chaotic image of the drug war, Cancun is a paradise waiting for you to discover.
Is It Safe To Travel To Cancun?
Various nations today have standing travel advisories for Mexico. However, these are not meant to daunt the image of the country in the eyes of travelers. Advisories are mere reminders of the possible risks of traveling on specific countries. Unlike a complete travel ban, travel advisories leave the decision to travel on the people and doesn't prevent them from doing so. In Mexico's case, people are still free to travel only with some safety precautions.
To give you an idea about the safety status of Mexico for travelers, here are 3 economic powerhouses that have standing travel advisories for the country. We specifically chose them for their international influence plus the surge of tourists coming from these countries.
The United States of America
The USA has a Level 2 travel advisory for Mexico, which means "Increased Caution" is needed for traveling. Violent crimes like homicide, robbery, and kidnapping remain the primary concern of the travel advisory. It took effect late last year after the murder of nine U.S. citizens, six of them are children, who are living in a Mormon community in northern Mexico.
Under the advisory, U.S. government employees are restricted to travel between cities after dark, including driving within the U.S.-Mexico border to or from inner Mexico. However, they can still travel within Baja California on daylight given a prior Consulate authorization.
The good thing is there are no travel restrictions for U.S. government employees in Quintana Roo state, including in Cancun, Cozumel, Isla Mujeres, Playa del Carmen, Tulum, and the Riviera Maya.
Canada
One of the highest contributors to the tourism sector in Cancun, the Canadian government also advises its citizens to exercise a high degree of caution when traveling to Mexico. All Canadians are advised to limit their stay on tourist areas and states where violent crimes are on the rise like Baja California Sur, Jalisco, and Quintana Roo. On the other hand, the Canadian government has been very clear that the decision to travel and the responsibility for safety abroad are still in the people.
United Kingdom
Cancun is a favorite holiday destination for the British as well. However, in light of the drug warfare in Mexico, the British government also encourages caution when visiting the country. Although Cancun did not see the level of drug-related violence experienced in other parts of the country, The U.K. advises its people to be vigilant, or if possible, lessen their trips to the city.
Aside from violence, the UK government also considered natural calamities, health risks, and political scenarios in implementing the travel advisory for Mexico.
To answer the question is Cancun safe to travel; generally, it is. The tragic news we hear about drug-related crimes often happen outside the tourist spots in the city. Although there is a rise in violence in Cancun, most of them involve criminal groups and doesn't target foreign tourists. This is not to say that tourists should be complacent about their safety. You may also encounter petty crimes in the city like pickpocketing, scamming, and even extortion that's why you should always remain vigilant.
Best Safe Places To Visit In Cancun
It needs thorough planning to ensure a safe travel to Cancun, from booking your flight down to choosing your itinerary. In this article, we'll guide you through the best places in the city and provide you with tips for a safe Cancun experience.
Isla Mujeres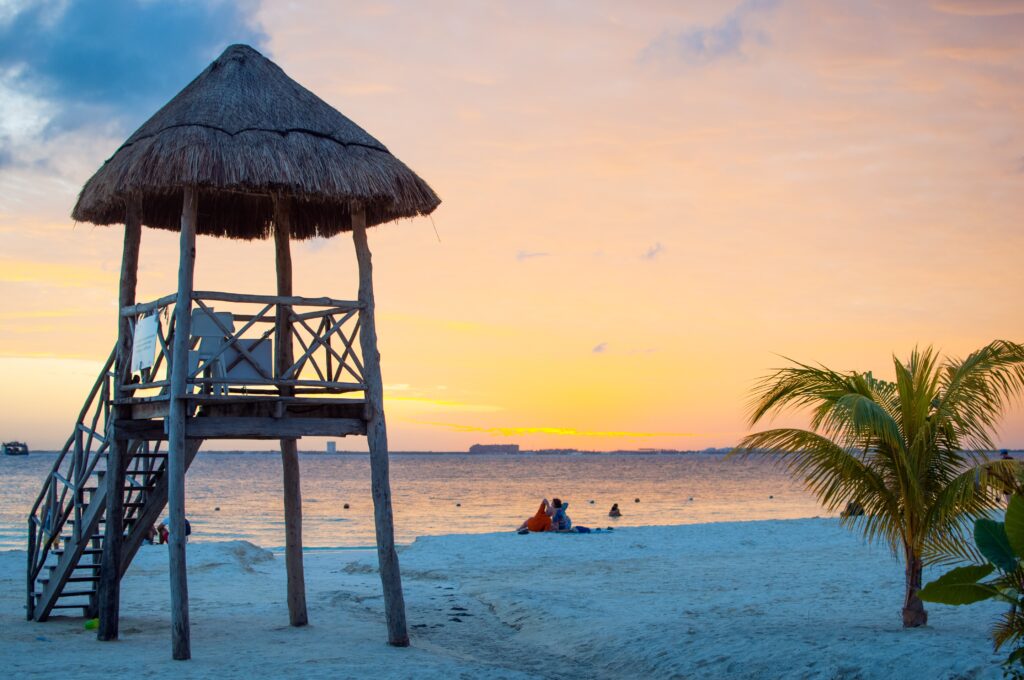 Isla Mujeres defies the usual quirky beach scene in Cancun, but it doesn't mean it is less fun. It has a tranquil and inviting environment perfect for watersports binging and site seeing. The island is famous for its white-sand beaches and turquoise waters. It also boasts of breathtaking cliffs where the sunrise meets Mexico.
The underwater museum is among the most famous attractions in Isla Mujeres. The museum is composed of sculptures submerged on the seabed. More than a tourist attraction, the area aims to counteract the effects of climate change on the oceans and restore the reefs that will serve as the breeding ground of marine animals.
Isla Mujeres is part of the Mexican state of Quintana Roo, located northeast of Cancun. It a small-friendly island that is safe for travelers. However, there are still some crimes of opportunity you may encounter like theft and robbery. There's a navy base on the island that helps ensure the safety of the people and the tourists.
Isla Contoy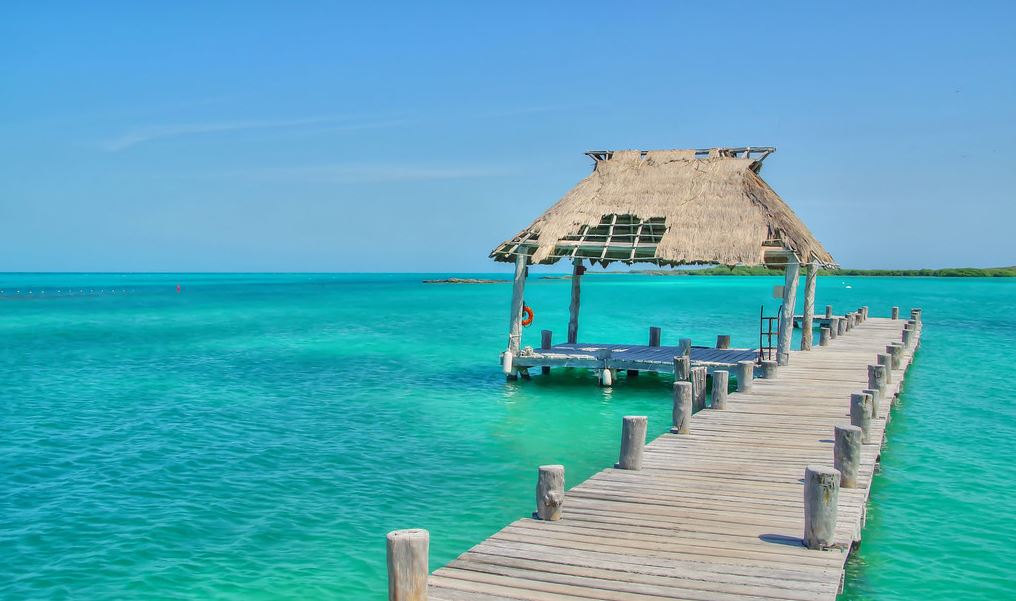 Isla Contoy is the most distant island in Cancun. Nonetheless, it is a perfect destination for people looking for exclusivity. Located in the state of Quintana Roo north of Isla Mujeres, it is known for the Mesoamerican Barrier Reef that is perfect for a snorkeling adventure. Its shallow reefs are haven for critically endangered marine animals like sea turtles and more than 234 species of fish. Its white-sand beaches are home to a hundred different species of birds, making it a place for nature lovers as well.
The island is a nature reserve protected by the Mexican government. Only a few tour operators are allowed to operate on the island and visitors are limited to 200 people at a time. If you want to experience Isla Contoy, you would have book far more in advance, especially during high season.
Chichen Itza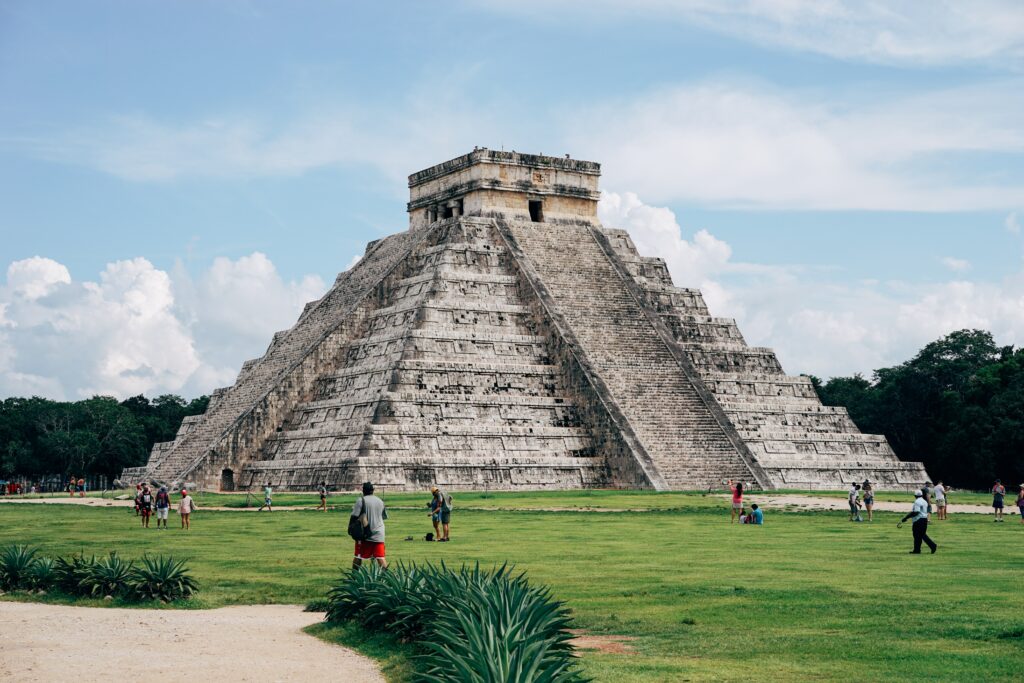 We only know of the Maya civilization from books but in Cancun, learning about its history first-hand is a step closer when you visit. Chichen Itza is the most important Maya city in Cancun as well as in the whole Yucatan Peninsula. It is known for impressive city ruins that reflect the old civilization that once inhabited the area. The old civilization has been around since 600 A.D. until the early 1200 before the Modern Maya took power. Today, Chichen Itza stands with ruins and is a favorite destination of tourists and pilgrims alike.
Of the many ruins in Chichen Itza, Kukulkan's Pyramid is probably the most famous one. Also known as El Castillo, it is a square-based, step-pyramid that takes the center stage of Chichen Itza. It is composed of stairways on each side that lead to a temple on top. What's impressive about the architecture is that during the vernal and autumnal equinoxes, its shadow creates an illusion of a serpent creeping down the pyramid. Until now, it's a wonder how was this made possible given the limited technology in the past. But for some theorists, the pyramid is a proof that the Maya civilization has once had a connection with extraterrestrial lives.
Regardless of whether aliens helped build Chichen Itza, it remains an important domain and a must-visit place in Cancun. Safety is not a major issue here as well since there's a great influx of tourists visiting the ruins.
Tulum Ruins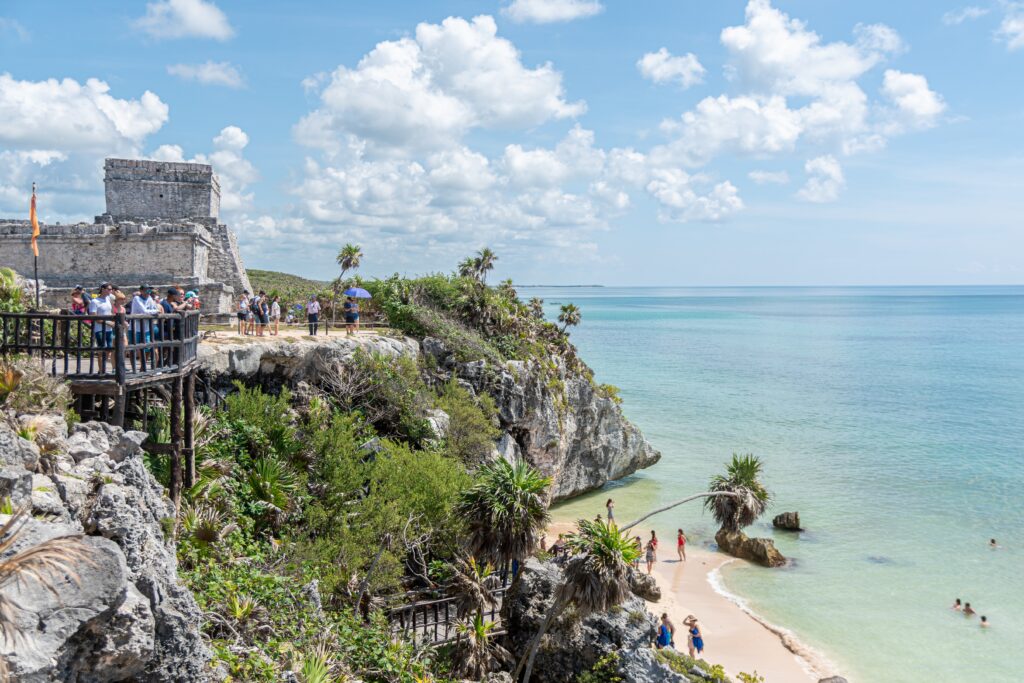 Tulum is among the places in Cancun that remains to be safe for travelers despite the drug war tension. The site was once occupied by Maya civilization and is now famous for the ruins its early settlers have left. Located east of Yucatan, the ruins were part of a pre-Columbian walled city and among the last cities that the Maya have built.
Compared to other Maya ruins in Cancun, Tulum is relatively small but has one of the most exquisite architectural designs in the city. The old city stands on 12-meter tall cliffs of the Caribbean Sea, facing the rising sun. At dawn, the ruins give a great view of the beach as the sun kisses the gateway of the Yucatan Peninsula. Although Tulum doesn't have the holistic view and history of Maya as of Chichen Itza, the wonders of the old civilization are still evident in the site.
Aside from discovering history, you can also enjoy the precious beaches right outside the Tulum ruins. With the relaxing breeze and inviting waves of Tulum, there's no doubt whether is Cancun safe.
Cancun Hotel Zone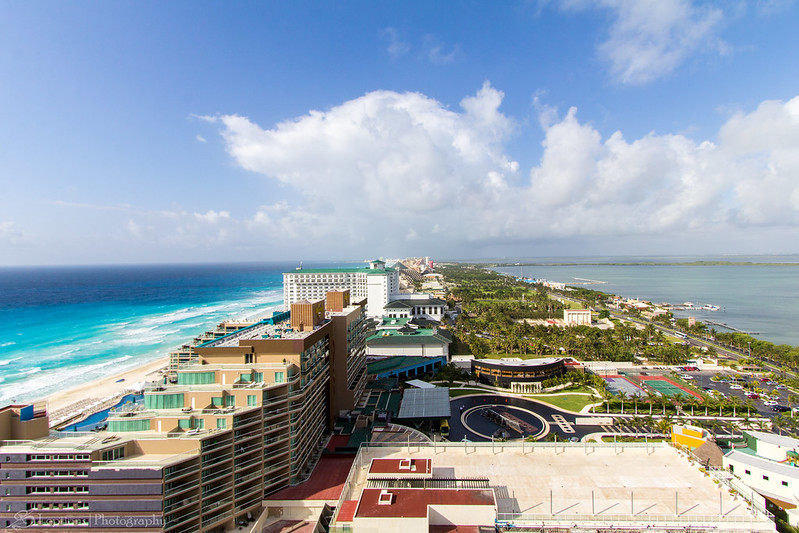 The Hotel Zone is where you can hit everything you want from a Cancun experience, safe and worry-free. A direct translation of Zona Hotelera, the hotel zone is a lively island where hotels, restaurants, clubs, and white-sand beaches meet altogether. The 14-mile stretch of beach is home to many high-end hotels as well as all-inclusive resorts that fit the budget. 
Since it borders the Carribean Sea and the Nichupte Lagoon, there are pretty much water sports and adventures you can try once you visit. It features some of the best scuba diving and snorkeling spots in Cancun. Most resorts also offer different water activities like parasailing, surfing, skiing, and other thrilling aquatics.
As a favorite destination in Cancun, millions of tourists visit Zona Hotelera every year. That being said, you need to be extra cautious when you are there despite the authority's claim that the island is peaceful. There are still some minor incidents in the area, especially in Downtown Cancun. So better be mindful or completely avoid places where your security is obviously at stake.
La Isla Shopping Village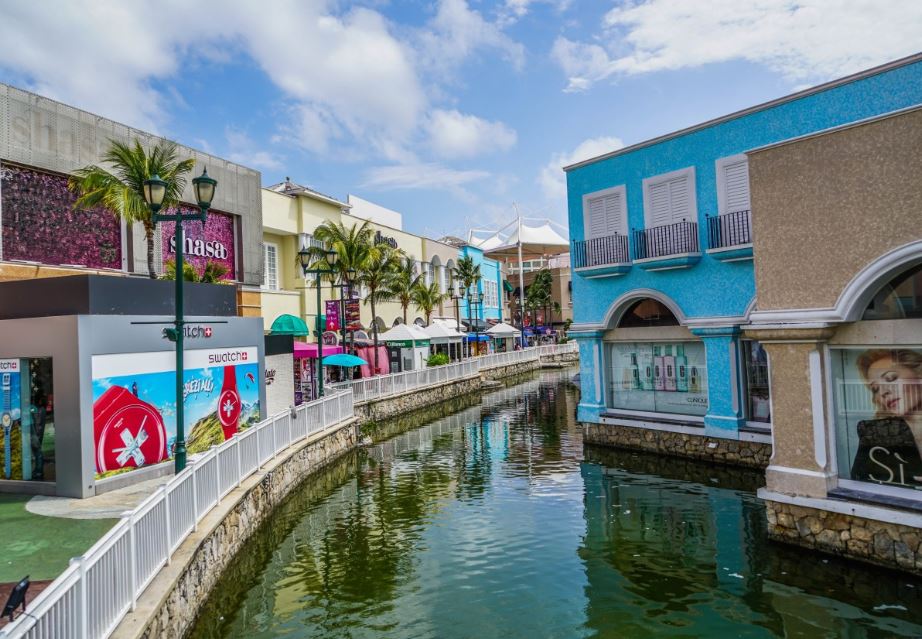 Although tourists avoid Downtown Cancun, where most local markets are, it doesn't mean you can no longer enjoy a shopping therapy. La Isla Shopping Village is a good alternative for retail binging in Cancun.
Located in the heart of Cancun Hotel Zone, La Isla Shopping Village or Plaza La Isla is an outdoor shopping center that houses several designer shops. There are also a handful of cafes and restaurants along the place where you can rest in between your shopping escapade. The Plaza isn't just for shopping though. It also has movie theaters, interactive aquariums, and museums that add up to the attraction. It's also hard to miss the winding canals and playful fountains in the area that give tourists a Venetian vibe to their shopping experience.
Every store in La Isla has friendly staff ready to assists customers. There are also security personnel all over the area that allow people to shop in style. Not only is Cancun safe for adventure seekers, it is also a great place for shopaholics.
Parque Kabah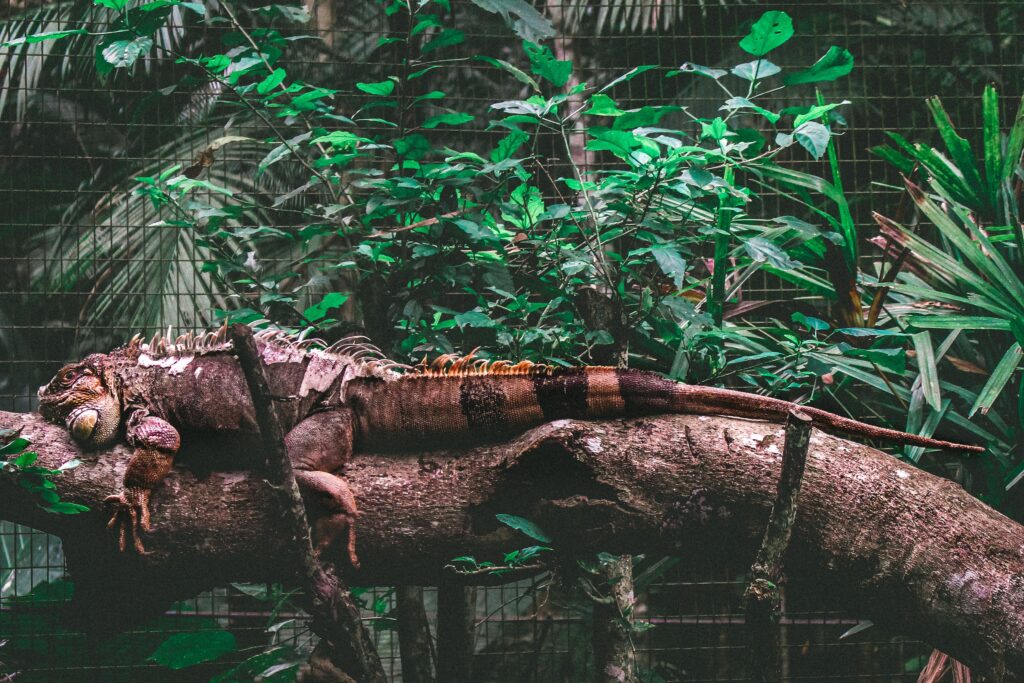 Given the safety questions in Cancun, people are having the notion that going on a hiking adventure or jungle experience per se is too dangerous. The thing is, you no longer have to risk your safety and go to remote areas just for that. In the center of Cancun lies a nature reserve ready to give you the thrill of a jungle.
Parque Kabah is an urban nature park that preserves the rich fauna and flora of Cancun. Within the 40-hectare reserve is where you will see many species like birds, crocodiles, monkeys, and iguanas. It also has beautiful landscapes that will take you back to the city's native nature.
We know nothing major incident that has happened inside Parque Kabah. But since it's located in the center of downtown Cancun, you would likely be taking public transportation when visiting. In doing so, always keep your guard on and be mindful of taxi scams if you're taking a cab.
Cancun Torre Escenica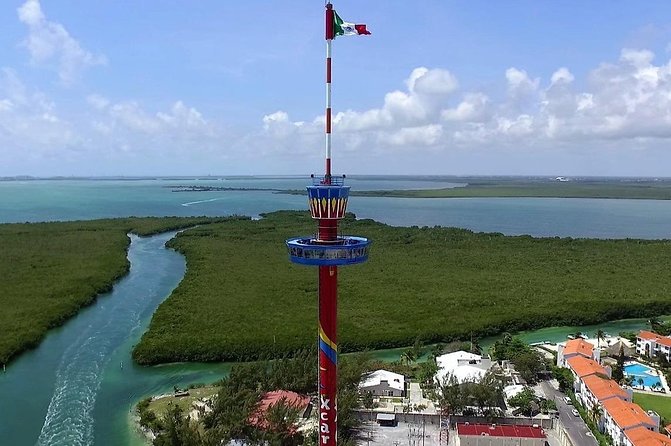 As the tallest structure in Cancun, missing Torre Escenica is next to impossible. The 80-meter tower has a rotating observatory platform that gives a panoramic view of the whole city as well as of Quintana Roo. From the above, it will show you the wonders surrounding Cancun from different angles. As it turns, you'll get to appreciate the Caribbean Sea, the nearby Isla Mujeres, and the hotel zone.
Torre Escenica is located at Kukulcan Boulevard. It takes around 5 minutes to reach the top of the tower while the ride itself lasts for 15 minutes. A visit to Torre Escenica will give you a fun experience that is far from the frightful image that the media paints for Cancun.
Punta Cancun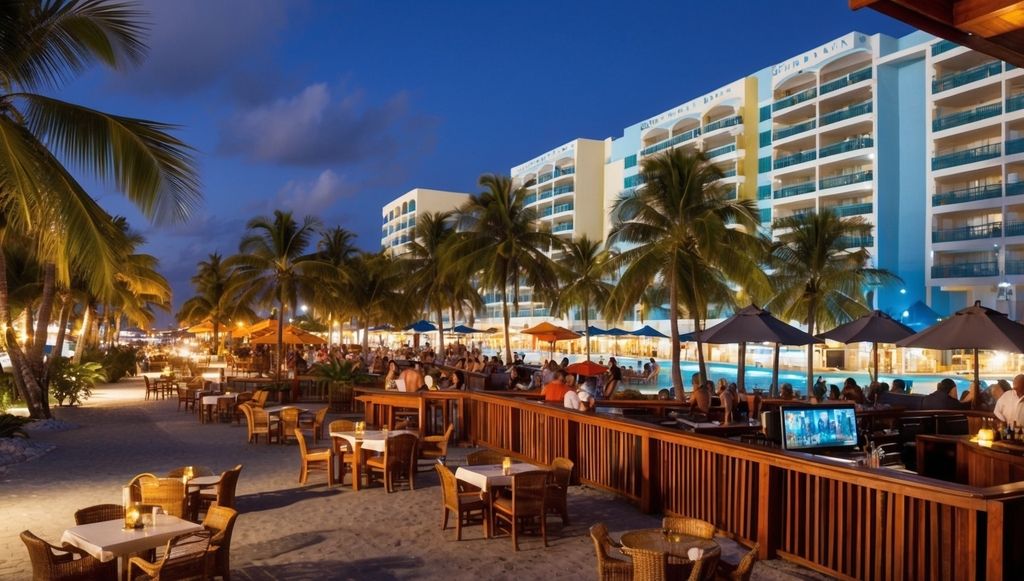 Let's be honest, any trip abroad wouldn't be complete without a nightlife experience. In the case of Cancun, however, going out at night is not always a good idea. But why jinx a possible great experience with fear when there's a good alternative?
Punta Cancun is a party zone near Zona Hotelera flocked with nightclubs, cocktail bars, and pubs. Unlike the party clubs in downtown Cancun that are seated in deep alleys, most bars and other party venues in Punta Cancun are situated in hotels where there is maximum security.
Most nightclubs in Punta Cancun are open every day, from 10 PM until around 4 PM. They treat every visitor like a VIP and you can expect top-notch services and drinks. Their services don't come cheap though. Punta Cancun nightclubs charge $60-80 admission on average. Some of the well-known party venues in Punta Cancun are Coco Bongo, The City, and Dady-O.
Mercado 28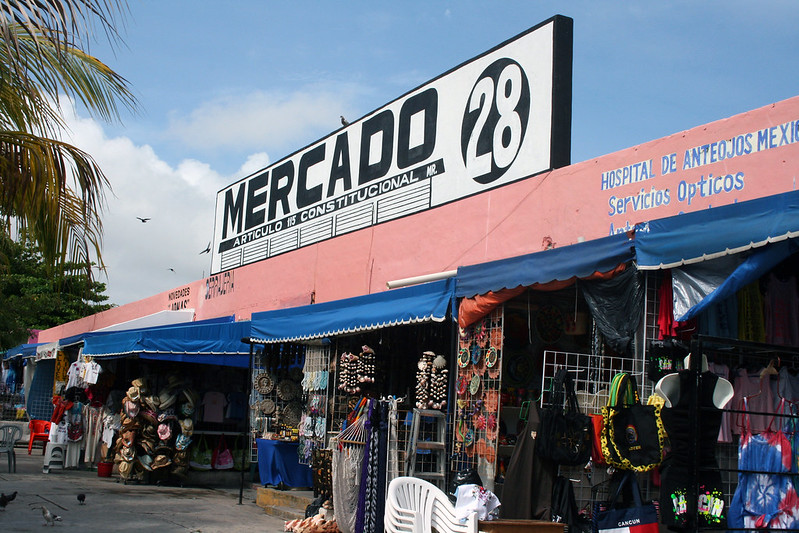 Although everyone should practice caution when in downtown Cancun, it's is not entirely unsafe to be around this area of the city. There are also places in the area you can visit without worrying too much about your safety. One of them is the Mercado 28.
Mercado 28 or Market 28 is an open-air shopping area where you can find souvenirs for your Cancun trip. We know how charismatic Mexican people are, so you can also expect local vendors here to be friendly and approachable. As the longest standing flea market in Cancun, it is where you can find everything traditional from clothing to handcrafted jewelry pieces. At the center of the market lies food stalls and restaurants where you can binge on Mexican specialties.
Market 28 is located at the heart of downtown Cancun. Aside from crimes of opportunity, there are no major safety issues in the market. However, it would still be better to visit the place with a companion.
Tips For A Safe Cancun Vacation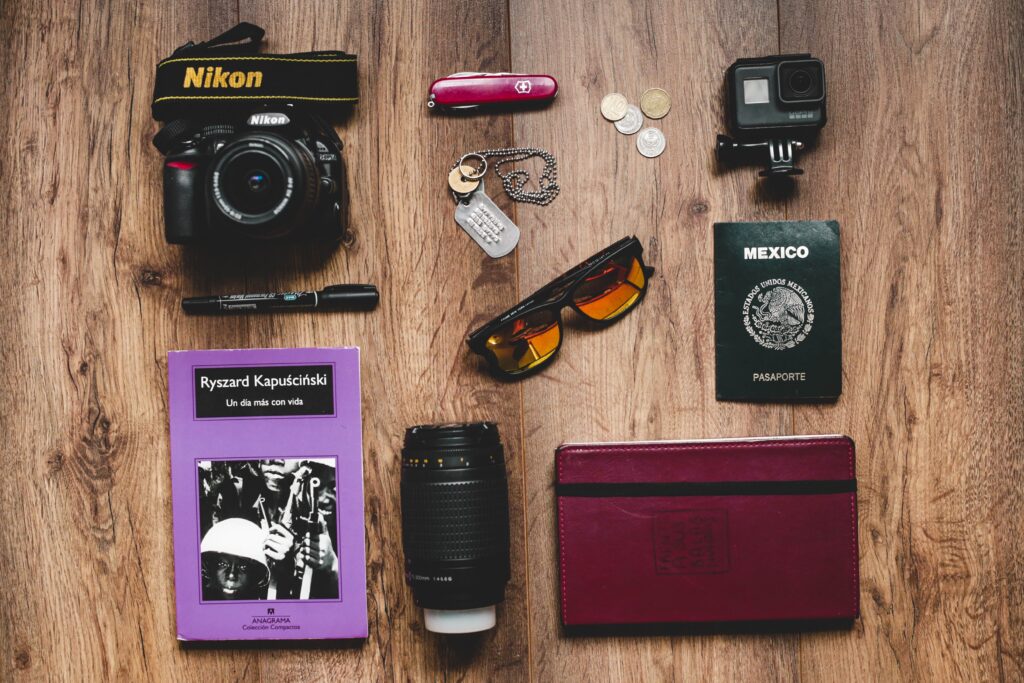 There may be some safety concerns about traveling to Cancun. But truth is, Cancun or Mexico, in general, is not the only destination that poses risk to travelers. Whenever we go abroad, we are essentially putting our lives on risk and uncertainty. It's only a matter of planning to overcome those risks. Here are some tips that will help you ensure a safe Cancun vacation.
Before You Go
Plan your itinerary ahead of time. I know some travelers like to be wherever their feet take them, but Cancun is a different place. Stick to the places where you plan to go and never go to places where you are uncertain about your safety.

Get travel insurance. It's not a waste of money to get one. You'll realize how helpful it is when you lose luggage or encounter unfortunate things while traveling. But let's just hope you won't have to use it, anyway.

Enroll in the Smart Traveler Enrollment Program (STEP) or any equivalent. This way you are notifying you're embassy or consulate about your trip abroad. It will also allow you to receive safety conditions in your destination and help you make a wise travel decision.

Keep a list of emergency contact numbers. It would even be better to include one in your speed dial. We don't want you to be in a bad situation and you don't know who to call.

Stay updated with the latest travel warnings. Everything is on the internet, read the news and do some research about the place you are visiting even before you book a flight. Don't hop on a plane without any idea about the safety status in your destination.
Once You Are There
Keep a travel companion. It's not always a good idea to travel solo, especially in a place like Cancun. It's better to travel with someone so you could keep an eye on each other. But if you have to travel alone, inform your family about the places you are visiting and constantly give them updates on your whereabouts.

Do not hail taxis on the street. There are lots of unregistered taxis in Cancun who either scam or extort tourists. Avoid them relying on dispatched vehicles and app-based services like Cabify and Uber. 

Use toll roads when driving. They are safer compared to secondary highways and police visibility is high within these areas. 

Do not display or manifest wealth. It's a rule of thumb not to wear expensive jewelry when going to public places in Cancun. You might only be attracting thieves and pickpockets.

Consume alcohol in moderation. We all know how lively the nightlife and party scene in Cancun are and in scenes like these, drinks are constant. When drinking, be responsible and keep your intake in check. Also, be wary of tainted alcohol and contact the bar operator if you think you had one.
FAQs
Is Cancun safe for Kids?
Cancun is a kid-friendly destination with all the water and amusement parks in the area. It has a great environment for cultivating the bond between children and their parents plus it has many affordable family vacation packages. However, no matter how safe the city is for kids, parents should still always be wary and keep a good eye on their youngsters.
Is Cancun Safe for Women?
Cancun is generally safe for women travelers. The city is culturally diverse that's why locals are very friendly and welcoming to visitors. However, there might still be some instances of unwanted attention and sexually suggestive remarks. To avoid falling prey, don't go on secluded areas of downtown Cancun where many gabacheros (Mexican men pursuing foreign women for sex) mostly are. Also, don't wander alone in the city especially at night.
When is the best time to visit Cancun?
Cancun is a favorite spring break destination for college kids. Although the city is crowded during this season, finding a near-perfect experience wouldn't be hard. But if you prefer a lesser crowd, you can visit from December through March. For budget travelers, you can catch affordable rates from May to November. But try to avoid the months of September and October since they tend to be rainy.
Will I need a tourist Visa to Enter Mexico?
Citizens from over 39 countries plus countries in the European Union are exempted from a Mexico Tourist Visa, provided that they won't stay for more than 180 days. Any citizen holding a Schengen or US visa is exempted as well. Here's a complete list of Visa-exempted countries in Mexico.
| | | | | |
| --- | --- | --- | --- | --- |
| European Union Countries | Canada | Jamaica | New Zealand | South Korea |
| Andorra | Chile | Japan | Norway | Switzerland |
| Argentina | Colombia | Liechtenstein | Palau | Trinidad and Tobago |
| Australia | Costa Rica | Macau | Panama | United Arab Emirates |
| Bahamas | Ecuador | Marshall Islands | Paraguay | United States |
| Barbados | Hong Kong | Malaysia | Peru | Uruguay |
| Belize | Iceland | Micronesia | San Marino | Vatican City |
| Brazil | Israel | Monaco | Singapore | Venezuela |
What is a Mexico Tourist Card?
Most people confuse Mexico Tourist Card with Mexico Tourist Visa — they are completely different things. Mexico Tourist Card (Forma Migratoria Múltiple, FMM) is a permit that every foreign visitor must acquire to enter the country. It is a document to show that the holder is a tourist and is not allowed to work. Every foreign national visiting Mexico needs an FMM, even those who are exempted from Visa. You can get your tourist card upon arrival at the airport or online not more than 7 days before your arrival.