With over 70 percent of Earth covered with waters, it's quite impossible not to find something to do with them. The land may provide countless adventures, but that's nothing as compared to the enormous fun that the seas and the oceans have to offer. Numerous water sports and activities are being introduced with one getting more exciting and odd each time. From the usual swimming and surfing, it is now ice diving and horse surfing.
In this article, we will provide you with some out-of-the-box water sports you never heard of before and guide you to the best places where to try them.
1. Flyboarding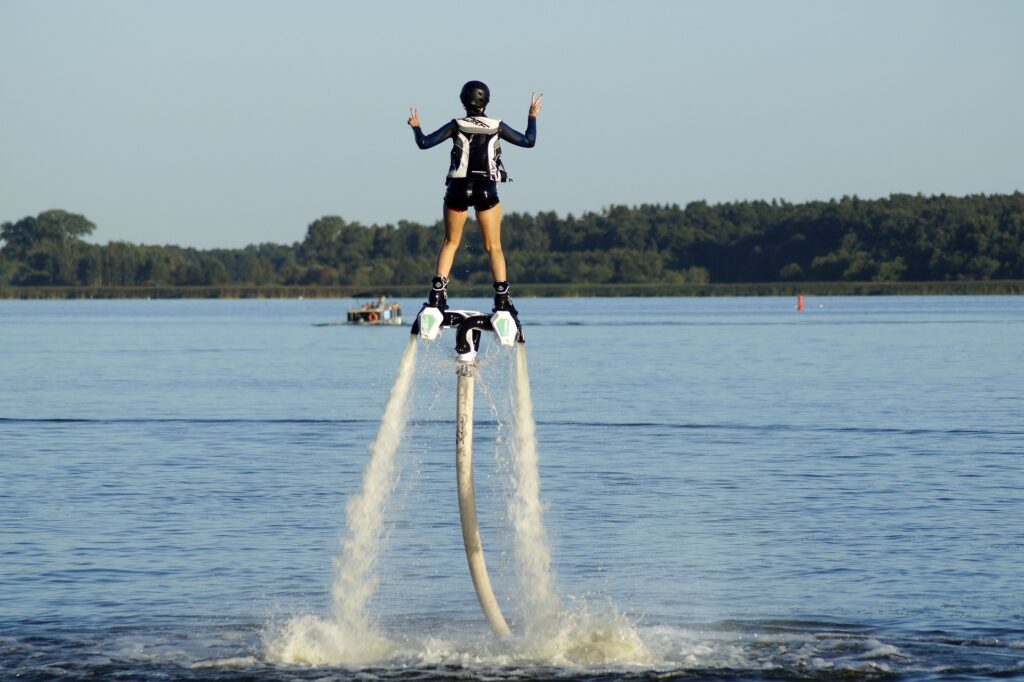 If you are among those people dreaming to defy gravity, flyboarding is the water sport that you should try. While riding a device similar to a hoverboard propelled by a jet of water, you will be sent skyward as if you are flying. It may sound easy but not once you set foot on the board. If keeping your balance in a regular hoverboard is hard, it is much more with the Flyboard as you have to consider the waves. It may take you at least a day to master this unique water sport. Often you will be sent in different directions or fall deep in the water, but those are part of the fun.
Flyboarding is a relatively new water sport. Franky Zapata, a French water-craft rider, invented it in 2012 and grew popularity the following year. Today, a lot of water sports facilities are offering this adrenaline-pumping adventure worldwide.
Where to try Flyboarding: There's no perfect place to try flyboarding than the country of its origin, France. This water sport is like a new religion for French people with numerous flyboarding facilities popping up in every possible place. GetMyBoat in Cogolin, France is among those who provide undisputed experience of the sport.
Prices: 20 mins = $99             30 mins = $143
2. Snuba Diving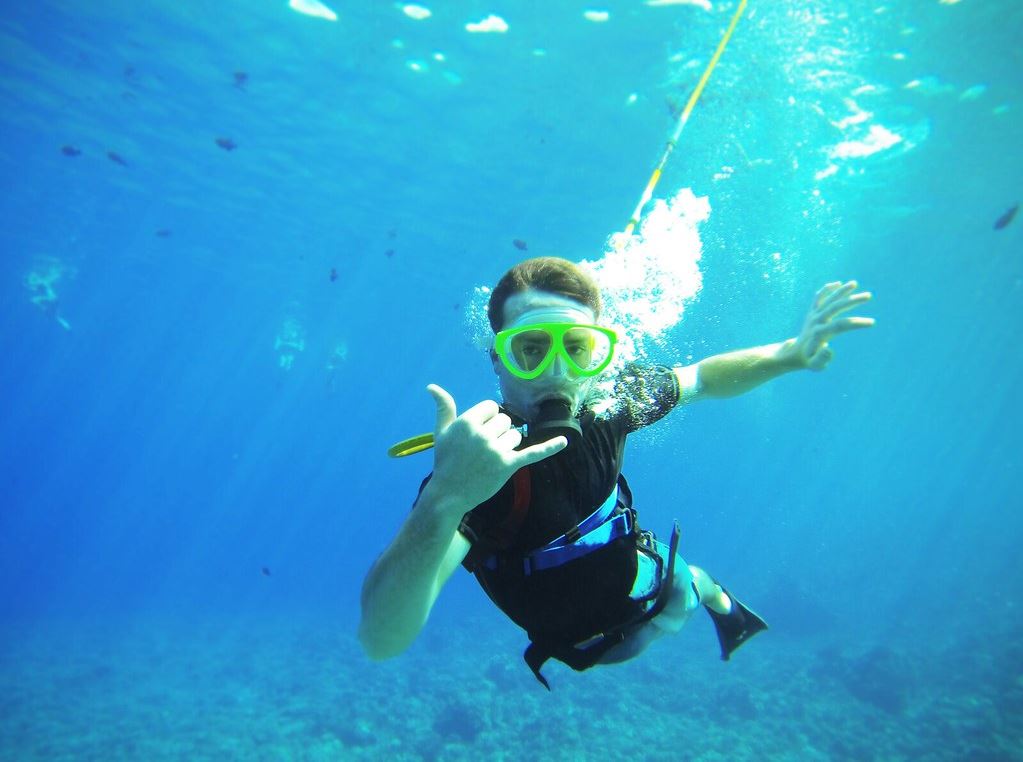 This is not some kind of typographical error and I mean SNUBA not SCUBA. Snuba diving is another unique underwater activity that combines the elements of scuba diving, snorkeling, and sea walking. Instead of carrying a massive oxygen tank while diving, it uses a breathing system that supplies air through long hoses connected to rafts on the surface. While underwater, divers have more freedom to move and explore what's beneath the oceans.
Snuba became popular in the early 90s and remains one of the favorite adventures amongst water sports enthusiasts. It's easy to learn and doesn't need high-level skills. You only have to have basic swimming ability and you are good to go.
Where to try Snuba Diving: There is a handful of water recreation facilities and dive sites in Florida where you can experience snuba. Sundance Watersports in Islamorada is among those, allowing you to experience life 20 feet beneath the sea.
Price: 2.5 Hours = $142
3. Kitesurfing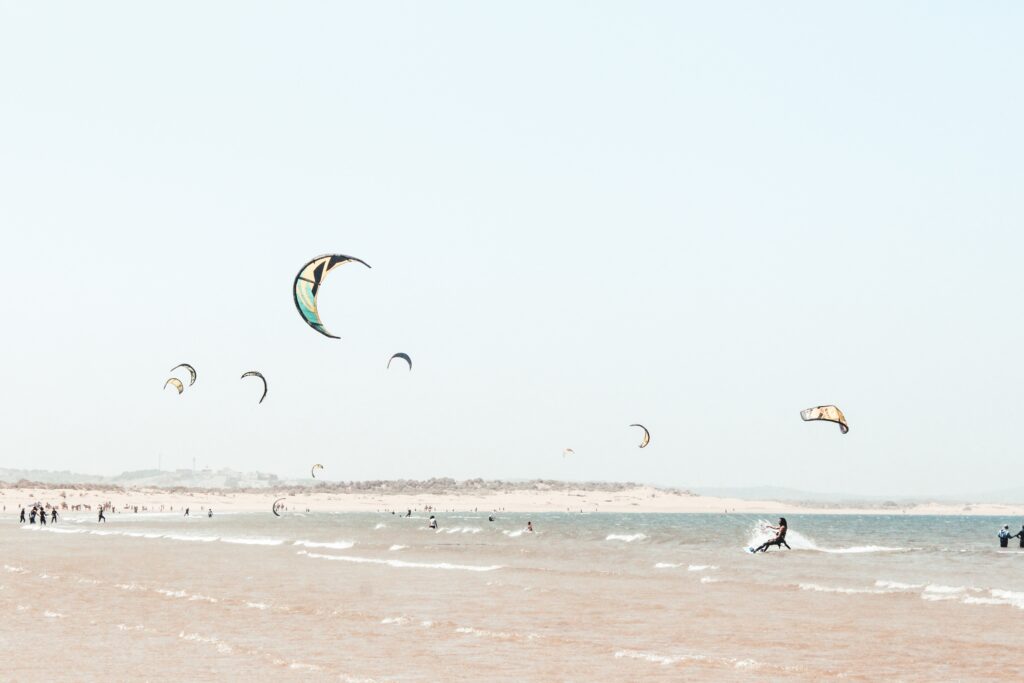 Kitesurfing or kiteboarding is essentially a level harder than the usual surfing we know. It requires strength, stamina, and time to master this type of water sport. The idea is to harness the power of the wind using a kite and a board to propel in the water.
To be able to effectively kitesurf, you need to at least have a background in boardsports. If you are starting from scratch, hiring a personal guide will be beneficial to help you kickoff. You can start kitesurfing at mirror-flat lakes or lagoons where the surface is more steady. Once you fully mastered riding along and staying upwind, you can start learning doing stunts like jumping and riding waves in the open sea.
Where to try Kitesurfing: It's common knowledge for water sports lovers that Essaouira in Morocco has the best places to experience surfing and that also applies to kite surfing. The bay is protected from strong winds by small islands, creating more rideable waves. There are also a handful of kite surfing camps in the area ready to guide you through your ultimate experience. Atlanticzin Watersports is one of them, offering an all-inclusive eight-day kite surfing lesson.
Price: 8 Days = $501
4. Windsurfing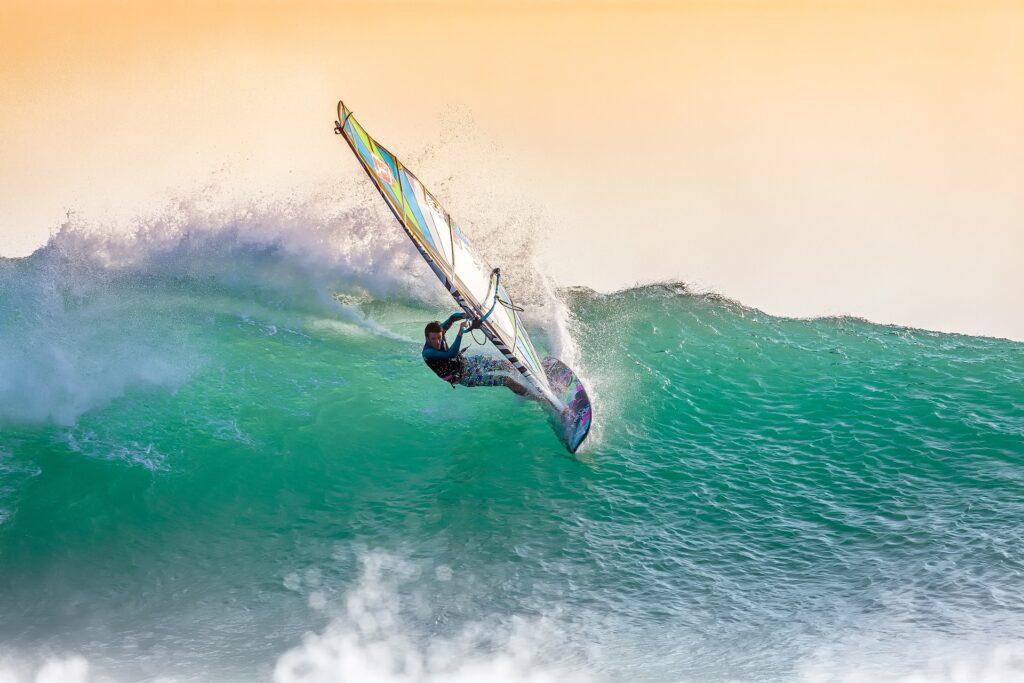 If you want to sail but prefer a more adrenaline-pumping experience, windsurfing is for you. This surface water sport combines sailing and surfing where a board with a sail is powered across the water by the wind. Some consider windsurfing as a laid-back version of other surf sports but don't underestimate its difficulty. Maneuvering the sail is a lot more difficult than it looks likes. For sure, you will find yourself tipping over due to strong winds. But don't complain, that's part of the fun.
Where to try Windsurfing: Maui in Hawaii is undisputedly the best place to try this water sport, or else it won't be the Windsurfing capital. Its beaches have different conditions that fit every windsurfer's needs and the north shore beaches are the most common ones. You can visit Kanaha Beach in the area and enjoy the aloha breeze in the open sea.
Windsurf Rental Package: $57.00 / day
5. Wakeskating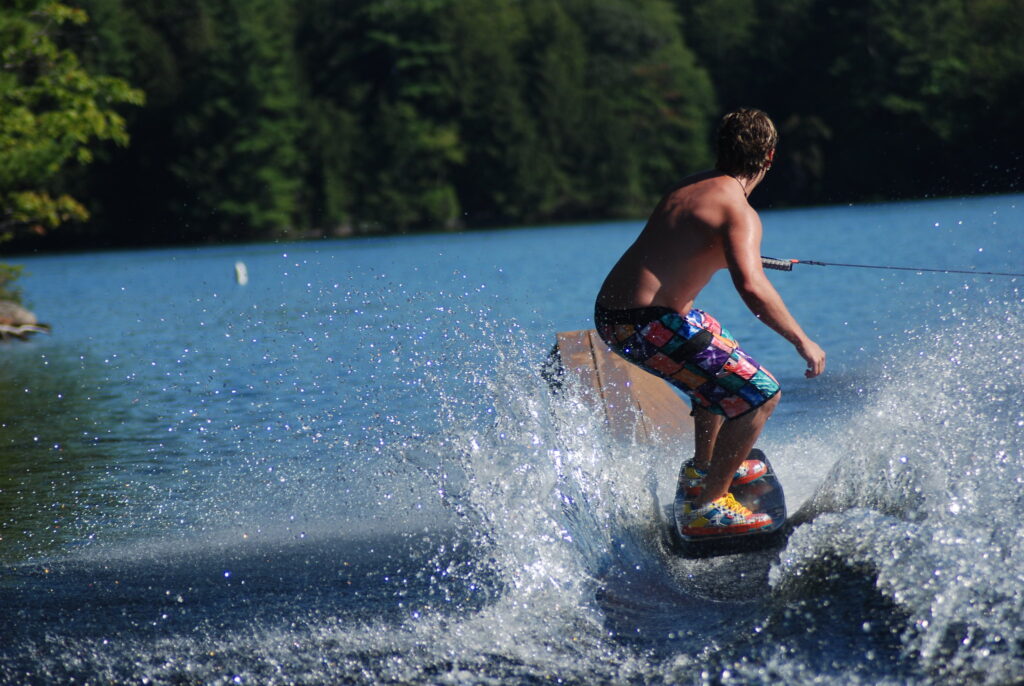 Wakeskating is an adaptation of wakeboarding where the rider is being towed by a motorboat across the water and crests to perform mid-air tricks. But unlike wakeboarding, wakeskating does not bound the riders into the board, giving them more freedom with the ride. Also, there are more impressive stunts riders can do with this water sport like board spinning and flipping.
For starters, you may find it difficult to stay on the platform while on the ride. Often you would lose balance and be dragged into the water, but that should pay off once you fully mastered the sport.
Where to try Wakeskating: Where to try wakeskating is not a big question as there's a bunch of water sports camps that offers it. Around Florida, there some surfing clinics you can visit if you would like to have a more personal relationship with wakeskating and other sports of this kind. The Boarding School is among them which provides you with everything you need for wakeskating.
Wakeskating Lesson Rate: $400-$500 / day
6. Horse Surfing
Needless to say, horse surfing is the most unique water sport one could try, giving people a surfing experience the equestrian way. Similar to wakeboarding and wakeskating, horse surfers have to ride the board while being towed by no less than a horse. This water experience may sound weird but it also pumps extreme hearts for sure.
Horse surfing was invented to give a fun option to people who want to experience surfing in areas where the water is flat like shallow lakes and shores.
Where to try Horse Surfing: There's limited surfing camps that offer horse surfing. The Real BeachHorses in Bradenton, Florida is among the few, giving you a complete experience of horse surfing and other equestrian sports.
Horse Surfing Rate: $150/ Hour
7. Blue Whale Snorkeling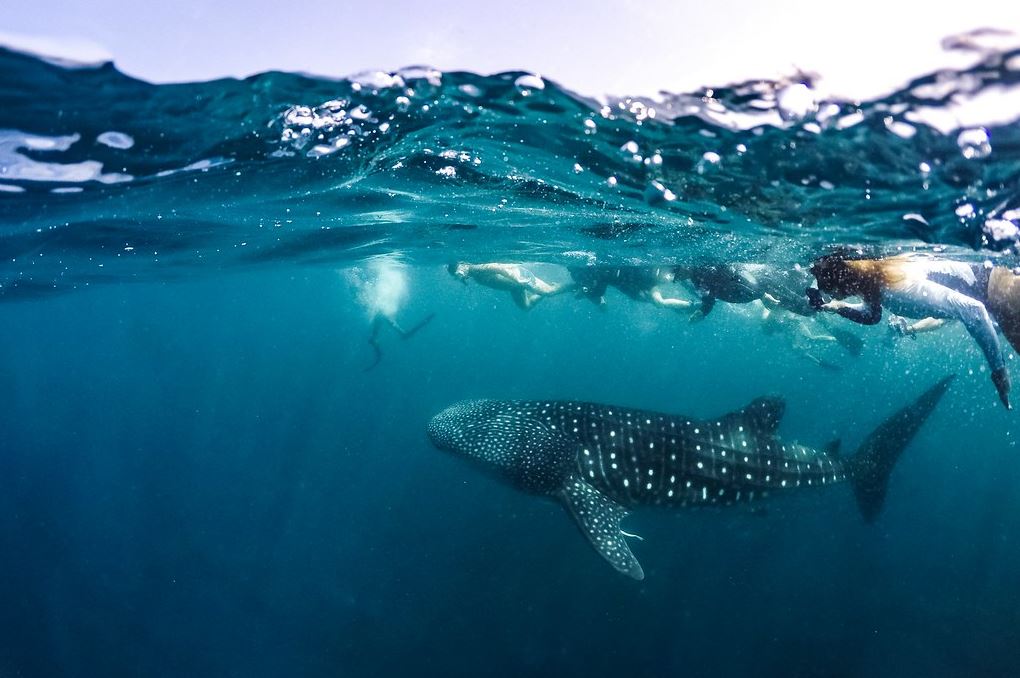 Diving with blue whales is a rare occasion one shouldn't miss. We know they are hard to find and would usually take hours of boat ride before finding one. But your patience will pay off once you encounter these gentle giants and plunge with them in the blue sea.
The interest in Blue Whale Snorkeling amongst divers is consistently growing. To see a group of these elusive creatures is adrenaline pumping, more so to be able to swim with them. But you should remember that blue whales are critically endangered. Hence, responsible diving comes first before everything else.
Where to try Blue Whale Snorkeling: Not in every part of the world, you can see blue whales. Lucky are those who have these giants as occasional visitors like those territories in the Northern Hemisphere. California is among the places where you can experience Blue Whale Snorkeling. Big Animals Global Expedition in San Diego provides free diving sessions where you can have a close interaction with Blue Whales and other giant sea creatures.
Big Animals Global Expedition Rate: 7 Days = $10,800
8. Parasailing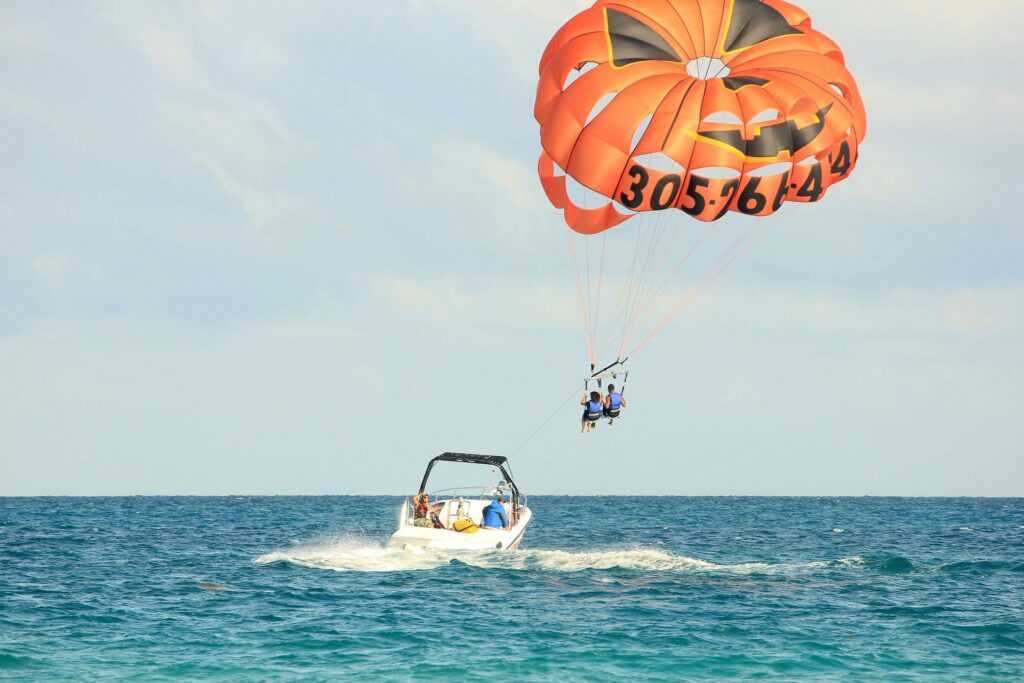 Parasailing is a smooth rather than a bumpy water experience except if you are acrophobic. It works by towing a rider behind a motorboat while on a parasail wing, a special canopy that looks like a parachute. While moving around, you'll glide up into the air at a gradual pace and experience how it feels to float.
Parasailing is a group affair and it won't be fun unless you are with someone. Going with friends is sure fun, but going with your special one during sunset is more romantic.
Where to try Parasailing: Parasailing at Key West in Florida is a good catch. While up in the air, the stunning view of the emerald green water down below is something you won't forget.
Parasailing Rate: $58.45 per hour
9. Cage Diving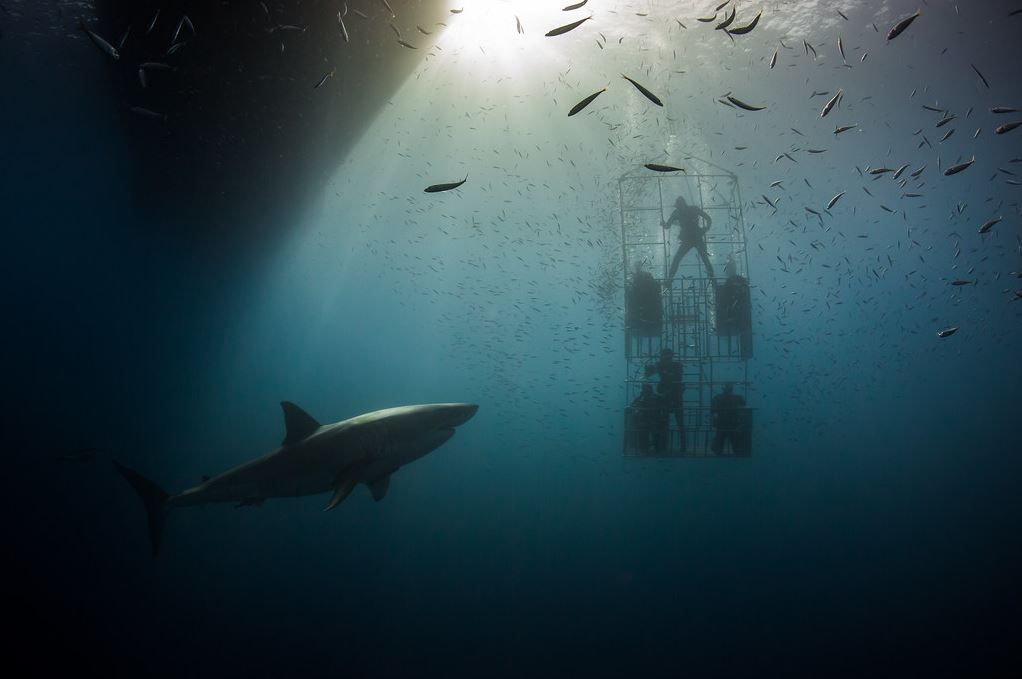 Remember when you first watch a shark movie? You can now have a close encounter with them too but don't worry, you won't be eaten alive. Cage diving is an extreme underwater activity intended for those who have a strong stomach. So if you are a weak-hearted person you better think twice.
While inside a cage, you will plunge underwater deep enough where you can see sharks in their environment. While under the sea, you also have the chance to see other marine lives.
Where to try Cage Diving: White Shark Project in Western Cape, Africa is among the few operators of cage diving. For 20 minutes they are giving guests face to face encounters with sharks of different species like Great White Sharks, Bronze Whalers, Cow Sharks, Bronze Whalers, 7-Gills, and Stingrays.
Cage Diving Rate: $146.81 per person
10. Cliff Diving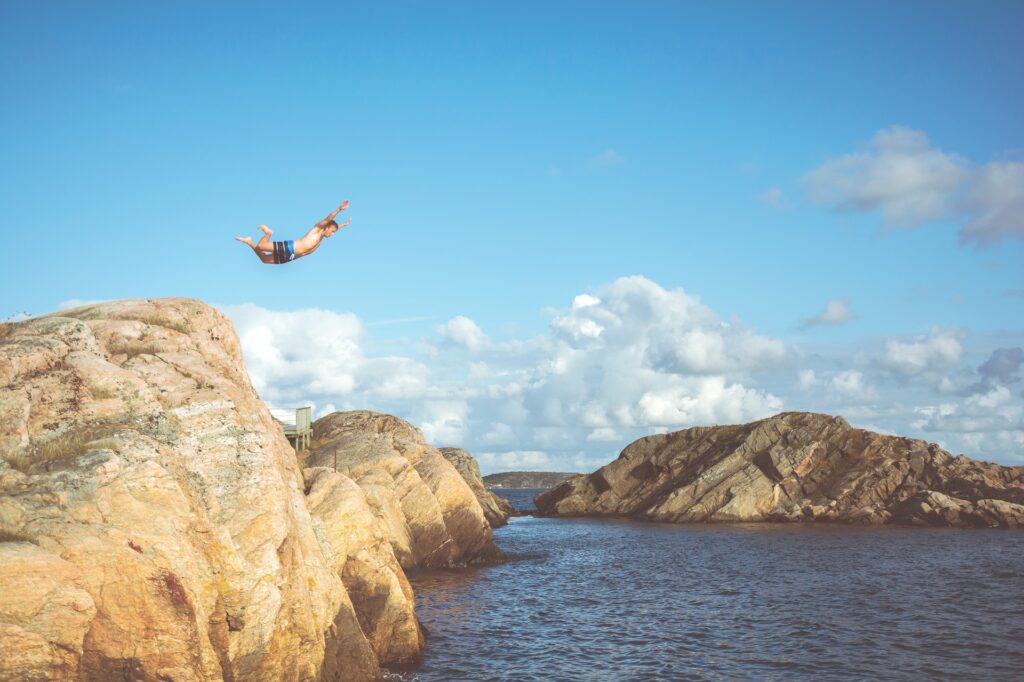 Cliff Diving is among the most dangerous water sports as it often causes injuries and even death to inexperienced divers. Ergo, one needs proper training and acrobatic skills to safely perform this activity. But that was before.
Today, some toned down this sport to provide the same kind of thrill to those who would like to test their fears to limit. Diving from a cliff, high enough to make your heartbeat raise, is the most freeing thing you could ever feel. At first, you might feel uncertain to jump and that's okay. All you have to do is set aside your fears and that reluctant jump will convert into a lifetime experience.
Where to try Cliff Diving: Ka Lae in Hawaii is a perfect cliff diving spot for beginners. It has various cliffs ranging from 10 ft – 75 ft in height which provides divers the thrill they like. Above all, this spot is free for everyone.
11. Ice Swimming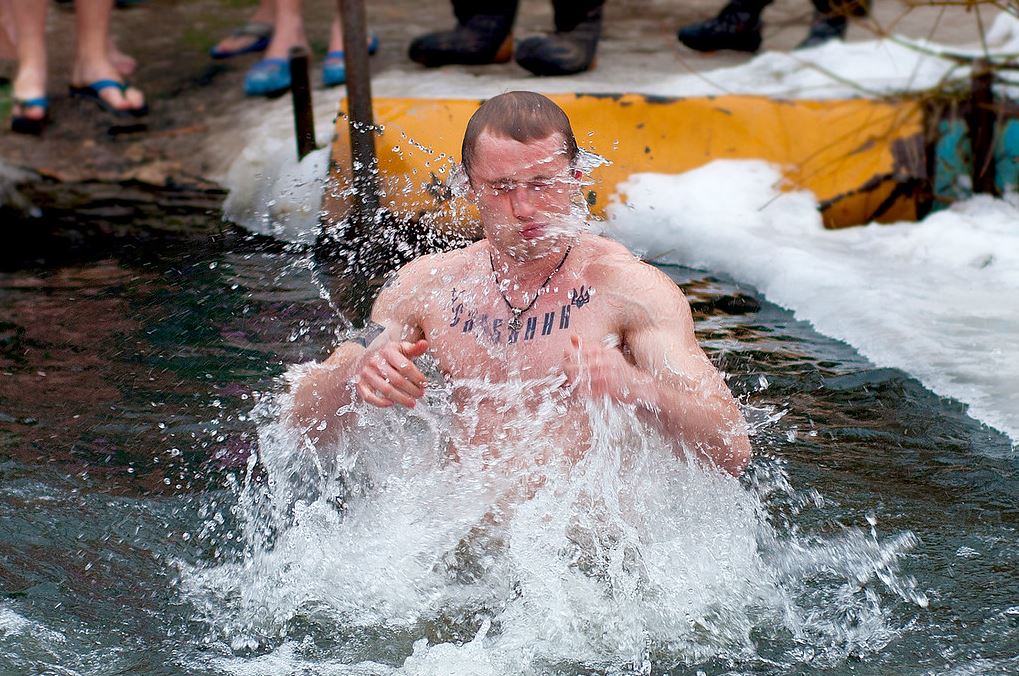 Swimming is a big hit during spring and summer, but guess what, some loves dipping even during the freezing winter. We call this ice swimming or winter swimming.
If your thinking anyone who will do this is crazy, well there's a lot of them. In fact, in other parts of Europe and Russia ice swimming is such a big thing that they are celebrating it as part of the Epiphany. There's also the International Ice Swimming Association (IISA) which oversees swimming competitions, like the FIBA for basketball.
So if you haven't tried out this extreme water sport yet, better hurry up because your being left out. Just one piece of advice ─ chill out.
Where to try Ice Swimming: Ounaskoski beach in Rovaniemi, Finland is where the water never warms up. Once winter hit, local winter swimmers converge in the beach's icy water giving more life to the freezing season.
12. Barefoot Skiing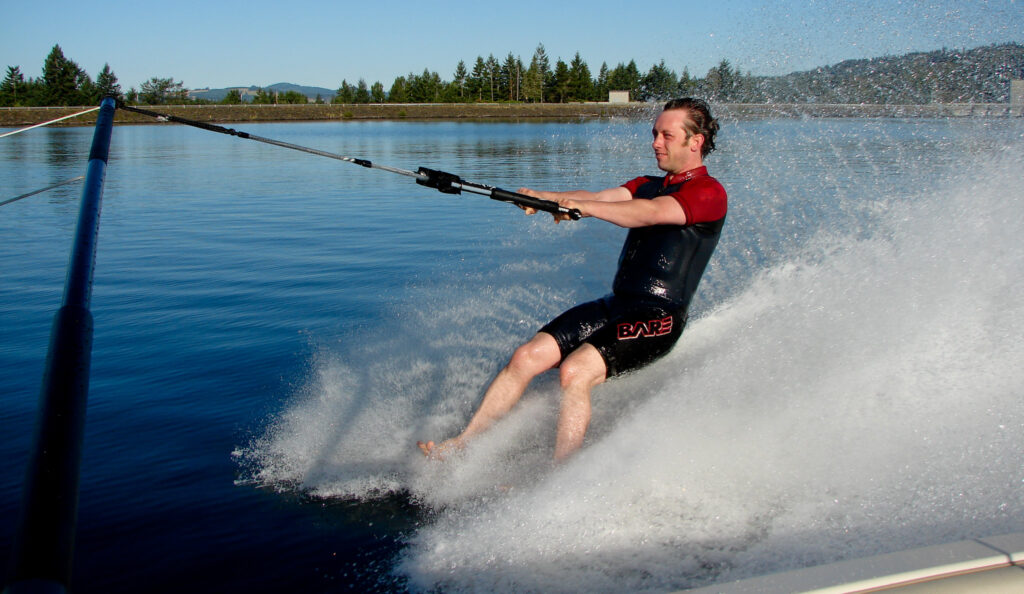 Barefoot Skiing is almost similar to wakeskating and wakeboarding, only that you won't be needing any board. In this water sport, a motorboat tows a rider from a water ski line while gliding across the surface of the water on bare feet. The adventure may sound too risky to some, but fanatics can go overboard in exchange for a different kind of thrill other water sports can't give.
Where to try Barefoot Skiing: If barefoot skiing is on your bucket list of water sports you want to try, there's no better place for you than the World Barefoot Center in Winter Haven, Florida. They have barefooting champions and instructors that can help put your wet foot forward!
Barefoot Skiing Rates: $240 per day
13. Raft Rodeo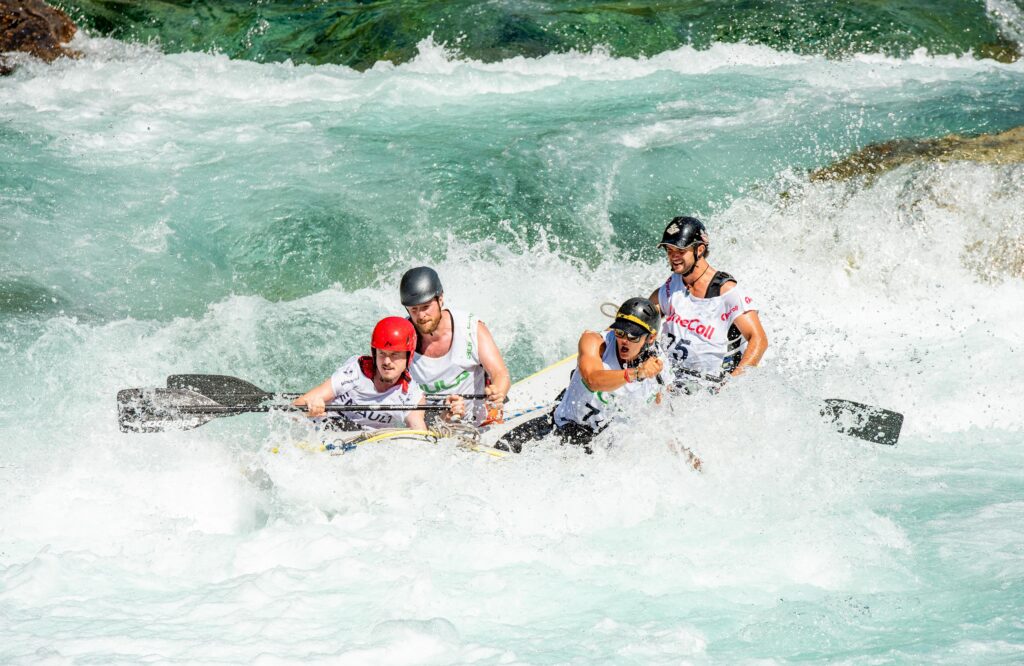 Raft Rodeo or simply water rafting is among the water sports that never cease. The sport is consists of a group of people riding on a raft while paddling across river rapids. This sport is a bit dangerous given the obstacles that may come along the path, that's why like in any water adventure, riders are obliged to wear safety gear such as life vests and helmets. For first-timers, is also important to hire guided rafting instead of a DIY to ensure safety.
Where to try Raft Rodeo: Cagayan de Oro in the Philippines is a premier water rafting destination for both local and foreign adrenaline junkie. It boasts of a cool rushing waters that will relax and energize visitors all at the same time. Throughout the adventure, rafters will experience all sorts of paths, from smooth to bumpy.
Raft Rodeo Rate: $58.66/ 3-day adventure
14. Cave Diving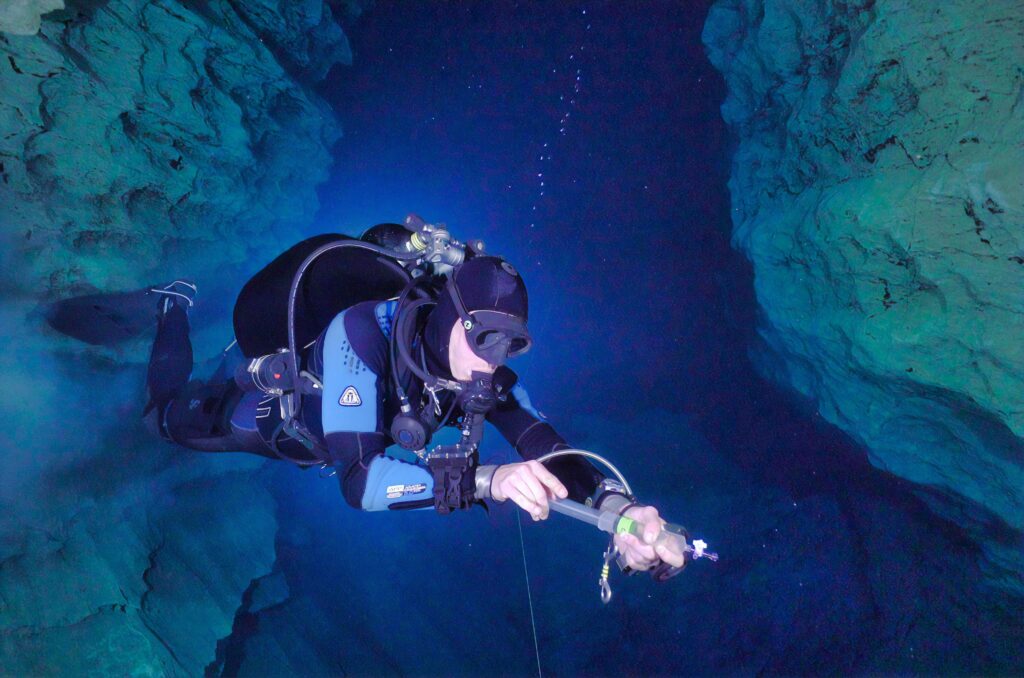 Cave diving is a delicate water sport that is why it is not recommended for people new in the diving community. It requires years of experience from other underwater activities to be able to properly execute this type of diving. In the past, this activity is only intended as a way to scientifically explore underwater caves and the lives in it. But as water sports geeks seek more adrenaline rushing experience, cave diving has evolved into a recreational activity. It involves diving into deep-seated caves, entering narrow caverns and openings.
Where to try Cave Diving: The First Cathedral in Lahaina, Hawaii is the best spot to experience cave diving. It has stunning underwater landscapes and caverns that resulted from lava flows and volcanic eruptions.
Cave Diving Rate: $176 for certified divers
15. Waterfall Rappelling/ Canyoning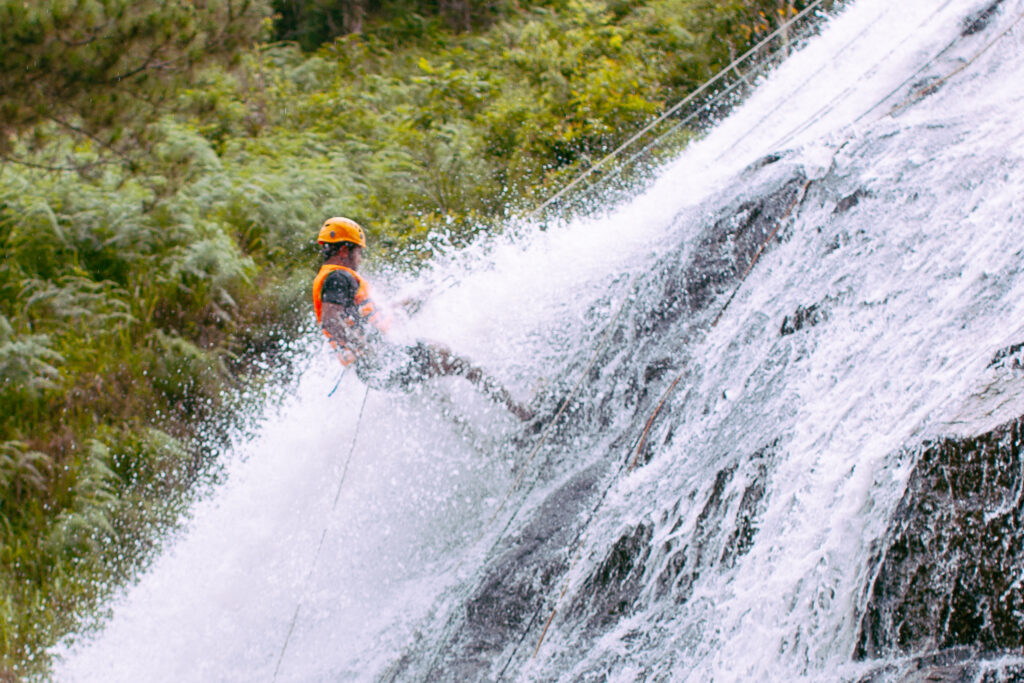 Waterfall rappelling or canyoning sort of became a staple adventure from being a one-off summer thrill. It involves traversing a canyon or gorges, combining extreme activities such as swimming, hiking, and mountain climbing. Needless to say that rappelling is the highlight of this extreme water sport, but the rough trails towards the hidden cliffs are no less ecstatic too. Waterfall rappelling doesn't only allow people to explore what beneath the waters as it allows people to experience heights and depths all at once.
Where to try Waterfall Rappelling: The Rio Colorado Canyon and the Victoria Waterfall are the places for people looking for a fun-filled adventure. Highlighting Costa Rica's rich biodiversity, you can emerge into a one-day tour adventure that combines sightseeing and canyoning.
Canyoning Tour Rate: $48 per person
Takeaways
There you go with the extreme water sports you can include in your bucket list. If you have tried none of them, you better get going and start checking them out from your list. Because truth is, there are still a bunch of other water sports out there ─ some are yet to be conceived. Who knows you might be the one to discover them.
If you're not into water adventures, hiking can be a good alternative. Find your soul in these best hikes in Europe!