Luxury cruise lines target travelers with the heart for superior ocean adventures. Other cruise lines boast their long and faraway itineraries while others attract guests with their high-class cabin amenities, meals, and drinks.
There are many things one must consider when choosing a cruise line: pricing, itinerary, amenities, and food. Also, it is important to check the crew-to-passenger ratio, health ratings, and reviews from experts and travelers.
Indeed, it is hard to pick from many luxury cruises across the globe. You would even think of choosing just any old luxury cruise ship. However, not all of them will fully satisfy your needs.
In this article, we provide you with the list of 2019's best luxury cruise lines in the world that fit your next travel goals!
1. Viking Ocean Cruises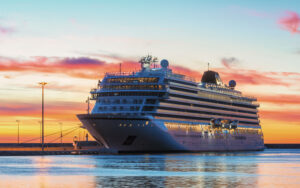 Viking Ocean Cruises is a highly acclaimed cruise line. Since its first ocean venture in 2015, its luxurious ships continue to offer guest-friendly and destination-focused itineraries. In every trip, Viking provides passengers with insights to learn about the history and culture of every destination.
Above anything else, the Viking cruise line boasts its sleek and modern ships that can sail to many of the world's renowned ports. Also, its smaller ships can access more exclusive ports across Asia, Europe, Australia, South America, as well as the Caribbean.
On the other hand, the itinerary for its standard cruise ranges from 8 up to 93 days. Meanwhile, its World Cruises can last up to 161 days.
Moreover, Viking offers various magnificent perks for every passenger. This includes shipwide WIFI access on every vessel, verandas for all cabins, complimentary excursion for every port of call. There are also heated bathroom floors, and meals from the cruise's restaurants.
Maximum guest capacity: 2,199 guests
2. Seabourn Cruise Line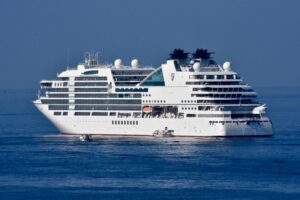 Seabourn Cruise Line promises every guest a crème de la crème experience. This cruise line sails across each side of the world. Their itineraries include popular destinations such as Alaska, the Mediterranean, and the Caribbean. They also provide long itineraries that can last from 7 up to 78 days and can reach Australia, Asia, as well as in Antarctica.
Seabourn boasts a full list of luxurious amenities inside and outside the suites. All cabins feature an ocean view galore. There are also rooms for different activities such as fitness centers, salons, casinos, pools, and live music venues.
Also, this luxury cruise line provides multiple all onboard fine and casual dining options for travelers. Michelin-starred chef Thomas Keller heads the fine dining courses of each passenger.
Maximum guest capacity: 600 guests
3. Holland America Line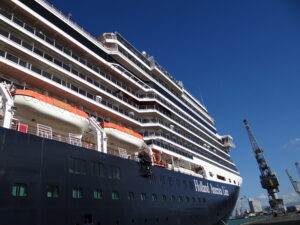 For over 145 years, Holland America continues to be a frontrunner for world-class luxury cruise lines. They have 14 modern classic ships for over 500 sailings, traveling to all seven continents annually. Cruises boast itineraries with trips to popular yet less-traveled ports in Alaska, the Carribean, Europe, Mexico, South America, the Panama Canal, Pacific Islands, and Asia.
Holland America Line is also considered as the best cruise line in Alaska, Mexican Riviera, and the Panama Canal.
Maximum guest capacity: 1380 passengers
4. Cunard Line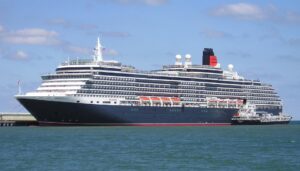 The Cunard Line is known for its vessels named after such as Queen Mary 2, Queen Victoria, and Queen Elizabeth. Yes, these ships have carried celebrated guests to the great oceans across the globe.
Cunard is known for its long history of cruising excellence. It has an Old World style that truly appeals to travelers searching for traditional yet luxurious voyage experience.
Cunard is one of the few luxury cruise lines to offer isolated dining venues for selected guests.  This means guests in standard staterooms have different dine-in options than those in suites.
Other amenities include access to their casinos, spas, and art galleries. It also allows guests to participate in their enrichment activities such as computer classes, dance classes, and lecture series.
In addition, Itineraries include one-way, round-trip, and transatlantic trips across cities of the United States and Canada. Destinations also reach the Caribbean, Europe, the Middle East, Australia, and the Pacific.
Maximum guest capacity: 2,691 guests
5. Crystal Cruises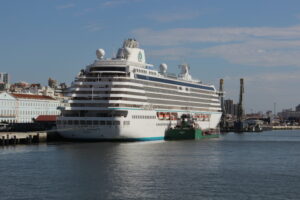 Crystal Cruises is known for its critically-acclaimed ships – Crystal Serenity and Crystal Symphony – with superior designs and low passenger-to-crew-ratio.
The line's ships travel all over the world, with itineraries featuring submarine adventures in Hawaii and glass-bottom boat rides in French Polynesia. Inside every ship, voyagers are entitled to experience their fitness center, casino, salon, and spa. Other nightlife and enrichment activities are also part of the amenities such as live bands, wine tastings, and dance lessons.
Hungry? Don't worry. Crystal knows your luxury desires. Their onboard dining experience offers dishes from high-class restaurants crafted by different star chefs, including Nobu Matsuhisa.
Tip: Children 17 years old and may travel for free or at a discounted rate. Check out their sailing promos when booking a cruise.
Maximum guest capacity: 922 guests
6. Regent Seven Seas Cruises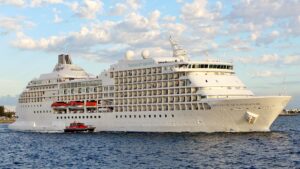 Another critically acclaimed luxury cruise line, Regent Seven Seas Cruises continues to commit itself to an all-inclusive approach luxury service.
All of Regent's five ships – Seven Seas Mariner, Seven Seas Voyager, Seven Seas Navigator, Seven Seas Explorer, and its incoming Seven Seas Splendor – offer high-class all-suite accommodations.
In addition, itineraries offered can range from 7 up to 131 nights long. Stops can reach ports of Africa, Alaska, Europe, the Caribbean, and more.
With 1:1 passenger-to-crew-ratio, Regent is sure to give each guest an unforgettable ocean experience. While their amenities include onboard entertainment and enrichment activities through their spa & wellness center, pool deck, and history, culture, and culinary lessons.
Moreover, Regent's dining options include Prime 7 for luxury steaks and Setter Mari at La Veranda for Italian cuisines.
Maximum guest capacity: 750 guests
7. Azamara Club Cruises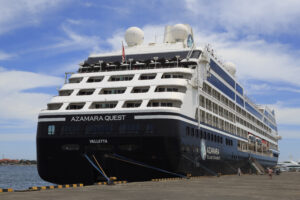 Azamara is among the luxury cruise lines known for high-end cabins and far-flung itineraries. This luxury cruise line's ships (Azamara Journey Azamara Quest, and Azamara Pursuit), voyages to over 260 ports from over 80 countries across the globe, offering museum and walking tours in each excursion.
Also, guests can take advantage of the ship's onboard entertainment and enrichment programs such as their casino, fitness center, live performances, culinary lessons, and wine tastings.
Maximum guest capacity: 700 guests.
8. SeaDream Yacht Club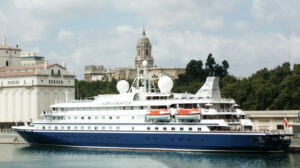 Interested in sleeping under the stars… inside a luxury cabin? SeaDream Yacht Club's "mega-yachts" have it. Sleeping under the stars is one of the several signature offerings of Seadream through their Balinese beds on Deck 6. Every 10 at night, their crews rope off the area and set up beds for the guests who booked them.
At night, they also allow guests to maximize outdoor activities through their "Starlit Movies" series. Guests can enjoy a film on the pool deck with popcorns specially prepared by the crew. They also have access to various activities such as the onboard casino and a 5-star beachside barbeque party known as "Champagne and Caviar Splash."
Pro Tip: Seadream Yacht Club's SeaDream II only has 56 cabins. This means each guest can expect intimate and luxurious yachting experience. So, don't be afraid even if you are a solo traveler. You sure will make friends with your fellow travelers inside the yacht!
Maximum guest capacity: 112 guests
9. Ponant Cruises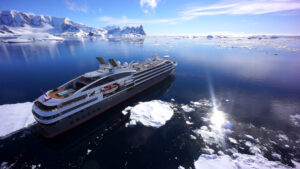 For over 30 years, Ponant Cruises has been defining luxury and exceptional service with each voyage. The cruise line has the cruise ship Le Boréal with three sister vessels namely L'Austral, Le Soléal, and Le Lyrial. They also have the popular three-masted ship Le Ponant, and Le Lapérouse, a cruise ship with cutting edge technology.
Ponant's luxury cruise ships stop at various famous ports of call, as well as secret, hidden-away anchorages that are usually accessible to small-time boats. Itineraries can go to far-flung expeditions including the landscapes of the far North and the Arctic, the heart of the Mediterranean, the coasts of Celtic, as well as the beautiful secret islands of the Pacific.
Ships of Ponants sail under the French flag. This means guests can also expect their luxury cruise service à la française, including gourmet meals.
Maximum guest capacity: 264 guests
10. Oceania Cruises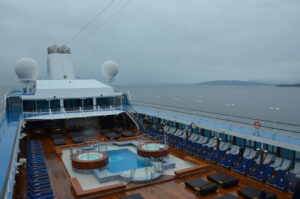 Despite the tight competition, Oceania Cruises has managed to stand out among the many midsize cruise ships. The reason? It's 1-to-2-crew-to-passenger ratios, gourmet dining, and topnotch itineraries.
Oceania offers its passengers a chance to experience activities like the glacier adventures in Juneau, Alaska. If not, they can opt for vineyard hopping in Santorini, Greece. Besides, guests can also opt to extend their time through their offered pre- or post-cruise land tour. These extensions include lodging, dining, and transportation costs.
Moreover, this luxury cruise line has six ships: Marina, Regatta, Insignia, Riviera, Nautica, and Serana. The smaller ships Regatta, Nautica, Sirena, and Insignia offer wine and martini tastings, and educational activities. Meanwhile, larger ships such as Marina and Riviera offer cooking demonstrations and art classes onboard.
Besides, the fleet's open-seating dining venues will fill your feast. Their Grand Dining Room serves french dishes on their lunch menu crafted by their master chef Jacques Pépin.
Maximum guest capacity: 1,250 guests
11. Silversea Cruises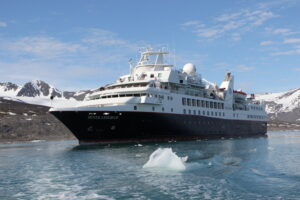 Legendary European lifestyle and global reach of destinations – these are two things Silversea Cruises is known for since the early '90s.
Silversea offers exclusive and exemplary services with its wide and spacious suites, diverse cabin activities, and onboard dining services. Each of their 9 ships can travel to remote ports of more than 900 destinations all over the globe. These also enable passengers to choose unique and personalized excursions like a tour in Ephesus. A train trip to Moscow is possible, too! Itineraries range from 5 to 34 days.
Additionally, Silversea allows guests to eat whenever with whomever through its flexible dining schedule. Dining options include La Dame which serves topnotch French gourmet.
Maximum guest capacity: 608 guests
12. Windstar Cruises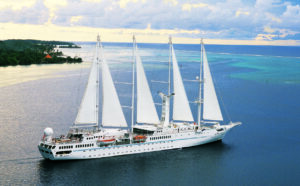 Intimate ships, beautiful outdoor spaces for magnificent views, and wind-in-your-hair moments – these are the secrets of good luxury cruise mastered by Windstar Cruises.
Windstar's small cruise ships provide guests with an intimate and personalized cruise experience. While the cruise line boasts to bring each passenger closer to every port and destination. Itineraries could go as far as the tropical and exotic areas of Southern Caribbean, Costa Rica, Mediterranean, and Alaska.
In the entirety of the cruise, Windstar also provides cooking demonstrations powered and prepared by the James Beard Foundation and their chefs.
Maximum guest capacity: 350 guests
13. Celebrity Cruises
Celebrity Cruises helps guests understand the true value of cruising ─ to sail beyond their comfort borders and expand their horizons.
This luxury cruise line offers modern luxury spaces that are warm and comfortable. Their staff provides seamless, intuitive, personal, and unobtrusive services to each guest, regardless of their age. Also, the onboard global cuisines are all crafted by Michelin-starred chefs.
Maximum guest capacity: 3,480 guests
14. Norwegian Cruise Lines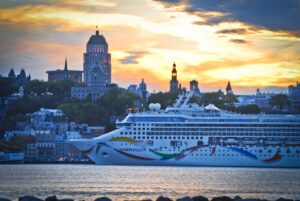 Since 2010, Norwegian Cruise Lines has been known for its colorful revolutionary vessels. These ships sail in North America, the Caribbean, and the Mediterranean. They also offer superior itineraries around the world, superb dining options, and spectacular amenities onboard.
While, passenger guests mostly consist of families enjoying their luxurious amenities such as waterparks, virtual-reality gaming, and go-kart racing.
Tip: They offer inclusive cruise rates during holidays with inclusions such as free unlimited beverage package and specialty dining packages.
Maximum guest capacity: 5000 guests
15. Paul Gauguin Cruises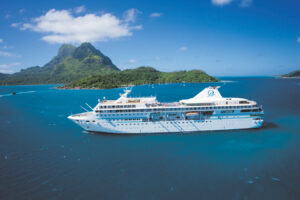 Paul Gauguin Cruises offers luxury cruise trips to the seas of the South Pacific. Although their ships are smaller than other luxury cruise lines, guests can expect more personalized and exclusive service. This gives passengers more optimal space and time to relax and enrich their selves.
Paul Gauguin also gives guests interactive onboard and shore amenities. These include access to casino games, piano bars, live music, and buzzing lounges. In addition, guests can also experience their onboard watersports marina, pools, scuba lessons, duty-free shopping, and many more. Plus: onboard gourmet dining is carefully curated by the award-winning chef Jean-Pierre Vigato.
Paul Gauguin boasts its award-winning luxury cruise ship the m/s Paul Gauguin. It focuses its year-round sails to Tahiti and the islands of the South Pacific. While, itineraries include a few days at the tropical ports in the Cook Islands, Marquesas, Tuamotus, Tahiti, and the Society Islands.
Maximum guest capacity: 332 guest
Takeaway
Now you got ideas on the best luxury cruise lines across the globe, it is time now to book your own trip! Read through this guide whenever you need any help and tips on your next cruise trips. Make sure to turn your cruise trip into a lifetime worth of awesome ocean adventure!