We know of the "Jurassic Park" and "Jurassic World" as among the top-grossing films in Hollywood of all time. Aside from the savage dinosaur clones, these movies are known for the breathtaking film locations one would wish to visit. Green mountains, mossy forests, crystal clear lakes, and sparkling waterfalls ー they were just among the things that gave color to these epic Hollywood movies.
If you are thinking that these SciFi series are made in just another artificial film set that helps movies come to life, you're thinking wrong. Jurassic Park and Jurassic World were filmed in a real environment which you can visit. You ask where? Kualoa Ranch on the island of Oahu is the place to be. The real-life Jurassic Park Hawaii!
All About Kualoa Ranch
Kualoa Ranch is a private nature reserve and a popular tourist attraction on the coast of Oahu, Hawaii. The property is divided into two major areas, the northern and the southern area.
The northern half includes the Kaʻaʻawa Valley a.k.a. "Jurassic Valley", which includes many of the favorite movie locations. Aside from the Jurassic Park series, the site has been used for over 50 Hollywood blockbuster movies such as Jumanji, Kong Skull Island, Windtalkers, Pearl Harbor, Godzilla, Tears of the Sun, and 50 First Dates to name a few.
While the southern half of Kualoa Ranch is known for the tranquility and relaxation it gives to the visitors. The area includes Hakipuʻu Valley rainforest, the Secret Island Hokule' a beach, and the 800-year old Hawaiian fishpond Moli'i.
More than the cinematic appeal of Kualoa, it has a rich historical background that predates its fame in Hollywood. King Kamehameha III formerly owned the majority of the area until he sold 622 acres of ranch land to an American doctor named Gerrit Judd in 1850. Ten years later, Dr. Judd purchased an additional 2200 acres of land which made him own more than half of Kualoa. In 1880, continuing the legacy of his father, Dr. Judd's son Charles bought another 1188 acres.
During World War II, Kualoa also played an important role when the U.S. military occupied the land and became its coastal artillery. In 1955, it debuted in the Henry Fonda film "Mister Roberts." Nowadays, Kualoa Ranch is owned by eighth-generation descendants of Dr. Judd and is famous for the outdoor recreation it offers.
Jurassic Park Hawaii Adventures
There is a handful of adventures you can try at the Jurassic Park Hawaii. Kuala Ranch provides various tour packages that will allow you to experience the things you only see in the movies. The good news is, there are no man-eating dinosaurs here!
1. The Movie Sites Tour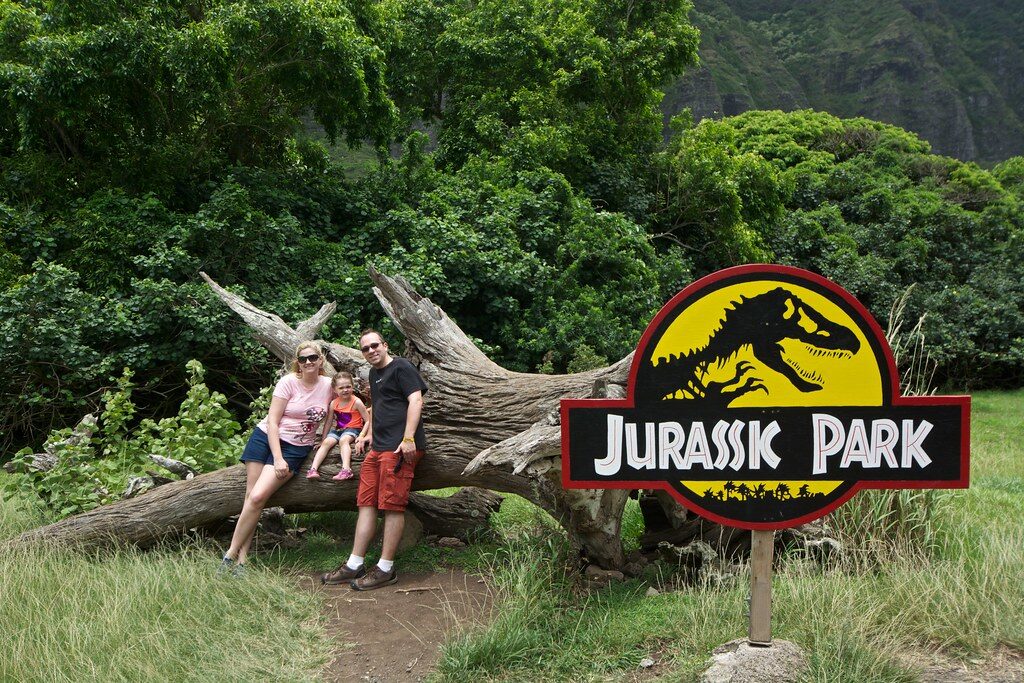 The Movie Sites Tour is among the classic adventure you can enjoy in the Jurassic Park Hawaii. While aboard on a vintage school bus, you'll be taken to the most familiar sites of different Hollywood movies you only see on the big screen.
You can recreate the scene from Jurassic Park where Dr. Grant, Tim, and Lex hides from a T-Rex behind the Fallen Tree. You can also trace Godzilla's giant footprints or see the giant remains on Kong Skull Island. Romantics will also appreciate a walk around the location of the Hukilau Cafe from 50 First Dates.
Other famous attractions you can visit during the tour are the house structure from Mighty Joe Young, the Windtalkers battleground, and the road site from You Me & Dupree.
The Movie Sites Tour Rates:
90-Minute Tour: $47.95 Adult | $36.95 Child
2-Hours & 45-Minutes Tour: $134.95 Adult | $124.95 Child
2. E-Bike Adventure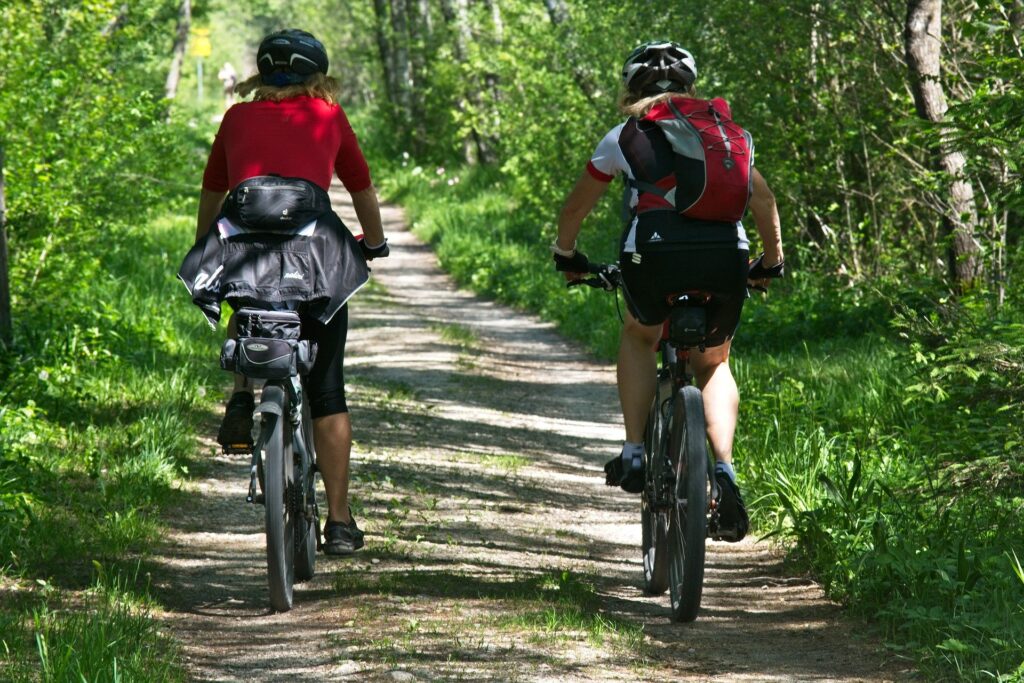 Biking while exploring the vast mountains of Oahu will allow you to appreciate the beauty of nature in an eco-friendly way. Using an electronic bike you can get closer to nature and have a complete Jurassic Park Hawaii experience.
Similar to the vintage school bus tour, this adventure will guide you to the filming locations of your favorite Hollywood movies. What makes the adventure different is the extra thrill of going uphill while pedaling and keeping your balance.
E-Bike Adventure Rates:
1-Hour Tour: $74.95 Adult | $59.95 Child
2-Hour Tour: $109.95 Adult | $89.95 Child
3. ATV Expedition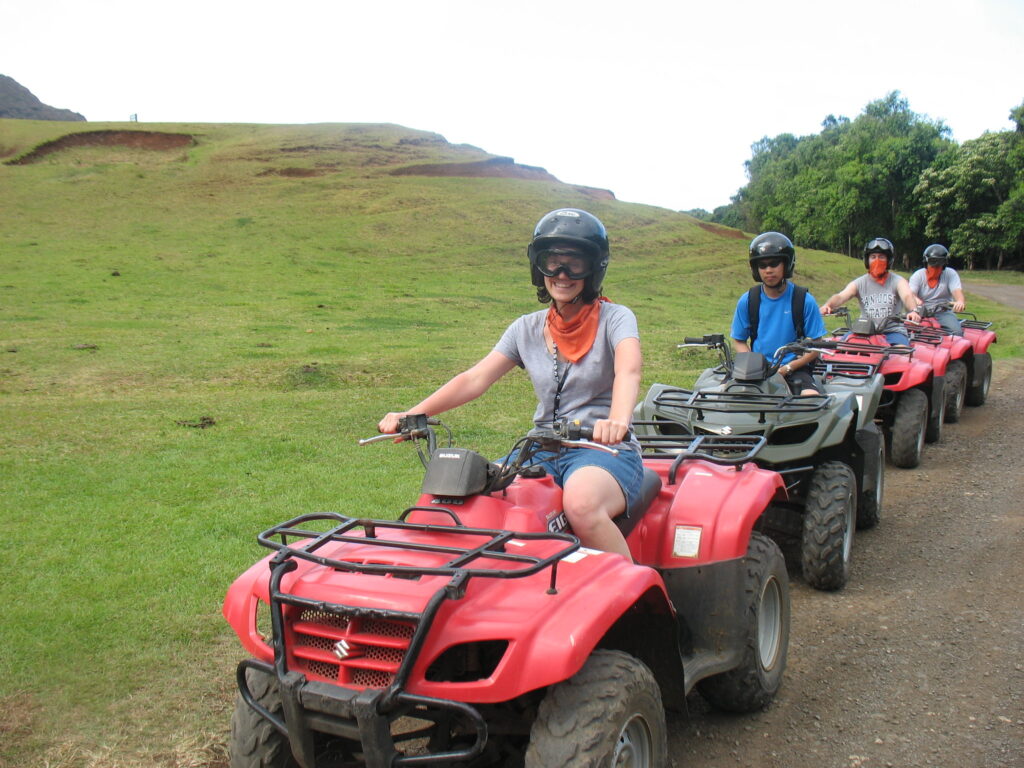 Prepare for a rough jungle expedition while aboard an All-Terrain Vehicle (ATV). Throughout the adventure, you will be taken to the most scenic spots of Kualoa that were deeply tucked in the woods. Although the experience will rather be more bumpy than serene, you'll have the chance to explore remote areas that are rarely visited by others.
The ATV tour lasts either in an hour or two. They both take the same path, but if you are someone who loves taking pictures, you can take the 2-hour tour instead. The 1-hour tour has limited stops, while the longer tour will allow you to explore more filming sites.
To join the tour, you must be 16 or older who is willing to get wet and dig dirt. The adventure comes rain or shines you know!
ATV Expedition Rates:
1-Hour Tour: $87.95
2-Hour Tour: $130.90
4. Zipline Sightseeing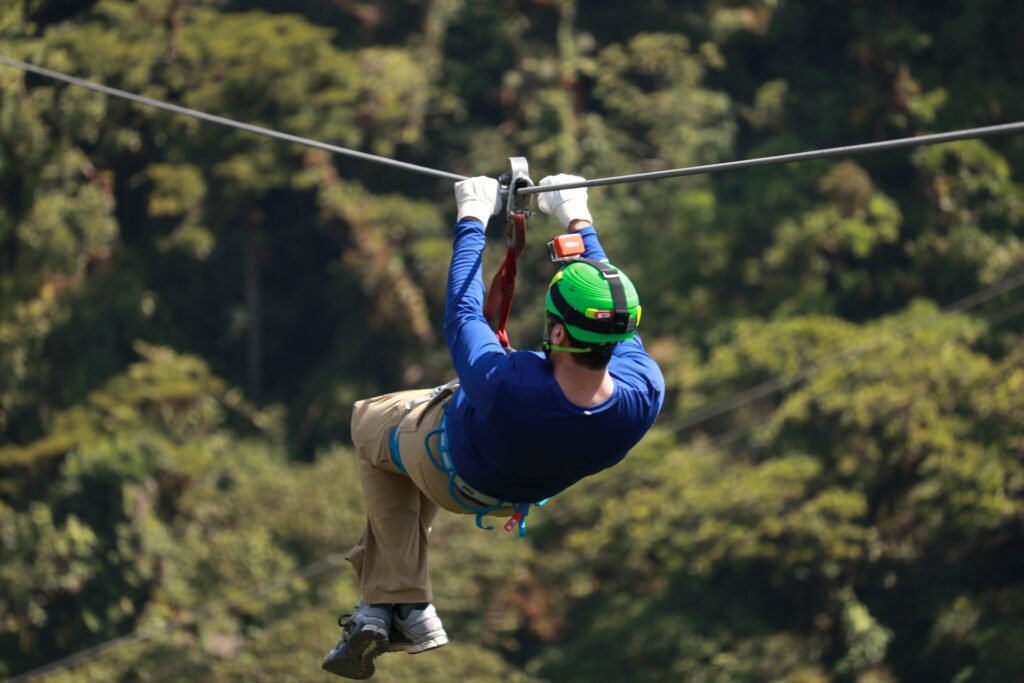 If you wonder how the Jurassic Park Hawaii looks from above, riding a zipline will help you visualize how mesmerizing it could be. The Kualoa Ranch zipline remains among the favorite adventure in this part of Oahu, highlighting everything you want to see in the nature reserve.
Kualoa Ranch has seven zipline sections as well as a couple of hanging bridges and mini-hiking trails. Once the tour starts, there's no stopping to it and you'd have to keep going until the last line. But with the scenic spots to see from above, pretty sure not even acrophobia will spoil your excitement.
From the above, you will be rewarded with the most familiar sites you see in different movies like the Ka'a'awa Valley. During the tour, you will also learn about Hawaiian traditions through short and informative presentations. Your zipline experience will last in 2 hours. Quite long for a zipline experience, but don't worry, they won't leave you hanging.
Zipline Adventure Rate:
2-Hour Tour – $160.97
5. Horseback Ride Tour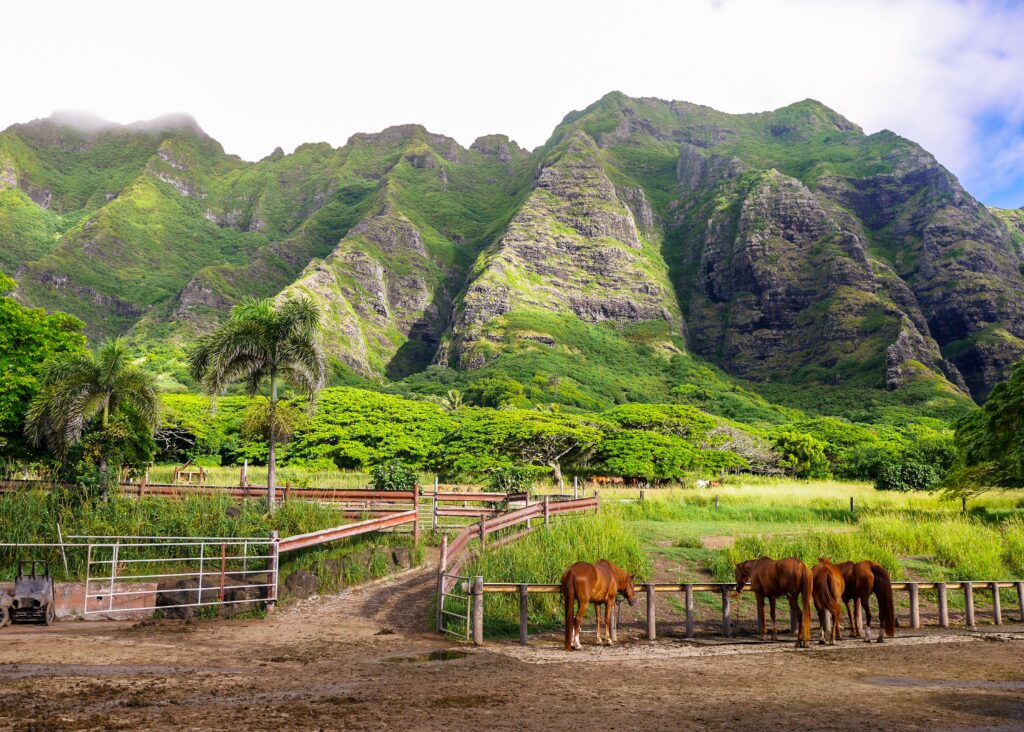 Enough of those rough adventures and time to have a more subtle one, the horseback ride tour. In an hour or so, you will be guided to the spectacular scenery of Oahu's hidden valleys while, of course, riding a horse.
While enjoying the breeze and mist of the tropical weather, you'd have the chance to explore the Mokoli'i islet which became famous for its cameo in the CBS hit TV series "Hawaii Five-0″. Afterward, you also wouldn't want to miss a short jaunt in the 800-year old Hawaiian fishpond.
Horseback Ride Rates:
1-Hour Tour: $87.95
2-Hour Tour: $134.95
6. Kayak Adventure Tour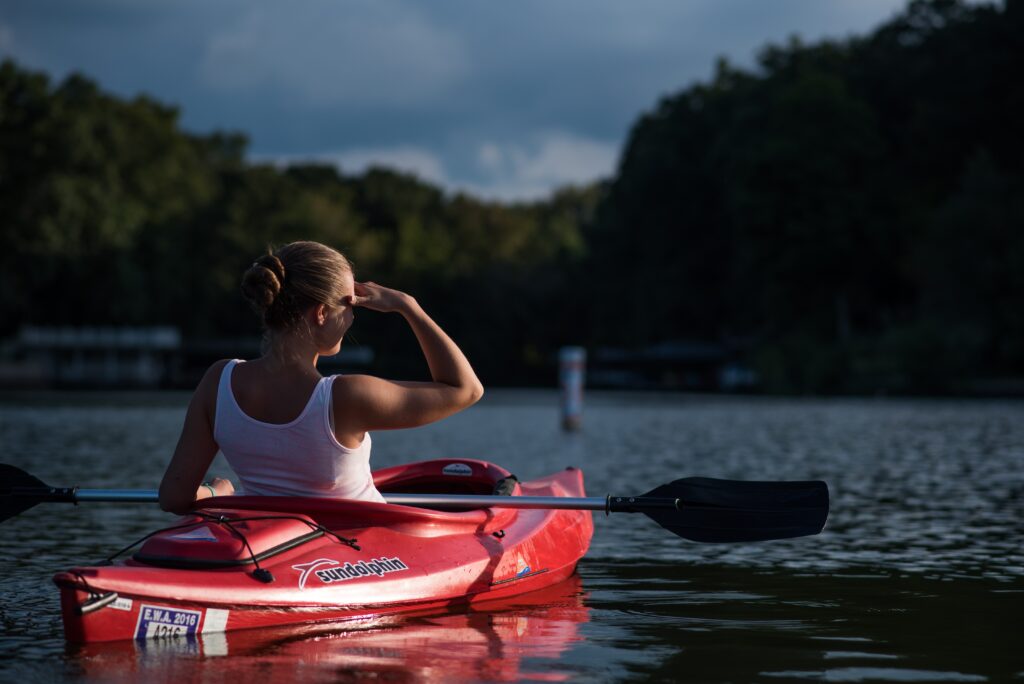 Touring Oahu in its waters is a different kind of adventure you can have in Kualoa Ranch. While gently paddling along Kaneohe Bay, you'll get to see Mokoli'i Island up-close, set foot in the Secret Island, and head out to the mini sand bar. From afar, you'd see the Kanehoalani mountains on a completely different side with its moss-green peak piercing the sky.
You are free to join the kayak tour as long as you know how to swim! For the safety gears like life jackets and waterproof dry-bag, Kualoa Ranch got them all covered.
Kayak Tour Rate:
2-Hour Tour: $109.95 Adult | $89.95 Child
7. Jurassic Jungle Expedition Tour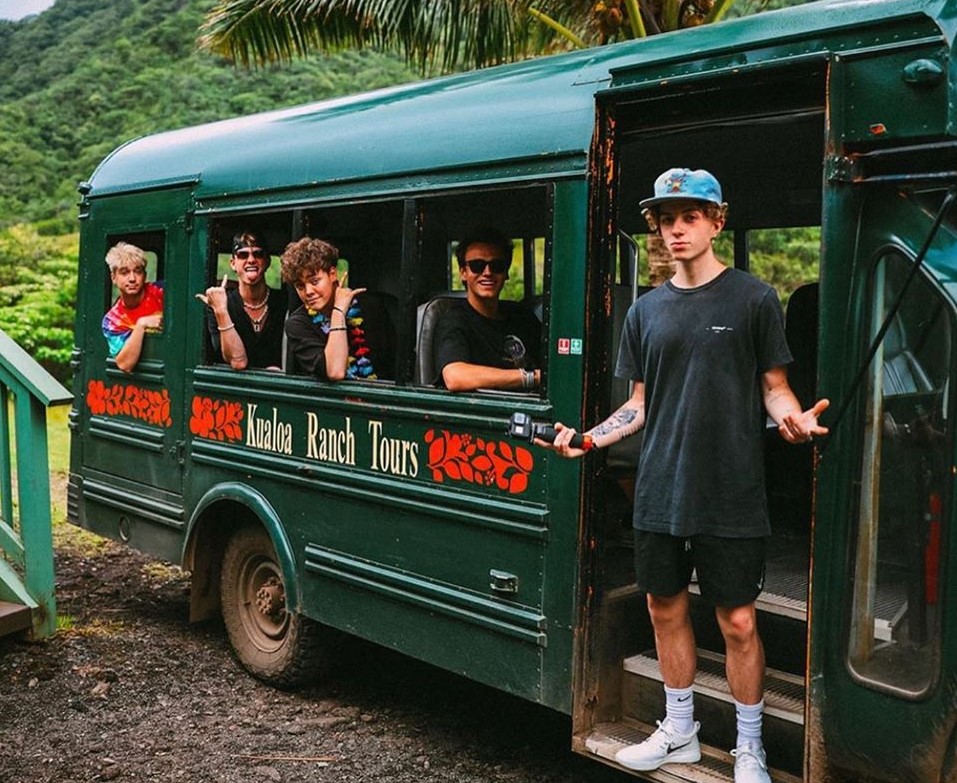 The Jurassic Jungle Expedition Tour is a perfect family adventure for those who are looking for a more chill experience. Although considered as less extreme adventure, you can still expect a bumpy ride. Aboard a classic jeep, you will be taken deep into the Hakipu`u Jurassic rainforest where most of Jumanji scenes were filmed.
As you tour the Jurassic Park Valley, you'd not only be entertained by the great scenery that will come your way. You will also learn more about the valley and the various plants growing there. Now if this kind of stuff gets you bored, guides often throw a bit of humor to keep you hype.
What's good with this tour is it will allow you to reach secluded spots that are not covered in other tour packages.
Jungle Jeep Tour Rate:
$47.95 Adult | $36.95 Child
8. Secret Island Beach Adventure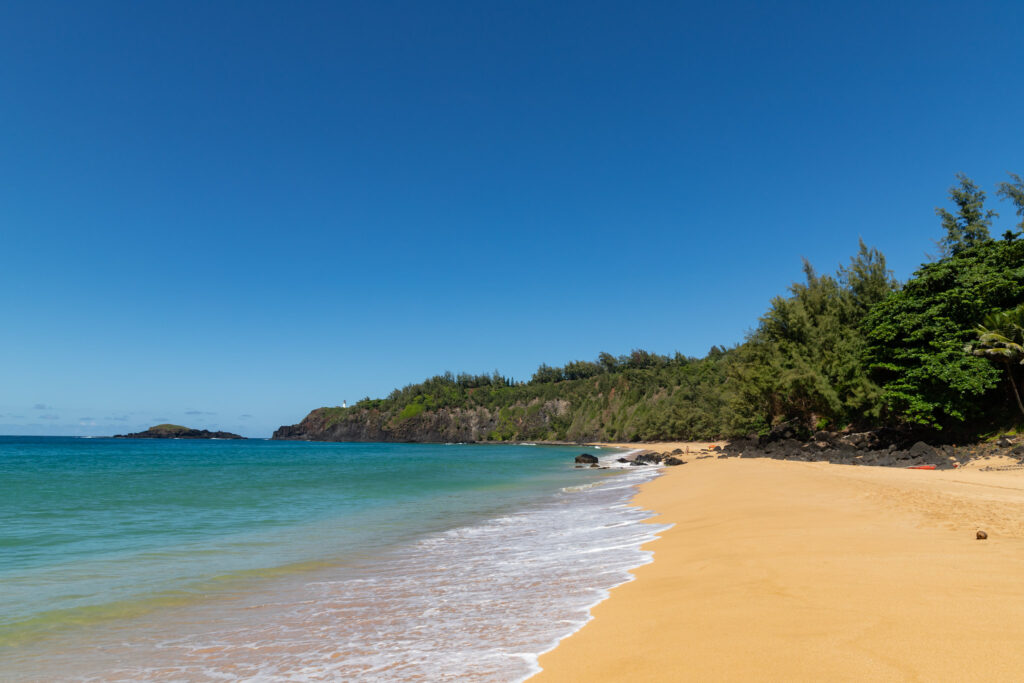 It is no secret that Secret Island Beach has lots of fun adventures to offer. Although it is one of the most secluded beaches in Hawaii, it remains one of the favorites. It is an ideal place for people who are looking for peace of mind and extreme recreation, altogether.
There's a bunch of water sports you can try here while enjoying the stunning views of Kaneohe Bay and the overlooking Mokoli'i island. You can enjoy a beach day of canoeing, stand-up paddleboarding, kayaking, and more.
You have half of the day to explore everything that Secret Island Beach has to offer. But if it's still not enough to achieve your suntan skin, you can opt for a full-day exploration with a relatively higher price.
Secret Island Beach Rates:
Half-Day Tour: $47.95 Adult | $36.95 Child
Full-Day Tour: $89.95 Adult | $69.95 Child
9. Ocean Voyage Cruise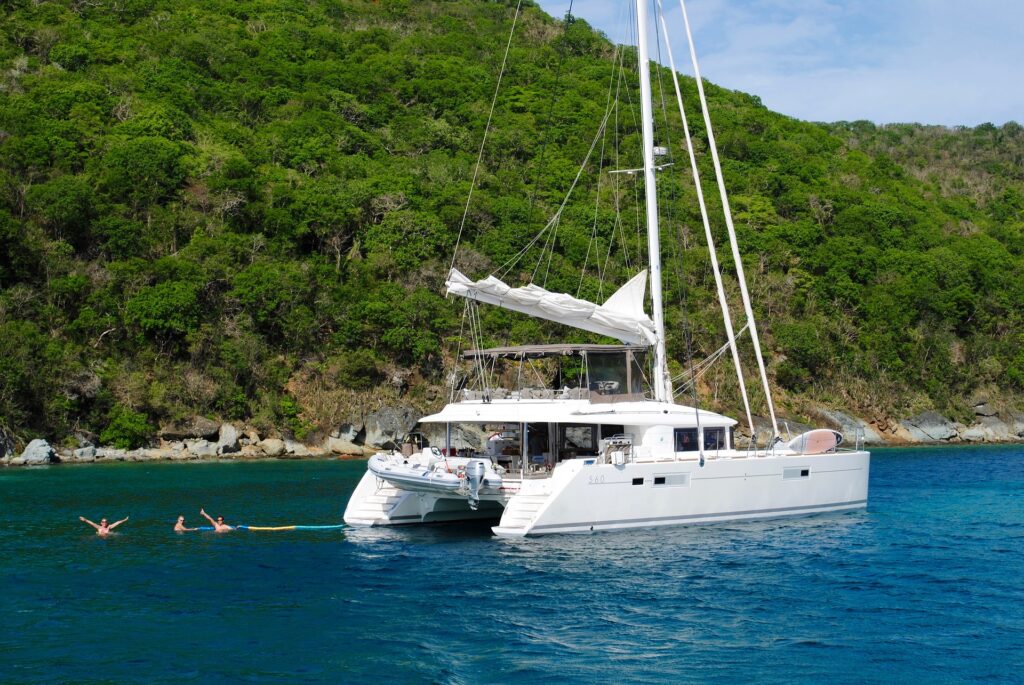 Ocean Voyage Cruise is a family favorite adventure in Kualoa Ranch. Aboard a catamaran, you will be taken to Oahu's beautiful windward side through the Kaneohe Bay. While enjoying the blue waters, you can have a different perspective of the stunning views of mountains from afar. From the waters, you'll see Ko'olau mountains and the sacred Kanehoalani mountain peak.
Right after the ride, you'd have to jump off on a canoe and paddle around the sacred fish pond and see the Mokoli'i Island up-close. If you're lucky enough, you can also have a chance to see turtles feeding right under the crystal clear waters of Kaneohe.
Ocean Voyage Cruise Rate:
$47.95 Adult | $36.95 Child
10. Kualoa Food Tour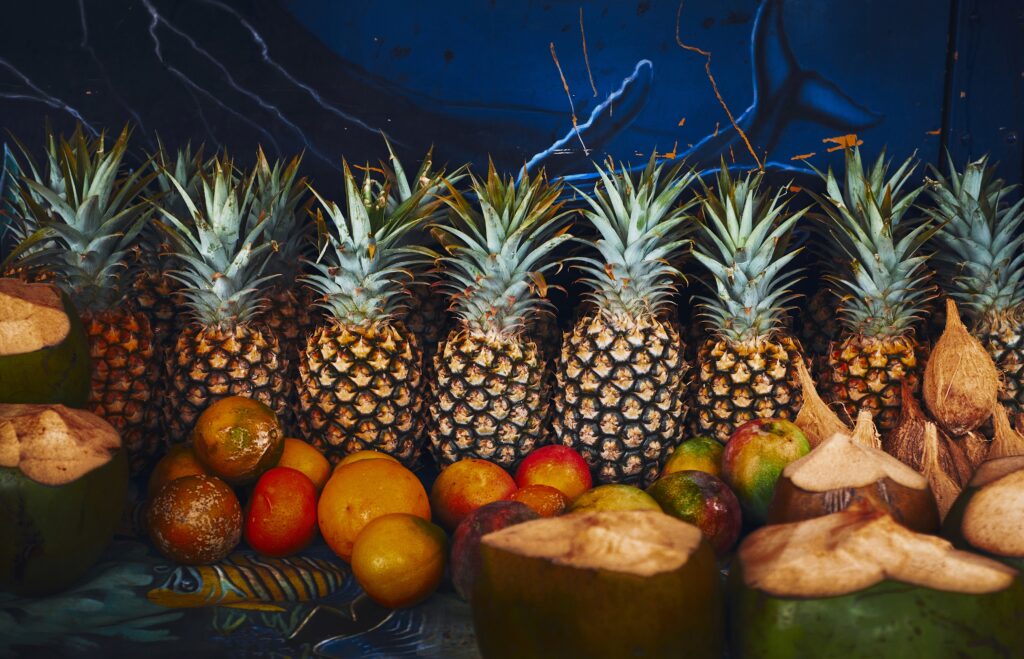 Kualoa Ranch also provides you with a real taste of Jurassic Park Hawaii. Hop aboard a trolley bus and you will be taken to the farmlands that once fed the ancient Kualoa. The tour starts from the visitor center at Kualoa ranch and slowly takes guests deep into tropical fruit and flower gardens as well as ancient fishpond of Moli'i. You'll also be taken into a plantation of coffee, sugar cane, and cacao.
The tour ends in a food tasting site where you can have a try of different tropical fruits such as pineapple, starfruit, papaya, taro, and breadfruit.
Kualoa Food Tour Rate:
$47.95 Adult | $36.95 Child
Pro Tip: You can make ticket reservations for Kualoa Ranch Tours ideally 2-3 weeks in advance. For more of the Jurassic Park Hawaii adventures, book your tickets here.
Where To Stay Near Kualoa Ranch?
Finding accommodations near Kualoa Ranch won't be a problem as many hotels in the area offer pretty good services at an affordable rate. If you are looking for a family size room, here are some offers you can consider courtesy of TripAdvisor.
Paradise Bay Resort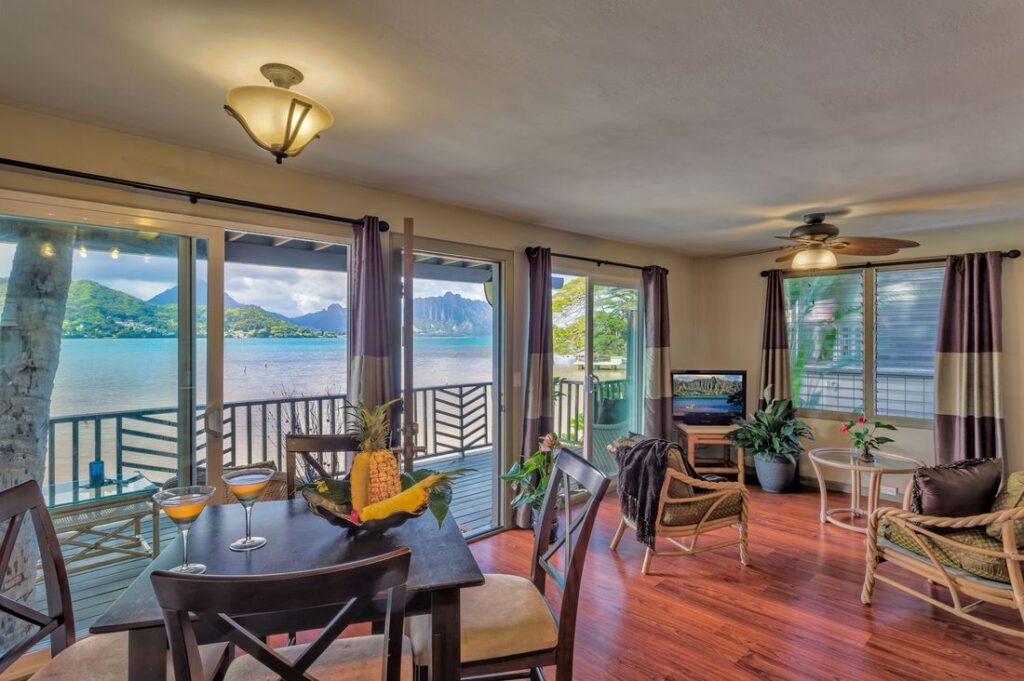 This hotel-type of the resort is conveniently located on Kaneohe Bay. After a long day of adventure and sightseeing, you can plunge into their outdoor pool or hot tub while still enjoying the views of the Koolau Mountain Range. Your accommodation also comes with a complimentary daily deluxe breakfast.
Location: 47-039 Lihikai Drive, Kaneohe
Standard Rate: Bedroom for 2 = $228 per night
Airport Honolulu Hotel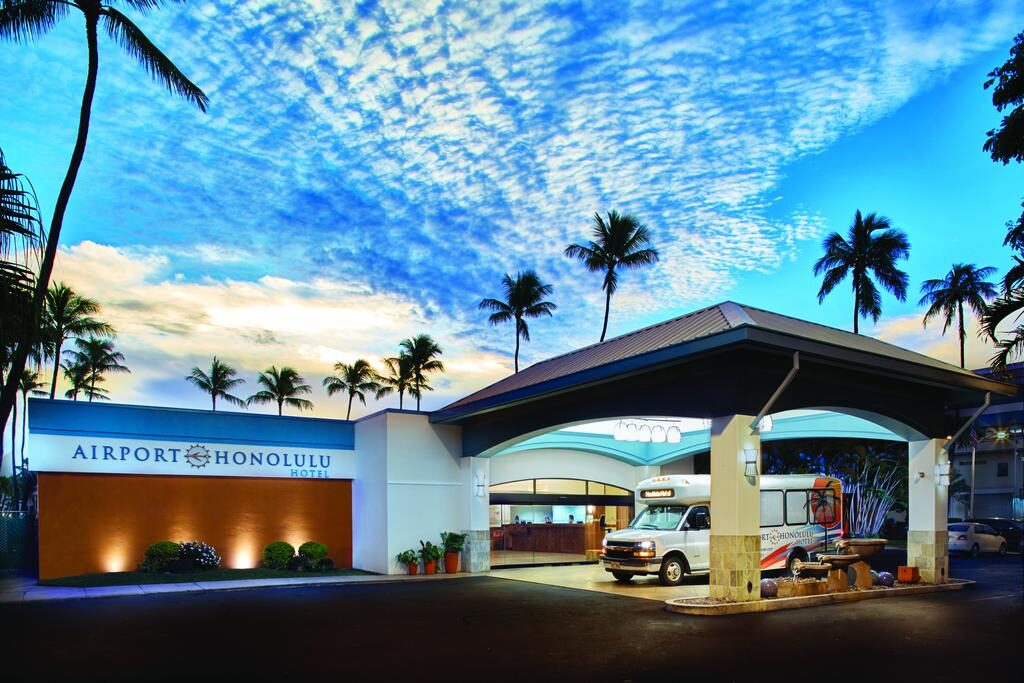 Although a little bit farther from Kualoa Ranch, Airport Honolulu Hotel remains a top pick for people looking for convenient and affordable service. It offers comfortable accommodations furnished with everything you need, from appliances to furniture.
From Airport Honolulu Hotel, it would take a 45-minute drive to get to Kualoa Ranch.
Location: 3401 North Nimitz Highway, Honolulu
Standard Rate: Bedroom for 2 = $174 per night
Best Western The Plaza Hotel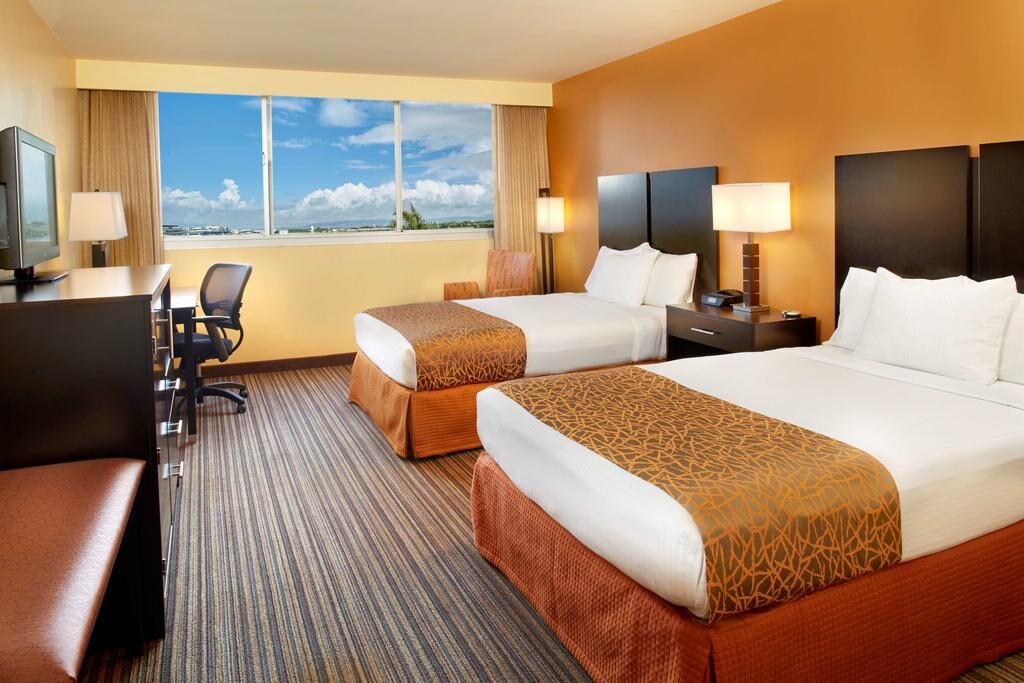 Best Western The Plaza Hotel is just 45 minutes away from Kualoa Ranch. Going to this hotel is very easy as it offers a 24-hour shuttle service to and from the Honolulu International Airport. After exploring the Jurassic Park Hawaii, you can also visit other sites near the hotel like the Pearl Harbor National Memorial and the Missouri Center.
If you opt for a day of a staycation, you can dive deep into the hotel's outdoor pool after enjoying the free breakfast that comes along.
Location: 3253 North Nimitz Highway, Honolulu
Standard Rate: Bedroom for 2 = $189 per night
Courtyard by Marriott Oahu North Shore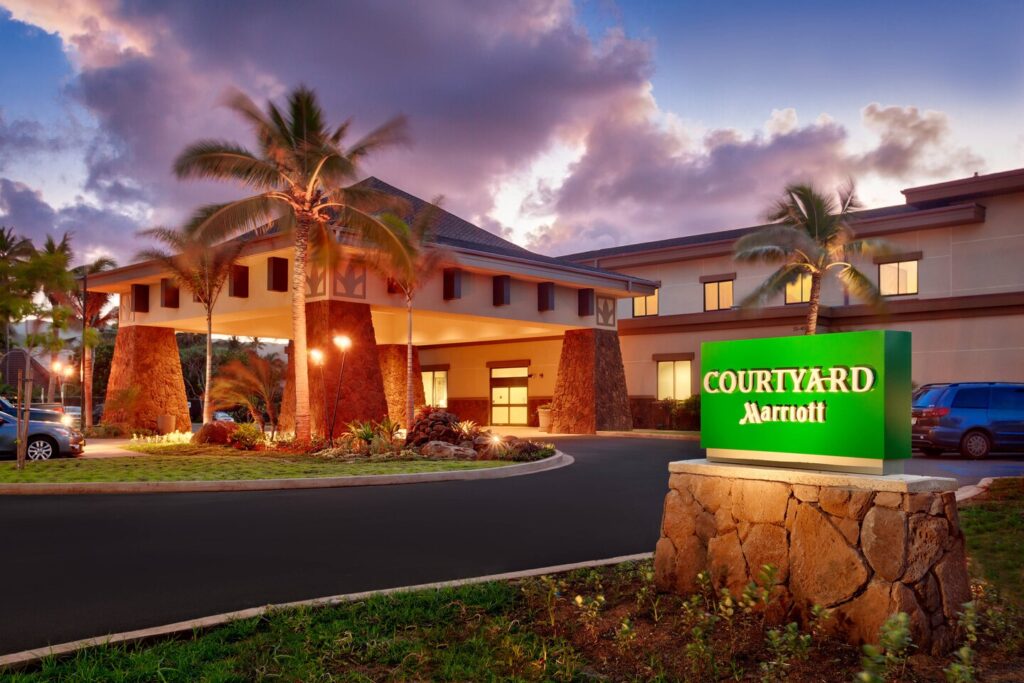 The Courtyard offers the amenities one would look for a hotel – outdoor pool, kitchen, and private bathrooms. What sets it from the rest of the hotels within the area is the fitness center it offers. If the Kualoa Ranch adventures are not enough to burn your calories, head off to Courtyard's gym and sweat up!
From Courtyard, it would take a 22-minute drive to get to the Jurassic Park Hawaii.
Location: 55-400 Kamehameha Highway, Laie
Standard Rate: Bedroom for 2 = $339 per night
Pagoda Hotel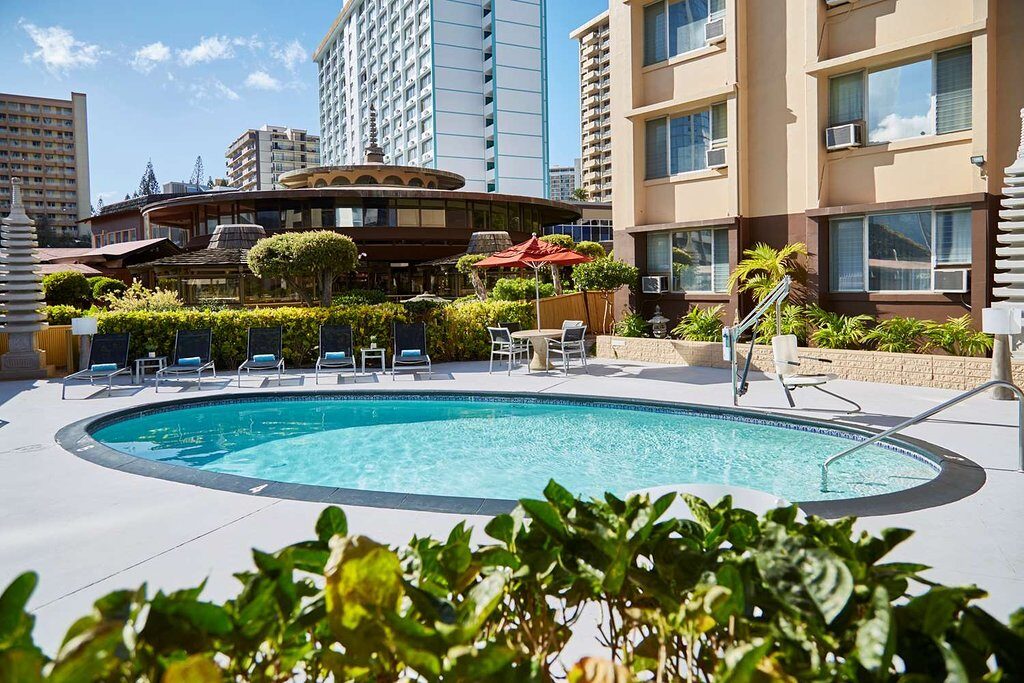 Located in downtown Honolulu, Pagoda Hotel is famed for the floating restaurant it offers. While enjoying the classic Hawaiian foods, you can have a different kind of relaxation by the koi pond. It also offers great amenities featuring an outdoor swimming pool, sun terrace, and more.
Pagoda Hotel is 43 minutes away from Kualoa Ranch. Just moments away from the hotel are the other must-visit beaches like the Waikiki and Ala Moana Beach.
Location: 1525 Rycroft Street, Downtown Honolulu
Standard Rate: Bedroom for 2 = $169 per night
Coconut Waikiki Hotel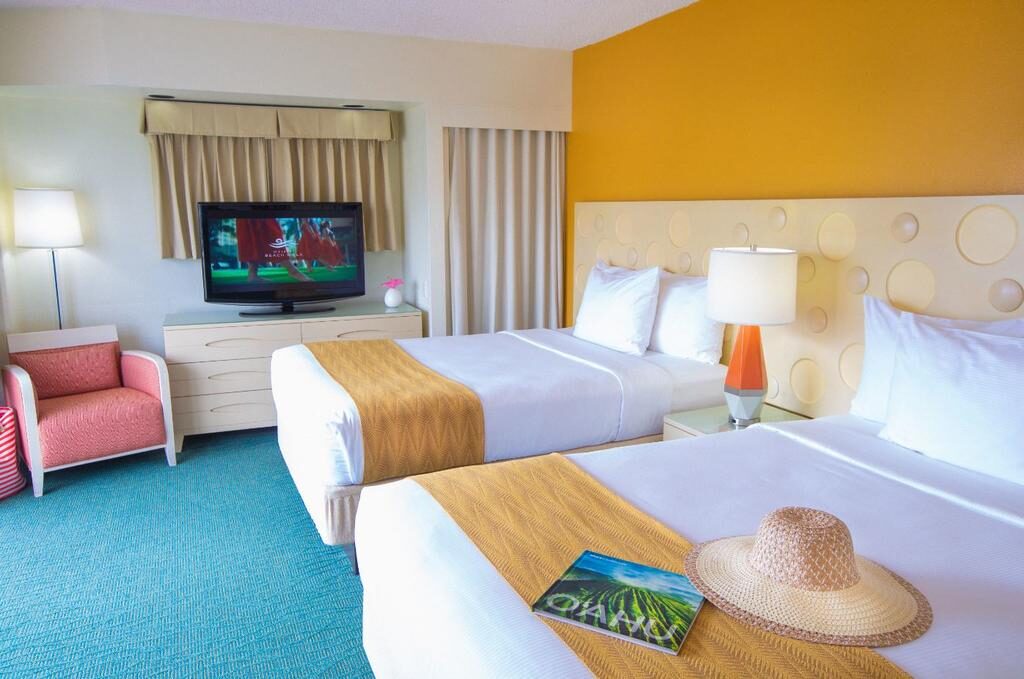 Coconut Waikiki is a boutique hotel famous for those who love beach walks and sunsets. As if the Kualoa Ranch adventures are not enough, it offers guests with different fun activities and challenges such as sandcastle building, trivia night, and Jenga tournament.
It would take 45 minutes to get to Jurassic Park Hawaii from Coconut Waikiki.
Location: 450 Lewers Street, Waikiki, Honolulu
Standard Rate: Bedroom for 2 = $199 per night
Best Time To Visit Kualoa Ranch
Hawaii is a tropical state which means the weather generally warm the entire year. There's only two weather seasons here, summer and winter. Summer, which falls in May to October, is the best time to visit Kualoa Ranch as the weather is dry and it rarely rains. The average temperature during the season is 29.4° C. If that's too much for you, winter would be more bearable but don't expect snow.
Winter in Hawaii is a bit different from the rest of the world. In fact, you would hardly see any snow unless you are 10,000 feet above sea level. Instead of snow, Hawaii gets a lot of rain during the season. If you like a watery adventure then you should visit Kualoa Ranch in winter!
Takeaway
If you are a real Hollywood movie fan, you shouldn't miss a visit to one of the biz's favorite backdrops and have an experience as if you're on the big screen. You should plan your visit carefully and book your tickets beforehand as the tour packages sell out real quick. Kualoa Ranch sells limited tickets to provide you a more personal experience. It would often take a month to get available slots, but the wait will be worth it once you get there.
After your Jurassic Park Hawaii adventure, head on to Utah state and national parks for a different nature experience!