South Korea is a country with diverse cultures and cuisines to boast. The country's capital city, Seoul, is a known kingdom for all foodie. Aside from local buffet and casual restaurants that offer authentic South Korean food, there are many Korean street food that is worth your taste buds and penny.
The Korean style of eating street food is walking around the streets filled with pojangmacha (street carts) offering street food in full-size or bite-size, depending on how much you want to eat. These food are often prepared for Seoulites who can eat while standing up or while walking around Seoul. Plus, these are also perfect for those who are running late for the subway.
If you are planning to visit the city of Seoul anytime soon, here is our ultimate guide for the top 20 must-try South Korean street food to satisfy your tummy and soul.
1. Spicy Rice Cakes (Tteokbokki)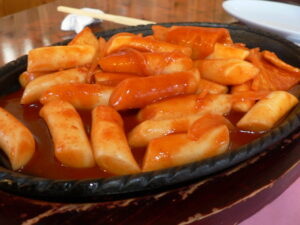 Tteokbokki is a signature authentic dish of South Korea. These bite-sized rice cakes come with a spicy red sauce called gochujang. If you have low to medium tolerance to spiciness, don't worry. Tteokbokki is a spicy food but it definitely will not burn your tongue.
Before, tteokbokki is a food exclusive for the royal court. Today, these sweet, spicy, and chewy rice cakes are present in most street carts and restaurants. Even partygoers and bar hoppers would also stop on the street just to satisfy their cravings for tteokbokki.
Cost: 2,000 – 4,000 KRW ($1.70 – $3.40) per plate at Myeongdong Street
1,000-3,000 KRW ($0.85 – $2.55) per plate at Gwangjang Market
2. Fishcake (Odeng/Eomuk Tang)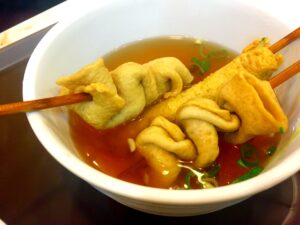 Eomuk Tang is the native Korean term for fishcake served with soup. Widely known as Odeng, these hot, chewy fishcakes are served in skewers. The hot soup, on the other hand, is a broth made from seafood and spring onions.
In addition, the broth of Odeng is a well-loved soup in Korea, especially during winter. It is a good partner for soju during drinking sessions, and an effective hangover cure as well.
Moreover, eating Odeng in the street is usually on a self-serve basis. You just need to get a skewer and broth, the stall staff will count the number of sticks you have consumed when you're done.
Cost: 500 – 8,000 KRW ($0.42 – $6.79) per stick at Gwangjang Market, Myeongdong, and Namdaemun Market
3. Sweet Pancakes (Hotteok)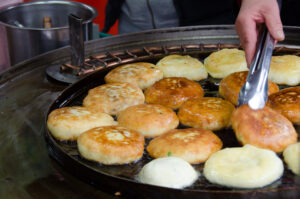 Hotteok or sweet Korean pancakes are doughnut-like sugary pancakes with brown sugar, caramel, black sesame, peanuts, red beans, or honey fillings.
Stalls serving hotteok are usually filled with crowd who could not resist watching the dough shimmering in heat until golden brown, with its cinnamon and brown sugar fillings turning into caramel. It is mouth-watering already just by watching each dough gets cooked.
Also, it is best eaten fresh and hot, but be careful because the filling may burn your mouth!
Cost: 500 – 10,000 KRW ($0.42 – $8.50) per piece at Insadong (price depends on the store and the fillings)
4. Pork Trotters (Jokbal)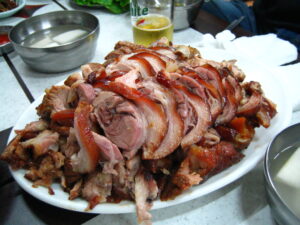 Jokbal may seem greasy and unpleasant for some, but do not be fooled by its visual. These pork trotters or pig's feet are actually one of the top favorite comfort food in South Korea.
Pig trotters are cooked with soy sauce and other Korean spices such as ginger, garlic, rice wine, and leeks, as well as cinnamon and black pepper. The meat has three noticeable layers when cooked: the dark gelatin-like skin, the white fat, and the meat.
Stall and restaurant owners serving this Korean street food pay close attention to the meat's "porkiness" for better aroma and also the quality of taste.
Cost: 7,000 – 16,000 KRW ($5.95 – $13.59) per portion at Manjok Ohyang Jokbal
5. Banana Milk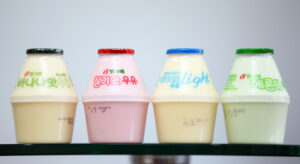 If you think banana milk is for school kids only, then think again. This famous banana milk in little cartons can be found in every convenience store in South Korea. And yes, it is well-loved by everyone craving for sweets, regardless of age.
Milk in cartons is also available in strawberry, blueberry, and coffee flavors.
Cost: 4,120 KRW ($3.49) per carton of 4 bottles at Lotte Mart Seoul Station
6. Live Octopus (Sannakji)
If you are in for some good sashimi, you can try the live octopus sold in the streets of Seoul. Sannakji is not just a portion of Korean street food, it is also a signature dish of the country.
These octopuses are fresh from the ocean. They are served fresh with sesame chilli oil for a flavorful, chewy, and slightly crunchy taste. Don't worry, the octopuses are dead although you can still see the tentacles wriggling.
Cost: 10,000 KRW ($8.48) per serving of live small octopus at Noryangjin Fish Market.
7. Pancakes (Pajeon)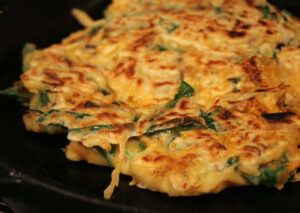 Pancakes in Seoul are not just your typical fluffy and sweet pancakes. They are usually stuffed with leeks, onion, and vegetables.
There are different types of Korean pancakes or pajeon: mung bean pancake or bindaetteok, seafood pancake or haemuljeon, beef pancake or soegogi-jeon, green chili pepper pancake or gochujeon, and many more.
Cost: 5,000 – 7,000 KRW ($4.24 – $5.94) per order at Gwangjang Market or Nakseo Pajeon
8. Kimbap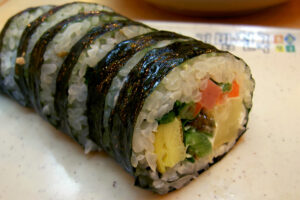 Often called as South Korea's version of Japan's sushi, gimbap consists of rice (bap) with kimchi, meat, vegetable fillings wrapped altogether in seaweed (kim).
Kimbap is a Korean street food that is both mouth-watering and energizing. These rolls are freshly available in most street carts, markets, and even in convenience stores all over Seoul.
Cost: 1,000 – 3,000 KRW ($0.85 – $2.54) per roll at Gwangjang Market
9. Blood Sausage (Soondae)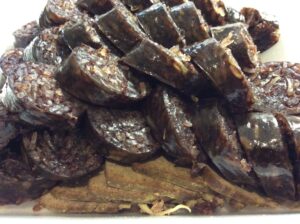 This Korean street food is made of boiled or steamed cow or pig's intestines filled with pig's blood and glass noodles.
The most common type of blood sausage is the pig's intestines.  It tastes fluffy, spongy, and of course, porky. It is also a crowd favorite for most neighborhood in Seoul.
Cost: 6,000 KRW ($5.09) per plate at Gwangjang Market
10. Egg Bread (Gyeranppang)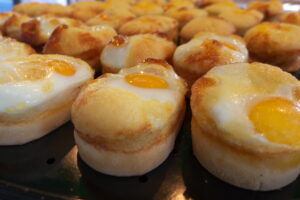 A bread steamed with a whole egg on top. Gyeranppang is literally an egg bread.
This egg bread is a fluffy, oblong-shaped golden muffin bread cracked with whole egg with parsley on top.  It is also a popular Korean street food especially in winter because it is always served warm, crispy, and chewy.
Some stores also serve egg bread with cheese.
Cost: 2,000 KRW ($1.70) per piece at Myeongdong Food Street
11. Goldfish Bread (Bungeoppang)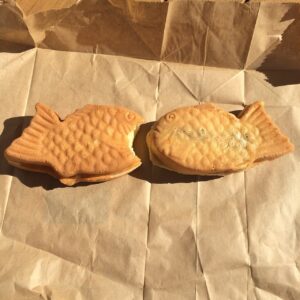 In Seoul, you can find street stalls serving these cute fish-shaped waffles. They are crispy golden brown on the outside but with soft, sticky, and hot sweet red bean paste on the inside.
Bungeoppang is just one variant of this red bean paste bread. There are also other variants like the gukhwappang or chrysanthemum-flowers bread, a red bean paste bread steamed and molded in the shape of a chrysanthemum.
Cost: 1,000 – 2,000 KRW ($0.85 – $1.70) per piece at Myeongdong Shopping Street
12. Corn Dog (Tokkebi)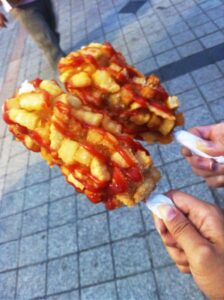 Hotdogs and french fries are global favorite street food. Now, imagine eating these two in one bite? Yes, that is the fun feature of corn dogs (tokkebi) in Seoul.
Seoul's version of corn dog is a battered sausage fried with french fries as the crust. Some vendors also put crushed ramen on the crust.
Cost: 500 – 5,000 KRW ($0.42 – $4.24) per stick at Nandaemun Market, Gwangjang Market, and Kondae
13. Korean Grilled Cheese Lobster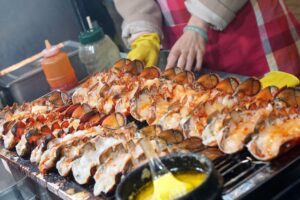 If New York has lobster rolls, Seoul has grilled cheese lobster. It is also the most expensive Korean street food, but you will surely get the quality taste you paid for. The lobsters are fresh with sweet and melted cheesy flavor. Besides, did you know Jin from BTS is a big fan of lobster too?
Cost: 18,000 KRW ($15.26) per serving at Myeongdong Food Street
14. Spicy Chicken Skewers (Dakkochi)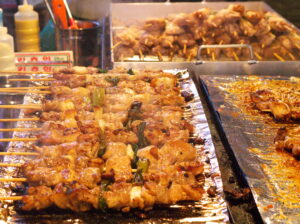 Of course, street foods are not complete without meat skewers or barbecues. Seoul has extra special chicken barbecues. They are grilled tender chicken and spring onion skewers with a fusion of smoky charcoal flavor and a sticky spicy-sweet sauce.
Moreover, this Korean street food is a perfect pair of a cold bottle of beer.
Cost: 3,000 KRW ($2.54) per stick at Myeongdong Food Street
15. Baked Cheese And Rice Cake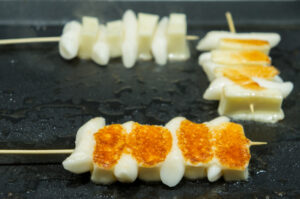 South Koreans are really into cheesy food. These skewered baked and grilled rice cakes and mozzarella cheese are also one of the best-selling Korean street food.
Cost: 3,000 KRW ($2.54) per stick at Myeongdong Food Street
16. Korean Dumplings (Mandu)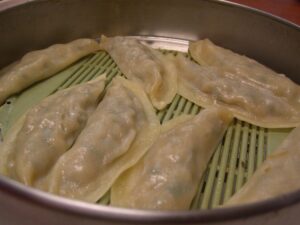 Korean dumplings are crispy are juicy with meat and vegetable fillings. They are also boiled in noodle soup for a warm and flavourful winter food.
There are different types of mandu according to fillings: kimchi mandu (with spicy kimchi), kogi mandu (with gingery minced pork), jjinppang mandu (with red bean paste and pork), among others.
Cost: 3,000 – 12,000 KRW ($2.54 – $10.18) per plate at Bukchon Son Mandu, Jongno-gu
17. Baked Cheese Scallops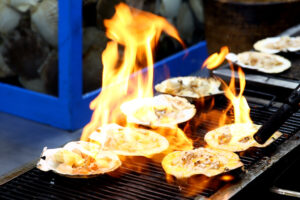 In case you are fascinated with the grilled cheese lobsters and would like to explore other cheesy seafood, try the baked cheese scallops while walking by the streets of Seoul.
However, expect it to be almost as costly as the lobsters. This Korean street food is made of baked scallops with butter, mozzarella and cheddar cheese, grilled to perfection with a blowtorch.
Cost: 10,000 KRW ($8.48) per large shell at Myeongdong Food Street
18. Korean Fried Chicken And Beer (Chimaek)
Photo from Republic of Korea Official Flickr
Seoul is popular for its distinct flavorful fried chicken. The city's streets are full of food carts selling Korean-style fried chicken (yangnyeom tongdak) in snack sizes. These bite-sized chickens are tender and drizzled with their signature mouth-watering, finger-licking spices.
Additionally, you can choose from different sauce flavors, from sweet and spicy, to soy and garlic, as well.
Korean chicken is also a perfect partner of beer (maekju). Chicken and beer (chimaek) is, undeniably, a go-to order in every Korean street food stalls and restaurants.
Cost: 20,000 KRW ($16.96) per order of fried chicken and a bottle of beer at Gangnam Street
19. Korean-style Tempura (Twigim)
Photo by Doomake from Pixabay
Seoul's version of the Japanese tempura is less crispy but stuffed with more ingredients. Twigim is deep-fried in a batter with squid, vegetables, sweet potatoes, and sometimes, boiled eggs.
Cost: 5,000 KRW ($4.24) per cup at Myeongdong Food Street
20. Noodles (Myeon)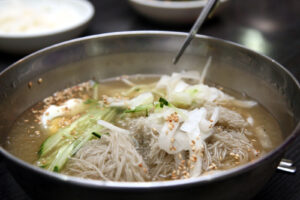 Korean noodles are not just a top favorite amongst the locals but also of foreigners. It might not look like a Korean street food, but in the busy streets of Seoul, vendors also sell them as a quick meal.
Noodles are served cold (known as naengmyeon, a North Korean cold buckwheat or sweet potato noodles with beef, vegetables, and eggs in an icy broth) or spicy hot (known as sujebi, hand-torn noodles with clam and vegetable broth).
Cost: 13,000 KRW ($8.48) per bowl at Woo Lae Oak
Takeaway
There you go with all the mouth-watering and tummy-fulfilling stuff you could find in the busy streets of Seoul, South Korea. Wondering where to go next after your Seoul-ful adventure? You can go for a budget-friendly spring break vacation! On the other hand, if you are into flashy places with fulfilling buffets, why not consider flying to Vegas?
Wherever you want to go next, always prepare for your trips carefully and enjoy the journey. Life is all about getting new experiences and enjoying every moment anyway!