When we speak of coffee shops, we mean a place where we can have a cup of steaming coffee while enjoying a slice of cake. But Amsterdam coffee shops are extremely different from the usual coffee shops that we know of. Well, they do serve lattes, cookies and the like but they are only options. What takes the center stage in the city's coffee shops are cannabis, marijuana, hashish, and other weeds.
If you are a weed enthusiast you might not take this by surprise. But for those who have no idea, Amsterdam has a tolerance policy in the use of cannabis and other soft drugs which have penetrated even coffee shops. Nowadays, Amsterdam coffee shops also sell cannabis products to the public for personal use.
In this article, we will discuss the things you need to know about Amsterdam coffee shops and guide you to the best places where people get high safely.
Where is Amsterdam?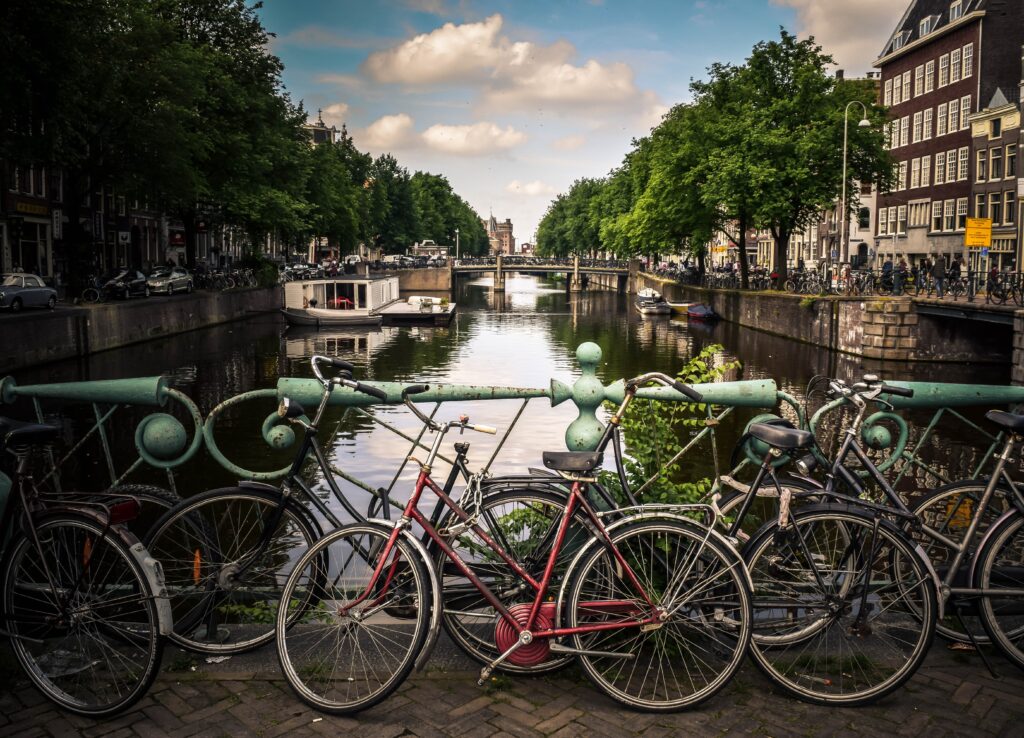 Amsterdam is the capital city of the Netherlands. It is located on the West side of the country, in the Province of North Holland. The city is famous for its artistic heritage and serves as one of the important cultural centers of Western Europe. It is where some of the well-known figures of Arts came to life such as Adriaen Backer and Adriana Spilberg. Its artistic history is evident in the elaborate canal system that crosses beautiful houses and gabled streets within the city.
Today, Amsterdam is known for its "live and let live" spirit that attracts people looking for a one of a kind adventure. Over the past year, the city's popularity has spiked with over 5 million visitors per year — pretty much for a city with a little over 830,000 residents. Most of the visitors in the city are young adults seeking a darker and underground nightlife experience. Its Red Light District is commonly associated with soft drugs, alcohol, and sex. But this area of Amsterdam is not as bad as you think it is. Within the Red Light District lies top-notch coffee shops that play an important role in the rise of tourism in the city.
How Did Amsterdam's Affair With Coffee Shops Start?
We know of Amsterdam, and the Netherlands as a whole, as a liberating place even for stoners. It has been very tolerating when it comes to the use of soft drugs to the point that you can have access to it even in coffee shops in the broad daylight. The Netherland government gives coffee shops special considerations to sell small quantities of cannabis products.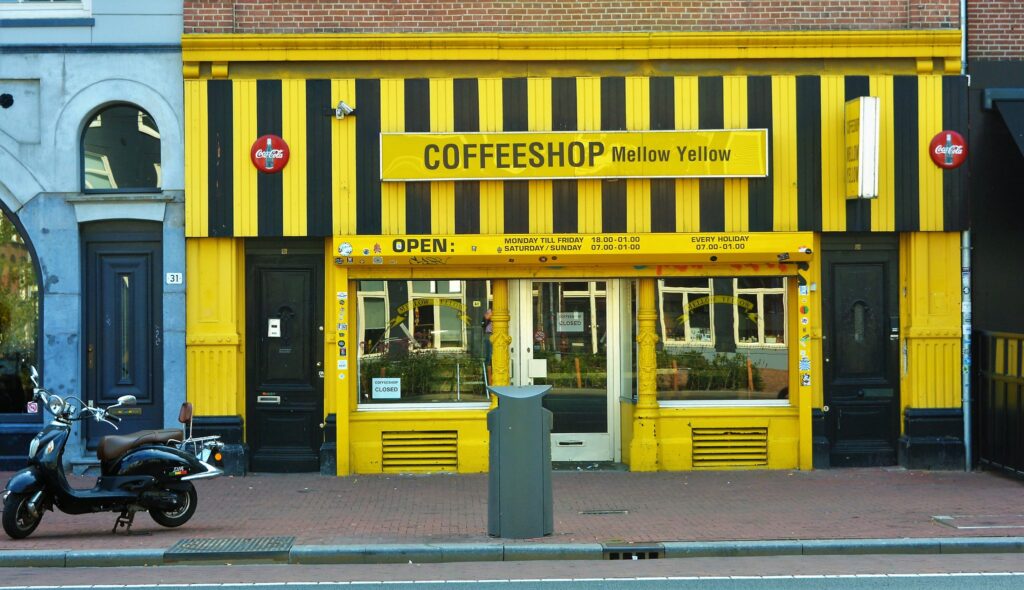 This set up started in the late 60s to early 70s. Back in the day, dealers flagrantly sold soft drugs in youth facilities like music venues. Instead of closing these places, the government informally tolerated the use of cannabis. The government took a passive approach out of fear of exposing cannabis users to harder drugs should they ban cannabis dealing. That's when coffee shops have also started selling cannabis-related products.
Mellow Yellow is the first to introduce the idea of selling cannabis in coffee shops. However, cannabis products were not originally part of their menu. Instead, a dealer poses as a customer in the coffee shop to sell soft drugs to other customers. It was only in 1975 when a coffee shop started selling cannabis behind the counter which gave birth to the "Amsterdam Coffee Shops" we know today.
Amsterdam Coffee Shops vs Coffeehouses
People around the world use the words coffee shop and coffeehouses interchangeably, and we see no problem with that. They both serve coffee which makes no difference. But in Amsterdam, coffee shops and coffeehouses lie far across from each other. So when a Dutch says "coffee shop" he means a place where he could smoke weed. Coffeehouses in Amsterdam, on the other hand, means a place where you can have a dose of caffeine and pastries.
As if it is not confusing enough, cafes for Dutch also have its connotation — different from a coffee shop and a coffeehouse. They use "cafe" to refer to casual restaurants and bars.
Now, how do we identify Amsterdam coffee shops from coffeehouses and cafes?
It is a common mistake among tourists in Amsterdam to confuse a coffee shop from a coffeehouse or a cafe. Some tend to enter the wrong establishment and ask for some weeds on the counter when in fact, the clue is right on the doorstep. Coffee shops selling marijuana have green and white stickers in storefront windows. This is to indicate that they have a permit to sell cannabis products.
What Can You Buy In Amsterdam Coffee Shops?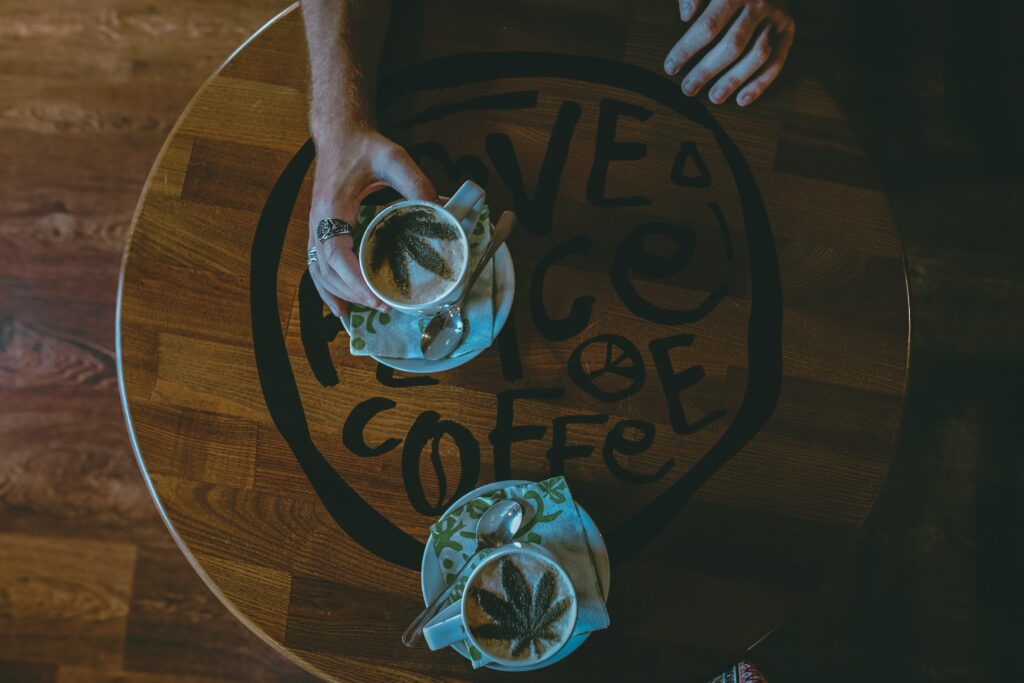 Like a regular cafe, Amsterdam coffee shops have menus lying on the tables or hanging on the walls. It typically consists of weed and hash sold per gram or in pre-rolled joints. Most of the coffee shops also offer space cakes and brownies with the kick of cannabis. You can also find something to sip like tea, milkshake, coffee, and other types of juices.
However, if you are someone looking for some liquor, coffee shops might not be the place for you. A withstanding rule regarding selling cannabis and alcohol has been in effect in Amsterdam since 2007. This rule prohibits an establishment from selling alcohol and cannabis at the same time. Which means, it's always between alcohol or weeds.
Amsterdam Coffee Shops Etiquette
While it might seem like a territory of people who like getting high, there are some rules to follow when entering a coffee shop in Amsterdam. Here are some basic etiquettes you must ponder before visiting Amsterdam coffee shops.
1. Ask about the menu.
Some people are hesitant to ask questions about menus and tend to play the guessing game when picking what to order. This is the last thing you should do when you are in an Amsterdam coffee shop as their products differ in the amount of cannabis they contain. Instead of mistakenly taking more than what you can tolerate, go ask the staff on what they recommend and the effects of the said products. Coffee shop workers are generally knowledgeable and are willing to help customers. It is part of their job to answer questions and they won't judge if you ask one.
2. Don't just hang around, buy something.
Although you can bring your cannabis products in a coffee shop, it's not ideal to just hang around there without buying anything. Essentially, you are taking up space that could have been for paying customers. You don't necessarily have to buy cannabis products if you have one already. Grabbing a cup of coffee or a snack will do.
3. Consume what is recommended.
Amsterdam coffee shops limit the cannabis purchase for each person to 5 grams per day, may it be pure marijuana or edibles. Although you can jump from one shop to another for more, you shouldn't underestimate the effects of cannabis. As they say, a little goes a long way. Besides, you can only have up to 500 grams stockpiled.
4. Don't be gross.
A coffee shop is a common commune so it is a must to keep everything tidy. Don't leave a bunch of dirt in your table like pastry crumbs, wrappers, and ashes if you smoked. People come and go in Amsterdam coffee shops and they will appreciate a place without your marks.
5. Bring your I.D.
You won't get your order unless you are an adult. They don't sell marijuana products to minors below 18. So if you look younger than your age, always bring your ID when visiting coffee shops in Amsterdam.
6. Talk to strangers but don't disturb them.
Don't be so afraid to hit a conversation in a coffee house. Most Dutch are very friendly and they are fun to talk with. However, if one doesn't seem to be interested, politely back off and do not disturb.
Best Amsterdam Coffee Shops To Visit
Although there are over 170 coffeeshops in Amsterdam, some seem to be very bland and lack energy. However, some are cultivating a fun and lively environment to match the growing demand for Amsterdam coffee shops. Here are a few standout places in town where you can get high.
1. Rusland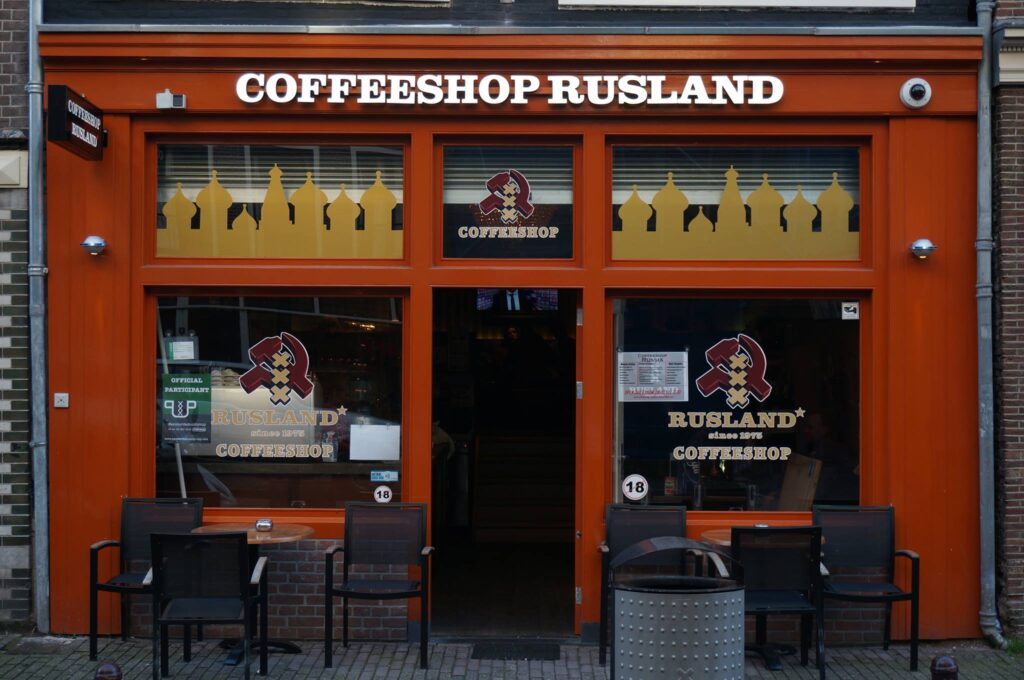 Rusland is among the first coffee shops to integrate cannabis in its menu. It is currently the oldest coffee shop in operation after the closure of Mellow Yellow in 2017. The coffee shop started as a small place in May 1975 and since then, it grew to be one of the most sought after coffee shops in Amsterdam.
Rusland has a pretty impressive menu. On the weed side, they have dozens of strain of contemporary and old school cannabis. They also have an excellent soft dark hashish as well as domestic isolators with high potency. For edibles, they have cheese toasties, flavored muffins, and paprika chips. If you are into drinks, Rusland has hot chocolates, latte, tea, as well as a chocolate milkshake, and ice-coffee.
Rusland is located in the old city center of Amsterdam known as De Wallen or "The Walls". It is outside the Red Light District near the southern edge of Dam Square.
Location: Rusland 16, 1012 CL Amsterdam, Netherlands
Business Hours: 8:00 AM – 12:30 AM
2. Original Dampkring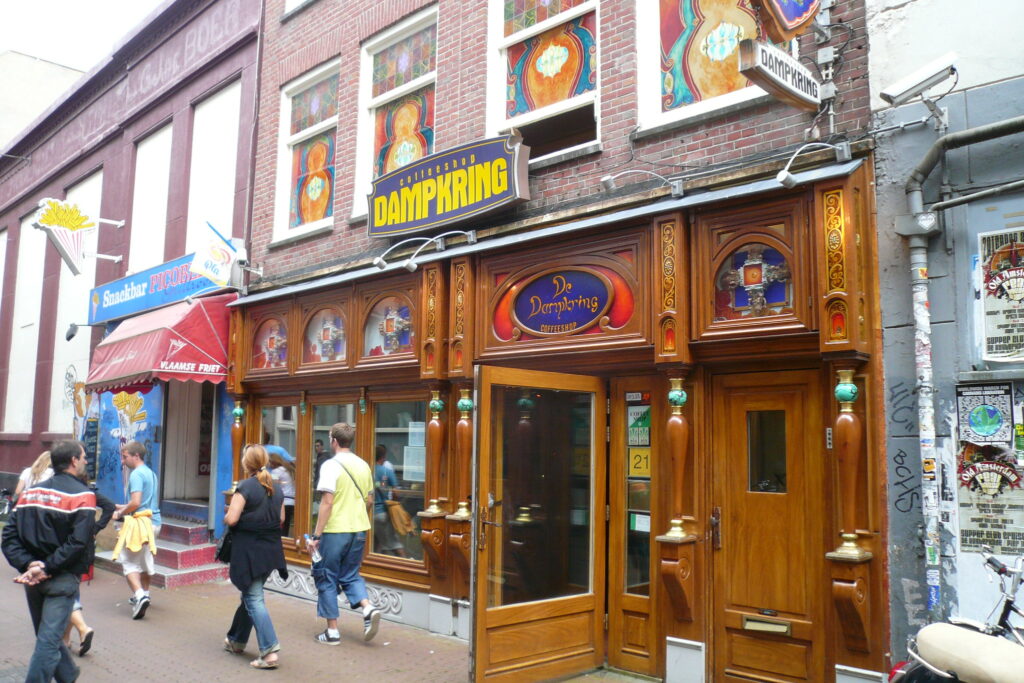 Original Dampkring is an iconic hangout in Amsterdam that is patronized both by seasoned and novice stoners. As compared to other coffee shops, it has a friendlier air that reflects a more wholesome side of the cannabis scene. The place can cater to groups of four or five, however, it requires some waiting during peak hours due to the coffeeshop's growing popularity.
Dampkring's interior is cozy and homely at some point. It features some Arabic and Bohemian influences that are highlighted by striking colors and lighting. Dampkring came to international fame after playing a cameo for Brad Pitt and George Clooney's movie, Ocean's Twelve. Aside from an extensive marijuana menu, the coffee shop is known to have the best milkshakes in the city.
Dampkring Coffeeshop is located near Amsterdam Flower, between Dam Square, Leidseplein and Rembrandtplein.
Location: Handboogstraat 29, 1012 XM Amsterdam, Netherlands
Business Hours: 10:00 AM – 01:00 AM
3. Grey Area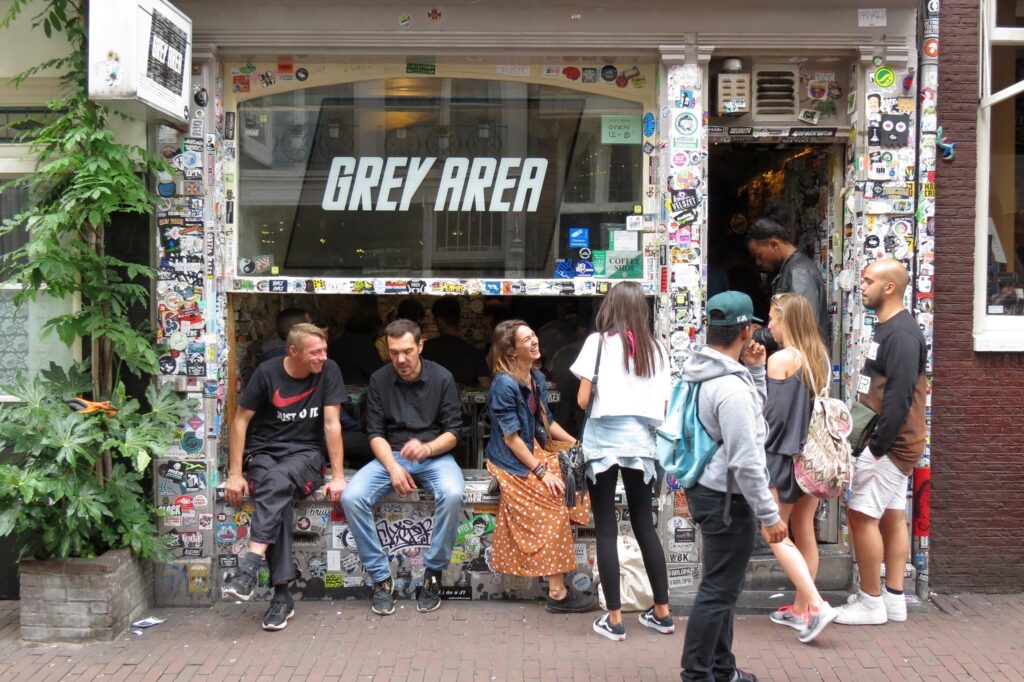 Aside from the interior, you wouldn't find a grey area in the Grey Area. Their selection of weeds is on point, from hashish to kush. For over 25 years, this coffee shop in Amsterdam has served as a haven for cannabis enthusiast including some celebrities. Names like Snoop Dogg, Willie Nelson, and Ty Dolla $ign have already tried smoking here.
Grey Area's menu is pretty diverse so you wouldn't run out of choices. The coffee shop has scout cookies and brownies for edibles that come with free refill for coffees. If you don't want to so baked, you can ask the budtenders which products have the least effect. But the best choice is always between Sativa or Indica.
Grey Area is located near Nine Streets. The place is hard to miss with all the quirky and colorful stickers on the shop's storefront. However, the place is a bit small which easily gets filled during peak hours.
Location: Oude Leliestraat 2, 1015 AW, Amsterdam
Business Hours: Noon – 8:00 PM
4. Barney's Coffeeshop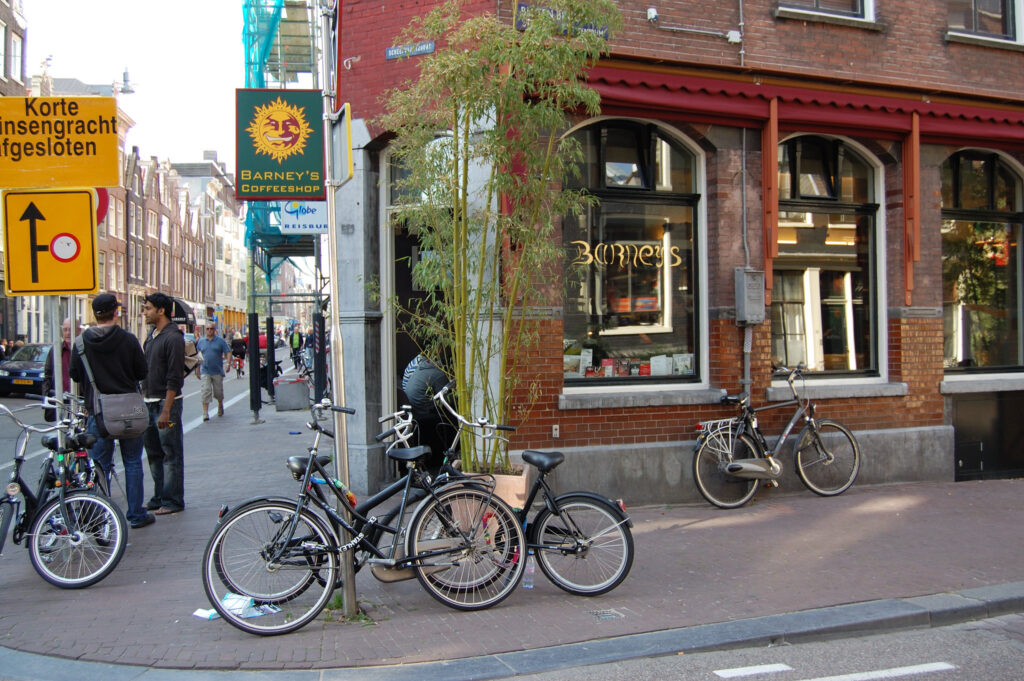 Although it sounds just like the icon for children, Barney's Coffeeshop has no room for kids. It is among the pillars of the cannabis industry in Amsterdam. Compared to other coffee shops, Barney's offers a bit pricey selection of strains but that is justified by how they strike a balance with first-rate weed and service. If you want to sit in and take your time, this coffee shop is for you. There's no rush of people here which makes it a great place for smoking sessions.
Barney's coffeeshop has a huge selection of hearty edibles for their menu. They have Jaffa cakes, cookies, brownies, and even gelato — all with the kick of cannabis. For drinks, they have espresso, latte, coffee, as well as some cold drinks.
Barney's Coffeeshop is set inside a quincentennial building in Haarlemmerstraat. Since it opened 23 years, the place has undergone multiple renovations to the cozy coffee shop that it is today.
Location: Haarlemmerstraat 102, 1013 EW, Amsterdam
Business Hours: 8:00am – 1:00am
5. The Bulldog The First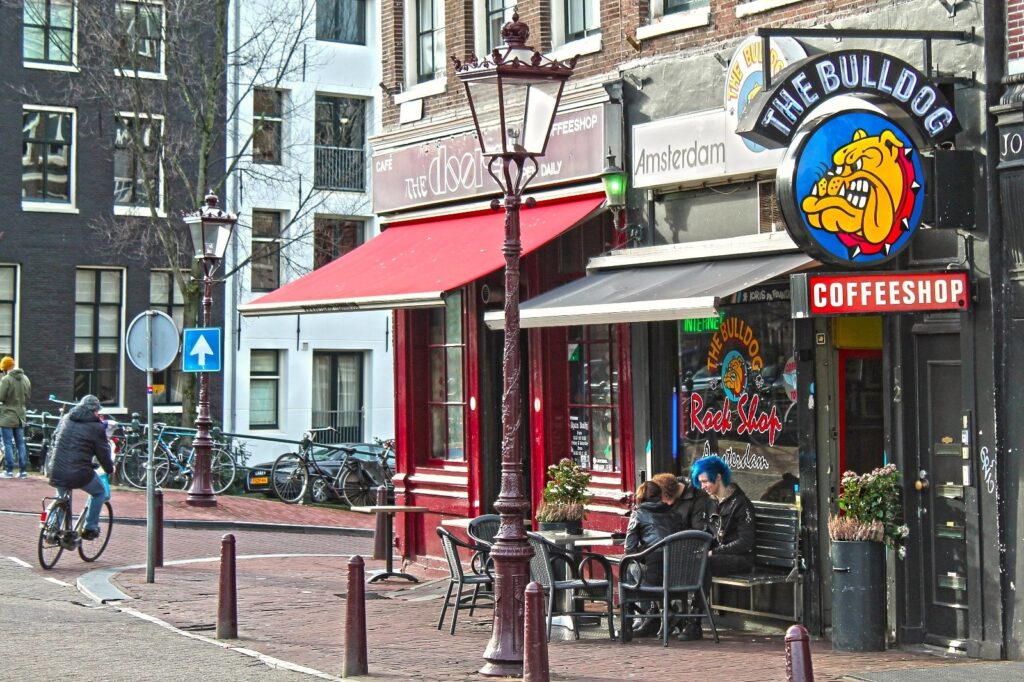 Indeed, The Bulldog is among the firsts to see the potential of cannabis in a coffee shop. It started as a sex-shop in a cellar in the early 70s where people would secretly smoke a joint. Soon after the government showed tolerance in the use of Cannabis products, it evolved to be a small coffee shop. Today, The Bulldog is among the well-respected cannabis dispensaries in Amsterdam.
The Bulldog offers an impressive menu with relatively fair prices. Aside from pre-rolled joints, this Amsterdam coffee shop also offers Jamaican reefers as well as white widow. They also have sorts of marijuana and hashish. You can also expect some decent food menu and weed brownies here.
Although The Bulldog has already expanded, its original location on the house number 90 in the center of the Red Light District remains. The coffee shop is about a minute walk from The Oude Church.
Location: Oudezijds Voorburgwal 90, 1012 GJ Amsterdam
Business Hours: 8:00 AM – 1:00 AM
Amsterdam Coffee Shops Tours
If Paris and Italy is famous for wine tours, Amsterdam has its name carved when it comes to coffee shops tours. Some local tourist guides offer sustainable tour packages for both stoners and non-stoners. Either by bike, by boat, or by foot, they will take you to the coziest Amsterdam coffee shops as they give insights about the history of marijuana in the city. In some cases, authentic weed gardens are also part of the itinerary. You can book a tour individually, as a group, or as a couple.
FAQs
Is Cannabis legal in Amsterdam?
It's a common misconception but the use of Cannabis in Amsterdam is not legal. However, the government tolerates it if it's for personal use. In this light, selling and using weeds is not prosecuted as long as it is in a limited amount.
Are coffee shops legal in Amsterdam?
This may sound a funny question, but it makes sense in the context of Amsterdam. As you already know, Amsterdam coffee shops serve not just coffee but weeds as well. This is not technically legal but law enforcers tolerate it to control the use of soft drugs. An existing rule only permits the possession of cannabis if it's not more than 5 grams.
Can foreigners go to coffee shops in Amsterdam?
Foreigners are allowed to visit Amsterdam coffee shops and the same rules also apply to them when consuming cannabis products. However, a visitor shouldn't take as much as what is allowed especially if you are not sure how you will react to it. Always ask the staff what they recommend for you.
Is it safe to travel to Amsterdam?
The laid back rules of Amsterdam when it comes to Cannabis somehow paints a negative picture to conservative communities. Some have an assumption that the city is a land of stoners and, therefore, chaotic. But on the contrary, Amsterdam has a low crime rate and is very safe. Dutch people are generally friendly and are easy to approach as well. If you think most of them are stoners, you have the wrong idea. Dutch are, in fact, the lowest users of cannabis or marijuana in Europe. Much lower than Spain, Italy, and France who have very restrictive rules about the use of soft drugs.
What time do coffee shops open in Amsterdam?
Most of the Amsterdam coffee shops open at 8 in the morning to around noon. But other coffee shops open as early as 6 AM. They operate until around midnight to 1 AM.
What is Amsterdam Other Known For?
If you are not into cannabis or even coffee per se, there are still a lot of things you can expect from this small city. Amsterdam is pretty famous for its architecture, arts, and spacious parks. You can take bike tours to explore the whole city or stroll on your own if you prefer going solo. During spring, Amsterdam and other parts of Holland transform into a colorful bed of tulips which makes it an ideal spring break destination for all.