We know of Bangkok for having some of the busiest streets in Asia if not in the world. During the day, the city is a haven for thrift shoppers with the pop-up markets flooding the sidestreets. At night, it transforms into an electrifying atmosphere to cater to both locals and tourists looking for overnight fun. If you are looking for a thrilling city adventure, there is one place in town that defines Bangkok nightlife in a nutshell. That place is the Sukhumvit Road, a major thoroughfare in Thailand.
Sukhumvit Road seems to automatically explode with light, music, and cocktails once the night creeps in. It hosts some of the finest nightclubs and bars in the city that fits every personality. From pubs to naughty clubs, Sukhumvit Road has everything you are looking for a Bangkok nightlife experience.
In this article, we will guide you through the best bars and nightclubs in Bangkok for a night of pub crawling and dancefloor digging.
Soi Cowboy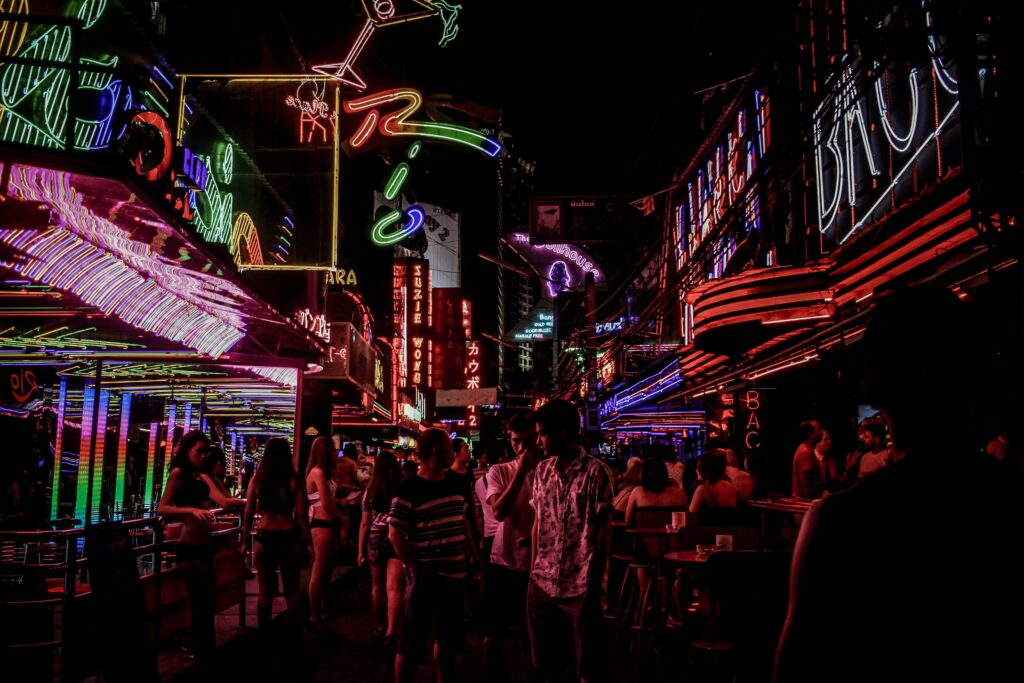 Soi Cowboy is pretty famous for the bright neon lights that illuminate the whole district at night. It is a mainstream tourist circuit famous for those looking for a darker Thai entertainment. For years, it has remained as one of Bangkok's go-go club hotspots that offer a rather exotic experience for visitors.
Among the clubs in the red light district are Baccara, Spice Girls, Deja Vu Bar, and Lighthouse AGogo to name a few. Most of these clubs have their gimmick to attract customers. Aside from cheap drinks, some even offer friendly extra services.
Despite some criticism of being too overfilled and tacky, Soi Cowboy remains to be the go-to place of party junkies looking to experience a thrilling go-go club hopping. A thing that is not very surprising for a nightlife hub filled with pleasure and fun.
Getting There: Soi Cowboy is located near Terminal 21 in Sukhumvit Road. The best way to get to the area is to ride a train going to Asoke or MRT station in Sukhumvit.
Address: 23 Sukhumvit Rd, Khlong Toei, Watthana, Bangkok 10110, Thailand
Levels Club & Lounge
Levels Club & Lounge is undisputed in giving a rocky nightlife experience to party hoppers in Bangkok. Combining the elements of rooftop clubs and classy lounges, it provides a great environment where locals and tourists meet and have a night full of fun. Unlike the usual Thai clubs, Levels Club & Lounge features a well-executed architectural layout that seek middle-class customers. It has a classy cocktail lounge, high-ceilinged dance area, and city lights viewing area.
If you are someone who loves to jive along with upbeat music, EDM is also one of the things that set Levels Club & Lounge from the rest of Bangkok nightlife hotspots. Every week, Levels throws themed parties with international personalities gracing the DJ's booth. Although every day is a big blast at Levels, it is better to go for a TGIF night out if you would like to meet extremely gorgeous women and men.
Pro-tip: Wear your best outfit when going to Levels Club & Lounge. Only smart casual dress is allowed; hoodies, flip flops, sportswear, and snapbacks are big no-no at the bar.
Getting There: Levels Club & Lounge is located on the sixth floor of the Aloft Hotel. To get there, you can hop on a train going to Nana BTS Skytrain.
Address: 6F Aloft Hotel Building, No. 35, Sukhumvit Soi 11, Sukhumvit Road, Bangkok 10110
Narz Nightclub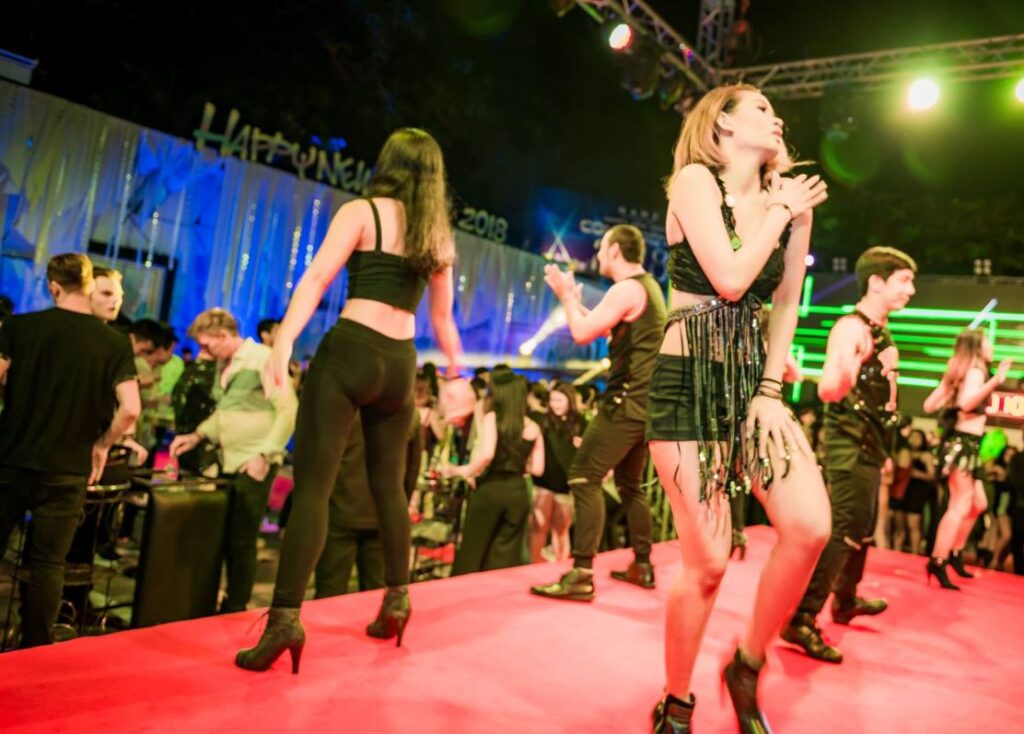 Narz is known for having an international touch of elegance. It is housed in a glass-fronted mansion that features sleek and modern interior targeting rich party goers. The club has 3 separate rooms based on the music genre being played such as hip hop, trance, and house. The hip hop room is a constant blockbuster in the club, but the trance is quite famous too. It has a roster of celebrity DJs who expertly mix music before the roaring crowd.
Narz doesn't usually open until late at night, but it stays even after most of the other nightclubs in the area have closed. This Bangkok nightlife hotspot is the go-to place for people who love schmoozing and showing off. There are lots of great looking guys and girls around here and finding a hookup wouldn't be so hard as long as the drinks are on you.
Getting There: You can find Narz Nightclub near Soi Cowboy. Just go straight past the red light district and take the next street to the right. From there, it is easy to spot Narz.
Address: 112 Soi Sukhumvit 23, Khlong Toei, Watthana, Bangkok 10110
Insanity Nightclub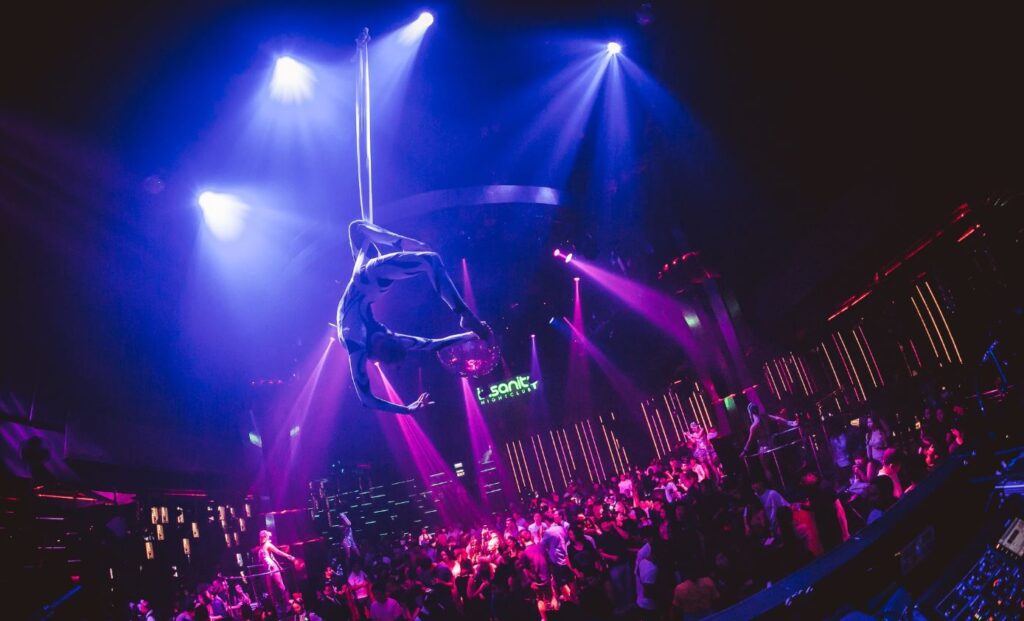 As the name suggests, Insanity Nightclub is a place for insane party junkies. Nowadays, it is one of the largest nightclubs in the Thai capital where you can steam off until dawn. It is known for international-class EDM and hip hop mix crafted by foreign DJs and local artists. At its busiest hour, the room is filled with lasers and lighting system that further intensifies the party vibe among visitors.
If you prefer a more intimate experience, Insanity has VIP Booths where you can have an exclusive clubbing experience while having a view of the dancefloor.
Getting There: Hopping on a train bound to Nana BTS Skytrain Station is the easiest way to get to Insanity Nightclub. It is located halfway between Soi Cowboy and Nana Plaza.
Address: Sukhumvit II, Khlong Toei Nuea, Watthana, Bangkok 10110
Beam Nightclub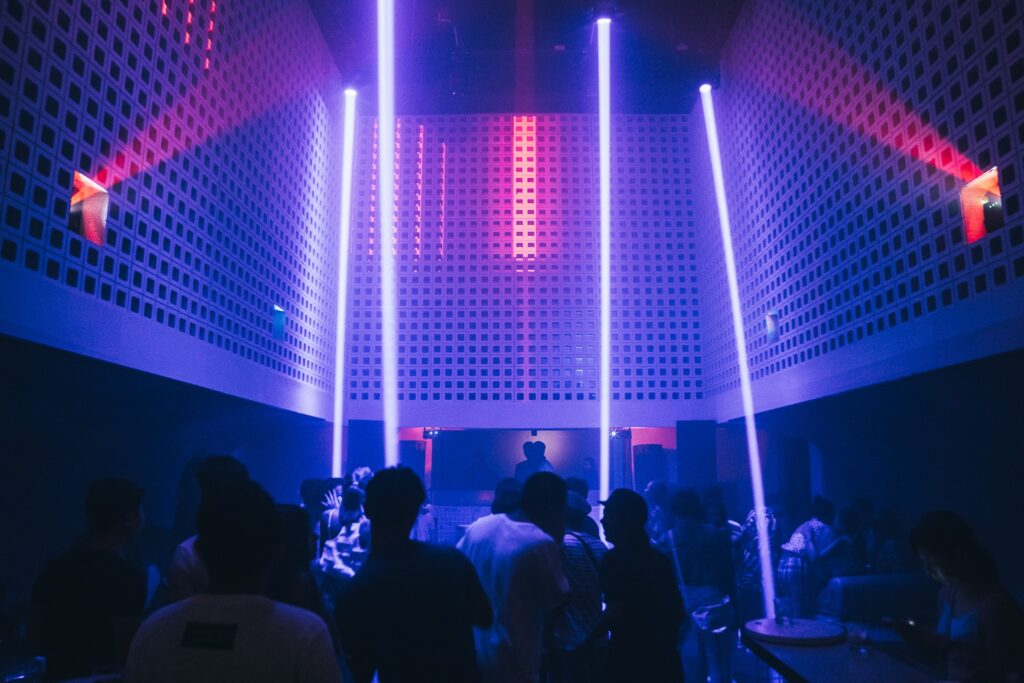 Beam Nightclub does not offer the usual glitzy style of partying by Thai. It is an adaptation of European dance clubs that feature a bare and darker feel. With only a few in the Thai clubbing scene, Beam is the liveliest underground dance club in Bangkok featuring house and techno music. You might not hear EDM tracks when you're in Beam Nightclub, but their deep tech-house music, matched with LED laser light show, is equally electrifying.
Nowadays, Beam Nightclub is a favorite overnight hangout place amongst young, middle-class Thais although it is drawing attention from expats and travelers. So, if you prefer a wholesome encounter with locals, Beam could be the perfect nightlife getaway for you.
Getting There: Beam Nightclub is located at 72 Courtyard, an upscale lifestyle mall in Bangkok. The easiest way to get there is through a train ride going to BTS Skytrain Sukhumvit Line station.
Address: 72 Soi Sukhumvit 55, Klongton Nua, Watthana, Bangkok 10110
Sugar Club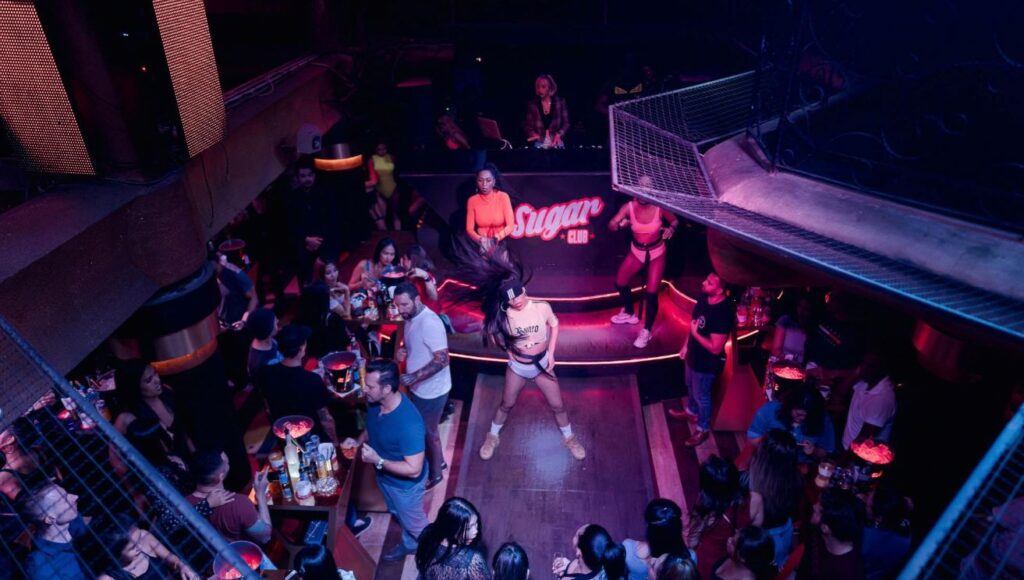 As opposed to what its name suggests, a night out stroll at Sugar Club is rather hot with bits spices. It is among the genuine hip hop clubs in the Sukhumvit area playing the most familiar old school anthems. While you're digging up the dance floor, scantily clad dancers take the center stage to keep everyone on the party vibe. It also has a roster of internationally-acclaimed DJs taking the booth to provide a mix of upbeat music.
In terms of beverages, Sugar Club is known for providing generous cocktail drinks at a relatively lower price. They have an inviting cellar full of vodkas and whiskeys. The club is open week-long, ready to provide you with a complete Bangkok nightlife experience.
Getting There: If you are planning to spend a night at the Sugar Club, you should take a train going to Nana BTS station.
Address: 37 Sukhumvit Soi 11, Bangkok, Thailand 10110
Octave Rooftop and Lounge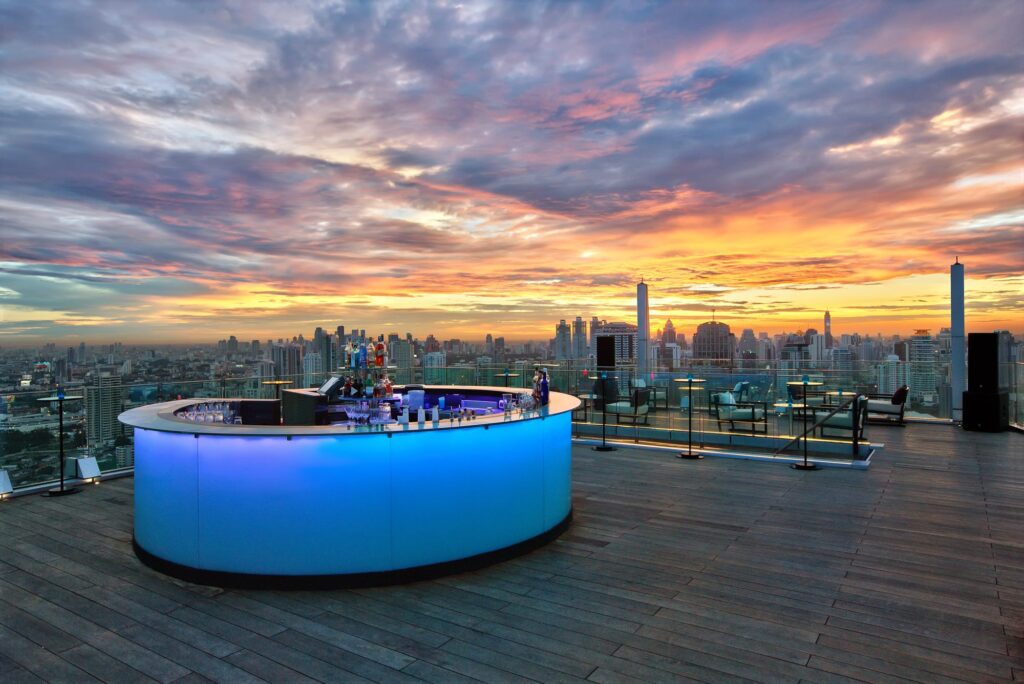 Octave Rooftop and Lounge reflects the wholesome nightlife in Bangkok. Located at Bangkok Marriott Hotel, Octave provides a 360-degree panoramic view of the city. During the sunset, it is a perfect place for having a romantic meal while watching the red-orange skies that illuminate the horizon. Once the night fell, Octave transforms into a confluence for people looking to unwind while sipping a mix of wines and cocktails.
Octave's balcony bar is the highlight of the place, giving people an avenue to contemplate while enjoying the night. Although Octave has in-house DJs, they only play mellow music to give a rather relaxing mood to customers than electrifying.
Getting There: Octave is located at 45 – 49 of the Bangkok Marriott Hotel Sukhumvit. The nearest train station is the Thonglor BTS Skytrain which is only a 3-minute walk away.
Address: 2 Sukhumvit Road Soi 57, Bangkok, 10110
Glow Nightclub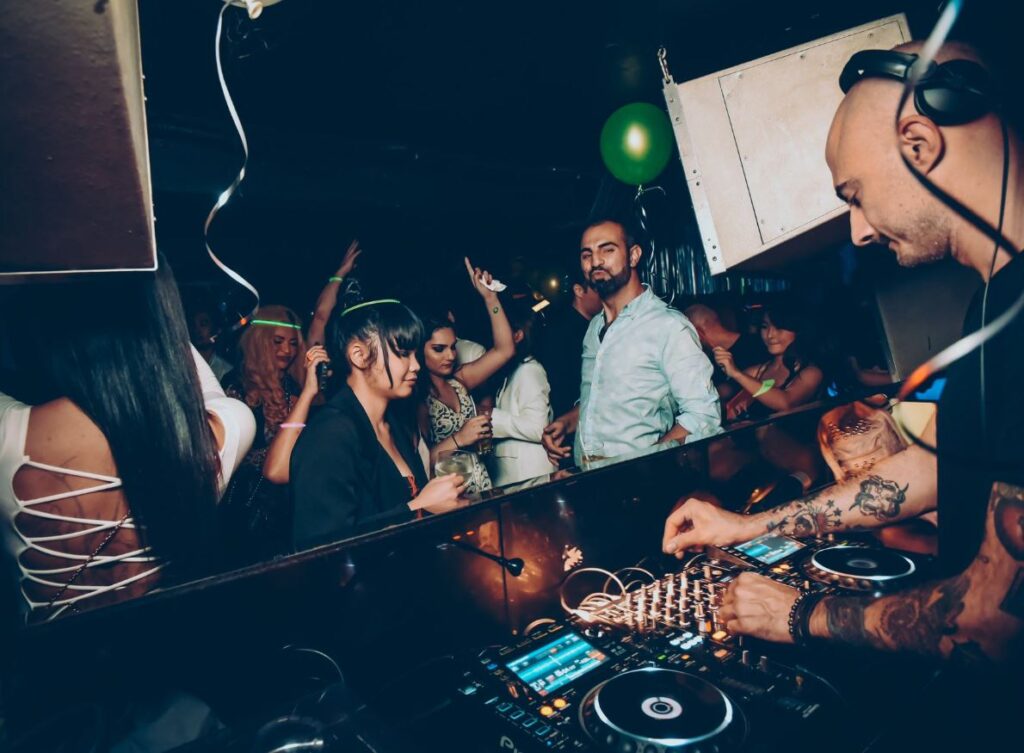 Glow Nightclub is a Bangkok nightlife getaway that gives an underground vibe to visitors. Its box-like layout is dimly lit in neon colors bringing people closer together on the dance floor. If you prefer to chill out while sipping a drink, you can relax on the cushioned seats on the side of the balcony bar.
Every week, Glow holds different club events with famous DJs taking the music booth. Some of the famous names who have graced Glow's DJ booth were Nakadia, Dubfire, and Pan-Pot.
As in any Thai clubs, Friday is a blockbuster for Glow with bass-heavy beats fans flooding its dance area. If you are a trance and techno music fan, you surely couldn't help to let out some steam and do some digging. The entrance fee varies on the events but expect it to be around 10 dollars.
Getting There: The nearest transit in Glow Nightclub is the Asok BTS Skytrain Station which is only 500 meters away, southwest. If you are driving, you can take the Soi Cowboy route and from there you can easily recognize Glow Nightclub through the beaming neon lights.
Address: 96/4-5 Sukhumvit soi 23, Klongton-nue, Bangkok 10110
Nest Rooftop Bar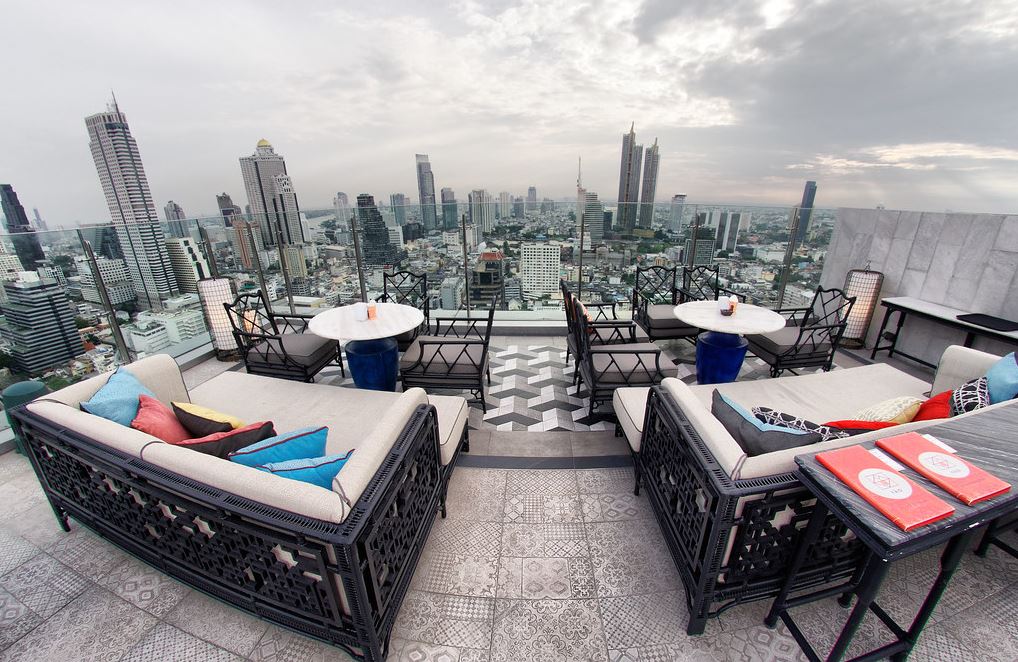 Nest provides a laidback experience defying the usual glitzy and electrifying Bangkok nightlife. Located on the top floor of Le Fenix Hotel, it takes visitors away from the bustle and hustle of the city. The bar has cozy cabanas and oversized beds where you can relax while binge-drinking.
If you love to chill rather than to party hard, Nest is one of the nightclubs you should visit in the Sukhumvit area. Its music policy seems to divert from the usual music choices of Thais. You'll barely hear tech and trance here instead soul and funk are the kind of music that fills the air. While enjoying the music, you'll surely love to have some sip under the open sky.
Pro-tip: Nest is a great place for first dates. If you are trying to hit on someone, might as well bring your special one here.
Getting There: When going to Nest, you can take a train ride bound to Nana BTS station. But you can also choose to grab a taxi to easily get there.
Address: 33/33 Soi Sukhumvit 11, Khlong Toei Nuea, Watthana, Bangkok 10110
Titanium Club & Ice Bar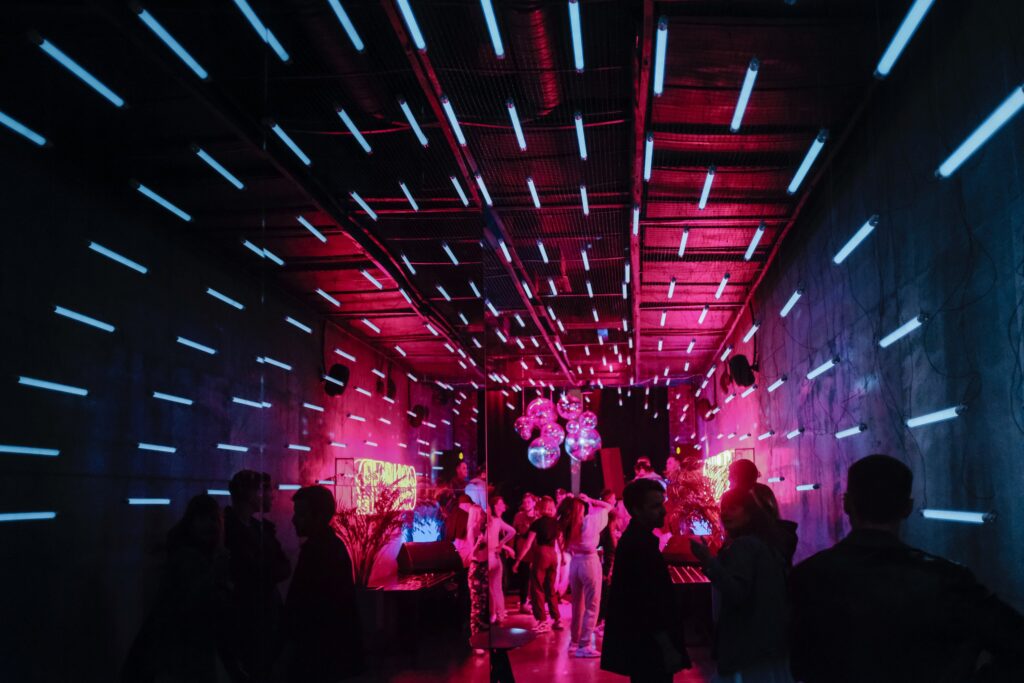 More than being a nightclub, Titanium Club & Ice Bar is a live music venue that features local artists, bands, and DJs. Every night, the club hosts events that allow visitors to relax and unwind at the same time. With a touch of New York lounge, Titanium matches its customers' demand for international taste of music, great cocktail options, and accommodating hostesses.
Titanium's interior is impressive too. It has a box-like dance floor where the bands and DJs also perform. On peak hours, it is filled with beaming green light that energizes party junkies all the more.
Upstairs, Titanium has booths where the Ice bar is located. From there, you can have unlimited access to frozen drinks and vodka collection. Being slightly upmarket, that could cost you a bit of penny though. But one thing is for sure, your Bangkok nightlife experience wouldn't be complete without Titanium.
Getting There: You can found Titanium Club & Ice Bar 40 meters from Sukhumvit, just across the Holiday Inn. It is open daily from 8 pm until 2 am.
Address: 2/30 Sukhumvit Soi 22, Khwaeng Khlong Toei, Khlong Toei, Bangkok, 10110
Plan Out Your Travel
These are some of the nightlife hotspots in Bangkok. Though it is globally known for its quirky nightclubs, there are still other options that fit your personality. Either you want to party rock or just chill out, the city has a lot of great places to welcome you and provide you with overnight entertainment.
If you want to visit Bangkok, you have to carefully plan your travel ahead of time from booking a plane ticket to choosing your itinerary. Here are some United Airlines Credit Cards that will provide you with travel perks should you fly to Bangkok.