| | | |
| --- | --- | --- |
| Best Buy | Top Pick | Premium Pick |
Hiking is no fun without a companion. But we cannot bug our friends to accompany us whenever we want to. The good thing is, there is someone we can always drag with us without even saying a word. It is rather furry, has four legs, and has a tail. It's your pet dog.
Going hiking with dogs is a big thing nowadays. It does not only improve your and your pet's health but also help you create a connection with each other. Although dogs can be a great hiking partner, their legs don't move as fast as ours and are often not ready for long trails. They will eventually lose their stamina and stop along the way. For that, you need a dog backpack to carry your pet while still enjoying your little adventure.
When buying a dog backpack there's a lot to consider: height and weight capacity, durability, breathability, and safety features. You need to check all the factors that may affect your dog's comfort or else that could jeopardize your stroll towards the summit.
We reviewed a number of dog backpacks available in the market today to guide you in choosing that best fit for your pup. Here are our top 10 picks.
K9 Sport Sack AIR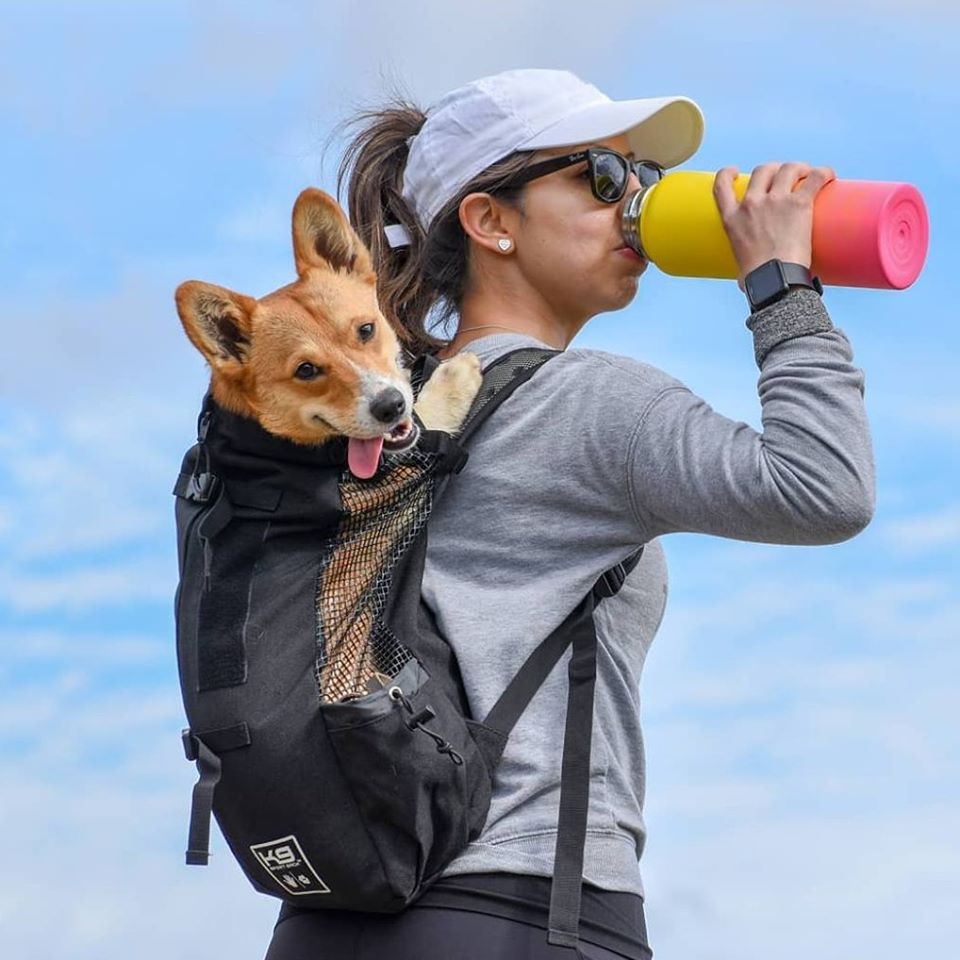 AIR is K9's classic dog carrier model that comes in different sizes to fit your fur baby. This dog backpack was designed to provide the optimum level of safety for your pet, so you can also enjoy your outdoor adventure. It has breathable side panels and adjustable pockets on both sides. It also has a sternum strap and a handy whistle clip to keep your dog on an upright position throughout your walk.
K9 Sport Sack AIR is super lightweight and sturdy at the same time. It could carry dogs of up to 40 pounds without worrying about getting ripped. At first, you might find it challenging to get your dog inside the carrier as it lacks form especially when unzipped. But, it should get easier the more you use the bag and train your dog.
Enjoy hiking with your pup when you buy K9 Sport Sack AIR on Amazon now.
G-Train Kurgo Dog Carrier Backpack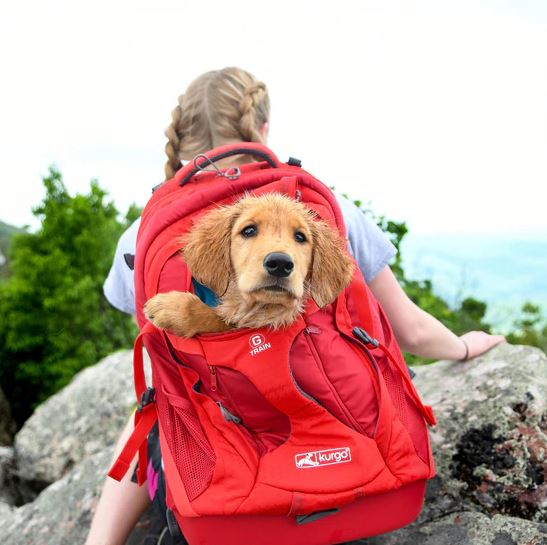 G-Train is a runner-up of K9's AIR. Nonetheless, we still consider it a great buy for your pet dog. It resembles an ordinary daypack only with an additional compartment with a zip-open mesh top where you can place your furry bud while sticking its head out. This dog backpack has ventilated mesh back and side panels that keep your pet cool while you hit the trails. Aside from an adjustable sternum strap that keeps your companion stay still, G-Train also has an interior tether to attach your dogs' harness.
We can say that G-Train's low capacity is its downfall. It can only accommodate dogs of 25 pounds and tends to rip when exceeded. It also has a laptop sleeve which is not so much of use unless you plan to send emails on top of mountains. But design-wise, G-Train is pretty impressive. It is comfortable to use for both the hiker and pet.
Own this excellent dog backpack by buying them on Amazon.
Nicrew Legs Out Dog Front Carrier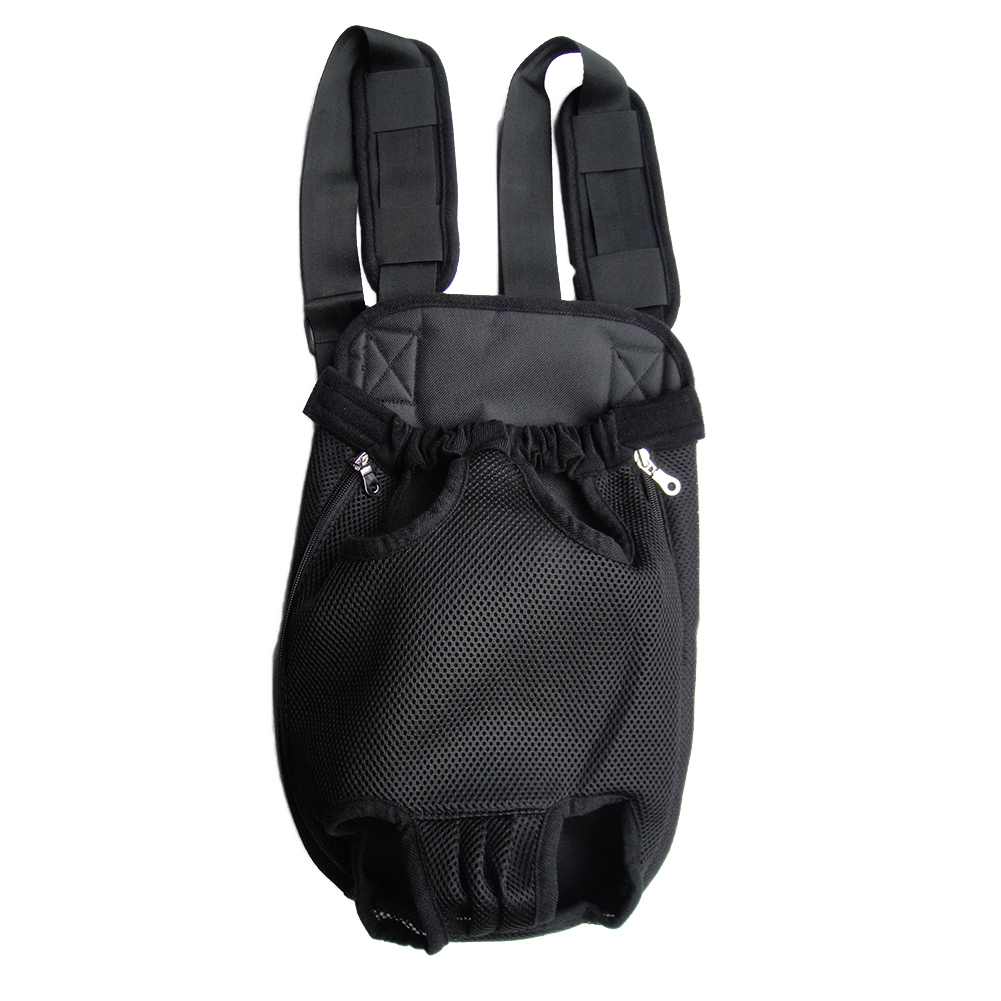 Nicrew is a hands-free dog carrier that allows pets and owners to have outdoor adventures like no other. It has a minimalist type of design that makes it easier to get your dog inside. Unlike other dog backpacks, Nicrew allows your dogs to stick out their legs while they are inside, ensuring maximum comfort for them. It also has generous padding that helps reduces your back pain after a day rigorous adventure.
Aside from the main dog compartment, Nicrew has no other spaces like water bottle holders and storage. If you are using Nicrew backpack for hiking or other outdoor adventure, you still need to bring a separate carrier for your supplies.
Nicrew Legs Out Dog Front Carrier comes in four sizes which can carry pets weighing 5 – 22 pounds. Buy it now only on Amazon!
Mogoko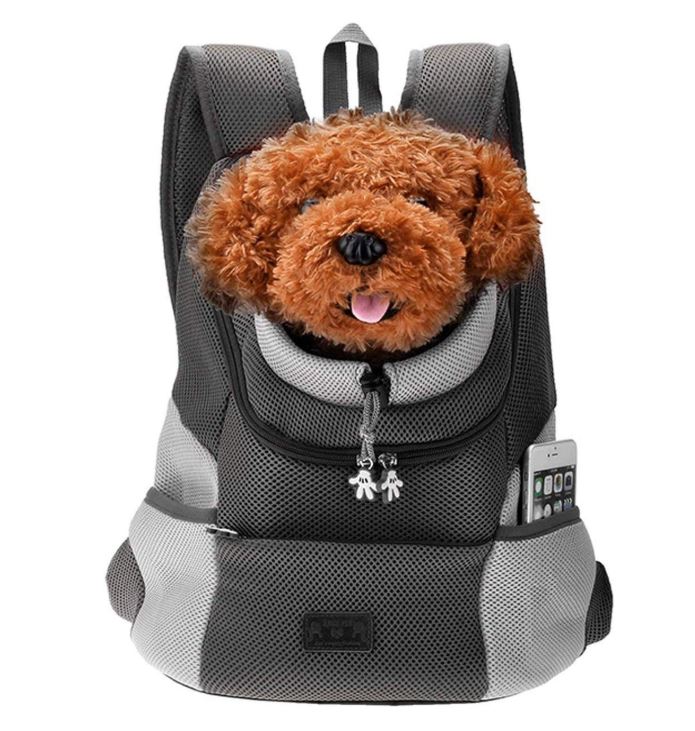 Mogoko's pet carrier backpack is designed with comfort and durability in mind. It includes a peephole on the top that allows pets to stick their head out and breathe freely. From the inside, it also has a tether that ensures safety and prevents your dog from jumping outside the carrier. Ventilation wouldn't be a problem in this dog backpack as it also has breathable mesh all over.
Mogoko provides ultimate comfort not only to pets but to the pet owners as well. It has extendable straps with buckles that ensure stability while you are trekking. It also has padded shoulders that reduce pressure when carrying your pet. No matter how long the trek is, you'd only feel minimum strain without entirely breaking your muscles.
Buy the Mogoko backpack carrier on Amazon to enjoy a stroll with your fur baby.
Pawfect Pets Soft-Sided Pet Carrier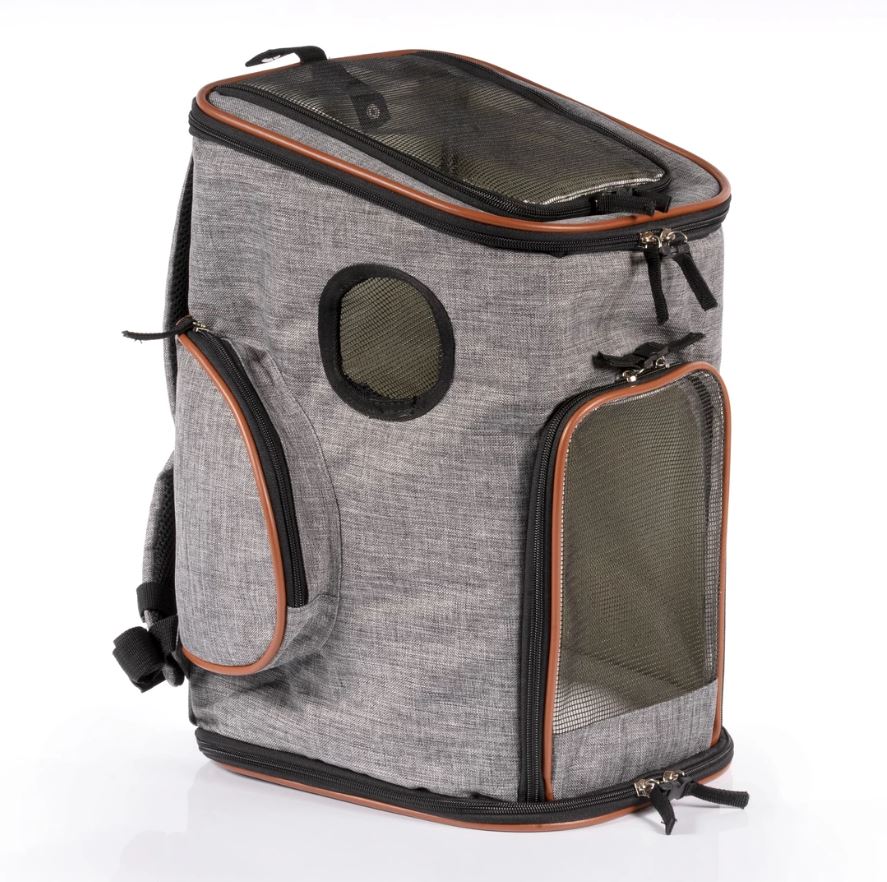 With Pawfect Pets Carrier Backpack you can now take your fur baby wherever you go without worrying about their safety and comfort. It has scratch-proof mesh and zipper buckles ensuring that your pet wouldn't be able to escape, run amok, and ruin your entire outdoor adventure. But as fur parents, we couldn't let our pet dogs just spend the entire adventure inside their carrier. The good thing, Pawfect also allows them to have a peek on the environment through the roll-up top mesh. Just don't forget to attach their collar on the tether inside the bag for added security.
Pawfect's dimension (17″ tall x 11″ wide x 11″ deep) is pretty impressive too. Although you still have to consider your pet's height and weight, accessory dogs shouldn't have problems fitting in this pet carrier. Aside from the top opening, it also a front opening that makes loading or unloading your pet super easy.
Buy Pawfect Pets Carrier Backpack on Amazon for a hassle-free shopping.
KritterWorld Pet Carrier Backpack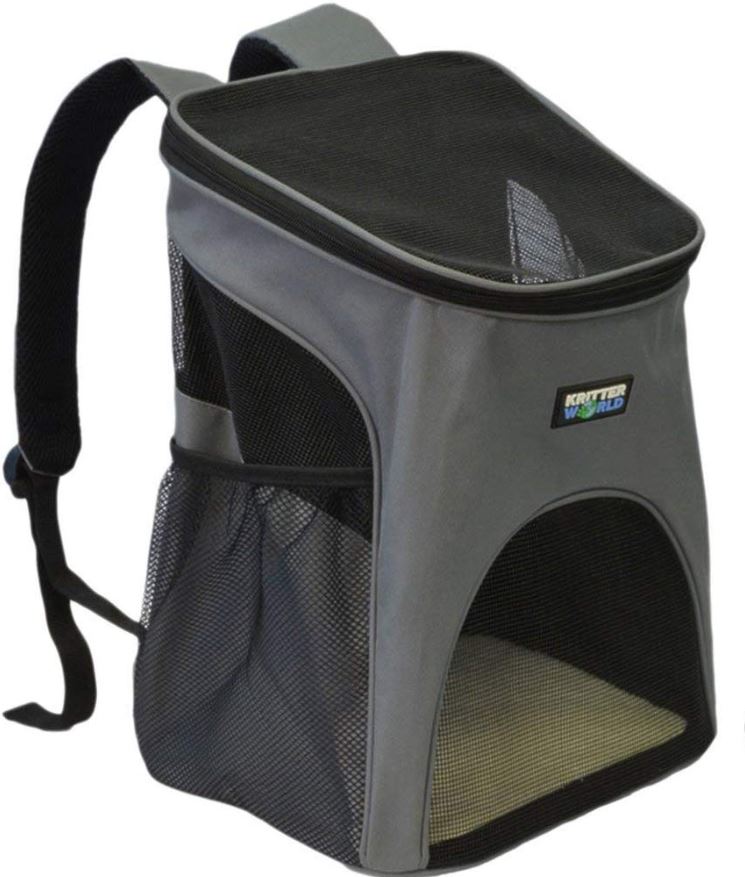 At the first glimpse, KritterWorld's dog backpack resembles Pawfect Pet carrier a lot, only with a little difference. It has the latter's basics such as the roll-up scratch-free top mesh, removable flea mat, and the inside lock leash. But what sets it apart are the water holders on both sides of the bag which is fairly sturdy and strong. It also has an adjustable waist strap that ensures stability and reduces shoulder strain while you carry your dog.
This backpack also ensures comfort for pets. It has a flat and sturdy bottom which does not draw back when your pet is inside. Small dogs such as chihuahuas and poodles can also freely move while they are inside the bag as it is very spacious.
Add KritterWorld Pet Carrier Backpack to your Amazon cart now.
Outward Hound Pouch Carrier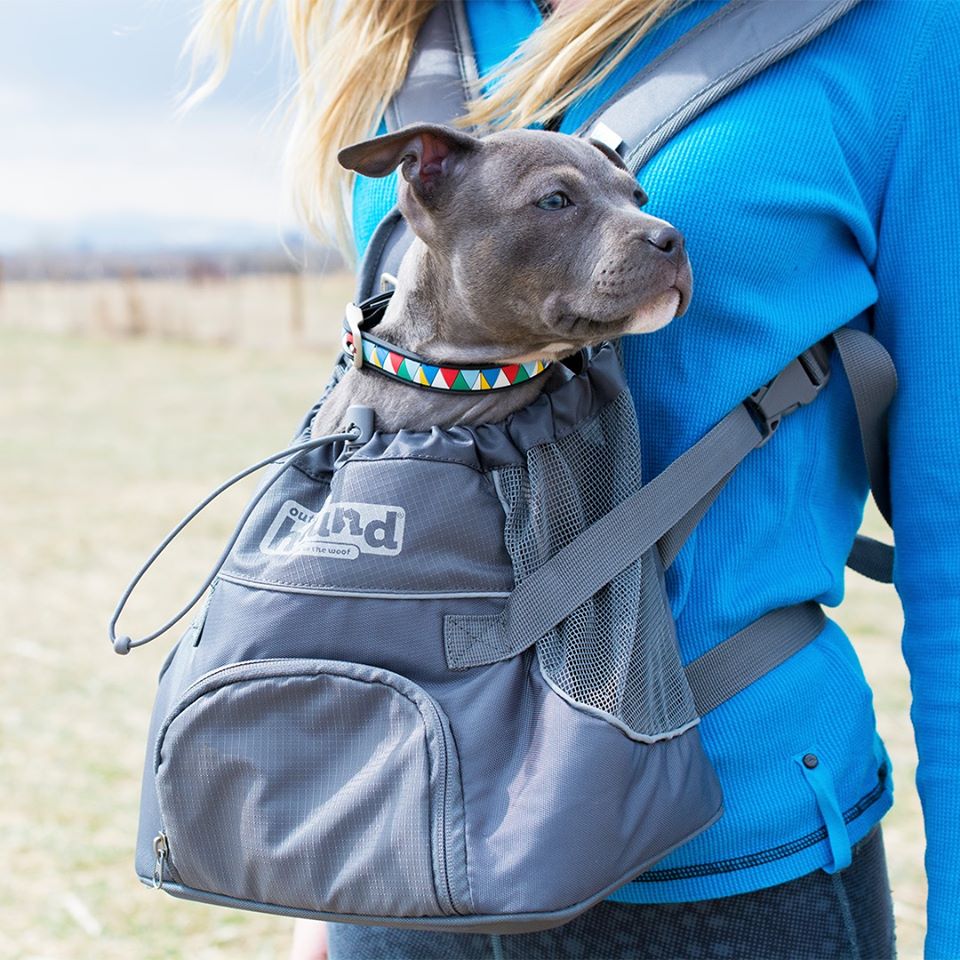 If you are looking for a sleek and sturdy dog carrier, Outward Hound Pouch Carrier got your needs covered. It is originally a front carrier, but others are also using it as a dog backpack especially for more intensive adventures such as hiking. It is made out of waterproof nylon fabric that makes it more durable as compared to an ordinary pet carrier. On both sides, Outward Hound includes mesh that keeps the inside well-ventilated.
Aside from the main dog compartment, the carrier has a small pouch in front which could have been bigger. Nonetheless, it is also helpful for keeping extra essentials when you are hitting the trails. Outward Hound could fit dogs of up to 15″ high when sitting and 7″ wide.
Buy Outward Hound Pouch Carrier only on Amazon.
PROPLUMS Dog Carrier Backpack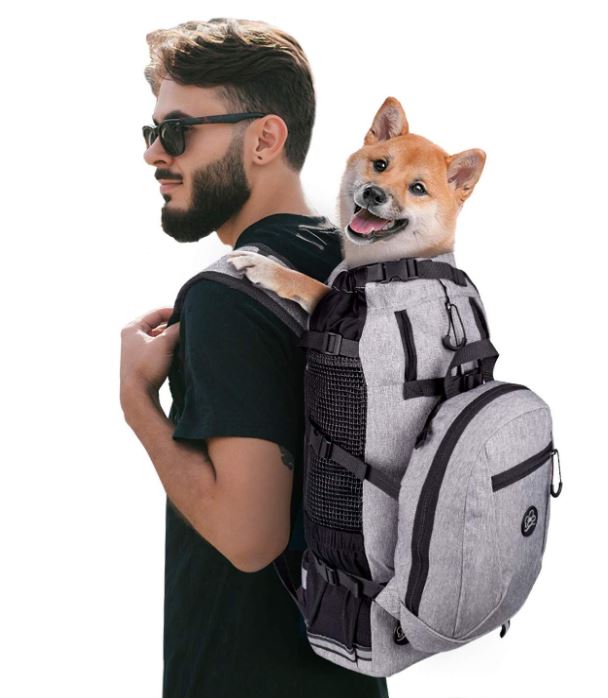 PROPLUMS Dog Carrier Backpack is ideal for carrying smaller to medium-sized dogs who are not always ready for long hikes. No matter what the weather is, this dog backpack ensures that your furry companion has the maximum comfort it needs. It has waterproof fabric and breathable mesh to keep your pet dry and cool. It also allows your dog to stick its head out from the cinch neck with an adjustable strap.
PROPLUMS is well padded too, providing comfort to the carrier. It has adjustable straps around the chest and hips that help the bag fit all body types. In front, the carrier has a removable pouch where you can put all the essentials for hiking.
PROPLUMS Dog Carrier Backpack comes with a booster block and a foldable dog bowl. Buy it now on Amazon!
Lifeunion Pet Dog Carrier Backpack
At first, you would think that this is just an ordinary daypack until you look closely. It has a zipper in front that makes it easier to put your dog inside. It also includes safety straps around the neck and chest area that clips over the zipper. This feature is essential to keep your pets in a steady position while you both enjoy a stroll. In case you have a wiggly buddy, you can use the safety collar tether inside to make sure it won't jump outside.
Lifeunion Pet Dog Carrier Backpack also features two bottle holders and breathable mesh on both sides, a drawstring pouch in front, and padded shoulder and chest straps. You can buy this dog backpack on Amazon for $33.95.
Buy this dog carrier on Amazon to enjoy exclusive perks!
Riveroy Legs-Out Front Pet Dog Carrier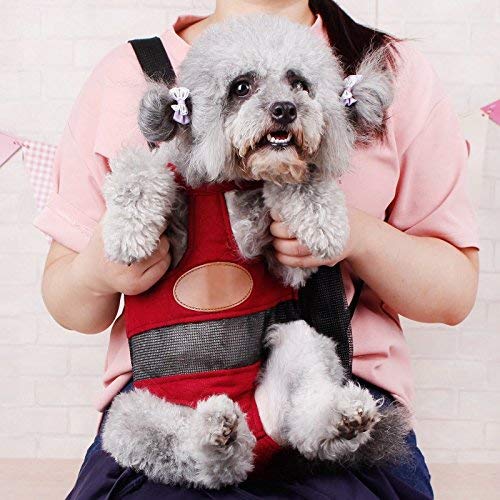 If we talk about durability, Riveroy has a lot to say. It features a polyester material that matches the elasticity and comfort every pet owner is looking for a carrier. The mesh side panels on both sides allows better ventilation inside. It also includes zippers on both sides with adjustable straps that make your pet easy-in and easy-out.
Although the shoulder straps have no pads, it was made wider to reduce pressure and achieve a better fit. The best thing about this hands-free dog backpack is that it is washable. Temporary stains, which disinfectants cannot remove, will no longer be a problem.
Make a stronger bond with your pup with this dog backpack available on Amazon!
Final Verdict
That's for our dog backpack picks. As you might notice, these bags are not only intended for hiking but with all sorts of adventures as well. Whether you want to ride a bike or just have a stroll in the park, these dog backpacks will surely provide you the ease and comfort that you need.
To get you started, here are the best hikes in Europe where you can bring your dog!