The Goblin KDrama was an instant hit worldwide when it was first shown in Korean cable television network tvN in 2016. With an English title Guardian: The Lonely and Great God, it starred Korean actor Gong Yoo (Kim Shin) as the immortal Goblin himself looking for a bride that will help him ascend to the afterlife. Actress Kim Go-Eun (Ji Eun-Tak) portrayed the Goblin's bride, a lonely and orphaned high school girl with paranormal ability who was often bullied by her aunt and cousins. Korean actors Lee Dong-Wook (Grim Reaper) and Yoo In-na (Sunny) were also among the main characters of the series that sparked a successful team-up between the two.
The hit Korean drama is among the top-rated romance fiction in the history of Korean television. Its storyline was carefully woven to thread each character's life stories. In every chapter, there are always exciting revelations that will make you want to go on every episode after the other.
Aside from an impressive storyline, Goblin also has amazing cinematography that features scenic filming locations. With the success of the Goblin KDrama, some Korean destinations also became popular. Due to their cameos on the hit Kdrama, avid fans are now flooding Goblin's different filming locations to experience the Korean drama craze.
In this article, we will tour you on the most loved Goblin Kdrama filming locations as we recall the mysterious story of the lonely and the great god. If you haven't watched the series yet, you may want to get started as this contains some spoilers.
Naju Image Theme Park – The Beginning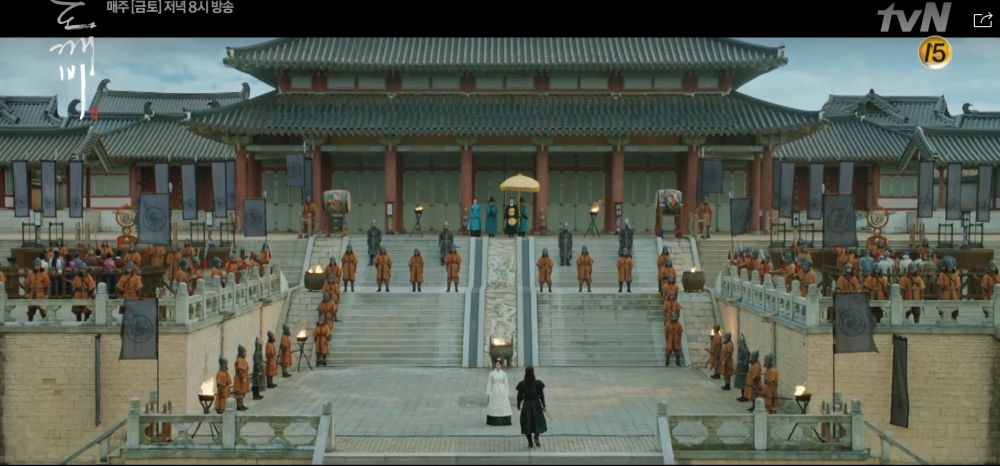 Let's head towards where the story all started. After a victorious battle against their enemies, Kim Shin, who was then a faithful general of Goryeo (old Korean empire) and a hero to the people, returned to the palace only to meet his death. In the influence of an evil advisor, King Wang Yeo (Kim Min Jae) ordered the death of the general for supposedly overshadowing his image on his empire. Kim Shin will only be spared only if he banishes from the palace. Should he refuse, his loved ones will suffer the same fate – including Kim Sun (Kim So Hyun), Shin's sister and the young king's wife.
In the request of her sister, Kim Shin refused to leave which led to their demise. Kim Sun succumbed to an arrow while Kim Shin was stabbed using his sword. All these happened in front of the young king. As if death is not enough, Kim Shin became an immortal goblin so he would live with the pain until he finds a bride. The young king, on the other hand, grew regretful of what he's done and died on his mid-age.
These scenes were all filmed in Naju Image Theme Park, a large-scale set worth $15.5 million. It features authentic looking castles and tile-roofed houses that give visitors an experience of old Korea. It has various spots perfect for sightseeing and taking pictures. Aside from Goblin, this film set also served as a backdrop to many historical Kdramas like Moon Lovers: Scarlet Heart Ryeo, Kingdom of the Wind, and Jumong.
Location: 450 Deogeum-ro, Gongsan-myeon, Naju, Jeollanam-do
Samcheongdong Doldamgil – The First Encounter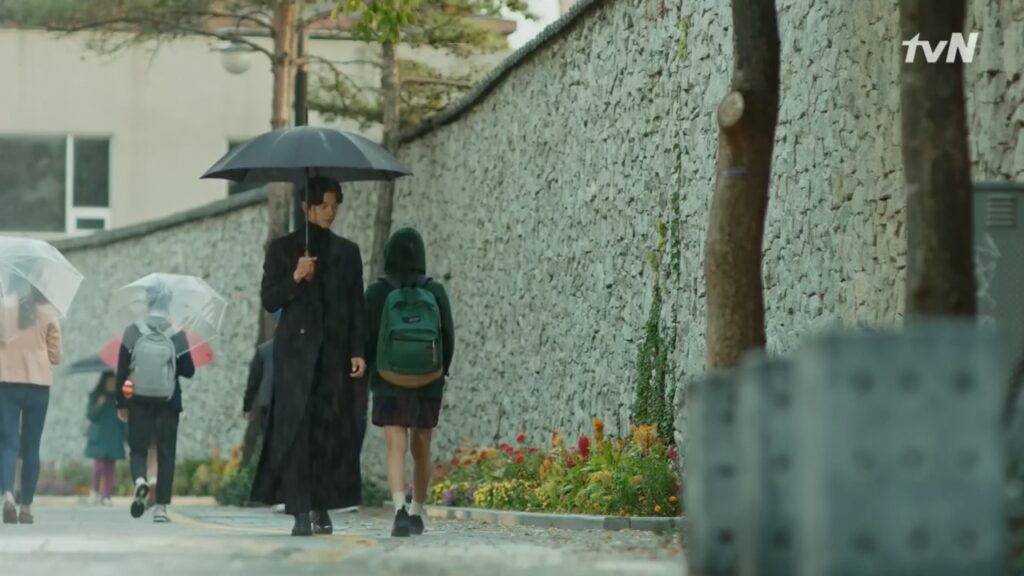 Remember the first encounter between Kim Shin and Eun-Tak? It was legendary. It was pouring and suddenly everything turned slowmo as the two crossed paths. This romantic scene was shot in Samcheongdong, an old neighborhood in Seoul, known for its traditional houses and stonewalls. In the heat of the Goblin Kdrama, many have visited the area to recreate and make a parody of the famous scene. But nothing beats the original.
Before playing a cameo for the Korean drama, Samcheongdong is already popular for those who want to experience the traditional Korean lifestyle. Walking around the alleys of the village will lead you to many Korean cafe's, shops, and craft workshops. You can also find Korean street food stalls that offer delectable snacks to visitors.
Aside from shops and cafes, there are also galleries and museums which you can visit in the area. To reach Samcheongdong, you can take the Seoul Subway Line 3 then jump off in Anguk Station Exit 1.
Location: Samcheong-dong, Jongno-gu, Seoul
Jumunjin Beach – The Birthday Summon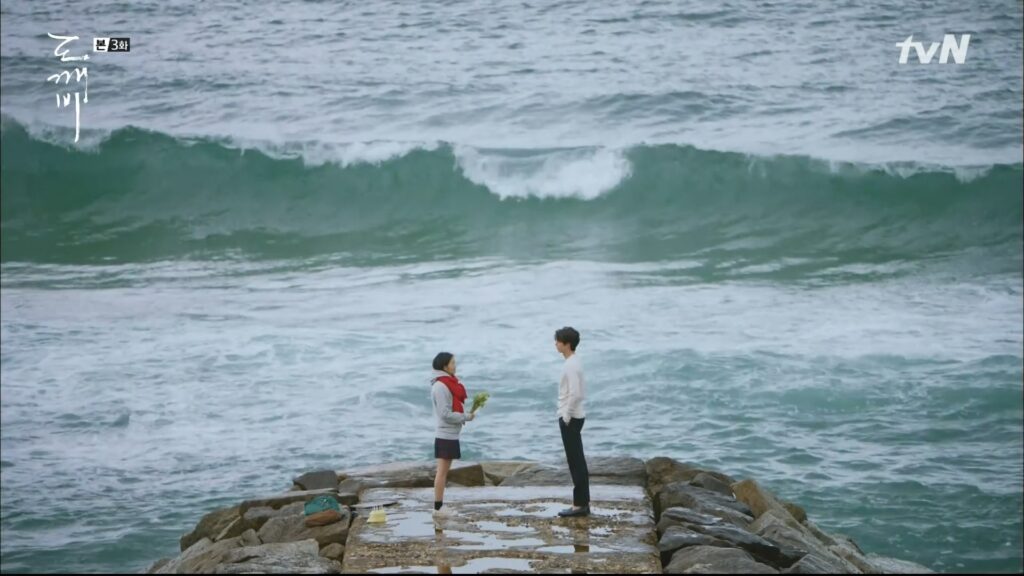 This filming location is one of the most important sites in the Goblin Kdrama series and a favorite among fans. Essentially, this is where the main characters first met when Eun-Tak accidentally summoned Shin. It was her birthday when the sad Eun-Tak decided to buy herself a cake and celebrate her day on the breakwater. As she blew the candles, the Goblin himself appeared from nowhere holding buckwheat flowers.
Due to the popularity of that scene, Jumunjin Beach also became an instant go-to place for Korean drama fans. Photos are all over the web recreating the scene where Eun-Tak and Shin standing next to each other by the beach.
Jumunjin Beach is located in Gangneung city in Gangwon-do. From Seoul, you can reach the area by taking a bus going to Jumunjin or Gangneung. The nearest drop off point to the beach is the Jumunjin Express Bus Central Terminal, so it would require a short walk to reach the area. There are several breakwaters in Jumunjin Beach, but you can easily identify the specific spot as there's a signpost that says it is the one.
Location: 81-68 Gyohang-ri, Jumunjin-eup, Gangneung, Gangwon-do
Deoksugung Stonewall Road – Where The Goblin Meets The Grim Reaper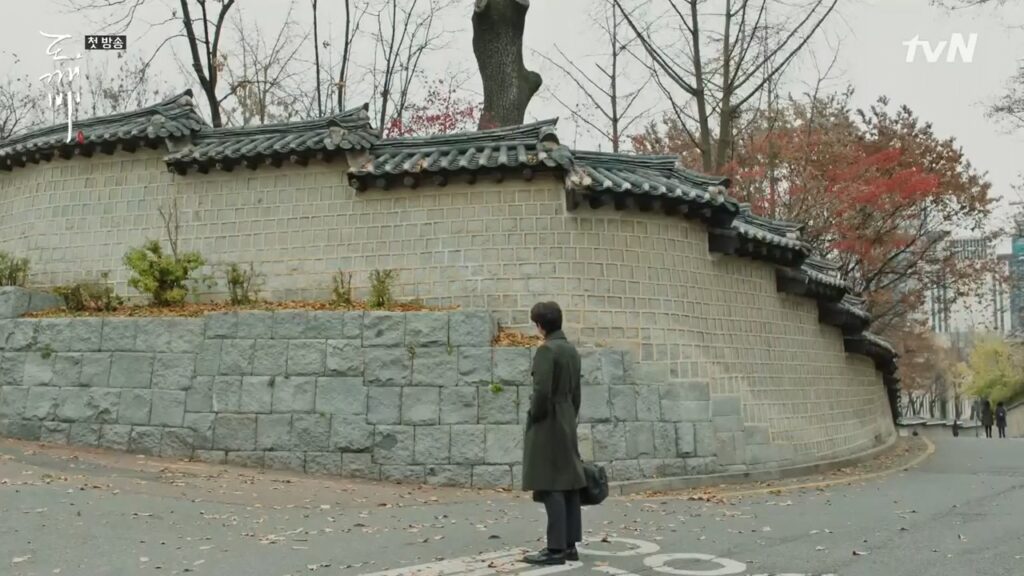 It may look similar to the stonewall where Shin and Eun-Tak first met, but Deoksugung Stonewall Road is a different filming location. It is through this wall where the Goblin saw the Grim Reaper in his tea house. The stonewall serves as the Grim Reaper's workplace.
In reality, no tea house or a grim reaper is living through the wall. It is part of the Deoksugung Palace which is famous for couples taking a late-night stroll. The wall is also becoming a favorite backdrop of visitors taking photos for the 'gram.
If you are planning to visit the area, you can hop on the Seoul Subway Line 1 or 2 and take the City Hall exit 2. The stonewall road runs a total of 1.1 km. As you walk along the path, you can also see the Goblin's house which is our next destination.
Location: 99 Sejongdaero, Jung-gu, Seoul
Unhyeongung Western House – The Unexpected Rommies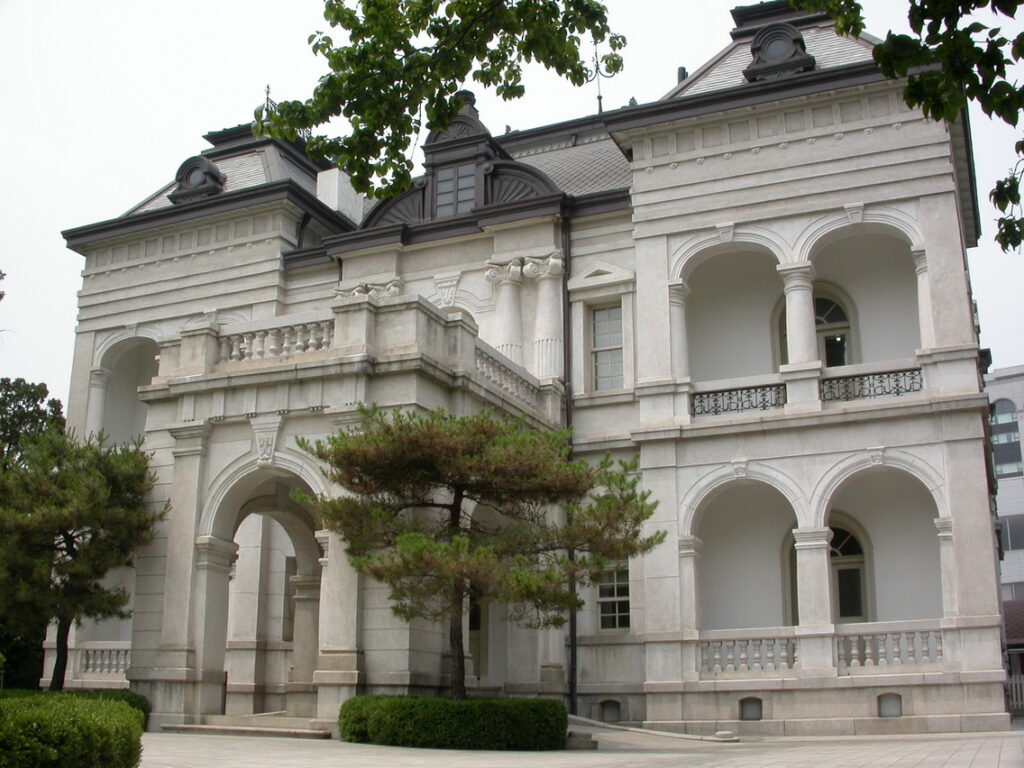 The last thing you would want is to live with a Goblin – a soul protector, and a Grim Reaper – a soul collector. Odd is, it happened to Yoo Deok‑Hwa (Yook Sungjae), the last descendant of the boy who promised to be a faithful servant of Kim Shin. Living together, the Goblin and the Grim Reaper's relationship was very chaotic, but their fights often led to funny moments.
These funny scenes were filmed at the Unhyeongung Western House inside the campus of Duksung Women's University. This exquisite white house was formerly a royal residence until it was sold in 1948. Today, it is one of the gems of Korea that belong to the country's cultural properties.
Nowadays, the residence serves as a museum that you can enjoy for free. Visitors can also explore the building's surroundings and take photos on the facade. To get there, hop on to Seoul Subway Line 3 going to Anguk Station and take exit 4.
Location: 464 Samil-daero, Jongno-gu, Seoul
Yongdap Station Footbridge – Grim Reaper Meets Sunny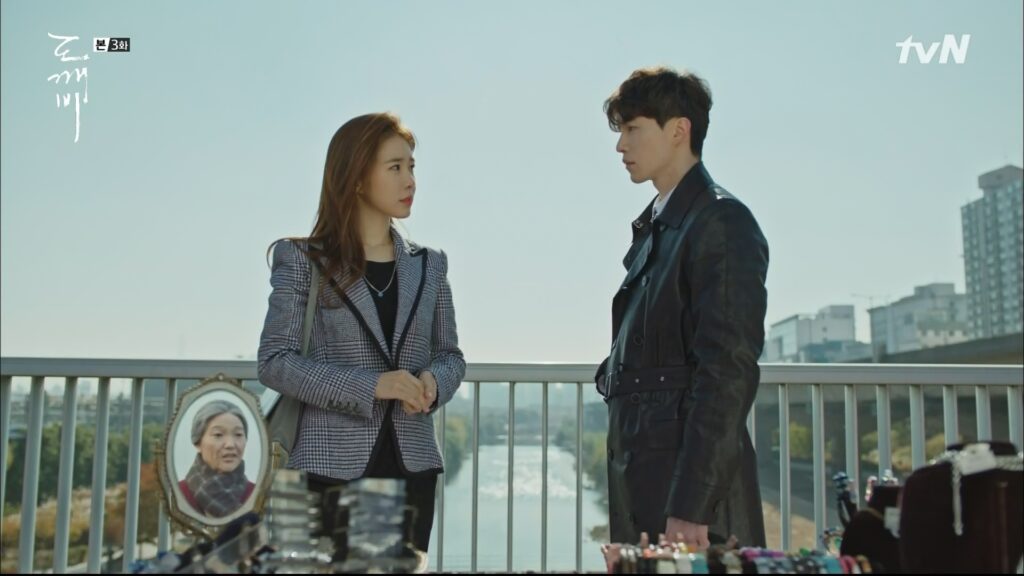 Grim Reaper is not as cold-hearted as we think of him all along. The footbridge in Yongdap Station is a witness to that when the Grim Reaper met there her girl, Sunny. Grim reaper was about to pick up a jade ring sold by an old lady when suddenly, Sunny picked it up first. Upon seeing her, tears dropped from the Grim Reaper's eyes for no reason, not knowing that their lives were already intertwined since the beginning.
Aside from this scene, several clips of the Goblin Kdrama were also shot at the Yongdap Station Footbridge including the breakup between Sunny and Grim Reaper in a later episode. Due to its popularity, some people changed the footbridge name as Grim Reaper's Bridge. Some tourists also come to the area just to take photos as if they are in a movie.
More than a tourist attraction, the Yongdap Station Footbridge serves as an essential role in the daily life of local commuters. The footbridge is located right outside of Yongdap Station's Exit 2.
Location: 159, Salgoji-gil, Seongdong-gu, Seoul
Hagwon Farm – The Goblin's Secret Garden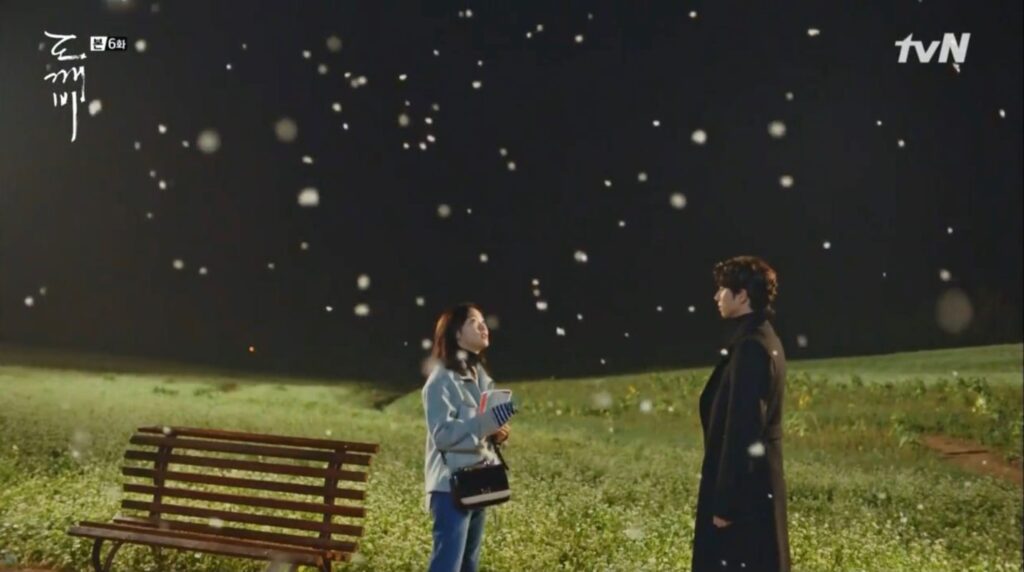 The wide, blossoming buckwheat field is a hideout for Kim Shin. It holds a bittersweet memory for our main character as it is where he was buried and met the curse of being a goblin. However, the buckwheat garden is also where Shin and Eun-Tak first kissed.
In reality, Hagwon Farm is a tourist garden in Gochang county which offers more than just buckwheat flowers. During spring, Barley grass covers the vast field and in summer, sunflowers take over. It is only around autumn when buckwheat flowers dominate and the area into a white field.
When visiting the garden, you can enjoy a stroll in the rolling fields with a handful of activities like the Green Barley Festival every April. Hagwon Farm is located at Hagwonnongjang-Gil in Gongeum town. It is accessible through a bus ride from Central City Bus Terminal in Seoul and a 30-minute taxi ride from Gochang Bus Terminal.
Location: 158-6, Hagwonnongjang-Gil, Gongeum-myeon, Gochang-gun, Jeollabuk-do
Sinchon Graffiti Tunnel – The Legendary Walk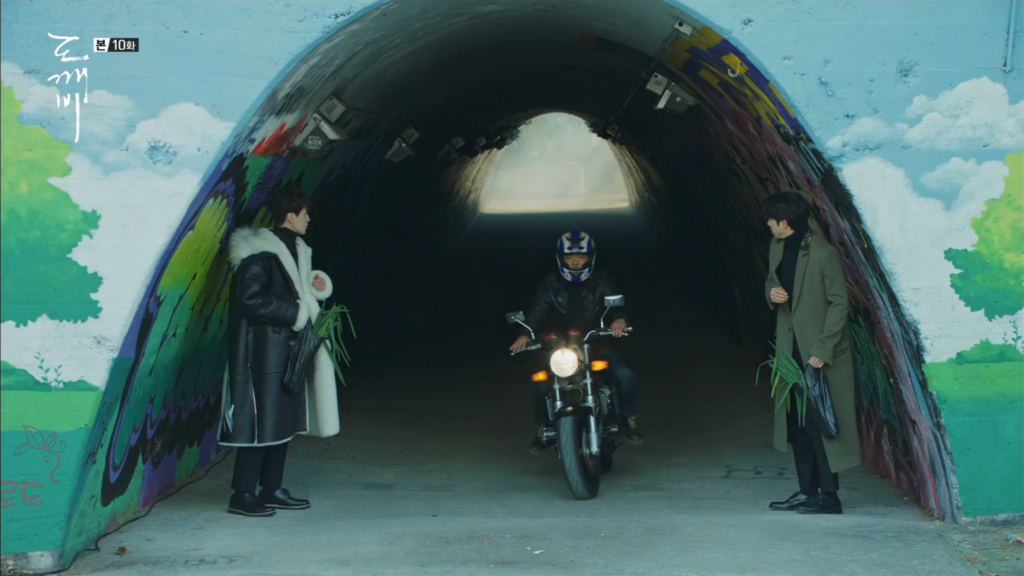 It is in this area where one of the funny moments of Kim Shin and the Grim Reaper was filmed. Trying to recreate the moment when they saved Eun-Tak from kidnappers, the two took a dramatic walk through the graffiti tunnel while holding spring onions. What was supposed to be a runway walk was interrupted when a motorist passes between them. Out of surprise, they both leap out of the way that made the scene hilariously funny.
The graffiti tunnel in this scene is located in the neighborhood Sinchon-dong in Seoul. Aside from Goblin, it also made appearances in several Korean drama series such as My First Love (Netflix), While You Were Sleeping (SBS), and The Best Hit (KBS2). Every now and then, the tunnel is being repainted to be Instagram ready.
If you wish to recreate the scene, you should go to Sinchon Station Gyeongui Line and take Exit 2. On your left, follow the road in 200-300 meters and you should find the tunnel on your left side. If you are coming from the other side, you can use Megabox Sinchon as a landmark. Following the building will lead you to stairs going down the tunnel.
Location: 92-18 Sinchon-dong, Seodaemun-gu, Seoul
BBQ Olive Chicken Cafe – The Part-Time Job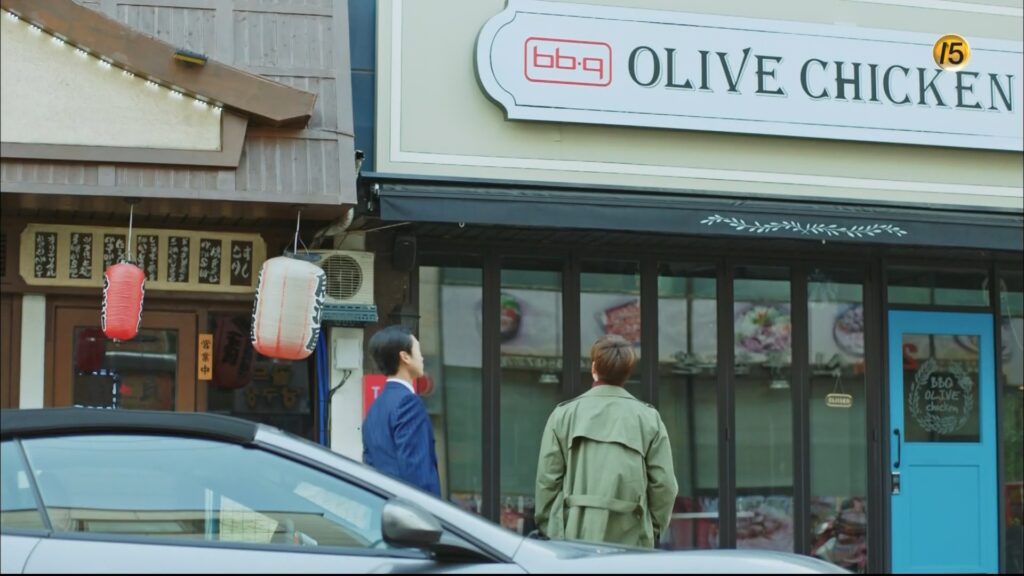 A lot of stories have unfolded in this Golin filming location. In need of money for college, Eun-Tak served as a part-timer in the cafe which Sunny owns. Eventually, the two developed a friendship with Sunny playing an older sister figure for Eun-Tak. Her strange affection for Eun-Tak made sense in the later episodes as Sunny turned out to be the reincarnation of the Goblin's sister.
BBQ Olive Chicken Cafe is as it is in reality. It is a Korean cafe with several branches throughout Seoul. The earlier part of the series was filmed in a smaller Gangnam branch until they move to the Jongno store. It is also in the Jongno branch where the 4 main characters first met altogether.
If you want to visit the Gangnam branch, you can hop on Seoul Subway Line 3 going to Daecheong Station and take Exit 5. If you prefer the bigger place, you should go to Jonggak Station via Seoul Subway Line 1 Exit 4.
Gangnam Location: 687-2 Ilwon-dong, Gangnam District
Jongno Location: (Cheonggyecheon 81) 11-5 Gwancheol-dong, Jongno District
Café Zino – Where The Goblin And His Bride Have Steak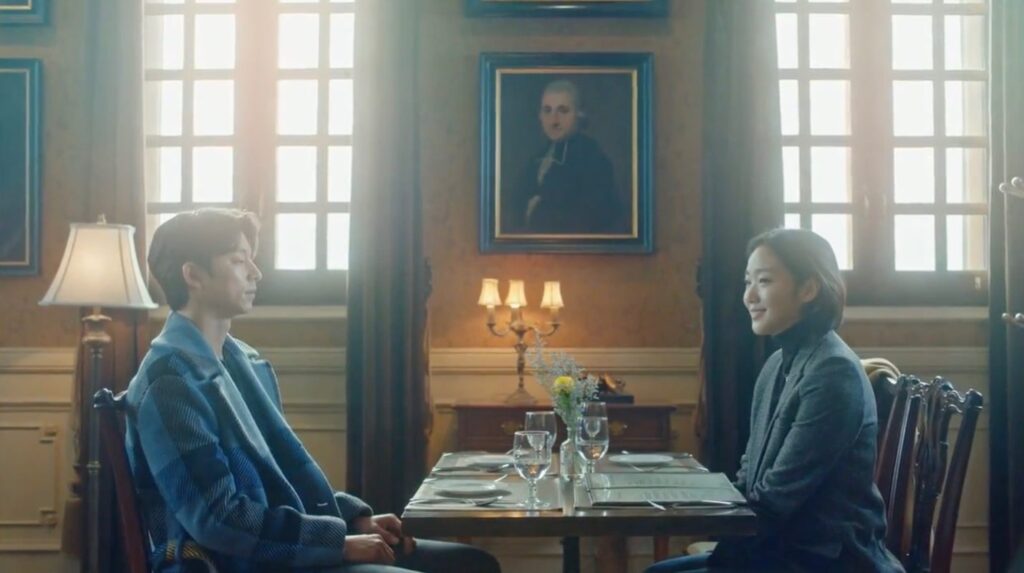 Café Zino is another cafe that was featured in the hit Goblin Kdrama. In the series, it appeared as a restaurant in Canada where Kim Shin and Eun-Tak frequently eat steak. Surprisingly, fans don't have to go to Canada just to visit the place as it is only located in Gyeonggi-do, South Korea.
However, you won't find Eun-Tak's favorite steak here. The restaurant specializes in Italian cuisine and offers visitors with cozy and fine dining experience. Interior wise, it has a time stylish ambiance that provides an English setting vibe to visitors. The cafe also has an exquisite exterior design that reminds of British architecture.
Café Zino is located in the town of Tanhyeon. It is relatively hard to reach the place from Seoul if you don't have your vehicle. It would require you a train ride going to Hapjeong Station and several minutes of bus rides to and from Heyri Art Village.
Location: 94-5 Daedong-ri, Tanhyeon-myeon, Paju-si, Gyeonggi-do
There you go with the must-visit Goblin Kdrama filming locations. When you're in Korea, never miss to drop by in these places to recreate the moments in favorite drama series. It's already 2020, but that doesn't mean that these places are already out of fashion. As they say, the Goblin Kdrama is timeless, so are its filming locations.
FAQs
Best Time To Visit South Korea
Spring is undoubtedly the best time to visit South Korea. Unlike the freezing winter, the temperature during spring is mild that allows people to fully enjoy outdoor activities. Spring is also considered as a shoulder-season for Korea, which means it is less crowded and the accommodation is less expensive.
Will I Need a Visa To Visit Korea?
Depending on your nationality, you may or may not need a Visa when visiting South Korea. At some point, the country gives special exceptions regarding the need for a Visa to enter South Korea. For instance, U.S. citizens presently doesn't need a Visa to enter the country for business or tourism purposes for a given period. This provision also applies to other allies of South Korea.
Why Should I Visit South Korea?
There are plenty of reasons why you should visit South Korea. The country is blessed with changing seasons that make it exciting to travel to or live in. It has a vast range of activities to offer, from exploring its cultural heritage to enjoying its natural wonders. It also has delectable cuisine like the authentic Korean desserts you can only find in the country.