Hanoi — one of the most ancient capitals on earth. This Vietnamese city is no shortage of historical sights and stunning landscapes. Though most travelers visited Hanoi specifically for its diverse culture and enchanting scenery, the delectable Hanoi street food is hard to be ignored.
Filled with subtle flavors and rich in diversity, Vietnamese food spark the interest of the world. From traditional Vietnamese food up to popular Vietnamese dishes, those reflect the country's rich culture. And trivia, Vietnam's geography plays a crucial role in their food culture. As we satisfy our taste buds with different rich and mouth-watering flavors, we can also get a glimpse of their history and culture through their cuisines.
And the perfect place to start your Vietnamese food tour? In Hanoi, Vietnam.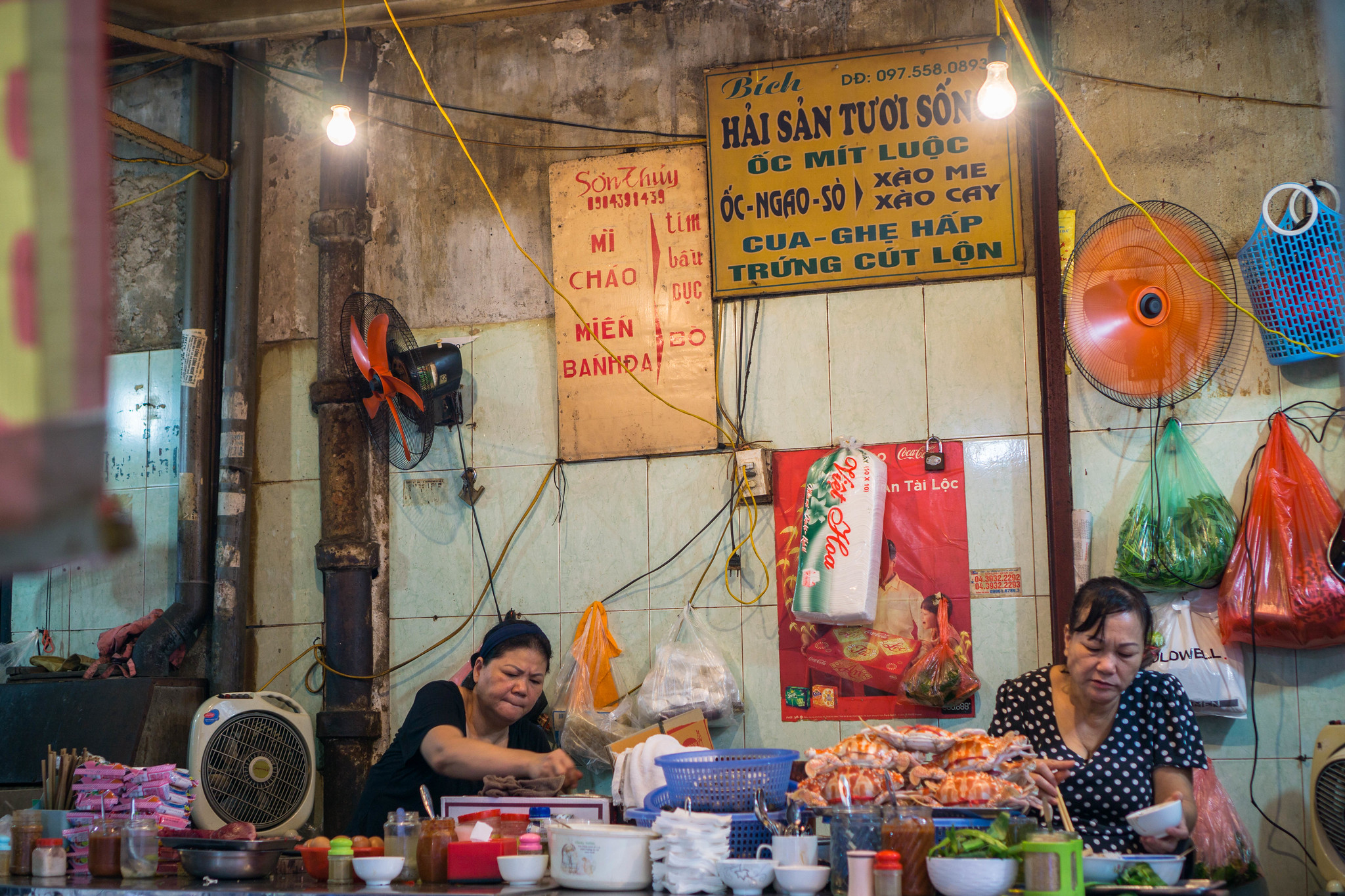 Where is Hanoi? 
The capital of Vietnam, Hanoi or Ha Noi is located in northern Vietnam on the western bank of Red River. The city is known as one of the most ancient capitals in the world. With a rich culture and history, you can find well-preserved colonial buildings, ancient pagodas, and museums. The appetizing cuisines, vibrant Hanoi nightlife, and silks and handicrafts entice tourists to visit the city.
In the busy streets of Hanoi, you can find a lot of food stalls and restaurants around the area. And to help you with your must-try list of Vietnam food, here's our 15 best Hanoi street food.
1. Banh Mi 
(Vietnamese Baguette)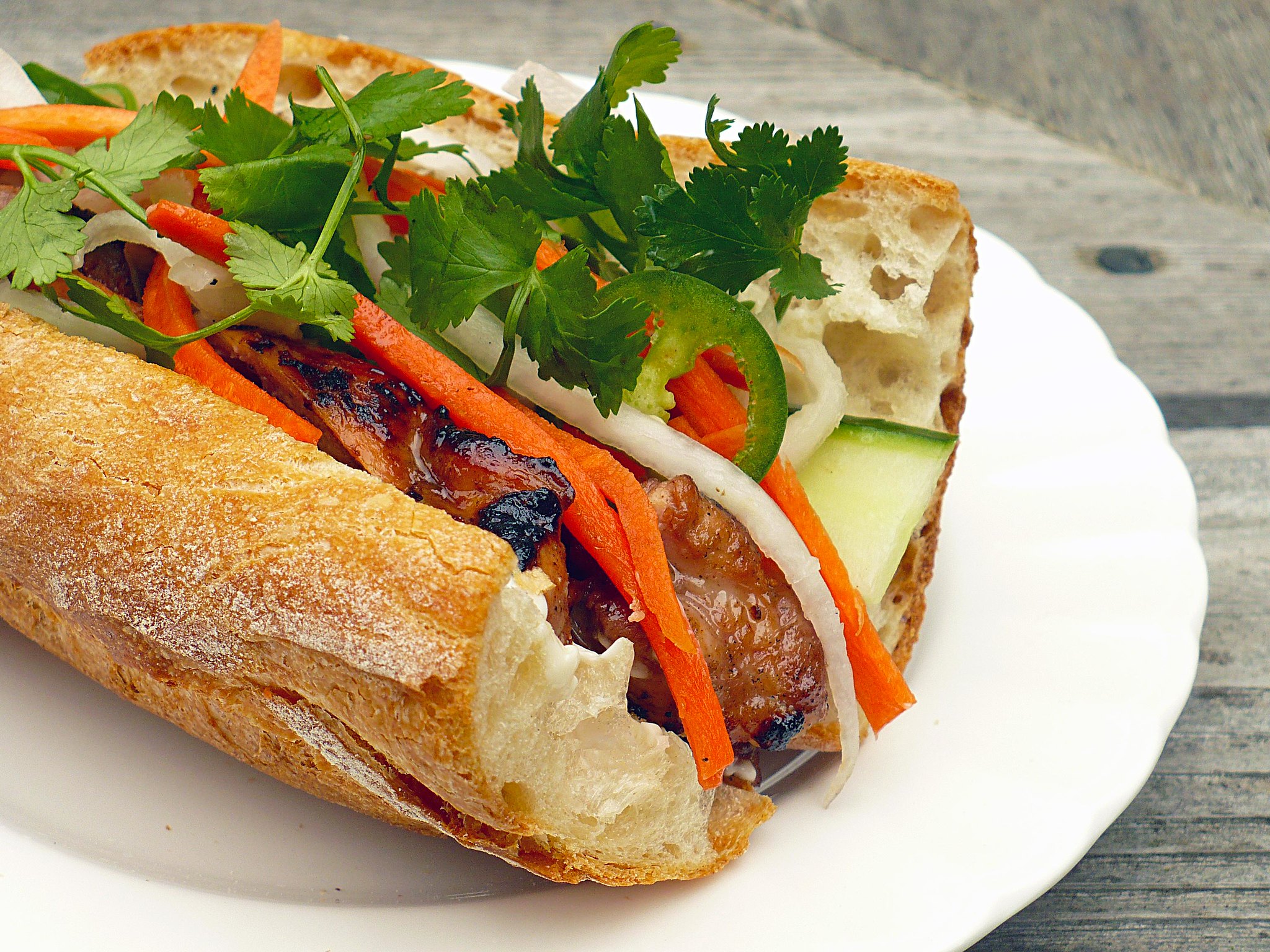 If you love sandwiches, then add Vietnam's famous Banh Mi on your list. Enjoy that crunchy outer layer and it's soft and fluffy inside of a baguette split into lengthwise filled with a variety of ingredients. Its overloading fillings can consist of cold cuts, liver pate, pickled vegetables, cucumber slices, and cilantro.
Many places offer a different variation of that give a new taste of the famous banh mi. Some offer a mixed banh mi with pate, barbecued pork, ham, and sausage. Another food stall offers a "Hoi-An-style" banh mi made with slow-roasted pork, pate, pickled vegetables, coriander, and their secret sauce.
Enjoy that crunchy, sweet, smokey, and savory taste from the bread and filings with one bite. You can easily find a lot of banh mi shops around Hanoi. Make sure to include one to your Hanoi street food tour!
Some of the best places to try Banh Mi:
Bánh Mì 25

Address: 25 Hàng Cá, P, Hoàn Kiếm, Hà Nội, Vietnam
What to order: Mixed banh mi with pate, ham, sausage, and barbecued pork
Price: VND 20,000 – 40,000

Bami An Bread

Address: 98 Hang Bac | Hoan Kiem, Hanoi 10000, Vietnam
What to order: Hoi An Special
Price: VND 26000 per Banh Mi
2. Pho
 (Vietnamese Beef Noodles)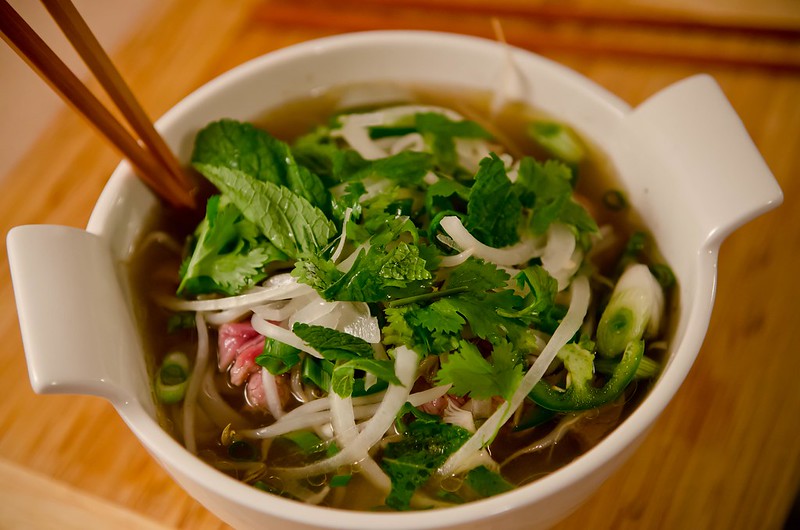 Next on our must-try Hanoi street food is none other than the country's national dish, Pho. This food is a staple Vietnamese breakfast and typically made of four basic ingredients: clear stock, rice noodles, meat (usually beef or chicken), and herbs. If you're worried about waking up early in the morning to savor a bowl of pho, then don't fret. Wherever you go, you can find many pho restaurants and street vendors.
Since it originated in Hanoi, take time to splurge into an authentic bowl of hot pho Ha Noi.
Some of the best places to try Pho Ha Noi:
Phở Gia Truyền Bát Đàn

Address: 25 Hàng Cá, P, Hoàn Kiếm, Hà Nội, Vietnam
What to order: Pho Tai Nam
Price: VND 40,000-50,000

Phở Thìn

Address: 13 Lò Đúc, Ngô Thì Nhậm, Hai Bà Trưng, Hà Nội, Vietnam
What to order: Pho Bo
Price: VND 60,000
3. Bun Cha
 (Vermicelli Noodles with Grilled Pork)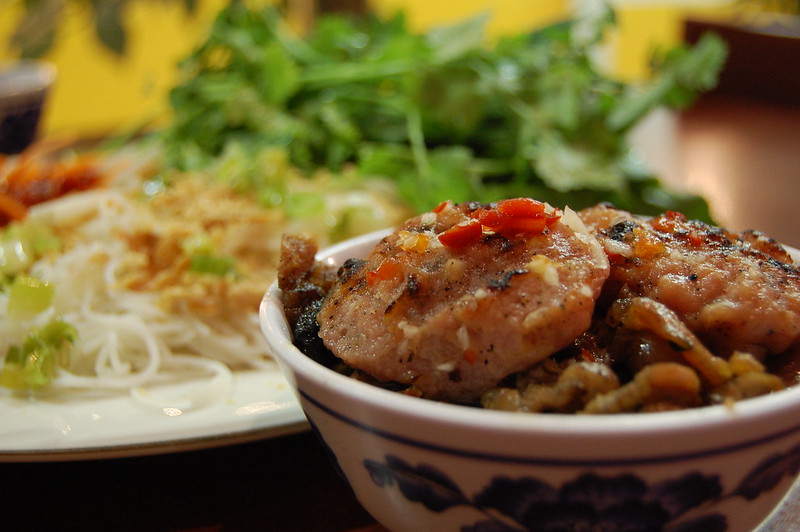 One of Hanoi's core regional dishes, Bun Cha, consists of smoky-grilled fatty pork served in a plate of white rice noodles. Aside from that, it is served with a bunch of herbs with a side of dipping sauce. You can also eat it with nem cua be, a type of fried spring rolls made with crab. Savor that perfect balance of texture and flavor with the combination of bun cha, and nem cua be. Don't miss savoring a plate of bun cha while you're in Vietnam!
Did you know that Bún Chả Hương Liên became famous after it was featured in the Hanoi episode of Parts Unknown? The late great Anthony Bourdain taught former US President Barack Obama how to eat bun cha and chase it with a sip of cold beer. It boosted the restaurant's popularity that it even made a menu next to the former president!
Some of the best places to eat out Bun Cha:
Bun Cha Dac Kim

Address: Shàng Bông, 67 Đường Thành, Shàng Bông, Hoàn Kiếm, Hà Nội, Vietnam
What to order: Bun cha, nem cua be
Price: VND 90,000 per combo

Bún Chả Hương Liên

Address: 24 Lê Văn Hưu, Phan Chu Trinh, Hai Bà Trưng, Hà Nội, Vietnam
What to order: Bun cha, nem cua be
Price: VND 90,000 for the Combo Obama
4. Banh Cuon (Vietnamese Steamed Rice Rolls)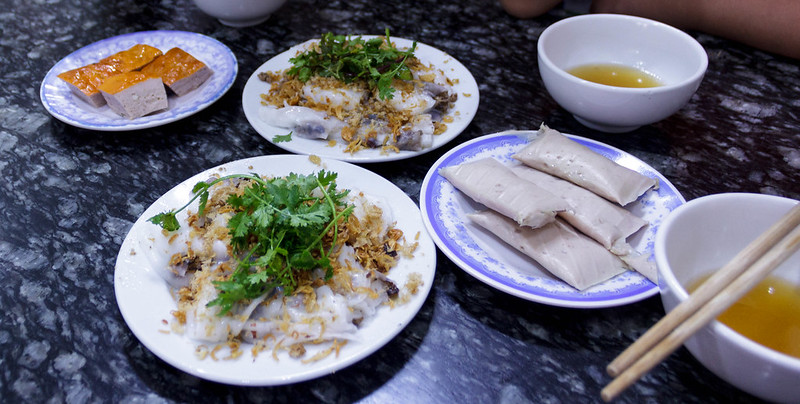 One of the popular Vietnamese dishes, Banh Cuon is a type of rolled rice flour pancake. It is made of thin sheets of steamed fermented rice batter filled with seasoned ground pork and wood ear mushrooms.
Banh Cuon is typically topped with fried shallots that enhances its flavor. It is usually served with a side of fresh herbs, gio lua (Vietnamese pork sausage), bean sprouts, sliced cucumber, and nuoc cham. If you have enough time, try to savor a banh cuon, you won't regret it!
Some of the best places to eat out Banh Cuon:
Bánh Cuốn Gia Truyền Thanh Vân

Address: 12-14 Hàng Gà, Hàng Bồ, Hoàn Kiếm, Hà Nội, Vietnam
What to order: Banh Cuon
Price: VND 85,000 for two orders

Bánh Cuốn Bà Xuân

Address: Dốc Hòe Nhai, Nguyễn Trung Trực, Ba Đình, Hà Nội, Vietnam
What to order: Banh Cuon
Price: VND 30,000
5. Cha Ca (Hanoi Style Turmeric Fried Fish with Dill)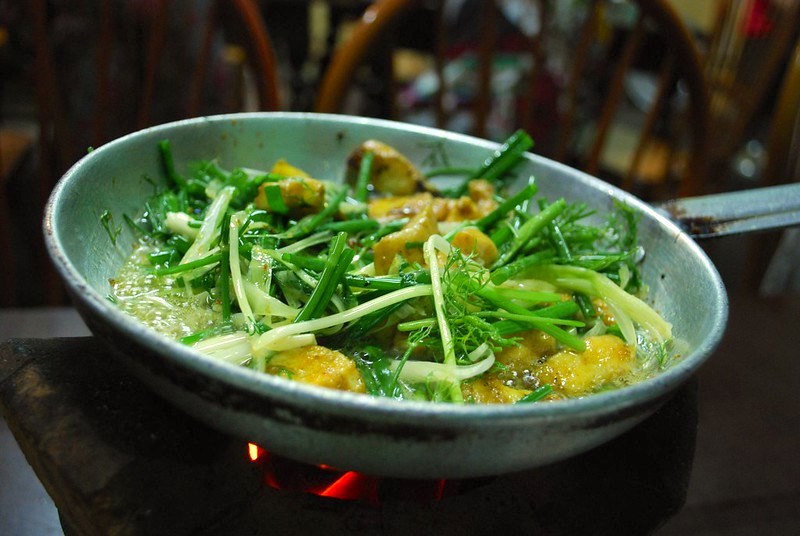 Another popular Vietnamese dish you should not miss in Hanoi is Cha Ca. It is typically made of hemibagrus catfish, a type of catfish usually caught in the rivers of northern Vietnam. The fish is cut into nugget-sized and marinated in turmeric, galangal, and other spices. Filled with brimming fresh dill, you can relish this dish with rice noodles, coriander, roasted peanuts. Dip it in the flavor-packed nuoc cham sauce with a touch of savoriness and sourness. It's typically made out of vinegar, and garlic or with mam tom (shrimp paste) mixed with lime juice.
This traditional Vietnamese food was popularized by Cha Ca La Vong restaurant a hundred years ago. It became a pride of Hanoi citizens. There are many famous and tourist-friendly cha ca restaurants in Hanoi's Old Quarter, so don't miss one for your Hanoi street food tour!
Some of the best places to eat out Cha Ca:
Chả cá Anh Vũ

Address: 116 K1 Giang Vo, Ba Dinh, Hanoi
What to order: Cha Ca
Price: VND 46,000 for four people

Chả Cá Kinh Kỳ

Address/es: 25 Duong Thanh, Hoan Kiem, Hanoi; 621 Lac Long Quan, Tay Ho, Hanoi; 41 Huynh Thuc Khang, Ba Dinh, Hanoi; 172 Nguyen Son, Long Bien, Hanoi; 104 Hoa Ma, Hoan Kiem, Hanoi
What to order: Cha Ca
Price: VND 120,000 – 500,000
6. Vietnamese Xoi (Sticky Rice)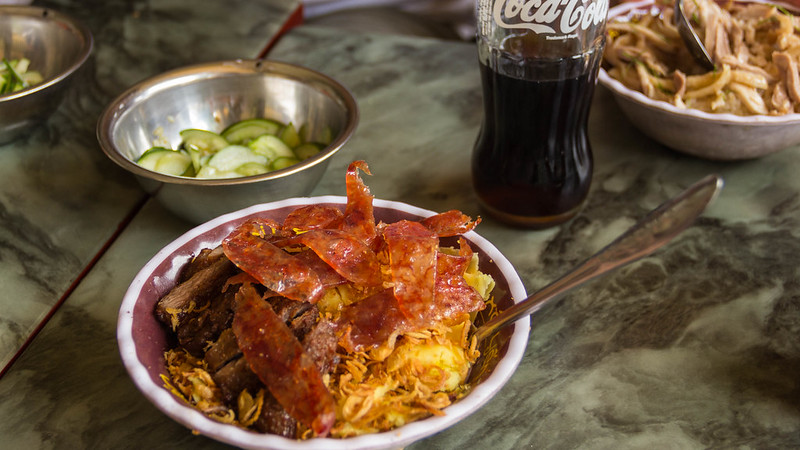 A great dish to kick off your Hanoi street food tour, Xoi is another staple Vietnamese breakfast you must try. Made of sticky rice with various fillings usually wrapped in banana leaves, it is a convenient and easy-to-eat dish. Served in different variations, the add-ons include such as crushed peanuts and sesame salt or white corn and deep-fried shallots.
The Xoi variant that you shouldn't miss in Hanoi is Xoi Thap Cam. It has generous add-ons of Vietnamese and Chinese sausages, strips of steamed chicken, pork skin or pork belly, and egg. It also includes shavings of dried mung bean paste and dried shallots.
This dish is normally sold by street vendors along the sidewalks early in the morning. But you can also find street vendors who sell Xoi from early evening until midnight in Ben Thanh Market. Make sure to grab one for a complete Hanoi food experience!
Some of the best places to eat out Xoi:
Xoi Yen

Address: 35b Nguyễn Hữu Huân, Hàng Bạc, Hoàn Kiếm, Hà Nội 100000
What to order: Xoi
Price: VND 50,000 for xoi xeo

Xoi Bui Thi Xuan

Address: Bui Thi Xuan, District 1
What to order: Xoi Thap Cam (Mixed Xoi)
Price: VND 15,000-30,000
7. Banh Tom and Banh Goi (Fried Dumplings)
Enjoy the crunchy combination from these popular from deep-fried street foods, Banh Tom and Ban Goi. Banh Tom, also known as shrimp cakes, has shrimp and grated sweet potato as an add-on. While, Banh Goi is similar to a Vietnamese empanada filled with minced pork, glass noodles, and a quail egg. These mouth-watering street foods are best with dipping sauces with some herbs!
There are other deep-fried foods around Hanoi that you should also try. Don't forget to include nem cua be (perfect with bun cha!), pho cuon, and ha cao chien to your list!
One of the best places to eat try Banh Tom and Banh Goi:
Quán Gốc Đa

Address: 52 Lý Quốc Sư, Hàng Trống, Hoàn Kiếm, Hà Nội, Vietnam
What to order: Banh goi, nem cua be, pho cuon, and banh ran ngot
Price: VND 4,000-12,000 per piece
8. Ca Phe Trung (Vietnamese Egg Coffee)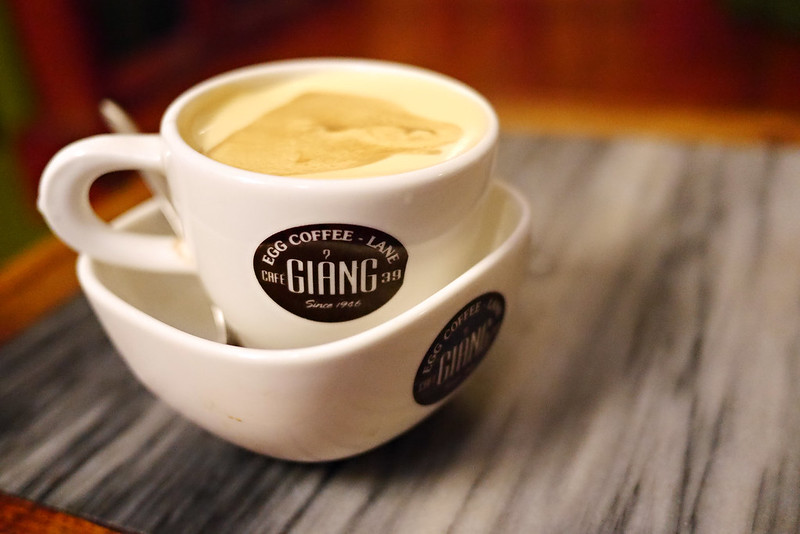 From delicious and mouth-watering dishes, let's move on to the next thing you must include on your list, Vietnamese coffee. For all coffee lovers out there, Vietnam is your haven! It is one of the best coffee places in the world! You can find a lot of cafes in Hanoi, but to make your coffee experience a bit different, you must try their famous egg coffee.  Ca Phe Trung, or egg coffee is a strong espresso or iced coffee with creamy egg element on top. The layer looks like a tiramisu and most likely tastes like tiramisu with coffee too!
Try Ca Phe Trung here:
Giang Cafe

Address: 39- Lane Nguyen Huu Huan, Hanoi, Vietnam
What to order: Ca Phe Trung
Price: VND 20,000
9. Coconut Coffee
A proof of Vietnam's love for coffee, aside from the famous egg coffee, you should also try their coconut coffee! You can find a lot of coffee shops or places in Hanoi that offer coconut coffee. The perfect blend of coconut's sweetness and coffee's rich flavor makes it stand out from other coffee. Step out of your usual coffee routine and try a cup of this!
Best place to stop by during your Hanoi tour for the best cup of coconut coffee:
Cong Caphe

Address:  32 Điện Biên Phủ, Hoàn Kiếm, Hanoi
What to order: Coconut Coffee
Price: VND 45,000 to 59,000
Of course, after relishing all the savory dishes around Hanoi, don't forget to indulge with yummy sweet and delectable desserts. Chè, the Vietnamese word for dessert, is very famous in Vietnam. You can find various Chè desserts around the busy streets of Hanoi. It can be a mixture of different fruits and yogurt, or a blend of coconut milk with fruit-flavor jellies, and pearl-shape tapioca. This dessert can be served either cold or hot, depending on your preference. These yummy local Vietnamese desserts will surely satisfy your Hanoi tour!
**Pro Tip: Order a warm che for cold seasons or cold che or dessert with crushed ice during the hot season.
Aside from the coconut-milk based chè, Bánh, or Vietnamese sweet cakes, is also a delightful dessert in Hanoi. Don't miss to try out some of the popular bánh treats in your Hanoi street food tour and to bring some delicacies back home.
And to continue with our list, here are some of the best Hanoi street food desserts you should try:
10. Chè Chuối (Tapioca Dessert)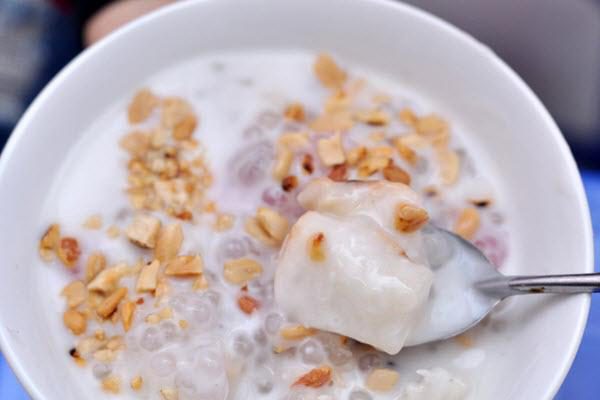 Made of sweet soup with chopped pieces of banana, tapioca pearls, peanuts, and sesame seeds, Chè Chuối will not disappoint you. The type of bananas used for this particular dessert is chuối sứ, which is famous in Southeast Asia. These small in size, sweet, and flavorful bananas enhances the taste of this local delicacy. The coconut milk makes it even better! Plus the price of chè chuối is cheaper but the taste is more than what you pay!
Make sure to sit down in one of a food stall and satisfy your stomach with a bowl of Chè Chuối.
Try Chè Chuối here:
Chè Chuối Lady Street Vendor

Address: Sidewalk directly across Thanh Cao Lầu, on 26 Thái Phiên, Hoi An
What to order: Chè Chuối
Price: VND 10,000 per bowl
11. Chè Ba Mau (three-colored Dessert)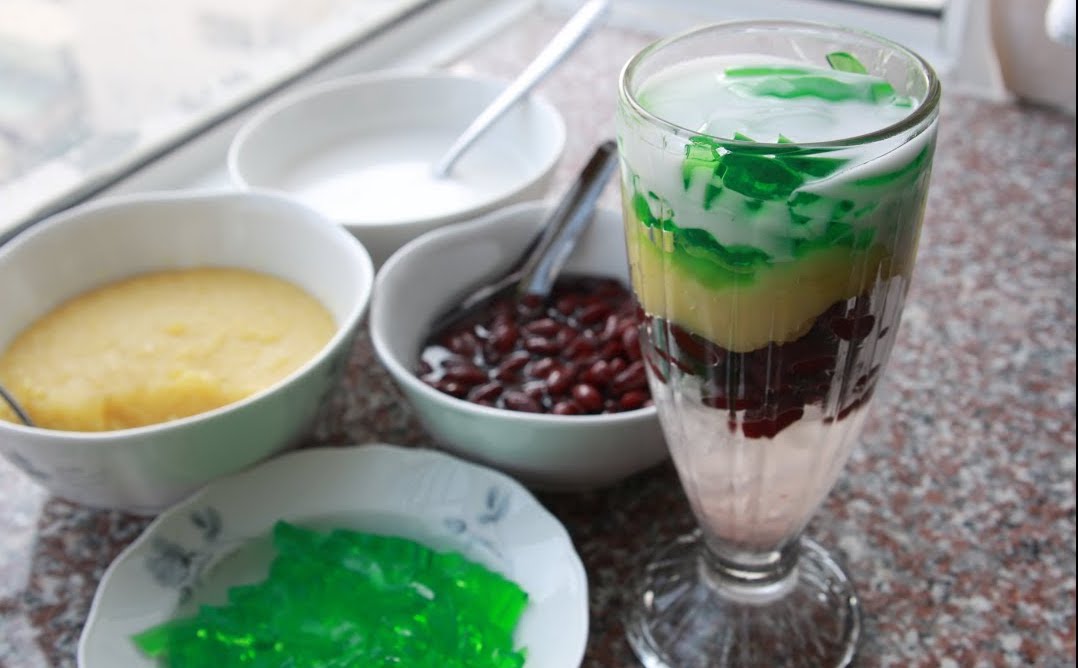 Commonly referred to as the three-colored dessert, Chè Ba Mau, is another must-try local flavor dessert in Hanoi. However, with all the colorful fillings included in this delicacy, it turns into a multi-colored dessert! It consists of a layer of yellow mung bean paste, red beans, and green pandan jelly, topped with coconut milk!
Did you know that aside from the classic-based che, you can customize it according to your desire? You can choose whichever toppings you want, and they'll grant your wish! Perfect for a hot and humid day in Vietnam, it is served in a cup or mug topped with ice! You can easily find a vendor selling this across Hanoi, just simply look for a food stall with the word 'che' on the sign.
Get a cup of a cold Chè Ba Mau here:
Bánh Trôi Tầu – Diep Beo

Address: 52 Hàng Điếu, Hà Nội
What to order: Chè Ba Mau and Chè Trôi Nước
Price: VND 10,000 – 25,000
12.  Chè Trôi Nước (Glutinous Rice Dessert)
From the cold local dessert, don't miss to try out this another dessert, Chè Trôi Nước. It is a delicious sweet soup made with mung bean paste wrapped in a glutinous rice flour dipped in ginger sauce. It usually served hot, perfect for a chilly night!
Try a bowl of this warm and chewy Chè Ba Mau here:
Bánh Trôi Tầu – Diep Beo

Address: 52 Hàng Điếu, Hà Nội
What to order: Chè Ba Mau and Chè Trôi Nước
Price: VND 10,000 – 25,000
13.  King Roti Coffee Buns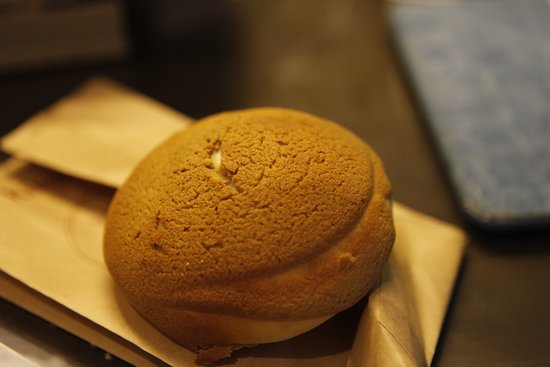 Don't forget to stop by and try these various-flavored buns from King Roti. These coffee buns come to have three flavors to choose from chocolate, matcha vanilla, and cheese. The delicious smell of freshly baked bread will make you cross the street and line up to taste one. These buns are especially perfectly paired with a cup of hot coffee. This snack is soft and tastes delightfully good!
Line up for a King Roti Coffee bun here:
King Roti

Address: 34 Hang Gai, Hoan Kiem, Hanoi
Price: VND 14,000 per bun
14.  Bánh Xoai (Vietnamese Mango Cake)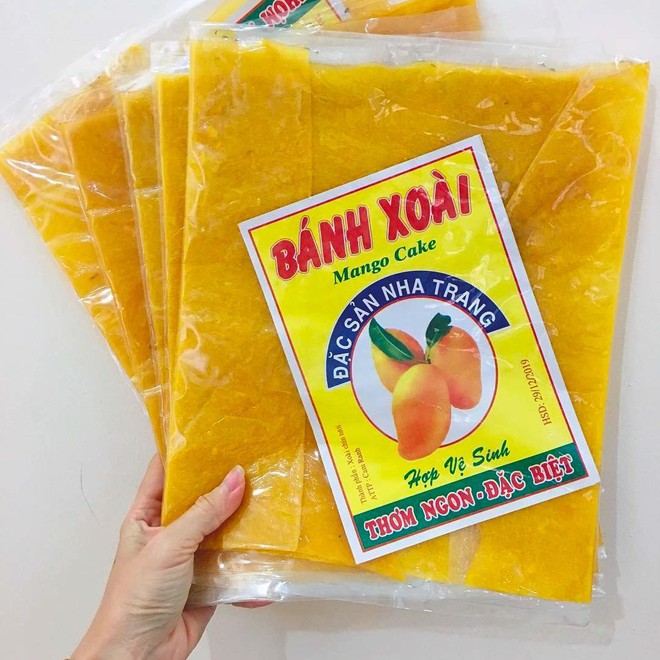 Bánh Xoai, or mango cake, is another popular Vietnamese delicacy that you must try while you're in Hanoi! It is a chewy cake made of glutinous rice filled with a sweet mixture of peanuts and sesame seeds. But don't expect a mango flavor from this treat!
The cake looks like a mango or mango seed the reason why it was called mango cake. Its soft and chewy texture tastes like heaven! And with one bite, the sweet and savory flavor from the filling will explode in your mouth!
You can easily find a street vendor selling a mango cake along the streets of Hanoi's Old Quarter. Make sure to stop by during your Hanoi street food tour!
15.  Ô Mai (Hanoi Sugared or Salted Fruits)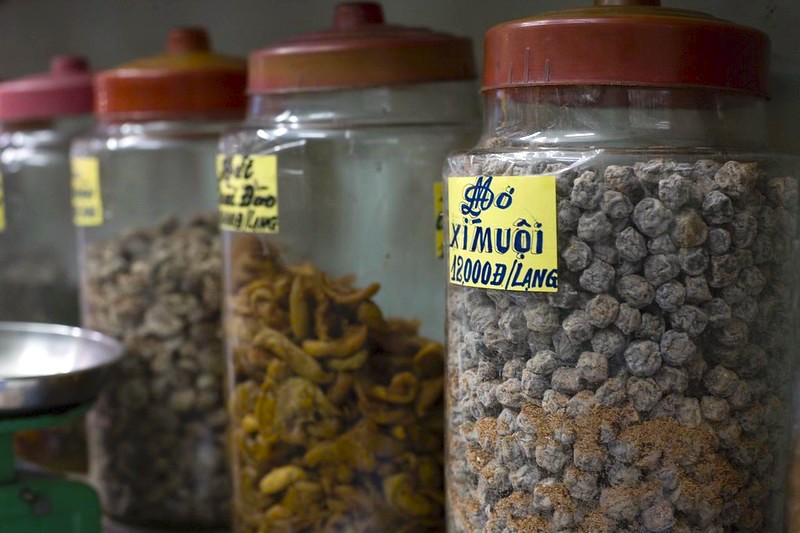 Last on the list, try this Vietnamese Candy, Ô Mai. It is salted or sugared dry fruit usually available during the holiday season Tết Holiday or Lunar New Year. The taste is a combination of salty, sweet, mixed in with the taste of fresh ginger and natural fruit flavors. Some of the popular flavors are plum, apricot, kumquat, starfruit, mango, tamarind, ginger, and sweet potato.
These candies are popular in Hang Duong Street, or Sugar Street, in Hanoi. Make sure to grab these sweets during your Hanoi trip!
Where to have it?
Tien Thin

Address: 21 Hang Duong Street, Hanoi
Price: VND 20,000 for 100g
Hanoi FAQs
How much is street food in Hanoi? 
Generally, the local food in Hanoi is cheap by most standards. That means to say, a full meal in a restaurant usually costs around $3 to $5 dollars. While street food can cost as cheap as just $1 for a sandwich to an ingredients packed bowl of Vietnamese noodles. Expect to pay around $1 for the local Saigon or Hanoi beer. Though imported beers are slightly more expensive, it's still affordable and shouldn't cost more than $3 dollars for a beer.
How to order street food in Hanoi?
Let's be honest, most Vietnamese is not fluent English, the same goes that you're not fluent in the Vietnamese language. But that doesn't mean they couldn't understand anything you've said. Well, in the case of a communication break down, sign language works perfectly fine. All you have to do is go to the counter, finger point at the dishes that you would like to try. If not, find a photo of the dishes you want to try in advance, show it to the street vendors.
Is the street food in Hanoi safe to be consumed? 
There are no definite answers to the safety of street food in Vietnam in general. It's all down to the hygienic precautions of the street food stall vendors. Hence, if you've decided to try out some street food, there are a few indications that'll be helpful to determine if they're safe for consumption.
First, observe if there's any queue at the street food stall. If the stall is busy, it's most likely that the stall has established its reputation and it should give you the green light to proceed. In such a case, the food is probably delicious too!
Try to avoid cold street food especially salad that has been sitting around the cart for ages. The chances of crossed-contamination are high and you should stay away from it at all times. Observe how the street vendors handle the food, should he or she handled a banknote then prepare the food bare hand right after it, its probably a bad idea to get anything from the stall.
Taste These Hanoi Street Foods Like Never Before
Here are some of the best Hanoi street food you must try during your trip! You can easily find a lot of street vendors along the busy streets of Hanoi. Plus, if you're wondering how to order street food in Hanoi? You just simply need to find the right destination, place your order, and sit on their small stool and wait for your order.
Exploring various Vietnamese local dishes and delicacies makes us understand their culture even more. Find out more Vietnam travel tips and guides here.