There is something very liberating about being nude. After all, it's the way we are born into the world. Unfortunately, you can't go bare all the time. Unless you're in the comfort of your own home or in a place like clothing optional resorts where being nude is allowed. Otherwise, you're left confined in the swaddle of your clothes.
Luckily, there are some clothing optional resorts around the world where being nude is not only socially acceptable but also a way of living. So, if you ever want to let loose and go au naturel, schedule your next vacation at one of these clothing-optional resorts. Plus, here's the do-and-don't's for being nude the first time. 
1. Caliente Club & Resorts – Land O'Lakes, Florida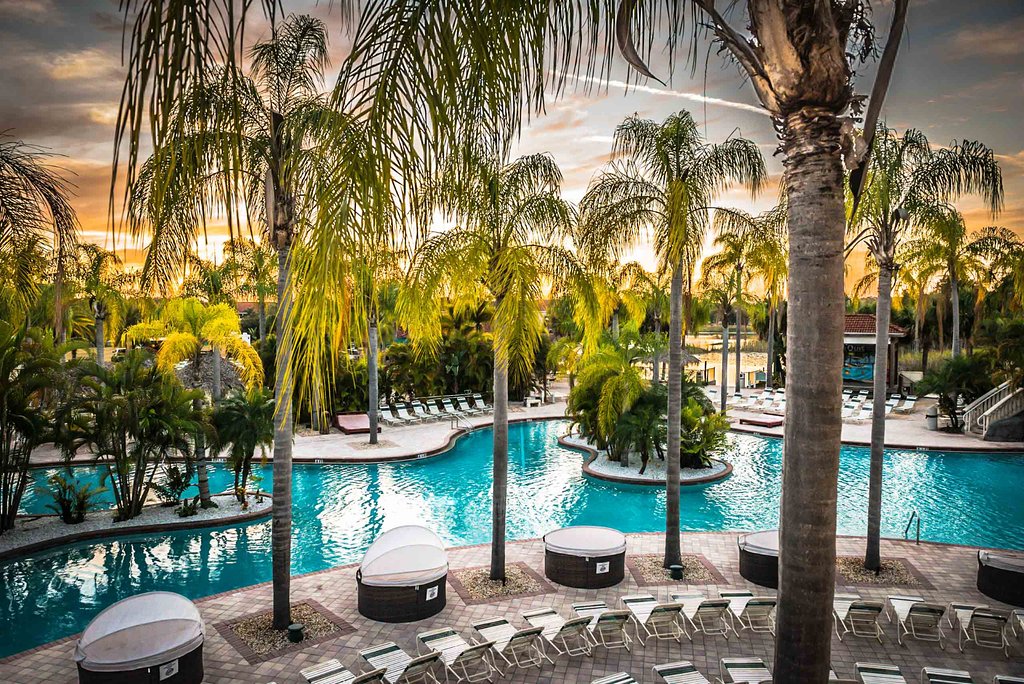 One of the best clothing-optional resorts in the world can be found right here in good old' U.S. of A. Sitting in Tampa, Florida, Caliente Club & Resorts is a premier destination for naturists all over. Here, you can strip naked and enjoy basking in the sun without worrying about tan lines. Additionally, this luxury resort offers fine accommodations and amenities, including a gigantic pool and a day spa. If you time your visit right, you may even be able to join the Caliente Bare Dare, a 5K race in the nude.
Caliente is a members-only club, but you don't have to jump through hoops to join in. They offer a variety of memberships, including daily ones that you can purchase online. Single male day passes, however, must be bought in person at the front gate. On top of that, Caliente is one of the adults-only clothing-optional resorts in the country. This means the venue is only open to guests 21 years old and above.
If you're looking to see more of the Sunshine State, hop in a car and take a 2-hour drive up to Orlando. Want to see the famous beaches in South Florida? Miami and Fort Lauderdale are only 5 hours away.
2. Couples Tower Isle – Ocho Rios, Jamaica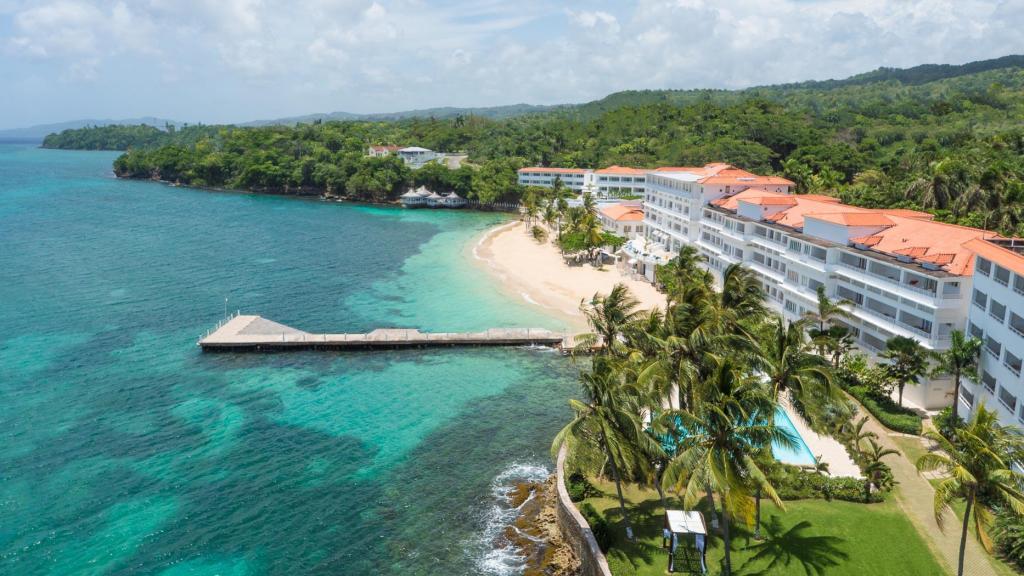 Among the all-inclusive clothing-optional resorts Jamaica has to offer, Couples Tower Isle in Ocho Rios is undoubtedly one of the best. However, unlike others of its kind, don't expect to see everyone sporting their birthday suits everywhere. The resort itself isn't clothing optional, but the private island just off the coast is. Access to Tower Isle is easy — just a short boat ride, and you're there.
When you're not busy sunbathing on Tower Isle, the main resort offers plenty to do. There are four swimming pools to choose from, plus a few Jacuzzies scattered around. Feeling sporty? Play a game of tennis or a round of golf. You can also participate in water activities like scuba diving, snorkeling, sailing, kayaking, and more.
For dining options, Couples Tower Isle has got you covered. Indulge in gourmet meals at Eight Rivers or dine al fresco at Verandah. In terms of nightlife, there are several bars within the resort and on the private Tower Isle, as well. Their signature Rum Punch featuring Jamaica's national drink is a Caribbean cocktail unlike any other. If you've never partied au naturel before, it's definitely an experience worth trying.
3. Cypress Cove Resort – Kissimmee, Florida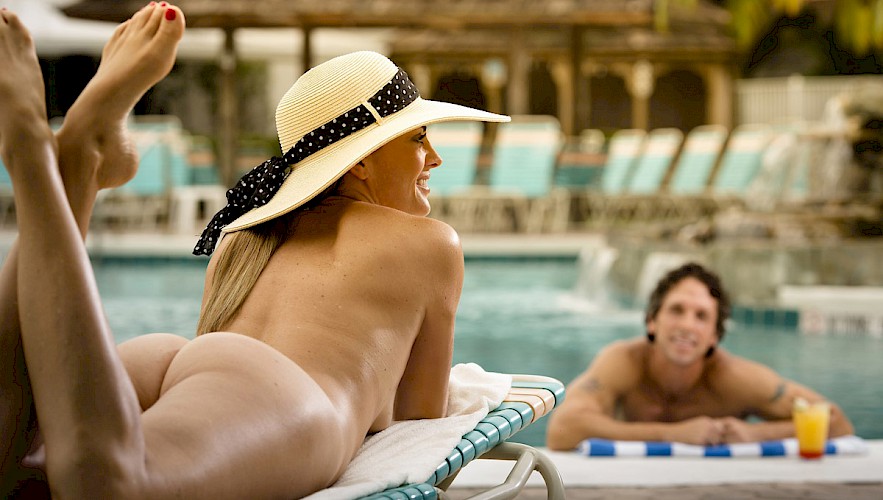 For a family-friendly nudist vacation destination, Cypress Cove Resort is the place to be. Situated in Kissimmee, Florida, this resort is open to guests of all ages. Membership isn't required, though it does have its perks. While not the most luxurious of clothing optional resorts on this list, Cypress Cove boasts a fair share of activities and amenities.
The resort sits on an impressive 300 acres of land, blending nature and contemporary facilities with great ease. There are a number of sporting activities you can participate in, including volleyball and golf. Cypress Cove houses its own lake, as well as two large pools for those who prefer to swim in treated and heated water. You also don't have to leave the premises to get your daily gym fix, massage, or haircut. With everything you need all in one place, Cypress Cove is the ultimate spot for nudists.
4. Desire Riviera Maya Pearl Resort – Cancun, Mexico
Located at the edge of Puerto Morelos in Cancun, Desire Riviera Maya Pearl Resort is a couples' paradise. In fact, it's one of the best adults-only clothing-optional resorts in the whole of Mexico. Here, you'll find luxury accommodations and amenities waiting for you and your partner. Apart from access to the beach, pools, a spa, and stylish abodes, the resort also offers an array of restaurants and bars.
At a glance, Desire Riviera Maya Pearl seems just like any other luxury resort. However, a closer look makes it clear that this place specializes in sensual pleasure. Clothes are free to come off at the beach, in the pool area, and at the Jacuzzi Lounge on the rooftop. The resort also hosts erotic theme nights designed to entertain and arouse. Choose from the resort's Fantasy Menu, with each option engineered to fuel your desires and fulfill your fantasies.
However, not just anyone can get a room here. The resort is only open to couples, so don't expect to book your stay if you're flying solo. If you and your partner are looking for a couple to swing with, start here. Aside from being a clothing-optional destination, Desire Riviera Maya Pearl Resort also welcomes swingers. And while you're in the area, don't miss out on all the best sights Cancun has to offer.
5. Garden of Eden Resort – Isla Solarte, Panama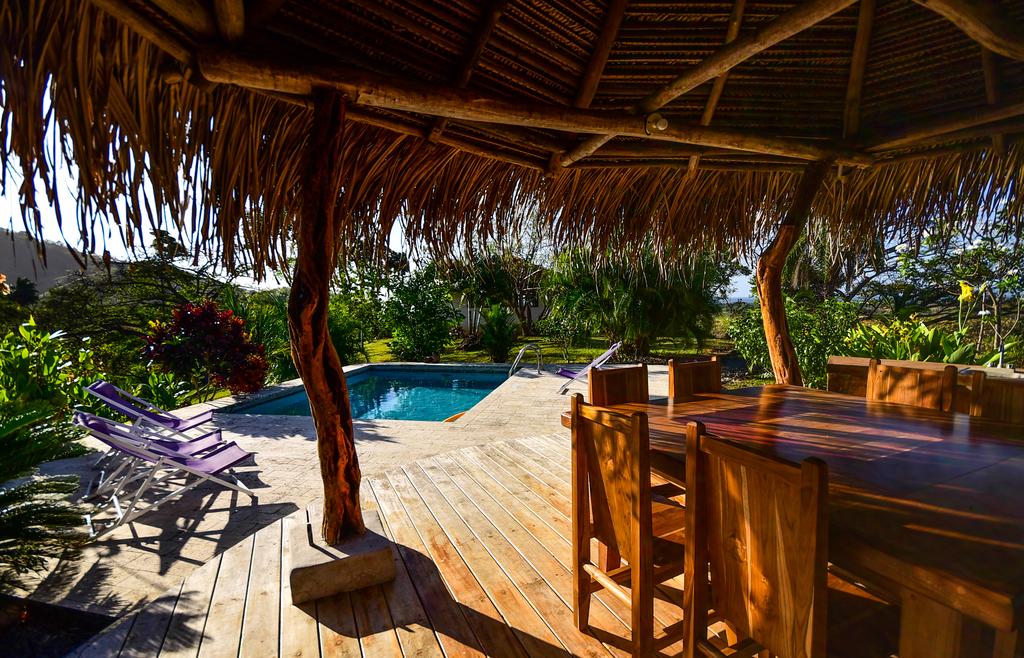 If you'd like to live as Adam and Eve did, there's no better place than the Garden of Eden Resort. Located on Isla Solarte in Panama, Garden of Eden is one of the only eco-friendly clothing-optional resorts in the world. This secluded destination collects rainwater and relies on solar power. Prepare for an experience that will reconnect you with nature. As such, don't expect Wi-Fi, airconditioning, or even TV. At the Garden of Eden, simple living reigns supreme.
However, just because simplicity is a core feature doesn't mean this resort offers nothing else. Those in the mood for water sports are in for a treat. Snorkeling, scuba diving, and surfing are popular activities in the area. The Garden of Eden Resort is also just a 30-minute kayak ride away from the popular Red Frog Beach. What this resort lacks in luxury, it certainly makes up for in character. And due to its remote setting, this resort is the perfect vacation spot for first-time nudists seeking a little more privacy.
6. Grand Lido – Negril, Jamaica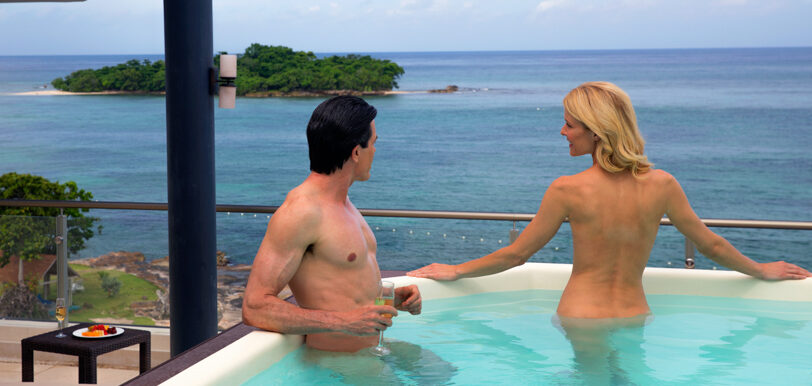 The epitome of luxury exists — and it can be found in Negril, Jamaica. Boasting 26 grand suites, each with a private butler, Grand Lido is the rich nudist's dream destination. Some rooms come with Jacuzzis, while others have swim-out pools. If that doesn't make you swoon, the wide range of bars and restaurants here will. Whether you're in the mood for Italian or something more exquisite, Grand Lido has it.
Much like other all-inclusive clothing-optional resorts, Jamaica has to offer, Grand Lido is extremely secluded. As a result, you can leave your worries about privacy at the door. You can walk around freely in every sense of the word.
7. Hawksbill – Antigua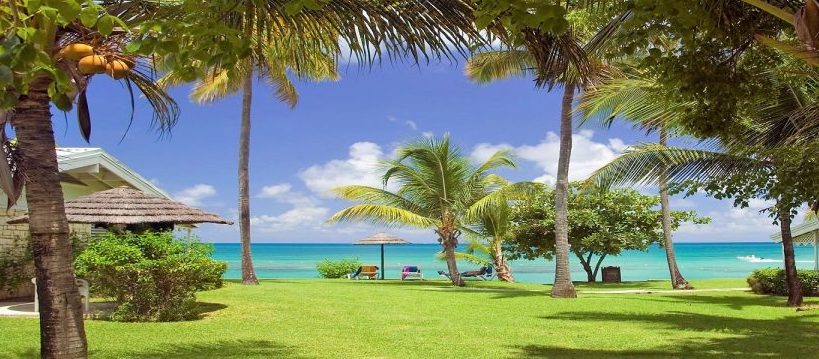 If you find yourself in Antigua, Hawksbill by Rex Resorts is 37 acres of tropical fun. While the resort itself requires guests to be clothed within the premises, those who want to be free of garments won't be disappointed. Hawksbill has four secluded beaches, including Eden Beach, the island's only clothing-optional beach. So if you're looking to turn evenly brown all over, this is the place for you.
Unfortunately, a trip to Hawksbill means having to leave your kids at home. Only guests aged 18 and over are allowed to stay. There are a handful of rooms to choose from, including ones that allow unobstructed views of the sea. Eat to your heart's content at the Tamarind Tree, a buffet-style restaurant. Alternatively, you can dine at the Sea Grape Restaurant & Bar, where great meals are served alongside a beachfront view.
Hawksbill also offers no shortage of activities. If you're not ready to bare it all at the beach, you can take part in horse-riding or tennis. There are boat tours you can book to satisfy your inner explorer. You can even go deep-sea fishing if that's more your style.
8. Hedonism II – Negril, Jamaica
It doesn't take a rocket scientist to figure out the reason behind the name. Negril's Hedonism II encourages its guests to be as wild (or mild) as they want. The place practically overflows with sexual energy, which you'll notice as soon as you step foot inside. It's one of the top clothing optional resorts Jamaica is known for — and understandably so. You'll quickly realize that a stay at Hedonism II is an experience unlike any you've had before.
Guests can visit one or all of the private beaches this resort has to offer. If you don't want sand all over you, pools and hot tubs await on either end of the resort. Other fun activities include volleyball, scuba diving, tennis, and giant chess. While you're free to let your bits hang loose, some public parts of the resort do require proper attire. However, that doesn't mean you can't dress provocatively.
Once the sun goes down, the parties begin. Head over to the resort's nightclub and dance until dawn. Attend a sexy theme night and live out your fantasies. Catch a live show at one of the six bars on the premises. For something a little more out there, visit the Kama Sutra Palace where workshops and lessons open your eyes to new discoveries.
9. Hidden Beach Resort – Riviera Maya, Mexico

Tucked away by a mangrove jungle, Hidden Beach Resort lends credence to its name. This Mexican getaway offers luxurious amenities enjoyed in the freest of ways. Don't be afraid to strip down, as Hidden Beach promises a safe, judgment-free zone. And, with an entire jungle and additional walls that keep the outside world away, it's the perfect place to be completely nude.
At Hidden Beach Resort, you can do virtually everything without the confines of fabric. Unique activities like coconut bowling and coconut painting await. There are even activities that challenge the mind, such as trivia games and quizzes. Relax by the pool or laze the day away by the white sand beach. Unlike other clothing optional resorts, you can even dine au naturel through the Karisma Gourmet Inclusive Experience.
10. La Jenny – Gironde, France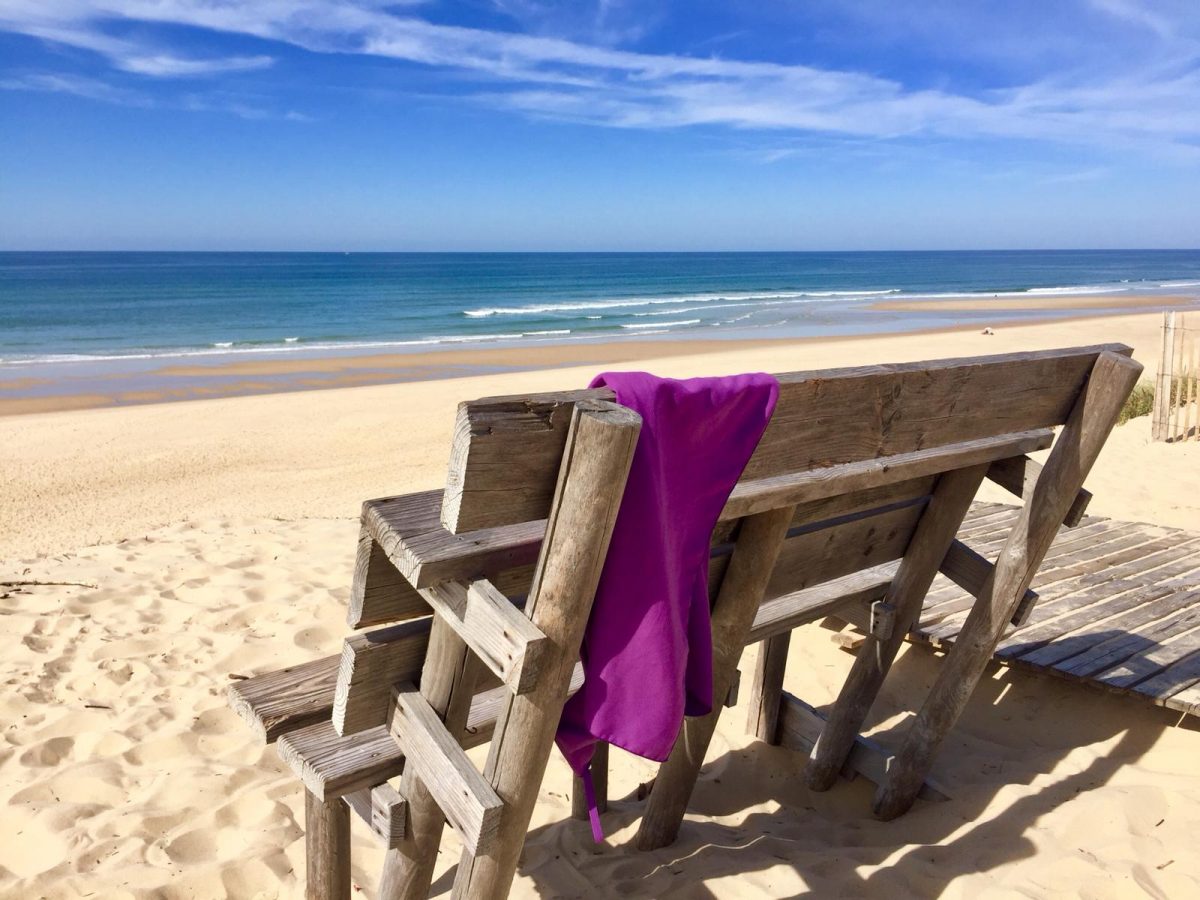 If you're a naturist on vacation in France, the silver coast (Cote d'Argent) must be the first on your list. This section of the French Atlantic coast is said to be the most naturist-friendly. Furthermore, there are four major resorts to choose from in the area. Out of the four, La Jenny is arguably the best.
La Jenny is a naturist village featuring 700 chalets and a thriving community. The 300-acre domain consists of a grocery store, a golf course, its own beach, and an assortment of pools. When you're not busy sharpening your archery skills or playing tennis, catch a local show or relax at the sauna. Many clothing-optional resorts don't allow children. However, La Jenny is different. Here, kids can roam free in the nude, just as their parents. With an abundance of things to do, as well as a kids club, you can bet they won't be bored.
11. Sunland Holiday Village – Robe, Australia

You don't have to stay at a fancy resort to have fun. Sometimes, a simple vacation is all you need. And, for that, you have Sunland Holiday Village. As one of Australia's only clothing-optional resorts, Sunland is hard to ignore. The 250 acres of land means there's plenty of space, which the resort utilizes to its full potential.
Aside from the standard amenities like a pool and a spa, this nudist's destination also features sand dunes and its own beach. If you're tired of the usual golf game or tennis, try your hand at nude beach fishing instead. If that's not enough, you can go for a nude stroll along the resort's walking track. Don't be alarmed when you encounter a kangaroo or emu now and again. At Sunland, both humans and animals roam free.
12. Temptation Cancun – Cancun, Mexico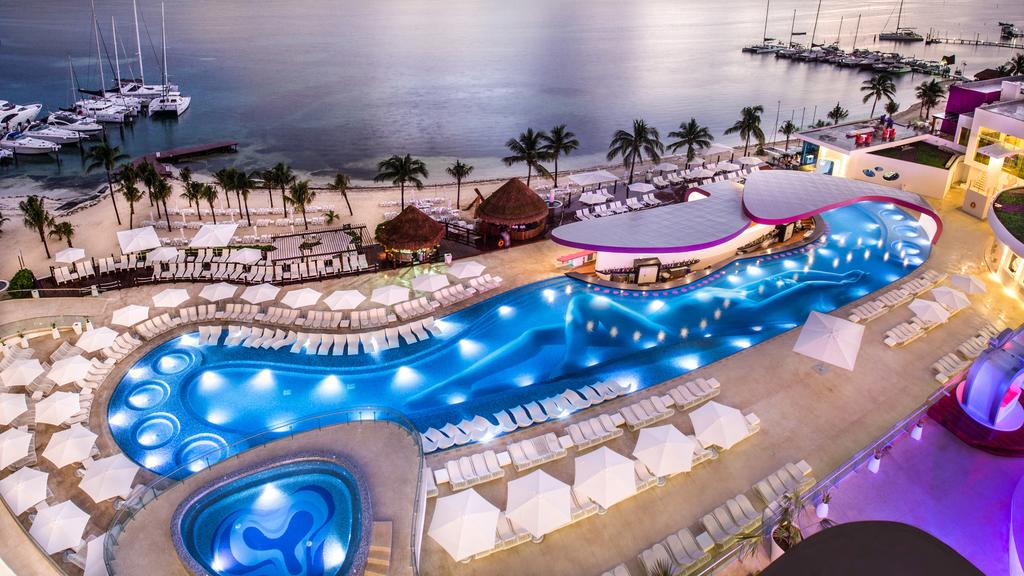 For a futuristic clothing-optional getaway, look no further than Temptation Cancun, Mexico. Marketed as a "Playground for Grown-Ups," this destination is one of the best adults-only clothing-optional resorts in Mexico. The modern and colorful facade complements the sleek interior design.
Guests can go topless on the beach or flaunt their best swimsuits at the sexy pool. The resort's aphrodisiac restaurant, SHE, is also a must-try for couples looking to spice things up. Feeling energetic? Party the night away at BASH, the resort's famous nightclub. If those amenities aren't enough to reel you in, Temptation Cancun also organizes sexy theme nights. Don a costume according to the dress code and prepare for a vacation you'll remember forever.
13. The Hacienda At Warm Sands – Palm Springs, California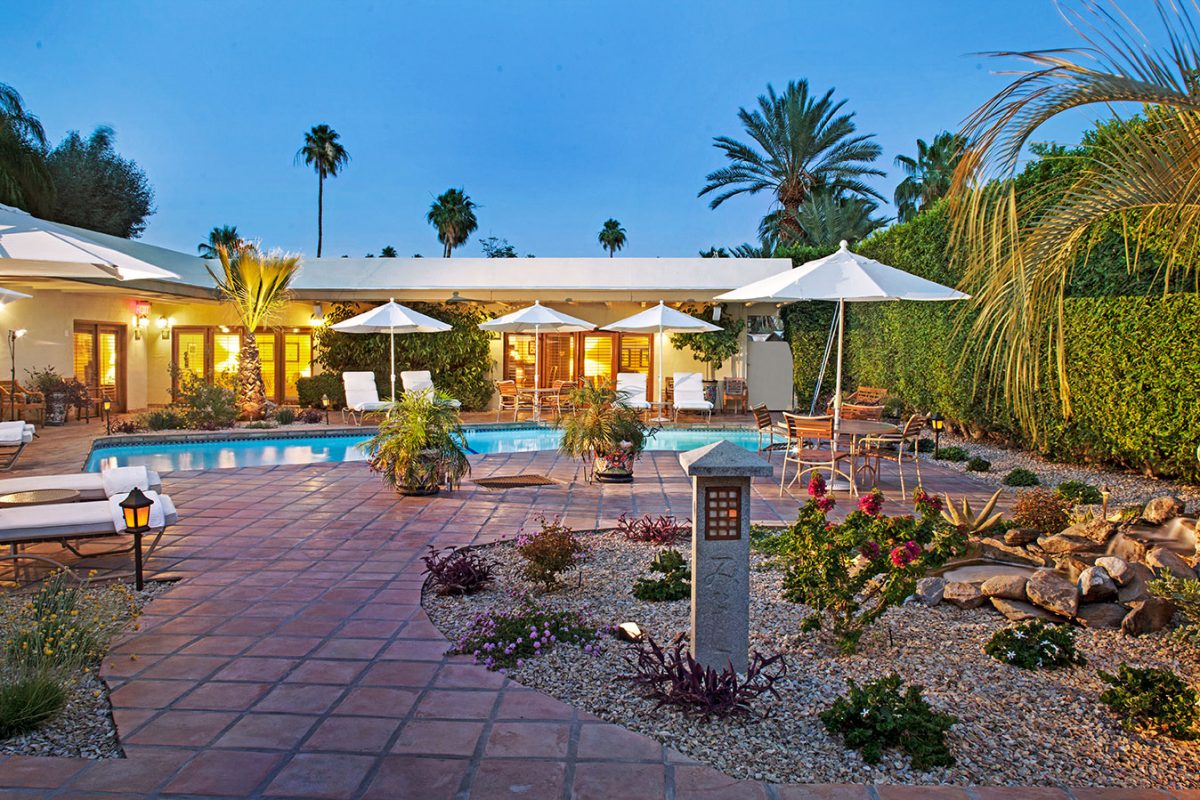 One of the few all-male clothing-optional resorts around, The Hacienda at Warm Sands is definitely special. Despite its relatively small size, this resort impresses with its luxe service and top-notch amenities. It's also one of the only clothing-optional resorts Palm Springs, CA has to offer.
Keep in mind that this gay resort's clothing-optional policy only applies to the swimming pools, whirlpool spa, and patios. Clothes are required in the office, breezeway, and trellis areas. Regardless, The Hacienda's commitment to pampering its guests makes it a prime choice in Palm Springs. As for food, breakfast and lunch are included in the daily rate. They only have a handful of rooms, so don't miss your chance!
14. The Natural – Curacao, Caribbean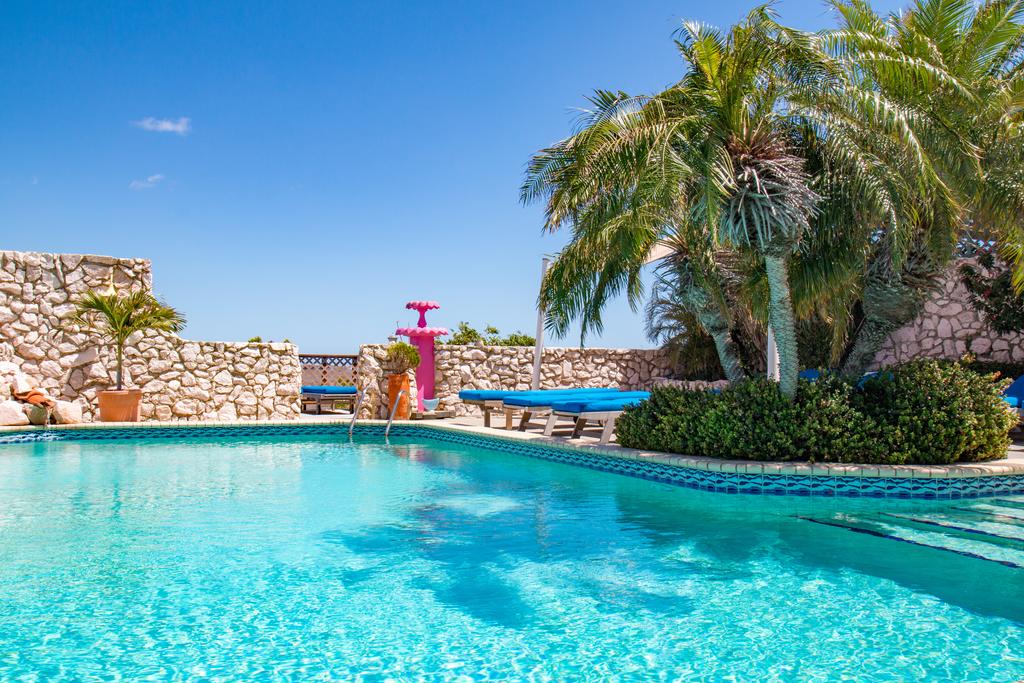 When in Curacao, nudists flock to The Natural. Here, guests can reconnect with nature in their most natural form. You can take part in guided meditations, coaching, and intention sessions for a corresponding fee. Just want to unwind? Book a massage and feel immediately rejuvenated. Alternatively, you can just take a leisurely stroll or be one with your thoughts on your porch deck. The Natural also comes equipped with a pool, as well as a library.
Of course, Curacao offers no shortage of things to do. You can swim with the dolphins or sail to an uninhabited island. When you're done with that, take an off-road jeep tour of the island's northern side. If you're more of a culture vulture, the historic walking tour of the local area is perfect for you.
15. Volcano Men's Retreat – Big Island, Hawaii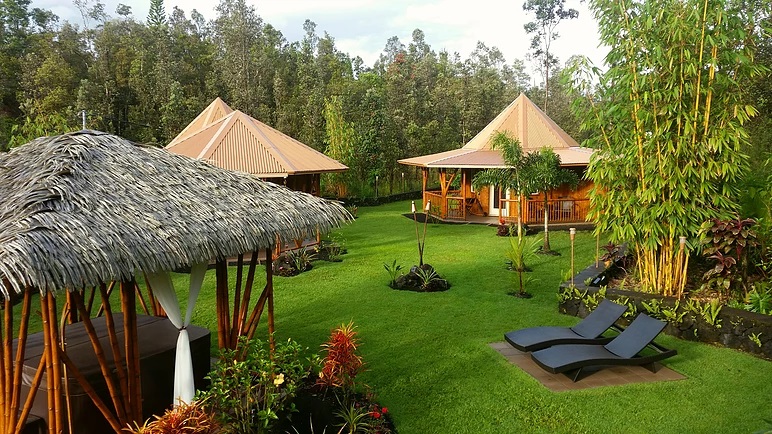 Volcano Men's Retreat is one of the premier gay clothing optional resorts Hawaii has to offer. Located on Hawaii's Big Island, this resort seamlessly blends modern and traditional Polynesian design. A stay at this luxury retreat includes access to a range of amenities, including a 6-man spa, complimentary Wi-Fi, and a hot tub. In need of a massage? Not to worry. You can count on their on-site service.
While the activities within the resort are limited, you can always venture outside. After all, you're in Hawaii, arguably one of the hottest vacation destinations in the United States. You can hit the beach or go for a hike before retiring to your comfortable abode. There are only four guest bungalows available, so you'd better act fast.
Frequently Asked Questions:
Which State Has The Most Clothing Optional Resorts?
Save for a few outliers, you can find places in almost all 50 states where nudity is allowed. There are local naturist clubs who practice social nudity. When it comes to the state with the most clothing optional resorts, however, a couple of states share the title. California and Florida both boast a plethora of resorts where you can ditch the clothes and lay bare, with Colorado, Indiana, and Massachusetts coming close.
What Should You Wear At Clothing Optional Resorts?
While the obvious answer would be "nothing," not all clothing-optional resorts have the same policies. Some resorts allow you to be nude everywhere, while others only have designated areas. Most resorts don't allow you to be nude where food is served. A few even have dress codes for certain parts of the resort. As a general rule of thumb, it's best to wear what you would normally wear at a resort where clothing is mandatory.
The Takeaway
As you can see, clothing-optional resorts are more common than you think. There are loads of them around the world, with some parts more open to the idea than others.
Nevertheless, it's clear why these 15 clothing-optional resorts are the best in the biz. They offer great services and amenities, along with the freedom to strip down if you please. If you ever want to explore the naturist in you, these resorts are perfect places to start.