Stunning rock formations on an endless red sand desert, Jordan's Wadi Rum is definitely an experience of a lifetime. Also called "Valley of the Moon," Wadi Rum is a desert region in Jordan. It's mostly known for impressive landscapes, dunes, canyons, and sandstone mountains. This natural beauty continuously draws visitors from around the globe  — and for great reasons. Aside from exploring its stunning natural landscape, there are other amazing things to do in Wadi Rum.
If it's your first time traveling to this red sand desert, we've got you covered! From jeep safari and camel rides to hiking and Bedouin cuisine, here's your ultimate guide to visiting to exploring this desert paradise.
Where Is Wadi Rum?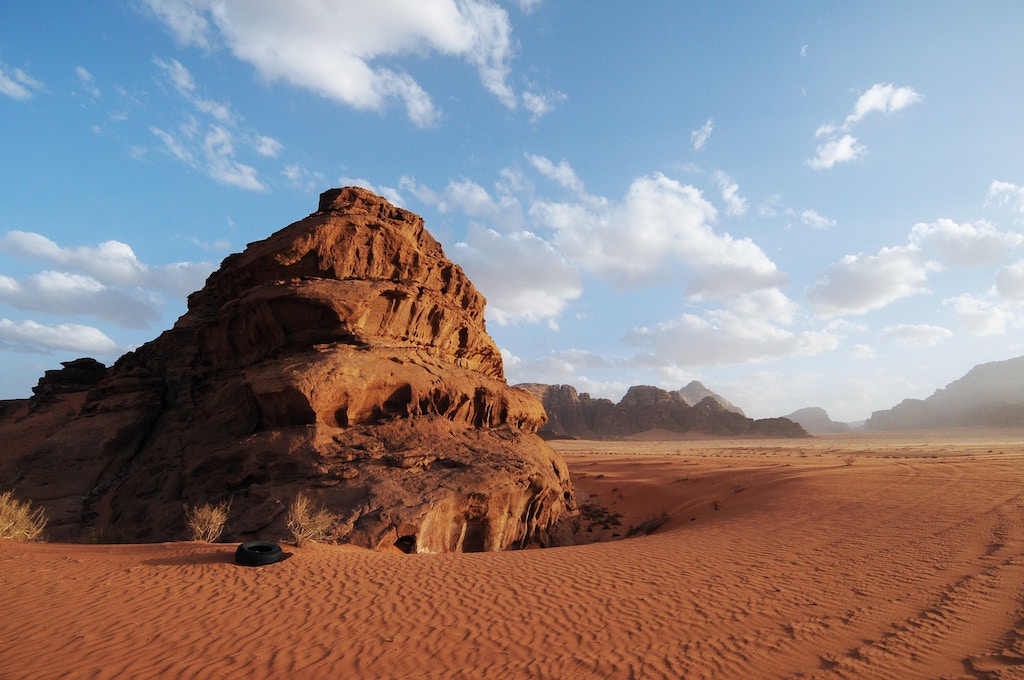 First of all, what is a wadi, you might ask? A wadi — in some Arabic-speaking countries — means valley, ravine, or channel. These are located on sloping and flat parts of deserts.
Now, where is Wadi Rum Jordan exactly? This natural wonder is found in the far south of Jordan, set in the Arabian desert's western edge.
How Do You Get To Wadi Rum?
Wadi Rum desert is nestled in the southwest of Jordan, about 58 kilometers north of Aqaba. You can easily access it through the main roads of Amman (3.5hrs) and Aqaba (1hr). Meanwhile, from Wadi Rum to Petra, one of the wonders of the world, is 1.5 hours. For your convenience, you can book car-hire and bus tours in hotels and travel agencies. Internal air-flights also operate daily between Amman and Aqaba.
Driving around Jordan is not dangerous. However, it's not advisable to take just any car to the desert as you can get stuck. It's best to rent a jeep or have a professional offroad driver take you around.
When Is The Best Time To Visit Wadi Rum?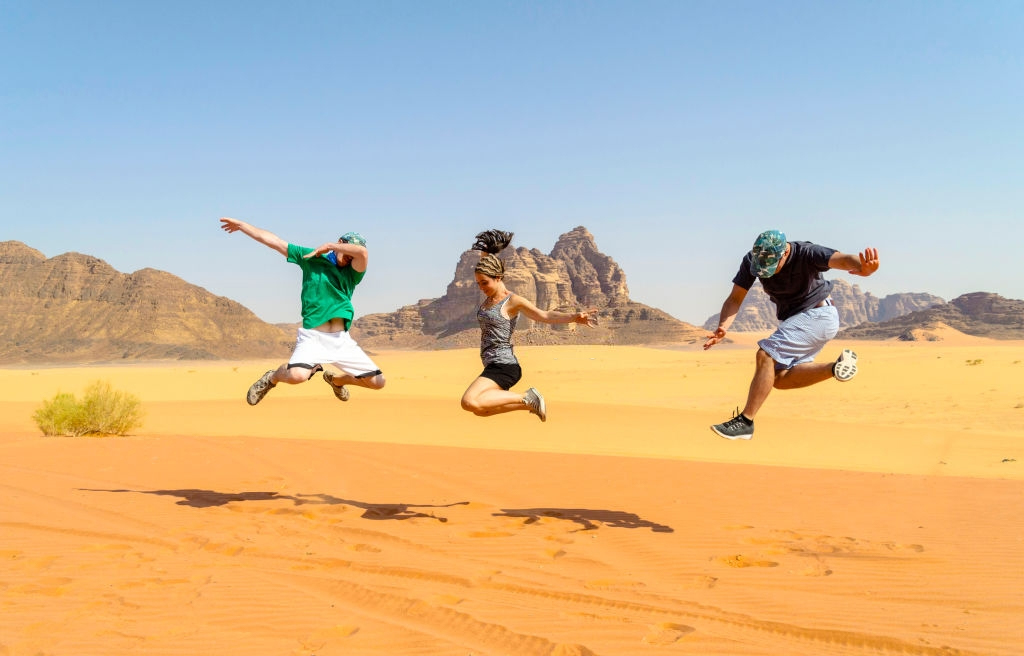 You can visit this wadi all year-round. However, the best Wadi Rum weather is March-May and September-November. These months have a moderate climate, which is perfect for exploring the red sand desert. Springtime is also an excellent time to visit Wadi Rum as desert plants turn lush. This is also a great time to see Bedouin herds dot the area. It's best to check the Wadi Rum weather before heading out.
However, visiting in summer and winter is not convenient as the weather temperature can be very high and low, respectively. The weather conditions may not be favorable during this time, but you'll be rewarded with smaller crowds.
Wadi Rum General Information
Dress appropriately
Just like in other conservative places, don't wear anything inappropriate to the camp. This means mini skirts and short tops are not welcome. For your comfort and convenience, wear reliable hiking shoes instead of sandals.
Prepare for the weather
Depending on the season you intend to visit, it's best to prepare for Wadi Rum weather. During winter, the temperature can be as chilly as 0°C at night. Hence, heated jackets and other warmers are essential. Meanwhile, in the summer, the heat can be quite intense. Make sure to bring enough water and sunscreen. A pair of sunglasses and a hat is definitely a must!
Ready to explore the desert? Here are the best things to do in Wadi Rum.
1. Enjoy A Wadi Rum Jeep Tour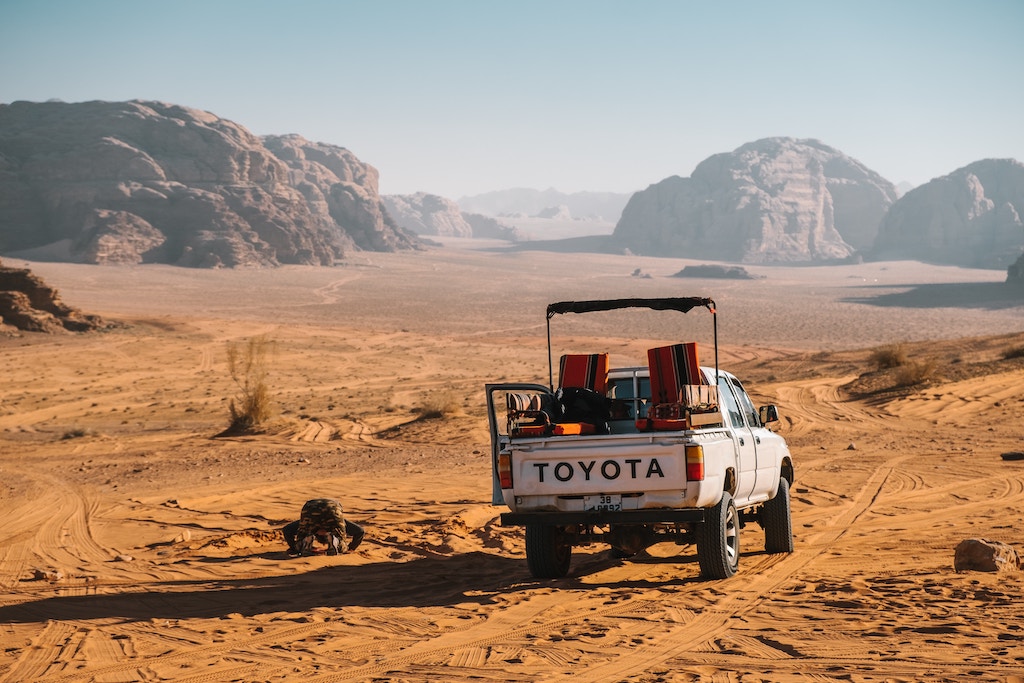 The stunning landscapes of Wadi Rum are among the best things to see in Jordan. What better way to enjoy this than to ride on a jeep and explore?
You can experience this by booking from the plenty of Wadi Rum tours that offer jeep rides in the desert. These tours can last either a few hours or the entire day. This is among the most popular things to do and enjoy in Wadi Rum.
These tours can be booked at your hotel, camp, or at the Visitor's Centre. If you opt for a full-day trip, don't forget to bring water and food. You can buy some in Rum Village, but it's better to pack some on your trip. What's best about jeep tours is how they can maximize your time by going straight to the main attractions while enabling you to soak up the natural beauty at its very best.
2. Go on A Camel Ride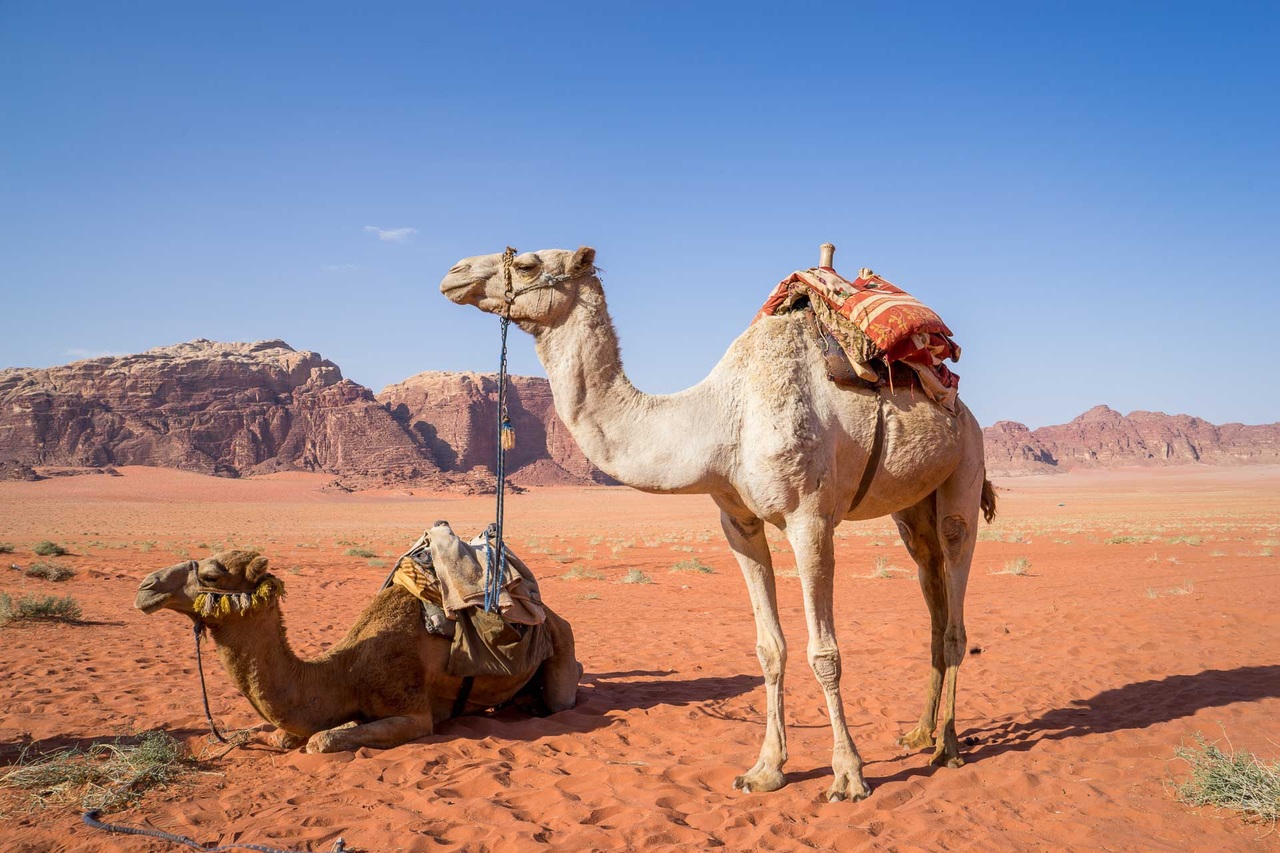 Another fun way to explore the sand dunes in Wadi Rum is going for a camel ride. This is not something you can do every day so make sure not to miss it!
The camels here are very well taken care of. They are also strong, healthy, and have lived in the desert for generations. This means they are built to last in harsh conditions. In fact, they can carry up to 270 kg and can survive up to 6 months without food or water.
The Camel Trek is said to be among the best things to do in Wadi Rum. The ride allows you to enjoy a slower pace of adventure. It also lets you get closer to nature and animals. The whole ride not just lets you take in the beauty of the desert but the whole unique experience as well.
Though you can book your camel ride trip from the camp, it's advisable to reserve a tour in advance. Let's be real, it's always better to be safe than sorry.
3. Hike The Majestic Canyons in Wadi Rum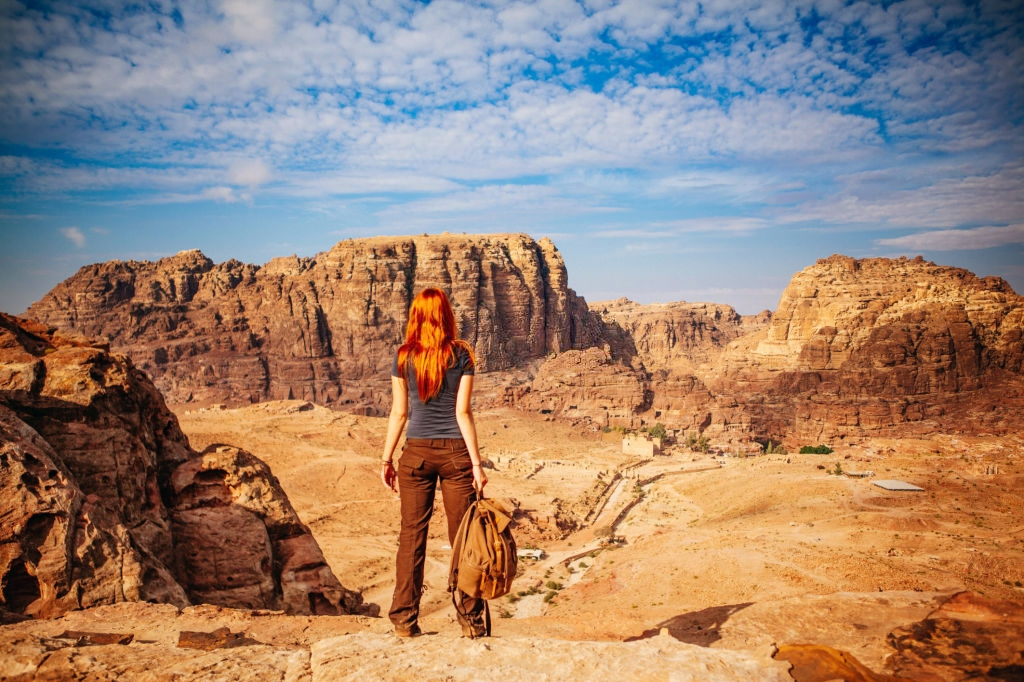 Another worthwhile activity to enjoy in the Wadi Rum desert is to hike. This red sand desert has some extraordinary hiking trails worth the climb. The trails include dazzling heights, desert landscapes, and vast plains all for hiking enthusiasts to enjoy.
Before you set out, though, keep in mind that Wadi Rum is a protected area. This means it is home to many flora and fauna species so be a responsible hiker and traveler. What makes hiking in Wadi Rum special is how you can customize your adventure. You can combine your hike with either a 4×4 tour or a camel ride, depending on your preference.
Popular Treks To Hike 
Makharas Canyon Hike:
This gorgeous canyon offers grand dune sceneries and open vistas. Threading through the massive Seven Pillars of Wisdom rock, hikers can expect an unforgettable hike here. The hike starts at the Visitor Centre and should take about 2½ hours.
Jebel Rum Round Trip:
Beginning at the Rum Village, this trail leads to amazing country scenery that will take your breath away. It is a tiring hike with about 8 hours of trek time and a guide is recommended to go with you.
Jebel Umm Ad Dami Ascent:
This trek route scales the 1832-meter height of Jebel Umm Ad Dami. It is the highest peak of Jordan's southern border. It also starts at the Visitor Centre with a 4WD trip. The ride takes about 45 minutes. Despite being a moderately difficult hike, it rewards you with amazing views of Wadi Rum and Saudi Arabia. This hike also recommends a guide.
4. Enjoy A Bedouin Dinner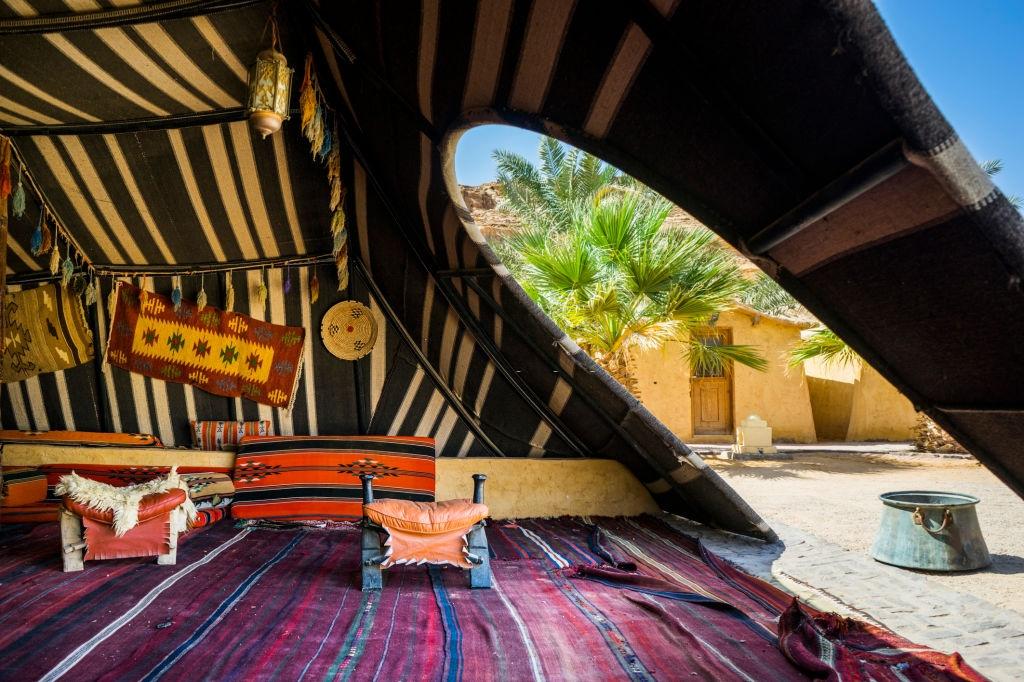 You can't visit Wadi Rum without enjoying a traditional Bedouin dinner. From the preparation, cooking process to the exquisite taste, a Bedouin dinner should be on top of your list.
The food served in the Wadi Rum desert is like no other in all of Jordan. The food is prepared strictly using traditional Bedouin recipes and methods. The locals cook the food in a slow manner for about two hours, under the earth. What this cooking method does is to further tenderize the meats and helps to encapsulate the flavor as much as possible. This cooking process requires very limited cooking equipment, thus making it all the more special. The result is very tender meat bursting with unbeatable flavors and spices.
Some Bedouin Food You Shouldn't Miss:
Mansaf:
If you want to have a taste of Jordan's authenticity, you need to try Mansaf. It is the national dish of Jordan that is made of lamb cooked in fermented yogurt. The dish comes with either rice or bulgur.
Bedouin tea:
An excellent way to start or finish a Bedouin meal is with a cup of Bedouin tea. This tea is a perfect blend of plants found in Wadi Rum Jordan. The taste is sweet with sage flavor.
Bedouin bread:
Most Wadi Rum meal comes with Bedouin bread. This tasty bread is baked to perfection underneath hot ashes and coals. Aside from filling your belly, Bedouin bread is also used as a cutlery substitute. This is because Bedouin meals don't usually use forks, spoons, or knives.
Jordanian Zarb:
Craving for some meat? You have to try Zarb, which is Wadi Rum's answer to barbecue. Zarb is any type of meat, such as chicken or lamb, and comes with vegetables. The meat is roasted in a large pit underground. Zarb is definitely a must-try dish in Wadi Rum Jordan.
5. Catch The Sunset Over The Golden Desert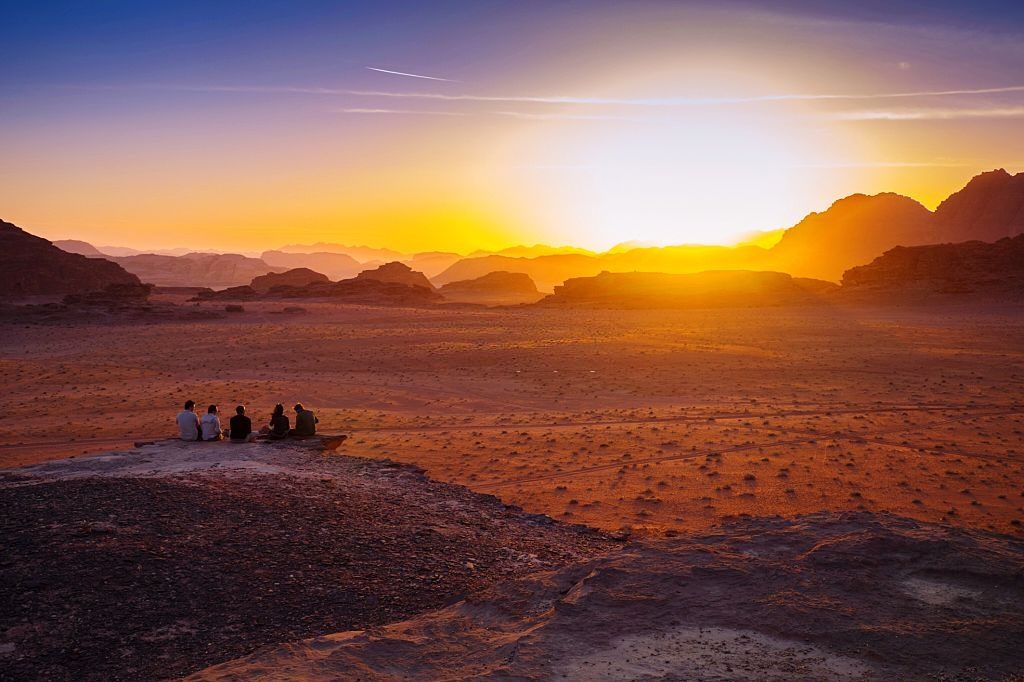 Wadi Rum sunset is among the stunning views you can enjoy during your visit. The gorgeous sunset is a transformation of colors that's truly a sight to behold. As the sun sets, the colors turn pink with a dusty grey and turn into an intense orange and red. Finally, bright stars fill the entire area at night. The vast and unobstructed sky of Wadi Rum becomes a star-filled abyss at nighttime.
Aside from the stunning night sky, the mountains and rock formations also bask in the sunset. The burst of colors as the sun sets turns the mountains from yellow to red. Their shadows play as they lengthen across the desert and dunes.
The Wadi Rum desert at night is a natural wonder worth falling in love with. It's also at this time that the desert looks like the planet Mars. It's not a surprise why it's chosen as the set for some hit movies such as "The Martian" and "Aladdin."
Where was "Lawrence of Arabia" filmed, you might wonder? Yes, Wadi Rum desert lent its beauty to the film, too.
6. Stargazing At The Deserts of Wadi Rum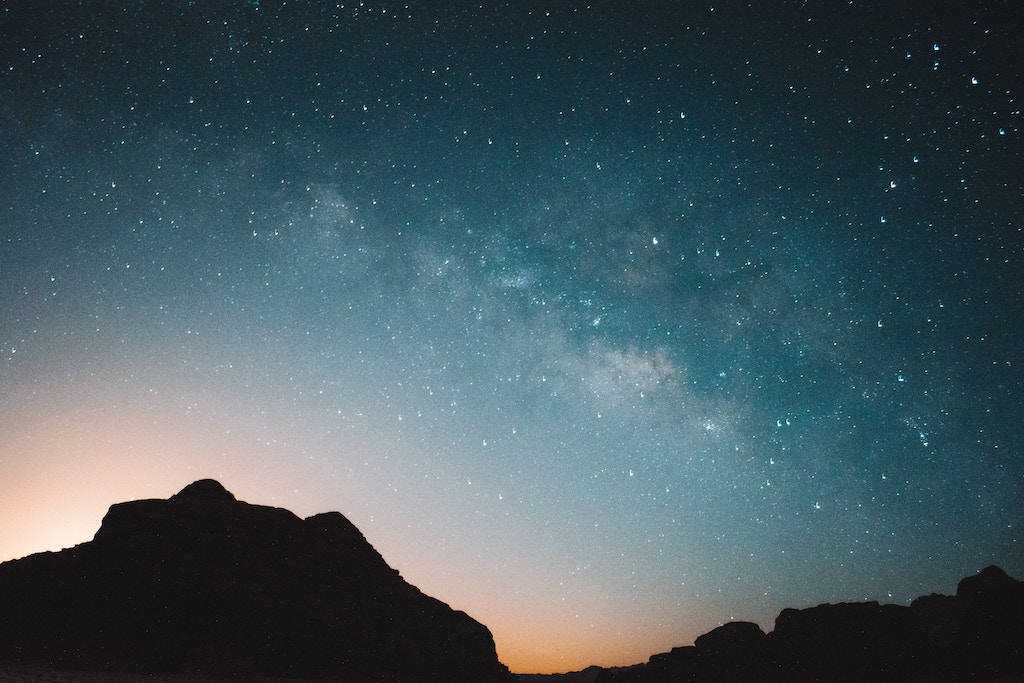 Wadi Rum at night is such a stunning sight to see. The endless sky gives you an excellent view of the stars, perfect for stargazing. This is also a beautiful moment for photographers to capture this natural gem.
To enjoy stargazing in this desert, all you need to do is step out of your tent. Bring a camping chair to sink in, relax, and take in the beauty of the stars. However, they say you'll have better views if you walk a few miles out of the camp. That's when you're far away from light pollution and can truly sink into the natural beauty.
Aside from that, you can avail of guided tours in Wadi Rum. These tours will give you detailed information on the stars, planets, and the universe.
7. Camp For A Night Or Two
Take your stargazing adventure to another level by camping in the desert. Wadi Rum camping is among the best things to do in the red sand desert. When it comes to camping options, the choices are aplenty. Either spend the night in sleeping bags in the open-air or indulge in some Wadi Rum night luxury camp.
If you want to experience Bedouin-style camping, Wadi Rum is home to a selection of camping areas. Each has private tent cabins that can fit 2 to 6 people. The cabins are equipped with shared bathrooms and a solar-heated water system. There's also a communal kitchen and dining area for your convenience. Of course, come night time, you can enjoy the night sky from the outdoor lounge.
If you want to take your experience to another level, stay with a Bedouin host family. A night with a Bedouin host family lets you stay with them in a quaint and cozy "Bayt Shacar." This is a unique type of tent made with portions of goat hair and sheep wool. Staying with a Bedouin host allows you to have a more profound understanding of their life and culture.
However, take note that there might be no toilets and you have to rest on the floor. They say this experience is for the more adventurous who are after cultural immersion and not the comfort and luxury.
Meanwhile, for those who want a luxury experience, there are world-class camps that will redefine your meaning of camping. Wadi Rum Night Luxury Camp offers lavish tents complete with amenities.
Top Sights To See In Wadi Rum
There are plenty of must-see attractions in Wadi Rum. Whether they're on or off the beaten path, each offers a unique experience. To capture the best moments and views, make sure to bring a selfie stick with you!
1. Khazali Canyon
This long, narrow canyon is one of the most famous spots in Wadi Rum Jordan. Aside from its gorgeous red rock formations, the inscriptions on its inner walls are impressive. Covered with Thamudic, Nabatean, and Islamic inscriptions, these rocks are a rare sight to see.
2. Lawrence Spring
Wadi Rum is home to many little springs and one of which is the famous Lawrence Spring. Lawrence of Arabia once bathed in this spring, thus its name. The best way to visit this spring is via guided tours.
3. Barrah Canyon
Barrah is among the famous walks in Wadi Rum. Spanning 5 kilometers, it's a favorite spot to hike, rock climb, or go on camel tours. The area also offers cliffs and towers looming over the red sand desert.
4. Burdah Rock Bridge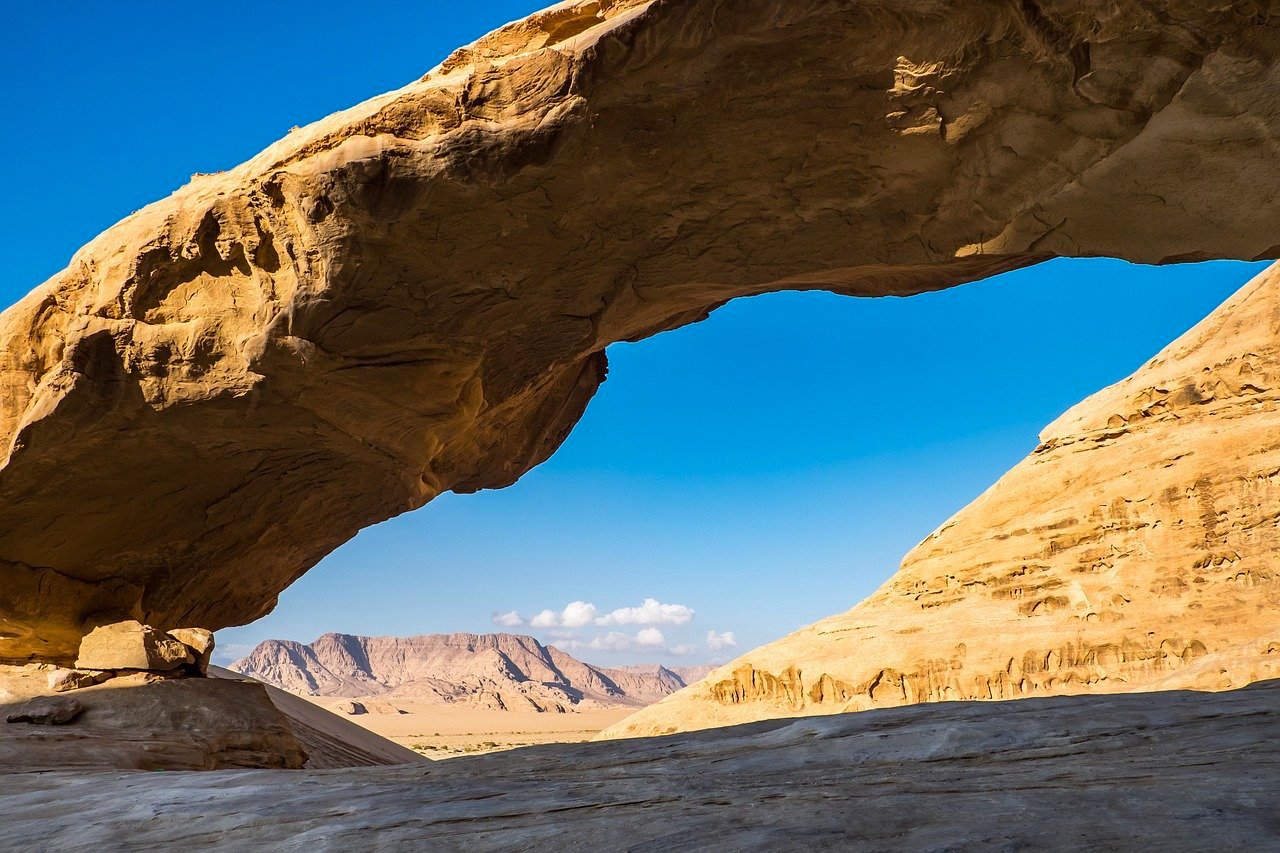 Being the tallest natural rock bridge in Wadi Rum, Burdah Rock is worth a visit and climb. The summit lets you enjoy stunning views of the area.
5. Um Fruth Rock Bridge
Um Fruth is among the most photographed spots in Wadi Rum. The 15-meter-high bridge with a unique arch is always featured on Wadi Rum tours. They say the rock bridge is best viewed with the afternoon light.
6. Seven Pillars of Wisdom
Featuring seven turrets on its large rock formation, Seven Pillars is another must-see attraction. Aside from taking its beauty, this spot is perfect for hiking.
7. Um Sabatah
10 kilometers from Rum Village sits an ideal spot to catch sunset views. There are also campsites here that offer the best mountain views.
Where To Stay In Wadi Rum
Staying in Wadi Rum offers visitors with vast options. Depending on your budget and preference, you can do it low-key or full-on luxurious. Some prefer to stay in the Wadi Rum Village, while others like to splurge on luxurious campsites. Meanwhile, there are those who are in for the thrill and simplicity who want to spend the night in their trusty backpacking tents.
Wadi Rum Desert Camps
Captain Desert´s Camp Wadi Rum
Captain's Desert Camp allows guests to stay in traditional Bedouin tents while enjoying the stunning Wadi Rum landscape. It truly is an authentic desert experience made comfortable. This camp also provides jeep and camel tours, hiking, and other services.
Wadi Rum Dream Camp
This camp offers tents with comfortable sleeping conditions. Wadi Rum Dream Camp also has desert tours, including jeep tours and camel and horse riding trips. Guests can also indulge in yoga classes and body massage services.
Wadi Rum Sky Tours & Camp
A quiet Bedouin camp nestled next to Um Sabattah, this camp gives you gorgeous sunset views. Here, you'll expect comfortable tents equipped with modern amenities. You can also arrange jeep and camel tours as well as other tours around Wadi Rum.
Luxury Desert Camps 
Bait Ali Lodge
An outdoor pool in the desert? Who can say no to that! Sitting in the heart of the valley, Bait Ali Lodge offers an ultimate Wadi Rum night luxury camp experience. Swim in or lounge by the pool with an evening campfire. The luxe camp also serves scrumptious local Arabic dishes.
Memories Aicha Luxury Camp
Memories Aicha Camp is a world-class camp that offers guests luxurious rooms with sweeping mountain views. You are also treated to both local and continental dishes. The camp is equipped with modern amenities and private bathrooms.
From comfortable beds, Bedouin furniture to the finest linens, Wadi Rum Night Luxury Camp truly fits its name. Each tent also comes with a private terrace for your viewing pleasure. Delicious meals are served from breakfast to dinner.
Things You Need To Know Before Visiting Wadi Rum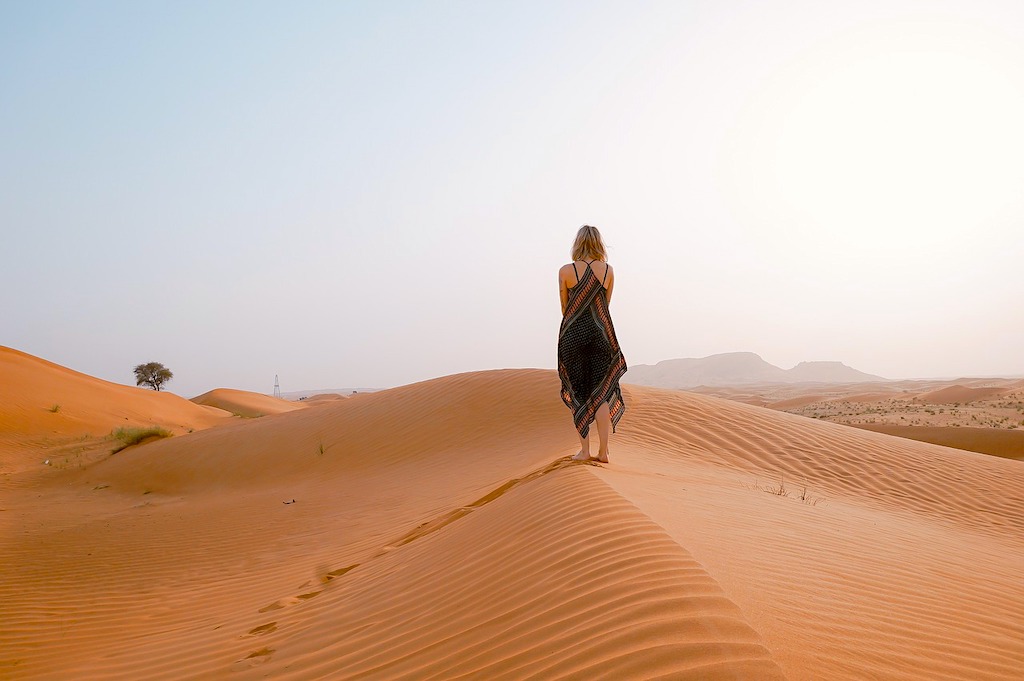 Dress appropriately
Aside from dressing more conservatively, make sure to wear something light in the summer. The heat in the desert can be intense during the summer months. Also, if you're going to hike, pack the right clothes and shoes.
Prepare ahead
If you're spending a night or two in Wadi Rum, double-check the accommodation with your agency or camp itself. Find out if there are some things you need to bring yourself. And while amenities are provided, always bring a flashlight. Most camps in here run on solar panels and generators.
This means having a backup light is always a smart idea. Also, another essential item for a desert adventure is a bug spray.
Be alert and cooperative
This desert may be a popular tourist destination but we can't discount the fact that it's still home to many wildlife. So, be cautious of your surroundings and be stay alert.
Although rare, there are still snake and scorpion encounters here. Aside from being cautious, make sure to observe whatever rules each camp has. Whether it's about cleanliness or dress code, it's always important to be cooperative.
Make friends and enjoy
Wadi Rum is open to everyone all over the world. This allows you to know more people and make new friends. It's also a great opportunity to exchange experiences and perhaps learn a thing or two from your fellow travelers.
It's More Than A Red Sand Desert!
A trip to Wadi Rum Jordan is among the unique and amazing experiences a traveler can have. From the sweeping views, stunning rock formations to the exquisite cuisine, there's more to see and do in here. Not to mention, Wadi Rum is listed as one of the best Wadi in the world. 
Aside from the otherworldly adventure, this desert destination offers comfortable accommodations and fun tours that make trips here more worthwhile. Depending on your budget, preference, and agenda, the red sand desert has options for you. Now, time to plan and pack as a Bedouin adventure awaits you!