The Wadi is an essential feature of the Middle East. Born in river valleys from Israel to Jordan and beyond, they are the shapely geographic products of old waterways. They come in all types and sizes. Some are small and hemmed in, with narrow streams and little pools. Others – like the mighty Wadi Rum desert – go on for miles and miles, through mountain ranges and rolling dust plains.
Visiting a wadi is a truly unique experience. First and foremost, they can offer respite from the scorching heat. That's thanks to their cooling pools and streams, which accumulate after rainfall. So, if you're stuck in the 104-degree reaches of the Jordanian Desert, you might want to stick one on the itinerary! They're also steeped in history and heritage, with everything from biblical scrolls to Bedouin tribes on the menu. This list has something for everyone, whether you're pining for adventure, history, or just some top-draw photography locations…
Don't forget to shoot some dramatic photos to share on your Instagram! Now you can create beautiful posts and impress your followers with this Instagram post maker.
1. Wadi Rum, Jordan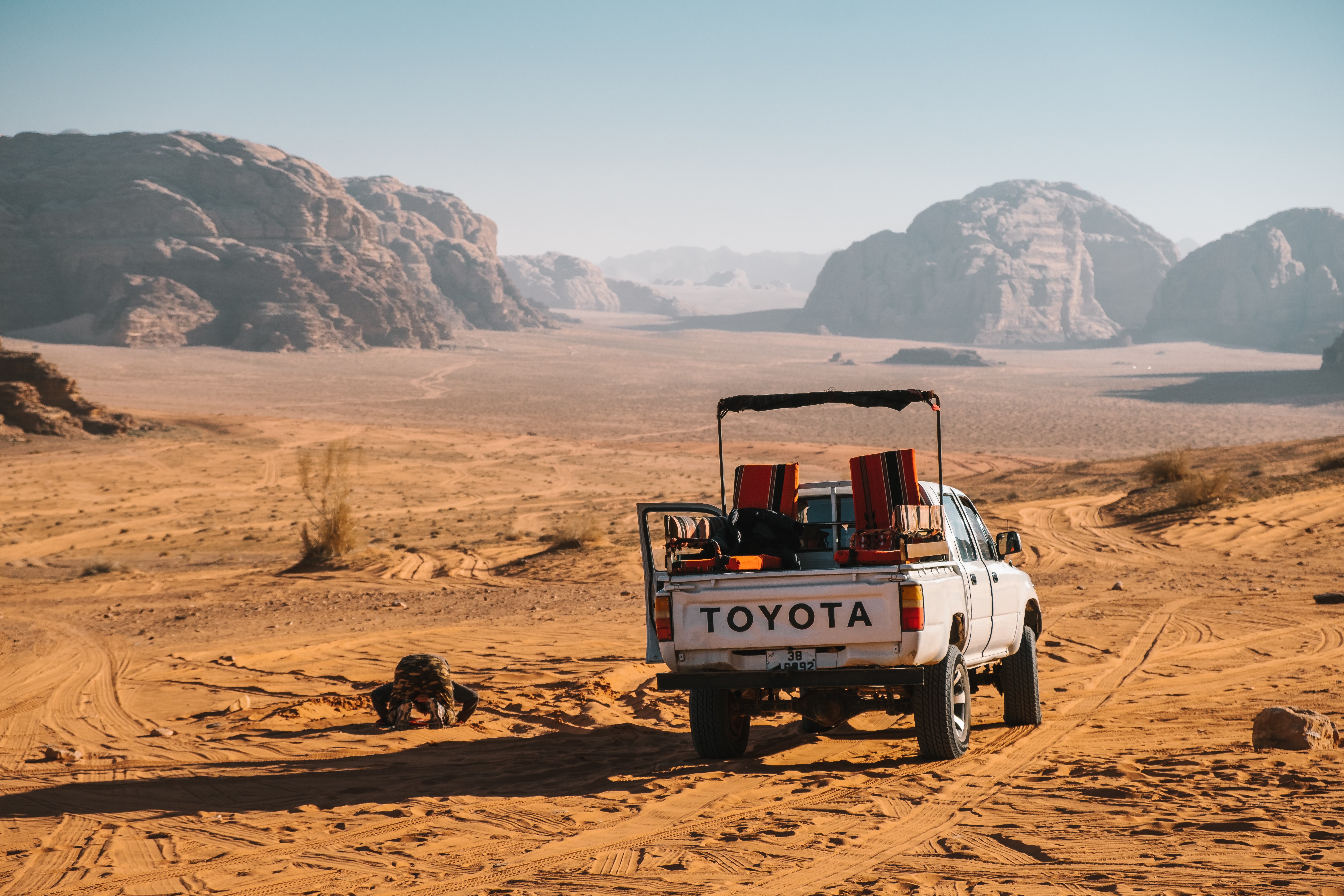 Kicking this list off in grand style is arguably the most famous wadi of them all: Wadi Rum, Jordan. Yep, it's now the stuff of legends. Having drawn explorers and adventure travelers since anyone can remember, it's still hitting Instagram feeds and travel brochures all over the place. And why not? It's a vast sea of rust red that flows through the heart of the southern Jordan Desert.
Crumpled mountains rise like cathedrals all over the place. They spike the Middle Eastern horizon in a show of dusty peaks and protrusions. Within, they hide secrets for any would-be explorers, from arched stone bridges to deep caves where ancient tribes once resided.
Undertaking a Wadi Rum safari is best done with help from a local Bedouin tribe. They are the people that have occupied this region for centuries, so they know its nooks and crannies. What's more, they can help you hop on a camel to see it all in the authentic way. And afterwards? How about a night in a Bedouin camp, watching the fire flicker as the stars twinkle in the skies overhead?
2. Wadi Al Arbeieen, Oman
A gorgeous wadi that draws plenty of crowds, Wadi Al Arbeieen is the first great Omani waterway to make this list. It lies in the shadow of the Eastern Hajar Mountains. There, it moves between pockets of date trees, scrub bushes, wild herbs, and water plants. Sometimes, it emerges into emerald pools that reflect the peaks overhead like mirrors laid into the dirt.
The tracks you want to join run adjacent to Al Arbeieen from the carpark. They wiggle through scrub and pebbles before opening onto a series of pools. Delving past the first pools, you're likely to find that the water becomes cooler and more see-through, not to mention less busy than before.
Remember that this is an untouched corner of Oman. It might only be under two hours' drive from Muscat, but the highlands dominate. You'll need a 4X4 to get anywhere near Wadi Al Arbeieen, so an organized tour is all but required. It's also important to bring the right equipment for any adventure you're planning – hiking boots, sunscreen, swimming gear.
3. Wadi Al Mujib, Jordan 
Prepare to be wowed by the sheer-sided rock faces of Wadi Mujib. This is a stunner of a wadi, known for its dramatic canyon setting. You'll be dazzled by the dappled light on orange-hued walls. And the chilling waters gurgling underfoot towards the Dead Sea will draw you in. Yep, this one's a welcome break from the Jordan Desert that you simply won't want to miss!
Most of the wadi tours to Al Mujib will focus on the amazing canyon. However, there are whole other swathes of this region to get exploring. Around the main part of the wadi itself is a vast nature reserve. It protects rare Arabian cats like the caracal, along with vultures and sparrow hawks. It's also a jaw-dropping place, complete with a colossal dam and table mountains that soar to cloudless skies.
At the Dead Sea end of Wadi Al Mujib, you can soothe yourself in hot springs. They await under the stunning Ma'in waterfalls, in a resort that bears the same name. Inside, you'll catch all sorts of body scrubs, mineral baths, mud treatments – you name it! 
4. Wadi Bani Khalid, Oman
Just 120 miles from Muscat, between the brownstone walls of the rising Al-Hajar, there's a wonderland waiting to be explored. It goes by the name of Wadi Bani Khalid. Opening in a vast valley between walls of stone worthy of the Grand Canyon, it's filled with cool water and date palms; a welcome oasis in the midst of the inhospitable Arabian sands.
You don't need to walk far to get to the pools at Wadi Bani Khalid. It's just five minutes from where you park the car to the sloshing aqua ponds themselves. Then, you can delve straight in. The water remains cool throughout the year, making them a fine option in the scorching desert heat. As you splash around, you can wait for the local fish to start nibbling. Or, just gaze at the stunning view of the muscular mountains that lurch overhead.
If you're feeling adventurous, you can push on to find Bani Khalid's Upper Pools. They sit further down the canyon, close to the Muqal cave. They are likely to be way less busy, offering empty swimming coves and small waterfalls.
5. Wadi Al Hawqayn, Oman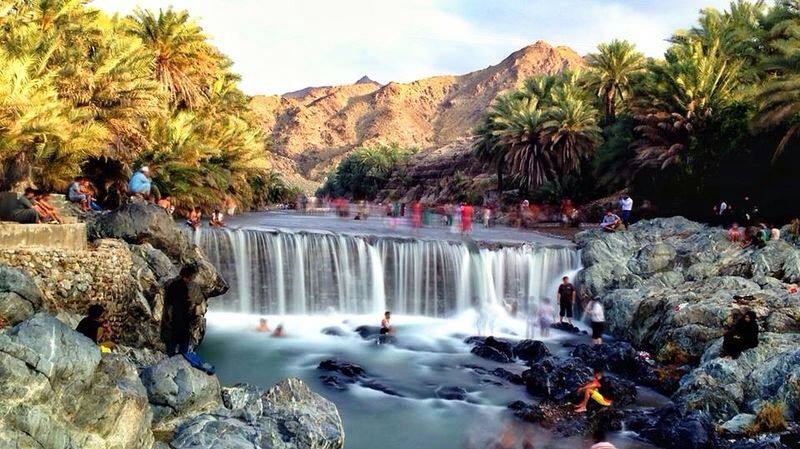 The Wadi Al Hawqayn is known mainly for its year-round flow. That's relatively unusual for a wadi, which are typically seasonal or flash-flood pools. However, here, you can find refreshing aqua at anytime in the calendar. And there's a side of roaring waterfalls and gurgling ground springs thrown in for good measure!
One thing's for sure – the spot of Wadi Al Hawqayn is a truly stunning one. In the distance, the rugged tops of the Omani mountains peak above the horizon. Closer to home, fields of date palms and scented juniper bushes line the river. And the river itself? Well, that's a deep, broody, mud brown, where locals can often be spotted swimming in the currents.
Wadi Al Hawqayn is a mere two hours' drive from Muscat and its bustling districts. That means things can get a little busy here on the weekends. That said, you can expect on-site parking and a trail that leads straight to the flowing waterway in the midst of the wadi itself.
6. Wadi Shab, Oman
The wild Wadi Shab is up there with the best things to do in Oman! Anyone pining after an adventure in the untamed wilds of this amazing country should be sure to set their compass on its path. Moreover, at just under two hour's drive from the capital at Muscat, it's an eminently accessible part of the backcountry.
The adventure begins with a boat ride, which whisks you across a vast riverway straight to the entrance of the wadi. You'll do this with a local ferryman, but keep your eyes peeled for the leaning date palms on the banks. Then you're onto the pebbly hiking paths. They weave through crinkled bluffs of desert stone, encountering small farming areas and rustic huts. Eventually the path veers inwards to duck under clefts in the cliff. This is where it gets fun, revealing gleaming blue pools below.
You'll need to wait a while to jump in the water at the Wadi Shab. There are only a few accessible pools. They await towards the end of the walk, offering a refreshing dip in azure ponds after you've worked up that inevitable sweat! 
7. Wadi Bin Hammad (Wadi Al Karak), Jordan
Dust down the hiking boots and make for the Wadi Karak aka Wadi Bin Hammad. A breath of fresh air and cool amid the Jordan Desert, it carves through a series of hoodoos and bluffs on its route down to the Dead Sea. The rock is rust-red and orange. The water – when flowing – babbles over pebbles and streams dashed with weeds and reeds.
There's a whole hiking trail to join in the Wadi Karak. It goes through sculpted hillsides of dusty and craggy cliffs, eventually coming into a sheer-sided gorge. There, the occasional waterfall gushes over the edge in a stream, refreshing the air and spraying H20 this way and that. Keep a look out for the pockets of date palms and pink-tinged thymbus plants overhead.
Tours to the Wadi Karak are a great way to get out and about in western Jordan. You can usually organize guided hikes from nearby Kerak. Or, there are two-day excursions that go from Amman, with al fresco camping options and abseiling sections in the gorge to boot!
8. Wadi Damm, Oman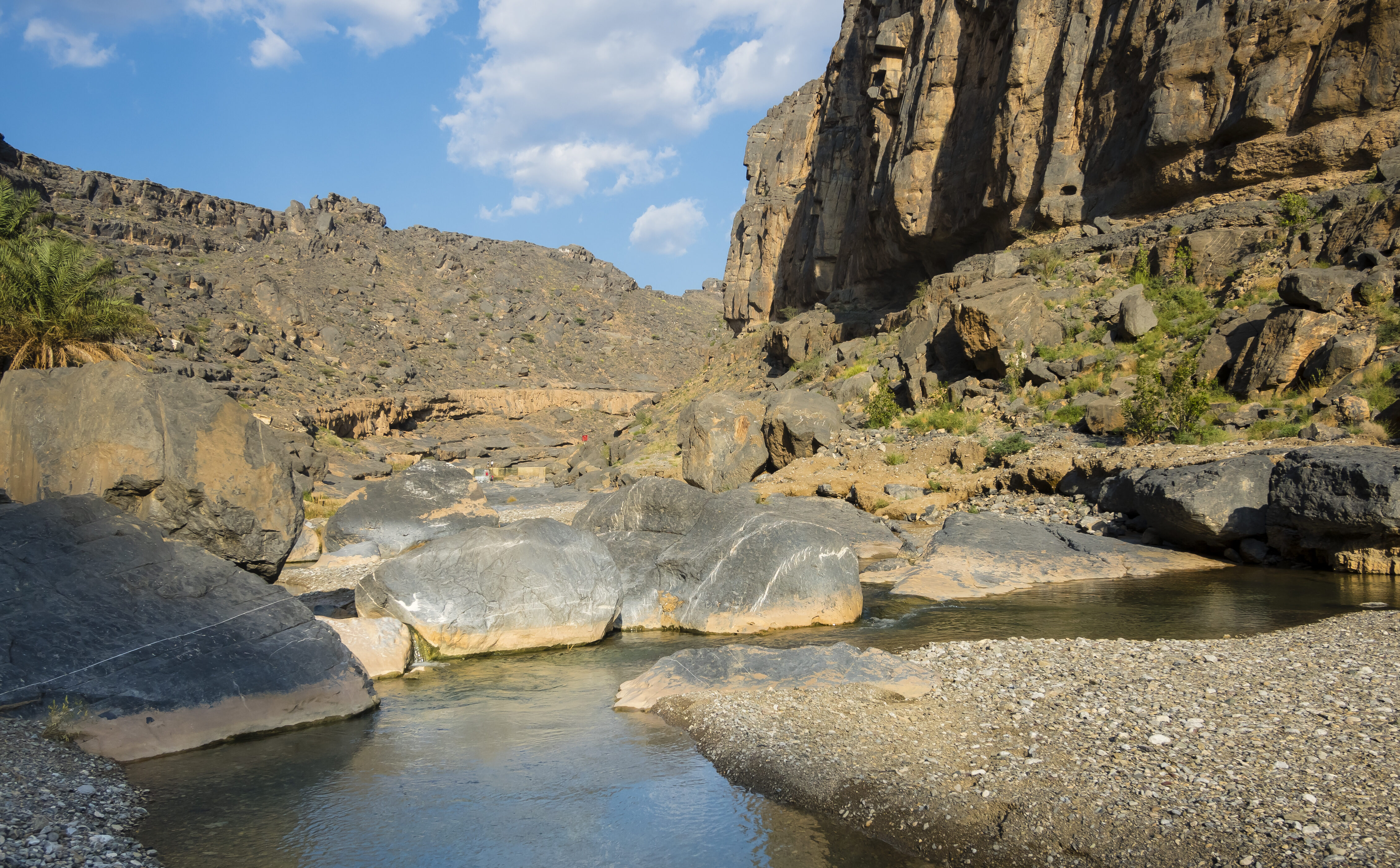 Just over the boulders from little Al Ayn village, Wadi Damm is an up-coming adventure option in Oman. It's a far cry from the dry and dusty wadi beds you find in the Jordan Desert. Instead, this one straddles rocks and gurgling water pools. It's hemmed in by pockets of green plants, and watched over by groups of olive trees.
The pools get to their fullest after any rainfall, but can dry out considerably when it's been hot. However, tours arrive at the Wadi Damm throughout the year. They offer a serene look at the Omani mountains, along with some beautiful hiking and canyoneering routes. As you trek, you can look up to see the exposed fronts of hulking canyons. You'll find crystal-clear rock pools (if there's water). And you can try to translate the frequent scrolls of graffiti that are marked straight onto the cliffs.
It takes just under three hours to reach Wadi Damm from Muscat. All tours will be on a hardy 4X4. Shoes with strong grip, and swimming gear, are recommended.
9. Nahal Hever, Isreal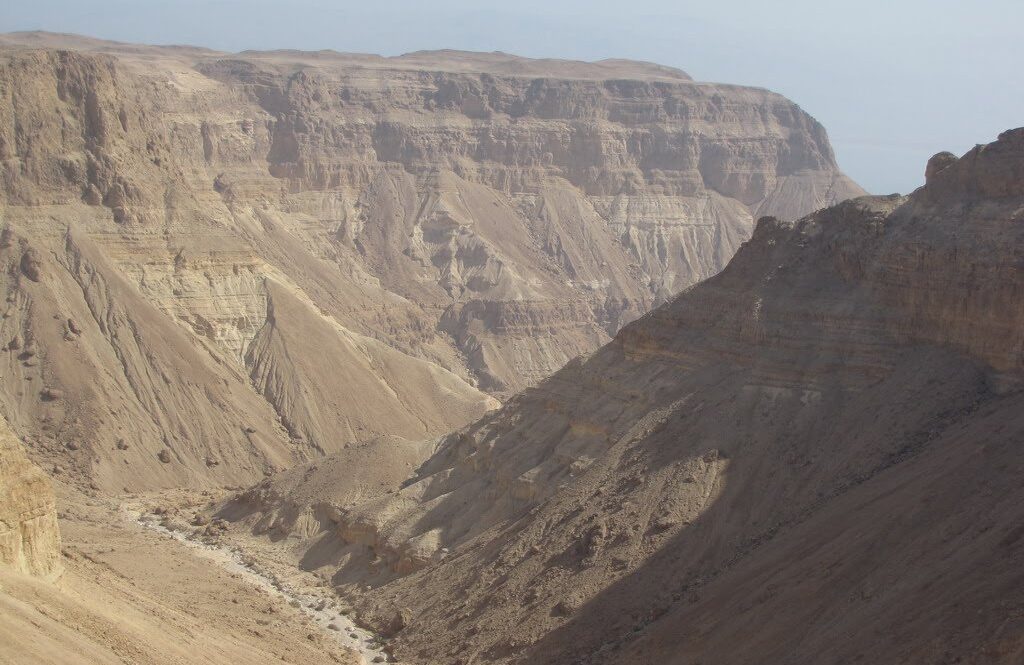 Dropping down from the rock-ribbed bluffs of the Judean Desert to the Dead Sea, the Nahal Hever is one of the hidden secrets of Israel. It begins in the Yatta region of the West Bank, close to the city of Hebron – the town that gave it its name. From there, the wadi wiggles through dusty escarpments and rocks, with intermittent streams of water.
It goes all the way to the salt-caked banks in the east, crashing down to the water through mountains marked by dashes of copper and ochre stone. It's in those that some of the most enchanting treasures of the Nahal Hever have been discovered.
They come in the form of the Cave of Letters, a cavern where ancient Roman scrolls were found. They relate to the revolt of the region's Jews back in 131 AD. And there's the haunting Cave of Horror. That one's eerie name comes from the remains of as many as 40 human skeletons, along with fragments of 2,000-year-old coins and papyrus, that rested within.
10. Wadi al-Rummah, Saudi Arabia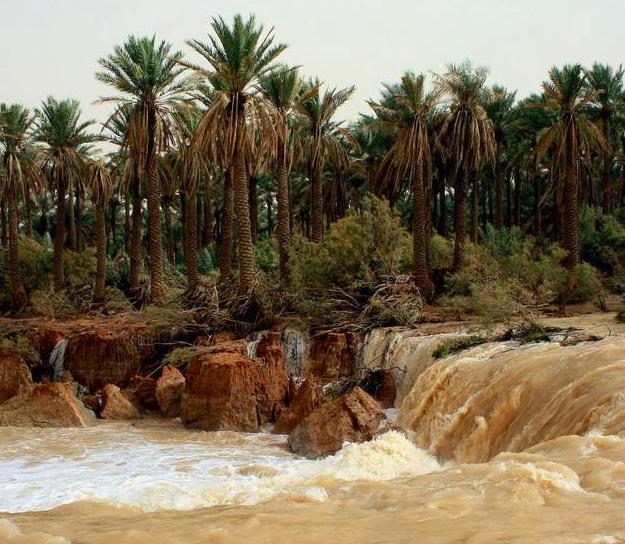 The Kingdom of Saudi Arabia might not be the easiest place to travel to on the planet, but it's certainly got some natural jewels up its sleeve. The vast proportion of the country is covered in the beige-sand blanket that is the Arabian Desert. And right in the midst of that flows the great Wadi al-Rummah.
It's actually among the largest wadis in the whole world. Clocking up a length of more than 600 kilometers from start to finish, it pierces sand dunes and the alluvial plains of al-Qassim as it goes. Sometimes, the waterline will peak upwards and you'll be able to see this one flowing at its original force. Although, that's only thought to happen around three times a century.
Geologists believe that al-Rummah was actually once a complete river, linking Medina to the Arabian Sea. Over years of sandstorms and erosion, the waterway was eventually split up. That resulted in three separate wadis that now cover a whopping distance of more than 1000 kilometers in total!
Conclusion
So, you've got what you needed to complete the best exploration to the World's best wadis. See it to believe it with your own eyes. Once you're done, find out more what else you can do in the Middle East here…
If you've been to these stunning wadis, share with us your thoughts. Don't forget to share. As we all know, sharing is caring!