Topless beach getaways aren't very common in the United States. However, there are plenty of beach resorts in the U.S. that allow you to experience the full freedom of sunbathing and swimming in nude. Hence, if you desire something liberating, a naked beach experience is a must. From stripping all the way to nude for a beach walk or playing volleyball in nude, it's no surprise why beach topless is a thing nowadays.
For those who want to bare it all, here are 12 best topless beach spots in the U.S.
1. Strip It All Down At Little Beach, Maui, Hawaii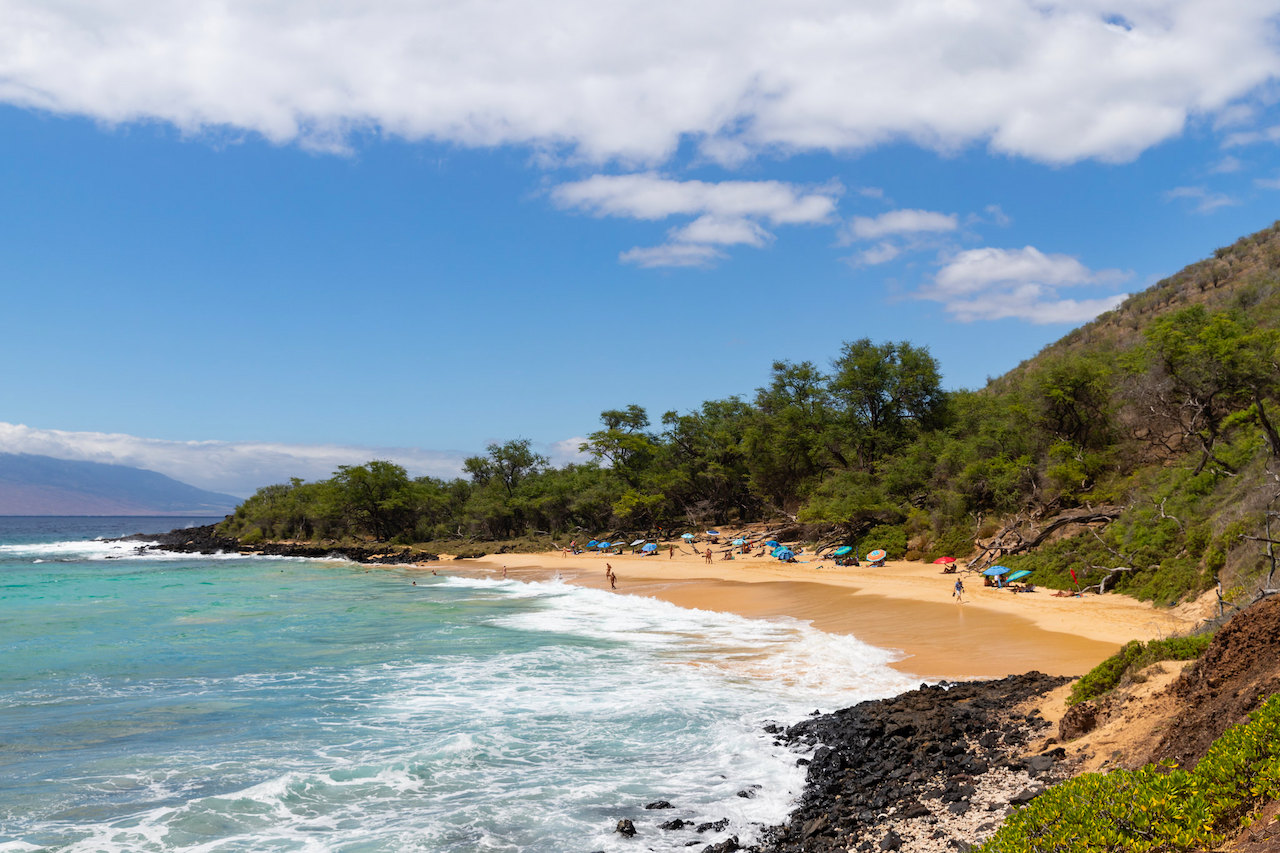 Little Beach (Pu'u Ola'i Beach) is located on the beautiful Maui Island in Hawaii. Nude beach getaways are illegal in Maui, but this one is unofficially considered a nude beach. A secluded beach strand from the main beach area (Makena Beach), Little Beach is a mini nude beach paradise that no one tells. It's a short hike from Big Beach. You can either walk or ride on a bike to reach this topless beach. Aside from swimming and sunbathing, there are plenty of exciting activities to enjoy here. From snorkeling, kayaking to bodyboarding and even surfing in the nude — Little Beach is packed with excitement.
As one of the best topless beaches, Little beach doesn't come last for you to end your day here with beautiful sunsets. If you want something more happening, every Sunday night, there are drum circles, songs, and dances for the crowd to enjoy.
Nearby Hotels
Maui Coast Hotel: Nestled in sunny Kihei, Maui Coast Hotel promises only the best beach getaway experience. Across the street is a wide stretch of pristine sand, shopping and dining areas, and entertainment scene. The rooms are very comfortable and the hotel has eco-friendly initiatives.
Maui Banyan Vacation Club: Just across the Kamaole Beach Park sits this beautiful vacation club. Offering fully-equipped condos at friendly rates, you can also enjoy the pool areas, spa, tennis courts, and restaurants.
2. Gunnison Beach – Middletown, NJ
If you're visiting New Jersey, there is one legal topless beach for all your naked beach dreams — Gunnison Beach. Located in the Gateway National Recreation Area, Gunnison is among the best topless adult beach in the U.S.
Gunnison Beach was once a U.S. Army testing ground. In fact, U.S. soldiers used to skinny dip here. Years later, it is hailed as the best topless beach in the U.S. by many. This is all thanks to its very relaxed atmosphere that locals and tourists can enjoy not only in the summer but all year-round. The best part, this beach is well-complimented by a stunning view of the Manhattan skyline.
However, this beach does get crowded during summer and on weekends. In fact, there's a ferry that takes tourists from Manhattan to Gunnison and vice versa during the summer.
Nearby Hotels
Ocean Place Resort & Spa: Enjoy the ocean views in your own private balcony at Ocean Place Resort. Boasting modern amenities and spacious rooms, it promises ultimate relaxation in New Jersey.
BeachWalk at Sea Bright: The BeachWalk is designed for those who want a laidback and peaceful getaway. Aside from being close to Gunnison, it also has a private beach and an outdoor pool.
3. Haulover Beach – Miami, FL
There's only one topless beach in Miami that you can completely go naked. For all your wild nude beach Miami dreams, head to Haulover Beach. This is the best nude beach in the U.S. to go if you want to avoid the tan lines.
Aside from enjoying some public nude displays on the beach, Haulover Beach has stunning sceneries. From sugar-white sand, turquoise waters to picnic areas, it is a paradise for every type of beachgoer — nudist or not.
Haulover Beach is among the few nude beaches run by the government in the U.S. With over 1.4 million visitors flocking here every year, there's always a lifeguard on duty. There are also groups that offer organized activities such as volleyball, swimming, and others.
Nearby Hotels
Residence Inn by Marriott Miami Beach Surfside: Located in a trendy beach district, Residence Inn by Marriott is just 3 km away from Haulover Beach. Enjoy the upgraded suites with modern amenities after a long day of nude beach activities.
Bal Harbour Quarzo: For a more intimate sanctuary, Bal Harbour Quarzo is the perfect pick. It offers spacious rooms with fully-equipped kitchens. Walking or biking around the area will easily take you to local shops and restaurants.
4. Hippie Hollow Beach – Austin, TX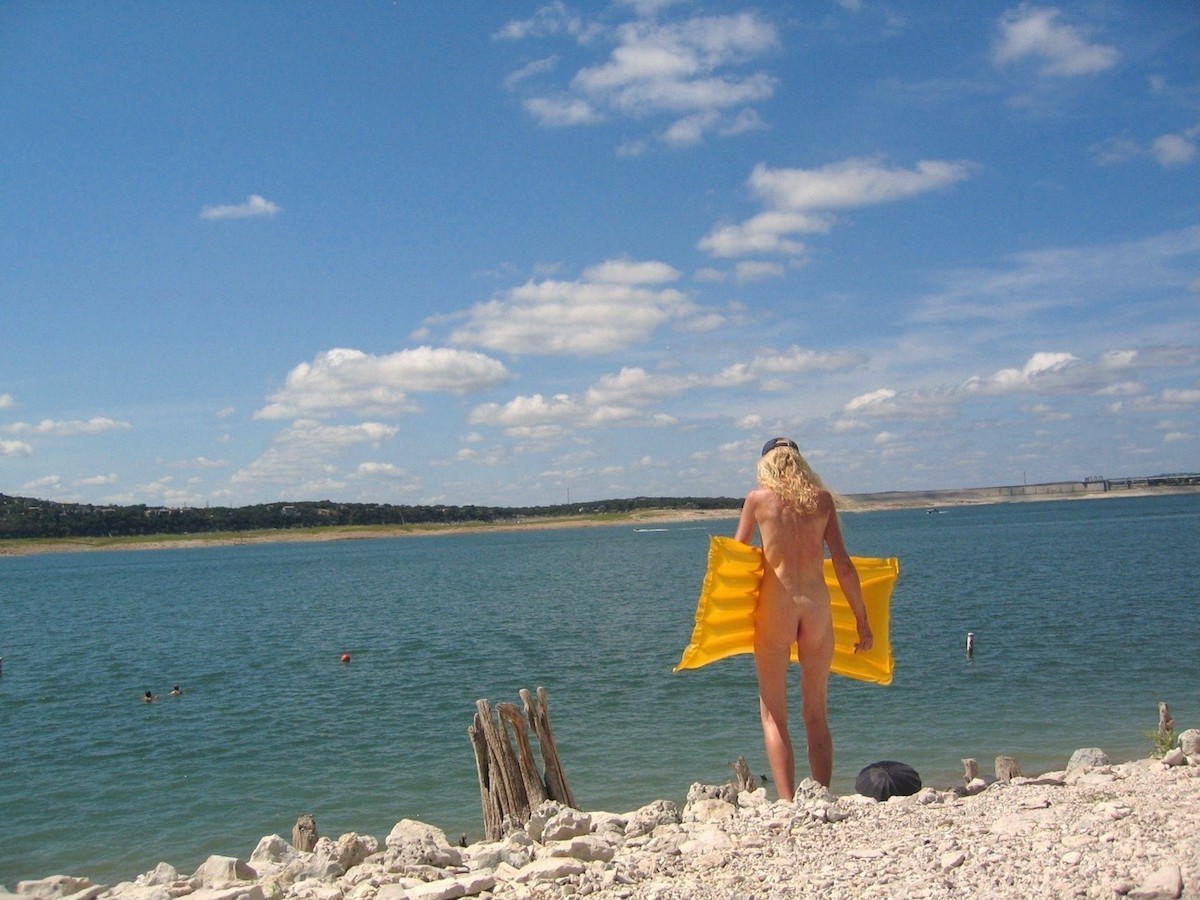 If you're in Texas, don't fuss over searching for "nude beach near me." Although not a sandy shoreline, Austin Texas has a beach lake for your topless beach getaway. Hippie Hollow Beach in Austin, Texas is found on Lake Travis. It's a great place to sunbathe and swim in the nude when you're in town.
The 109-acre recreation area is about 20 minutes away from downtown. The serene lake scene here makes for a perfect nude beach in the U.S. — at least for the Texans.
Nearby Hotels
The Cove BNB: The Cove is a laidback bed-and-breakfast with breathtaking lake views. Boasting cozy cabins with kitchenettes, this is the perfect escape from the city life.
La Villa Vista Lake Travis: How do you feel about a Mediterranean-style villa on a hill? What's more, the balcony gives you gorgeous views of Lake Travis. La Villa Vista is a luxe bed-and-breakfast that lets guests relax in their rooms or on the pool. There's even freshly cooked breakfast for guests every morning.
5.

Baker Beach – San Francisco, CA
Although not an ideal swimming spot, Baker Beach is still among the topless beach options in California. The cold weather temperatures and rough swimming conditions here are not ideal for swimming pleasure. However, Baker Beach offers incredible views of the iconic Golden Gate Bridge. This unbeatable view makes up for what the beach lacks.
Before you enjoy your beach topless moment, take note that only the northern part of the beach is clothing-optional. Located below the Presidio, this side of the beach is also shielded by rocks. This lets nudists enjoy their naked beach experience more.
Nearby Hotels
HI San Francisco Fisherman's Wharf: This is a low-key hostel with stunning views of the San Francisco Bay. The location is close to bike paths, bus lines, and restaurants. With simple yet comfortable rooms with complimentary breakfast, this hostel is a great option.
Holiday Inn San Francisco-Golden Gateway: Holiday Inn is at the heart of San Francisco. Its location makes it close to many attractions, including the Golden Gate Bridge and Fisherman's Wharf.
6.

Black's Beach – San Diego, CA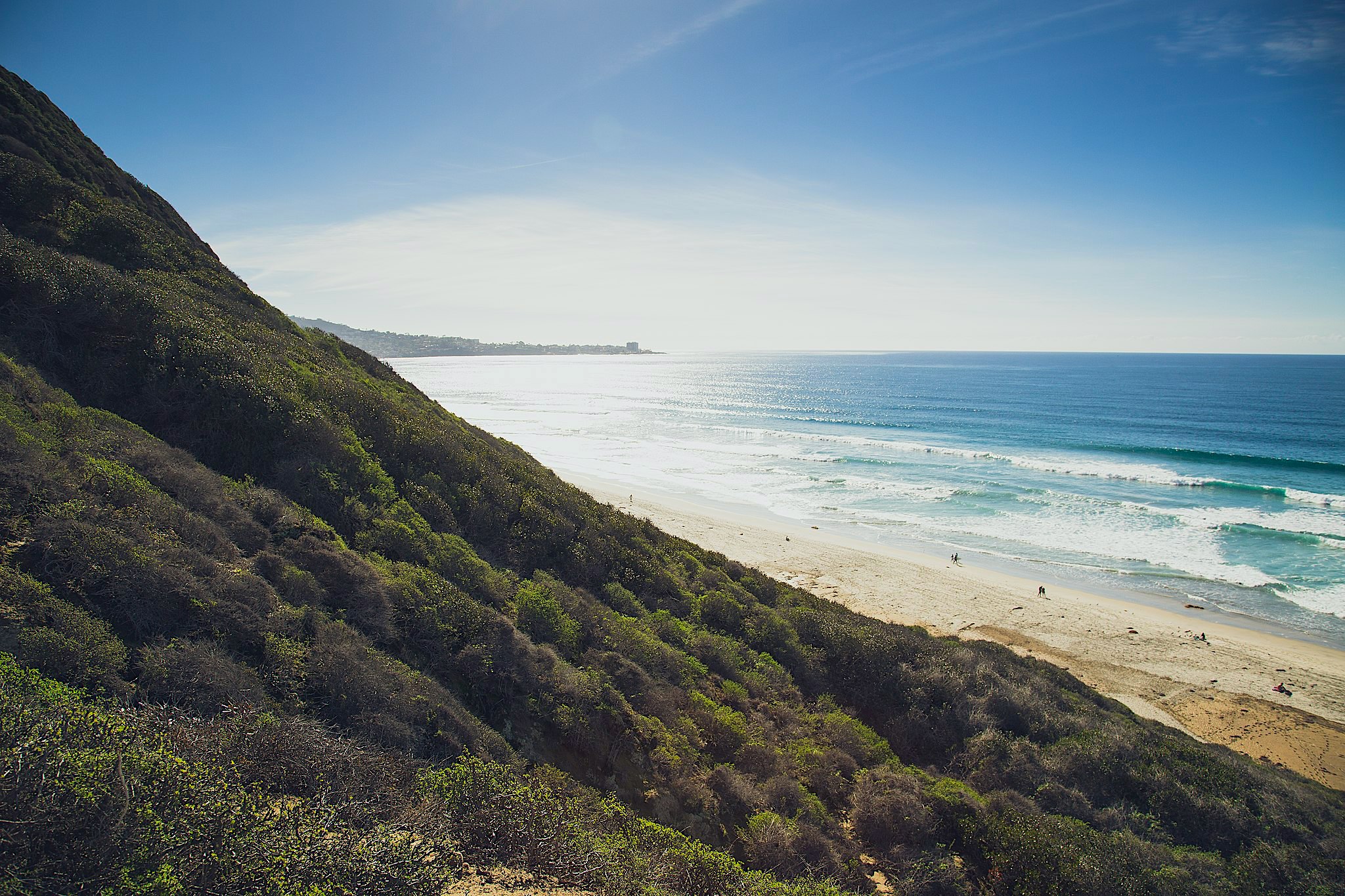 If you're craving for some south beach topless adventure in California, San Diego has one. Nude beach experiences are not actually legal in San Diego. However, Black's Beach is a hidden gem that locals have come to recognize as a topless beach. Why is that? The area is difficult to access, making authorities turn a blind eye to the public nude activities here.
To reach the topless beach, visitors need to hike down a steep path or take a 20-minute walk along La Jolla Shore. The hike may be difficult, but the secluded paradise is worth the trek. Here, you can expect all kinds of beach topless moments, from nude sunbathing to nude surfing.
Nearby Hotels
Estancia La Jolla Hotel & Spa: Nestled on a 10-acre landscaped garden, Estancia La Jolla Hotel offers accommodation in hacienda-style. Enjoy amazing views from private balconies and the modern amenities in each polished room. There's also an outdoor heated pool and a spa for ultimate relaxation.
Hilton La Jolla Torrey Pines: Overlooking the Torrey Pines Golf Course and Black's Beach, Hilton La Jolla is another great hotel option. The rooms boast contemporary style with balconies and patios. You don't need to go far as the hotel houses a grill restaurant and lobby cafe.
7.

Collins Beach – Sauvie Island, OR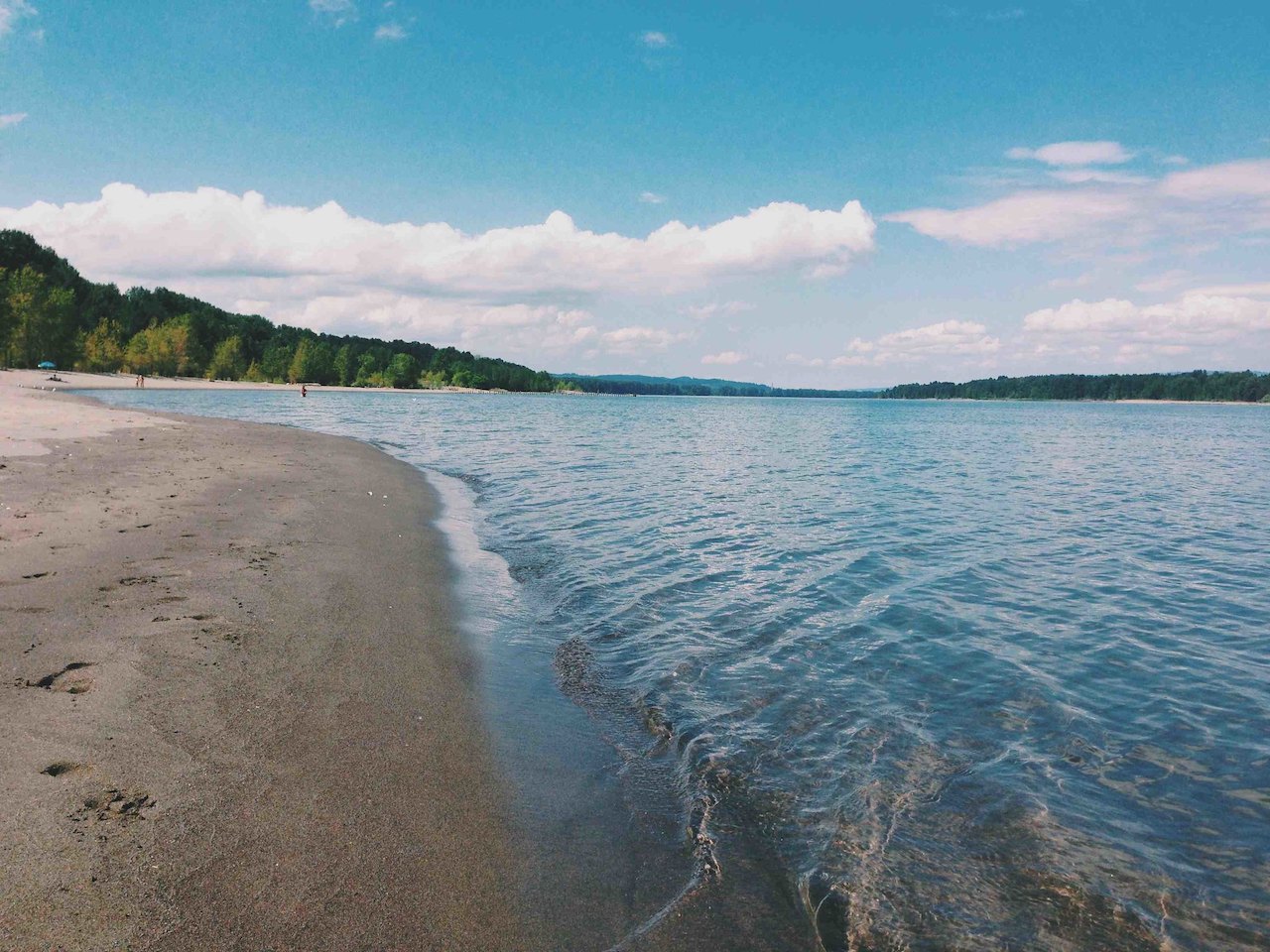 Collins is the go-to nude beach of many Portlandians who want to bare it all. What makes it the best topless beach in the U.S. for many is how the area is very pro-nudist. In fact, there are signs to alert visitors that they are entering a public nude beach.
This naked beach on Sauvie Island exudes a calming and relaxing vibe. It is perhaps among the topless beach spots in the U.S. that don't raise eyebrows. So if you're ever in Oregon, this is the best place to relax in your birthday suit.
Nearby Hotels
Castle Hill Inn: Taking a hint from its name, Castle Hill Inn promises its guests a luxurious stay.  This 40-acre property offers panoramic water views, private beaches, and hiking trails. There's more to enjoy here than just topless beach activities.
OceanCliff Hotel & Resort: Nestled on 10 acres of lush lawns, OceanCliff offers breathtaking ocean views. The guest rooms are a perfect mix of 19th-century style and modern conveniences.
8.

Kehena Black Sand Beach – Big Island, HI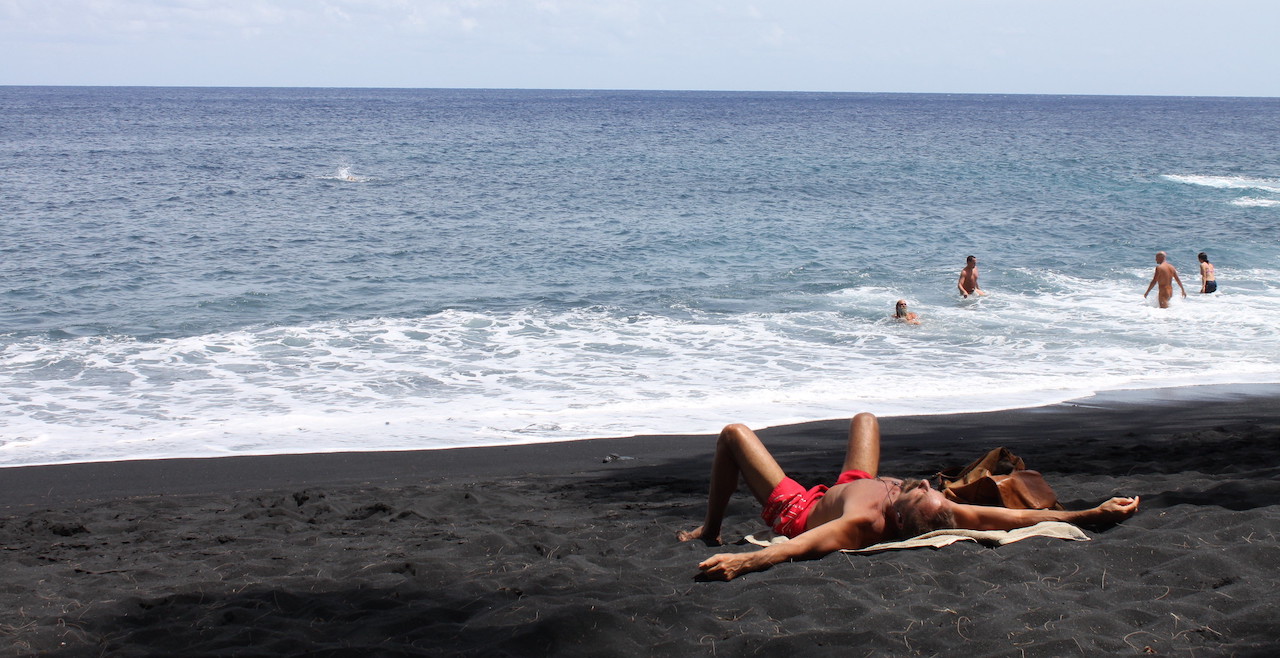 Another best topless beach in the U.S. sits at the far eastern tip of Big Island, Hawaii. To reach Kehena Black Sand Beach, you need to do a little hike down from the main trail. Offering unique black sand, this naked beach is one of the best places to bare it all in Hawaii.
Sunday nights are the best on Kehena Black Sand Beach. It's when the 75-yard beach is filled with music, dancing, and lots of fun. No wonder it's hailed the best nude beach in the U.S. by many.
Nearby Hotels
Angel's Nest: Just a short stroll from the Kehena naked beach is the charming Angel's Nest. Offering jungle views from the lanai, guests will enjoy the beauty of outdoors from the comfort of your room.
The Kimos' Ohanas: Nearby Kehena Black Sand Beach is a laidback B&B set on a tropical garden. Warmly furnished rooms with garden views await at Kimos' Ohanas.
9.

Moshup Beach – Aquinnah, MA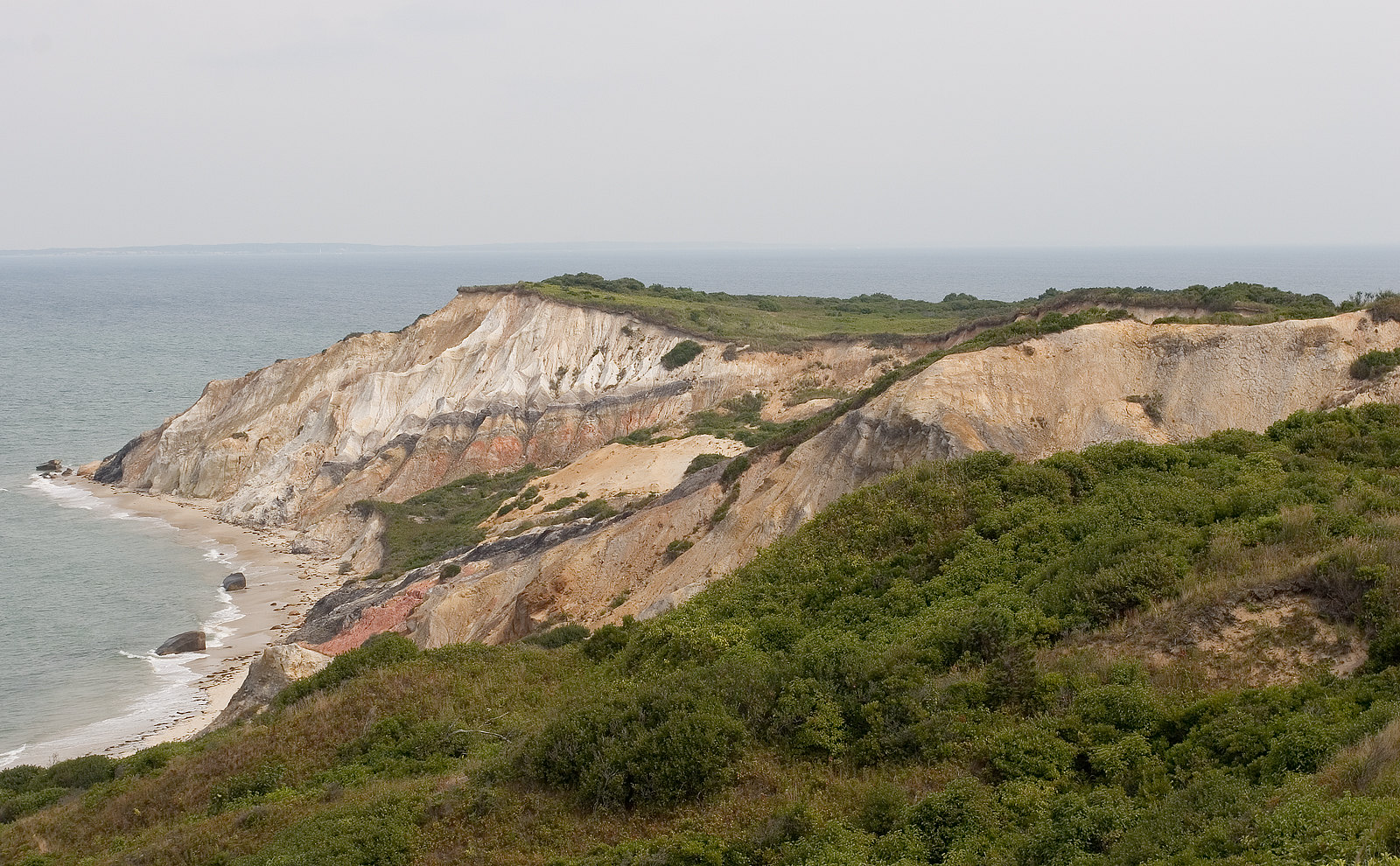 Off the coast of Massachusetts lies a topless beach called Moshup Beach. This nude beach on the island of Martha's Vineyard used to be a vacation place to presidents and aristocrats. Martha's Vineyard is quite conservative, and this nude beach on the area adds a wild touch to it.
Also known as Aquinnah Beach, Moshup Beach has been the best topless beach in the U.S. for many since the 1960s. The vibrant-colored clay cliffs are the most prominent feature on the beach. Visitors are not allowed to climb on the clay cliffs so make sure to enjoy taking photos.
Nearby Hotels
Duck Inn: Sitting on a 5.5 acre of lush property with ocean views, is a 5-bedroom inn called Duck Inn. Built 200 years ago, this inn is just 5 minutes away from a private beach. Enjoy gourmet breakfasts, massages, or amazing sunset views when you check in here.
10.

San Gregorio Beach – San Gregorio, CA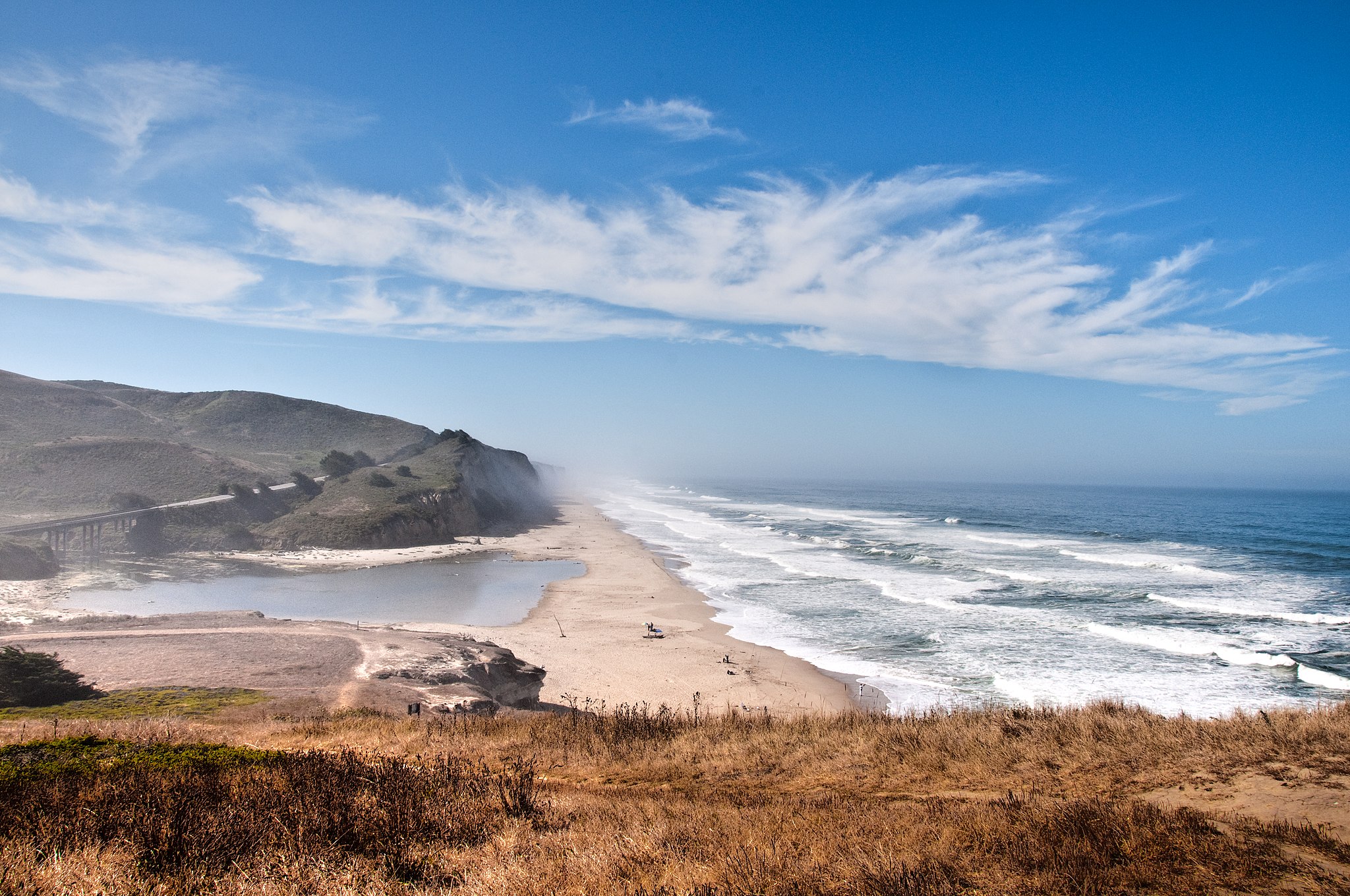 Considered the first nude beach in the U.S., San Gregorio Beach is 2 miles of soft sand, caves, and more. They say beachgoers here are mostly gay men, but it's also frequented by straight people and families.
San Gregorio Beach is a private topless beach and is free of charge. It's long and very clean, making visitors' stay a pleasurable one. Beachgoers would create their own private spaces by using drift logs as cover or shelter.
Nearby Hotels
Pescadero Creek Inn: Set in lush gardens surrounded by flowers and hammocks, Pescadero Creek is a great hideaway spot. The property is very clean with modern amenities for a convenient vacation.
Half Moon Bay Lodge: If an outdoor pool isn't enough, there's a spa and a sauna awaiting at Half Moon Bay Lodge. The lodge is also equipped with WiFi access, making your vacation hassle-free.
11.

Secret Beach – Kauai, HI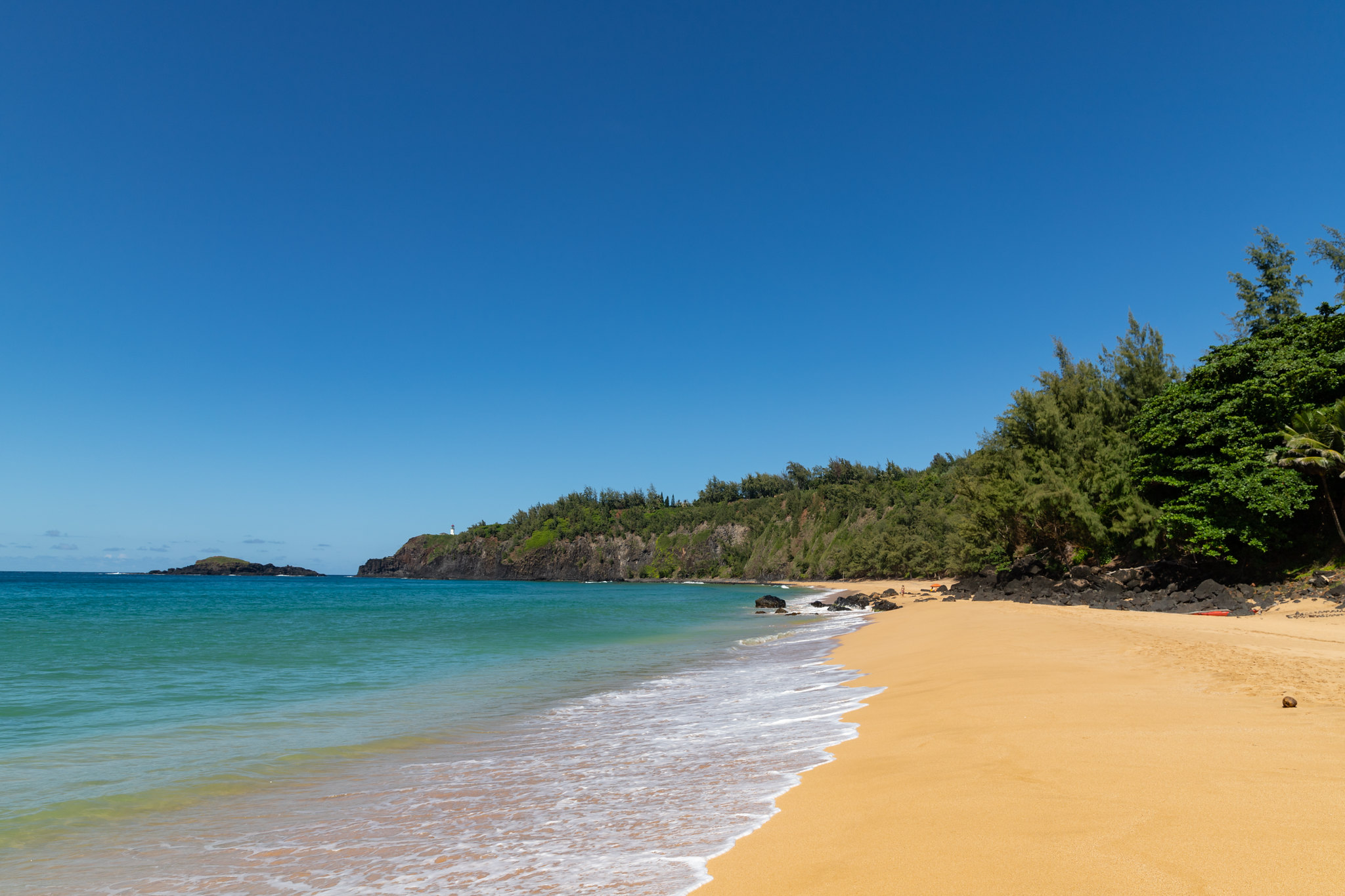 Locals call this as Kauapea Beach, but others call it Secret Beach — and it's for a reason. This nude beach is located between Kalihiwai Bay and Kilauea Point. It's not easy to find the spot, though, as the trail leading to the beach is unmarked.
This nude beach in the U.S. boasts of yellow soft sand and surrounded by palm trees. It's a favorite topless beach spot in Hawaii not just for its beauty but also for the serenity. There are no crowds, resorts, and restaurants, just a paradise hideaway for you to enjoy.
Aside from beach topless swimming, you can enjoy snorkeling, especially in the summer.
Nearby Hotels
Courtyard by Marriott Kaua'i at Coconut Beach: Sitting conveniently on Kaua'i's East Side, this resort offers 14 redesigned guest rooms. Guests are treated to an oceanfront bar and restaurants, swimming pool, and amazing views.
Hilton Garden Inn Kauai Wailua Bay: Hilton Garden has a very refreshing vibe with its warm wood furnishings. Mixed with modern amenities, some rooms even have terraces with ocean views. For other relaxing options, there are 2 outdoor pools, a hot tub, and bikes.
12.

Playalinda Beach – Orlando, FL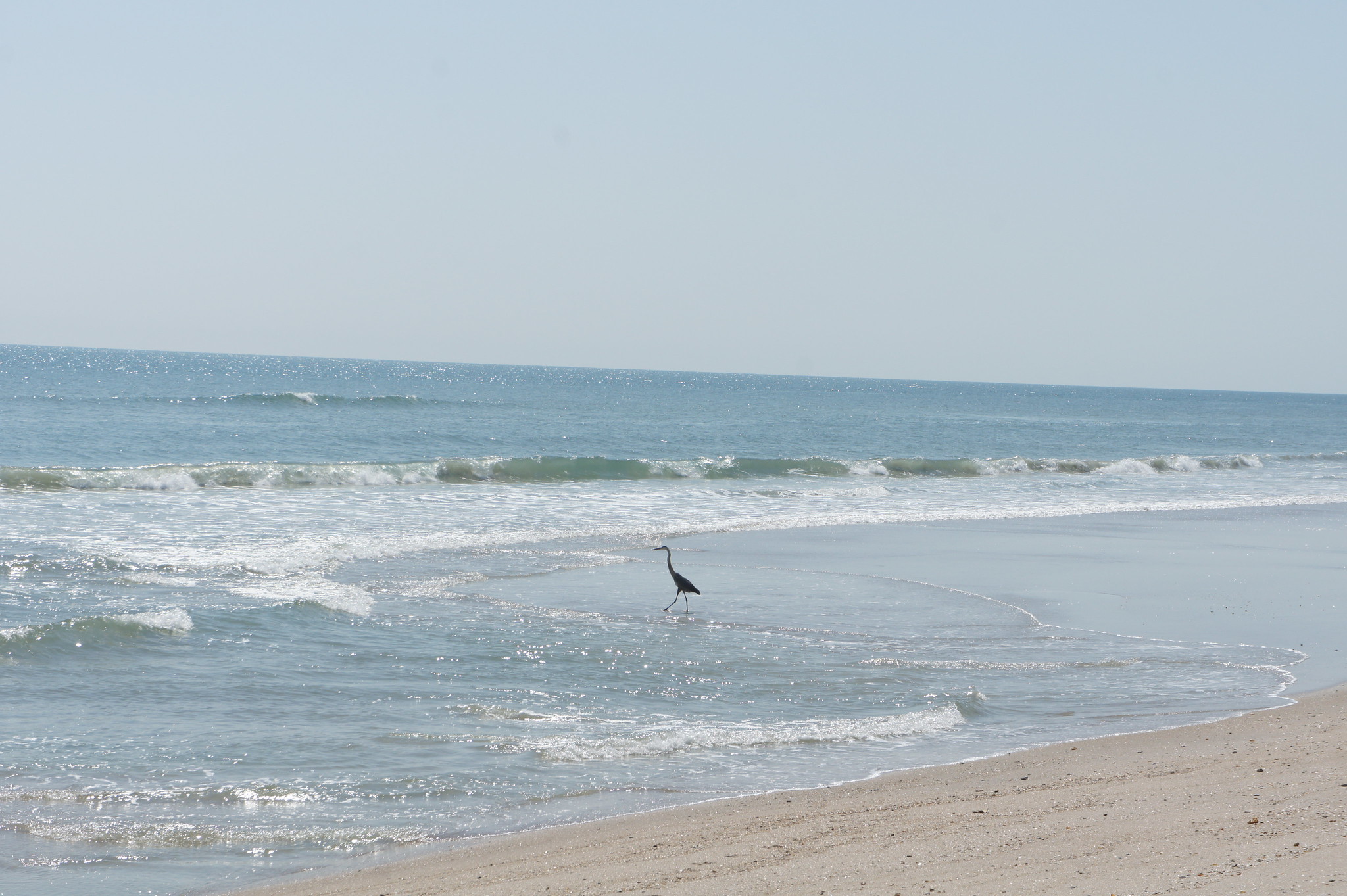 Beach with beer? Why not! Among the topless beaches in U.S. Playalinda in Orlando is hailed to be one of the best as it combines nudity and alcohol. However, this beach is somewhat family-friendly as the first 11 parking lots are non-nude sections. Meanwhile, for all your topless beach adventures, you need to visit parking lots 12 and 13. Despite allowing alcohol on the beach, the atmosphere remains laid-back and quiet.
Nearby Hotels
Best Western Space Shuttle Inn: This budget inn houses simple yet comfortable rooms all with private bathrooms. Every stay comes with a free continental breakfast buffet. There's also an outdoor pool and exercise room for the health buffs.
Holiday Inn Titusville: Kennedy Space Center: This contemporary hotel comes with fully-equipped modern rooms. There's also a bistro serving American dishes and an outdoor heated pool for the ultimate relaxation.
Time To Get Naked, Be Wild, And Free!
Do you have topless beach dreams in mind? Before you strip it all down, make sure to learn about the best nude beach options to do so. Not every state allows public nude activities on the beach, so it's always good to check.
Hopefully, these top 12 naked beach destinations will help you trim down your choices in the U.S. Time to pack your stuff and get ready to be wild and free on your next topless beaches trip!