Finding cheap lunch spots is easy, but finding cheap and delicious lunch spots needs a little more searching (recommendations are always welcome!). Downtown Chicago is an excellent place if you want lunch options worth your time and budget. From light meals for those on-the-go, best lunch box options for office workers, to enjoying best lunch with kids, downtown Chicago has you covered.
Here are 10 cheap and best lunch spots in downtown Chicago:
1. Seoul Taco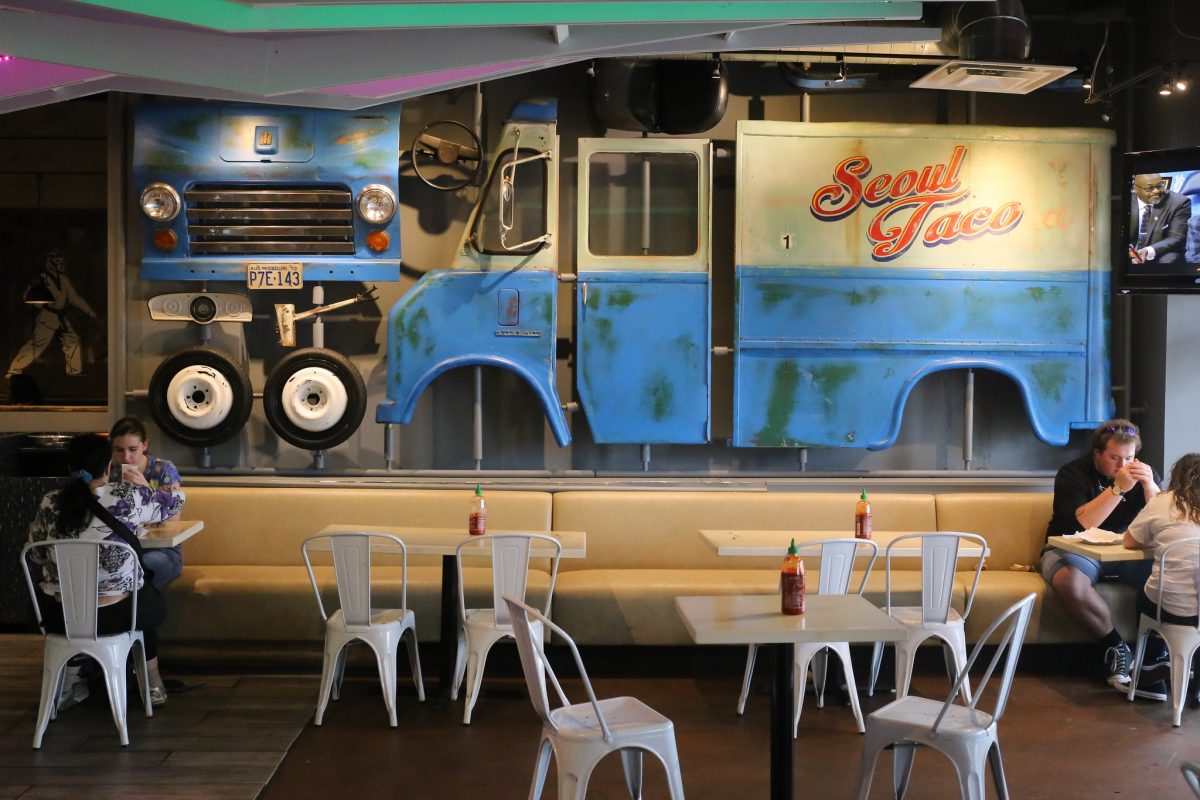 Seoul Taco is a famous Korean-Mexican mashup loved by many for its tacos, burritos, and more. With owner and entrepreneur David Choi's focus on neighborhoods comprised of residentials, students, and young-professionals, Seoul Taco's spot in Hyde Park downtown Chicago makes it very strategic and aligned with their goals.
What makes Seoul Taco an ideal lunch option is that most of its offerings are under $15, making your spending smart and worth the bite. The taco empire has a variety of tacos, burritos, quesadillas, and more with a healthy blend of meat, fried rice, greens, and sauce.
You can get tasty 3-piece tacos for only $8, while burritos filled with delicious kimchi fried rice, carrots, lettuce, cheese, green onions, and Seoul sauces are only for $10. If you're in for a bowl bursting with flavors and colors, their Gogi bowl won't disappoint. For only $10, you get to chow down fried egg in combination with green onions, carrots, sesame seeds doused in sesame vinaigrette salad mix.
Tacos and burritos are very easy to eat, and the fun menu options at Seoul Taco make it ideal to enjoy some best lunch with kids.
2. Sweetgreen
Green lovers in downtown Chicago unite! The addition of Sweetgreen in this area gives the more health-conscious diners options to have their dose of greens. Sweetgreen is known for its basic, seasonal, and healthy offerings. The company strongly believes that choosing carefully what to eat and learning how the preparation process both have a big impact on the health of individuals and their lifestyles, as well.
Sweetgreen has a wide selection of salads you can enjoy at a fair price. Feast on their Harvest Bowl for only $10.50. It's a big plate of organic wild rice with roasted chicken, shredded kale among others, and served with Balsamic vinaigrette. The Shroomami Bowl, meanwhile, comes with many healthy ingredients including raw beet, roasted sesame tofu, and served with miso sesame ginger dressing. This bowl is only $10.75.
If you prefer fish, get the Fish Taco Bowl for only $12.50. This bowl is packed with goodness and is served with lime-cilantro jalapeno vinaigrette and Sweetgreen hot sauce.
3. Rotisserie Ema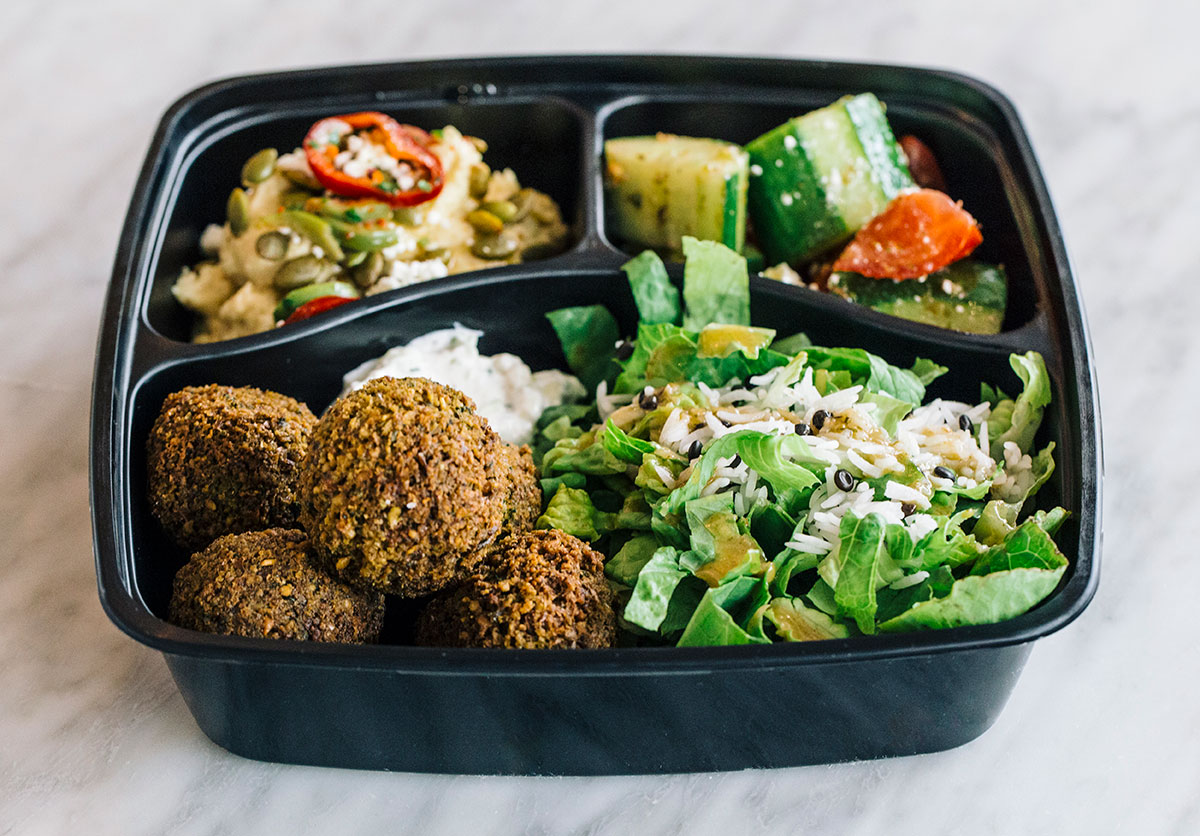 Rotisserie Ema is another great spot in downtown Chicago to enjoy budget-friendly but tasty lunch options. The casual and cozy diner is ideal for your lunch needs as they're only open from 11:30 am to 3 pm.
People come to Rotisserie Ema for the hummus, selection of Mediterranean salads, and other healthy options. The best part is there are great choices for less than $12. Aside from that, guests can customize their meals by choosing from the soup bar, hot and cold food bars, house-made hummus bar, rotisserie, and more.
A healthy salad trio is available for only $9.95, while the hummus sampler is only $8.95. This comes with house bread. For heavier options, go for the Mediterranean tartine open-faced sandwich for only $9.95. The Rotisserie Plate, which comes with chicken or vegetable, is a great choice for only $10.95.
4. High Five Ramen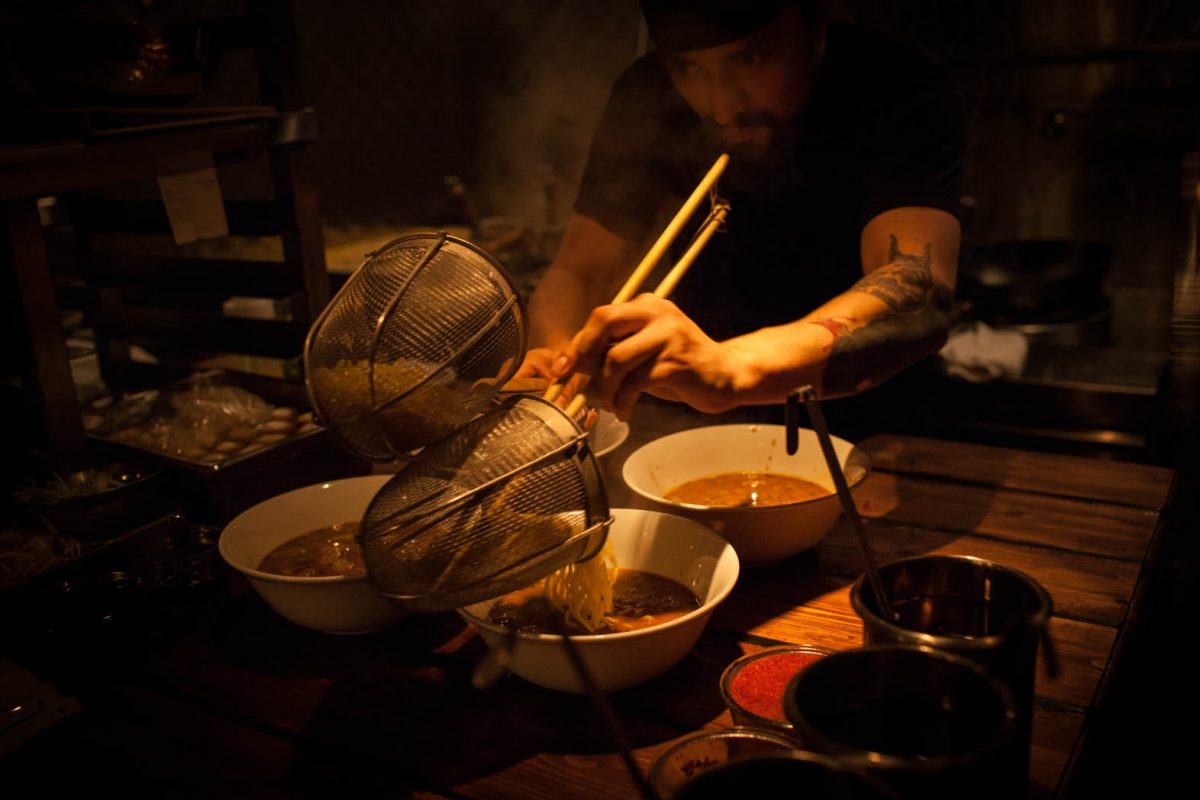 When the temperature drops, it's hard to resist a bowl of hot and delicious ramen. Cold season or not, a great bowl at High Five Ramen in downtown Chicago is a must-try for anyone looking for a budget-friendly lunch.
Stepping into High Five Ramen feels like being transported to a basement ramen shop in Japan. The authenticity greets you, stays with you, and is the reason to keep coming back. Space may be small but it offers flavors and richness  — everything you want in a bowl of ramen.
The prices of ramen bowls range from $12 to $15, not bad given how packed each bowl is. Shoyu Ramen is priced at $12, Special Ramen at $14, and Kanabo Spice and Shiyo Ramen both priced at $15. You can have your ramen customized to Full Spice, Half Spice, or No Spice.
5. Pork & Mindy's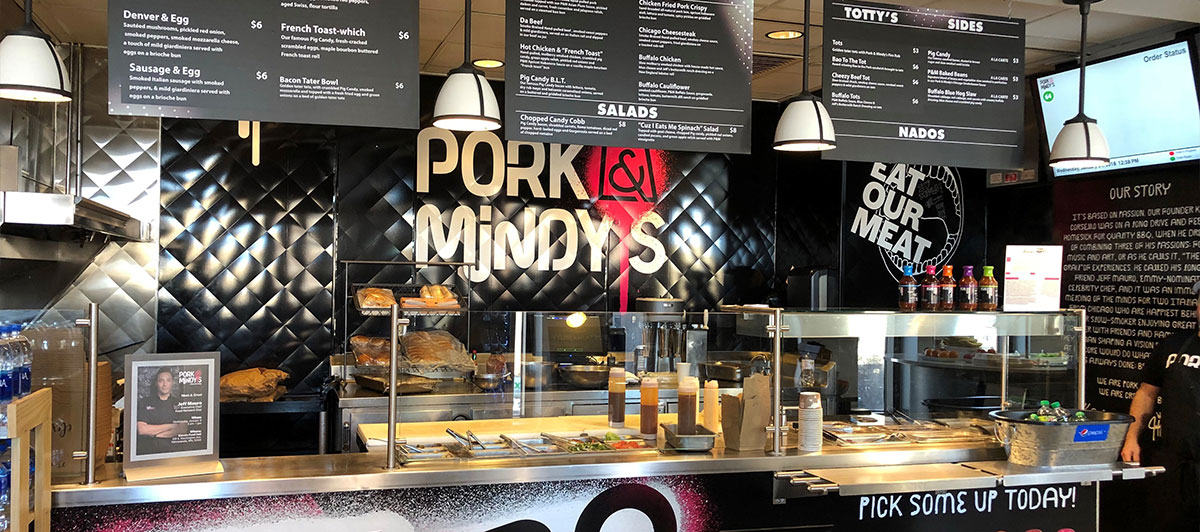 If you want to grab lunch at Wells Street Market, drop by Pork & Mindy's. The spotlight is on globally inspired sandwiches at Pork & Mindy's, making it perfect if you want that best lunch with kids experience.
Pork & Mindy's is most known for their award-winning, slow-smoked meat topped with a variety of mouth-watering sauces. What makes this sandwich spot unique is how they focus not just on the food but on the process of making the food. They pull the pork by hand instead of having a machine shred it. They've also built relationships with the best farms across the Midwest and only use meats without hormones and no antibiotics.
Their famous sandwiches include the Bao to the Pork for only $10, Chicken Fried Pork, and the Pig Candy BLT both for only $9. There are add-ons for less than $4.
6. Tempesta Market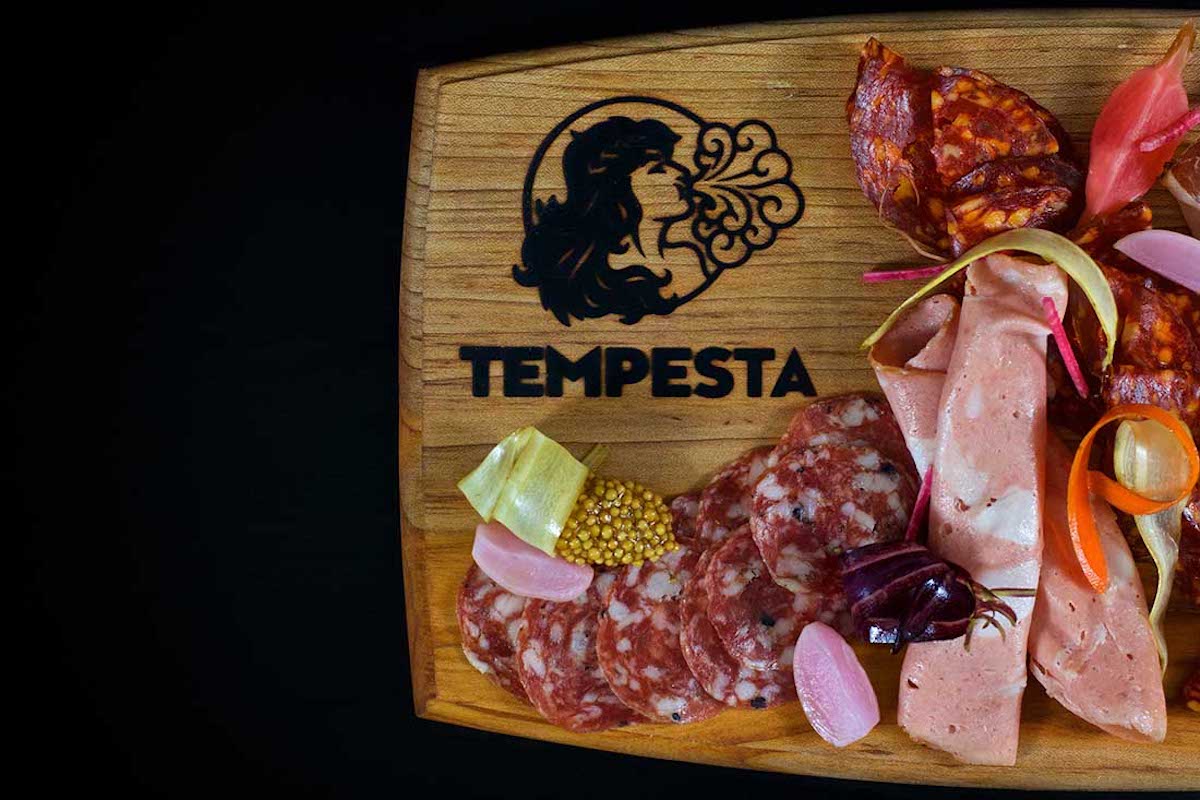 Another great lunch spot at Wells Street Market is Tempesta Market. It's a sandwich shop and grocery market in one, giving you more reasons to come back. The menu mainly consists of delicious sandwiches made with only fresh, natural ingredients.
For only $12, you can enjoy hefty and tasty sandwiches such as The Potato Nator, Zeppo's Meatball Achievement, or Beet Streets. All sandwiches are served with chips or choice of fruit. They also have a variety of salads and appetizers to fill your belly.
7. Piggie Smalls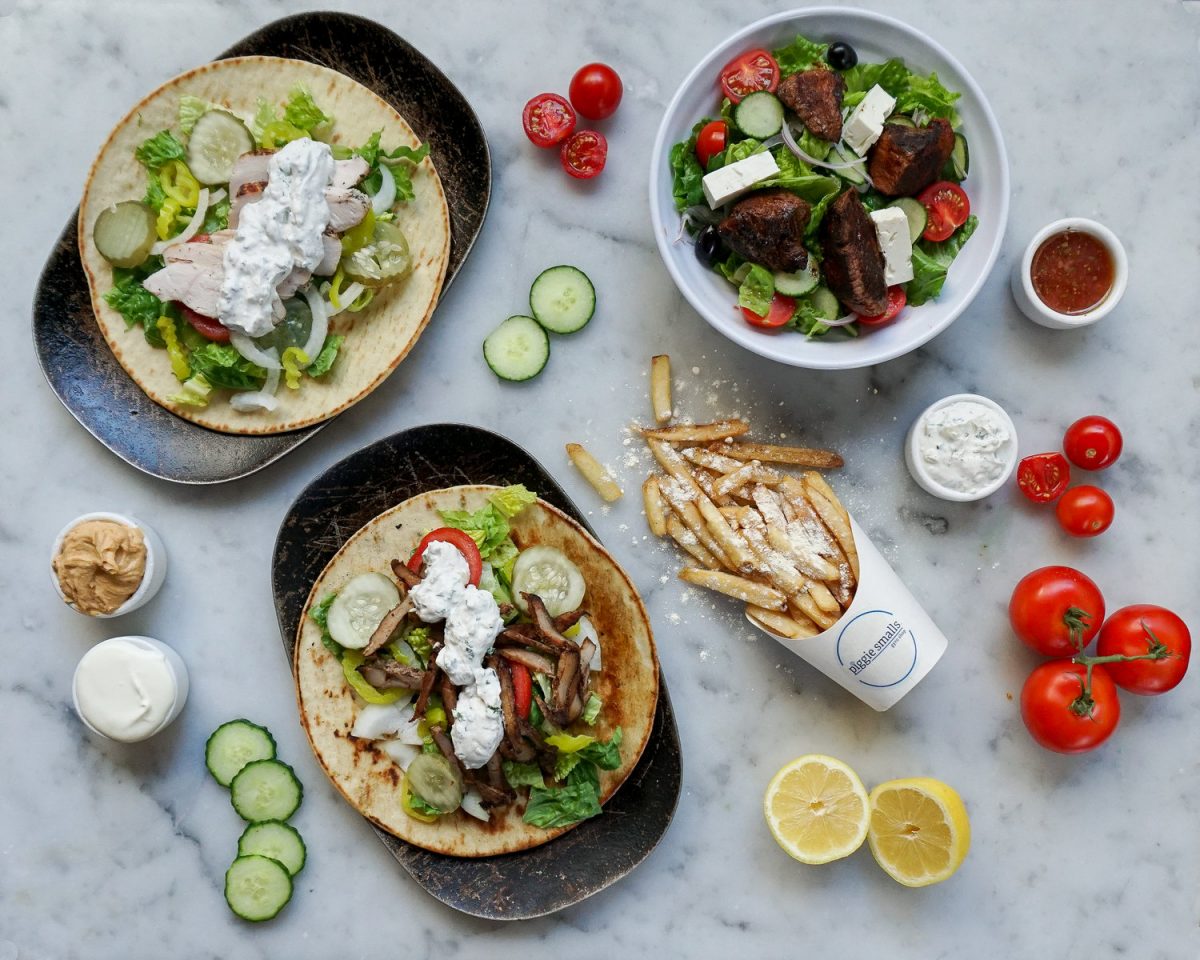 Piggie Smalls is another excellent lunch option at Wells Street Market. This go-to-lunch in downtown Chicago offers classic Greek flavors of the gyro. Aside from that, you can enjoy their tasty bowls of salad with healthy portions of pork, beef tenderloin, or chicken. For smaller bite options, go for Greek fries, hummus, or whipped feta.
What makes Piggie Smalls stand out is how they strive to prepare their gyro the most authentic and delicious way. They make sure to stick with the right ingredients that make up a traditional gyro. Their affordable price range is also a plus. You can build your own bowl at Piggie Smalls at a fair price of $9.99, while the options of the gyro on pita are all less than $10.
8. U.B. Dogs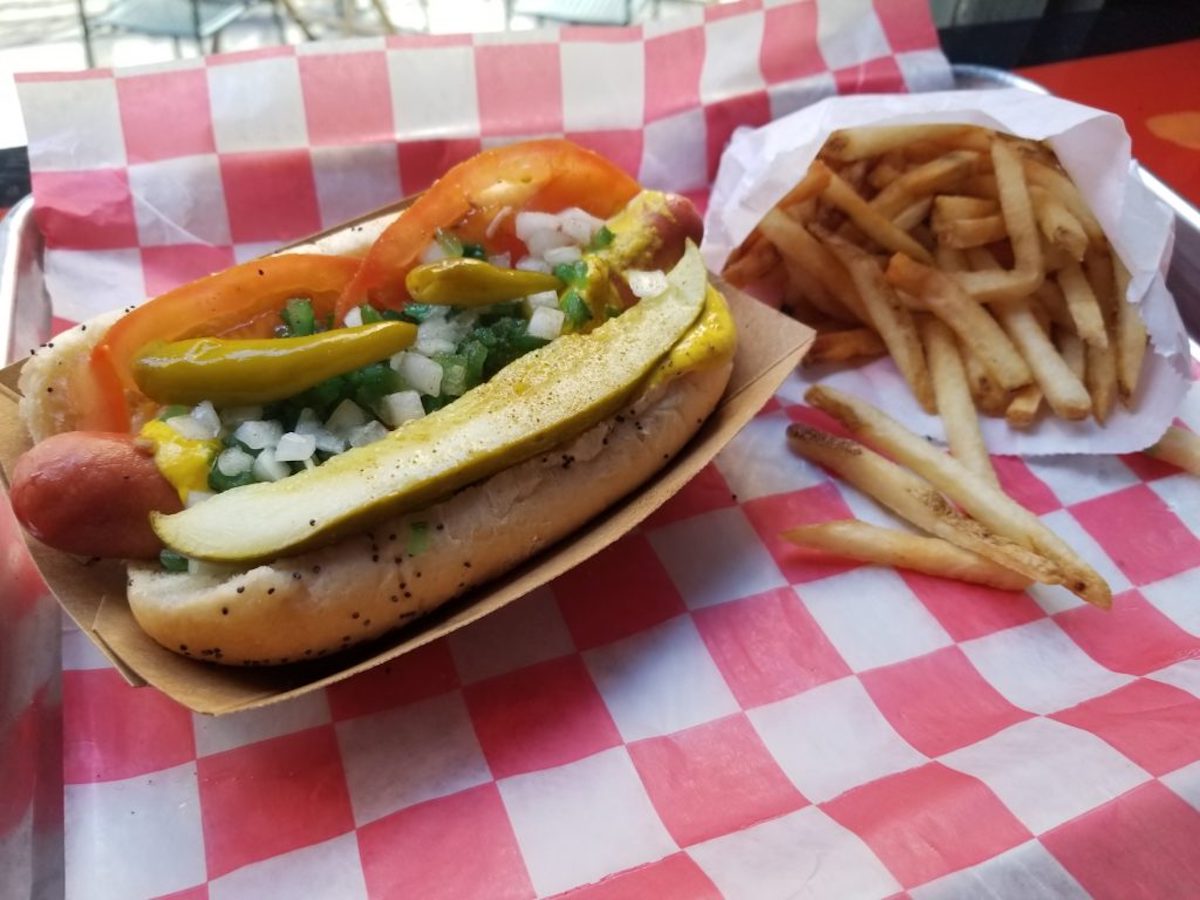 Another cheap but excellent lunch option in downtown Chicago is U.B. Dogs. Whether you're eating with friends, colleagues or planning to experience the best lunch with kids, U.B. Dogs is a great choice for some authentic Chicago-style lunch.
The sandwiches at U.B. Dogs start at $3 and nothing more than $7. Their classic Chicago Dog is only at $3.75, while their Italian Beef is at $6.50. For chili dog cravings, the prices start at $4.25. These sandwiches are generously topped with onion, emerald green relish, tomatoes, mustard, celery salt, and more.
9. Tokyo Lunch Boxes and Catering
For the quickest and best lunch box fix, head on to Tokyo Lunch Boxes and Catering in downtown Chicago. Tokyo Lunch Boxes aims to provide only the freshest and high-quality offerings. What makes them the perfect choice for a quick, cheap but best lunch option is they provide ready-to-go food containers for diners who are in a rush.
The selection at Tokyo Lunch Boxes simply equates to quality and quantity, thus giving the best lunch box offering for both first-time and repeat customers. Their Maki Lunch Box has 12 pieces of a variety of maki options for only $.6.99. The Vegetable Maki Box (12 pieces) and Avocado Maki are priced at $5.99 and $4.99, respectively.
10. Aloha Poké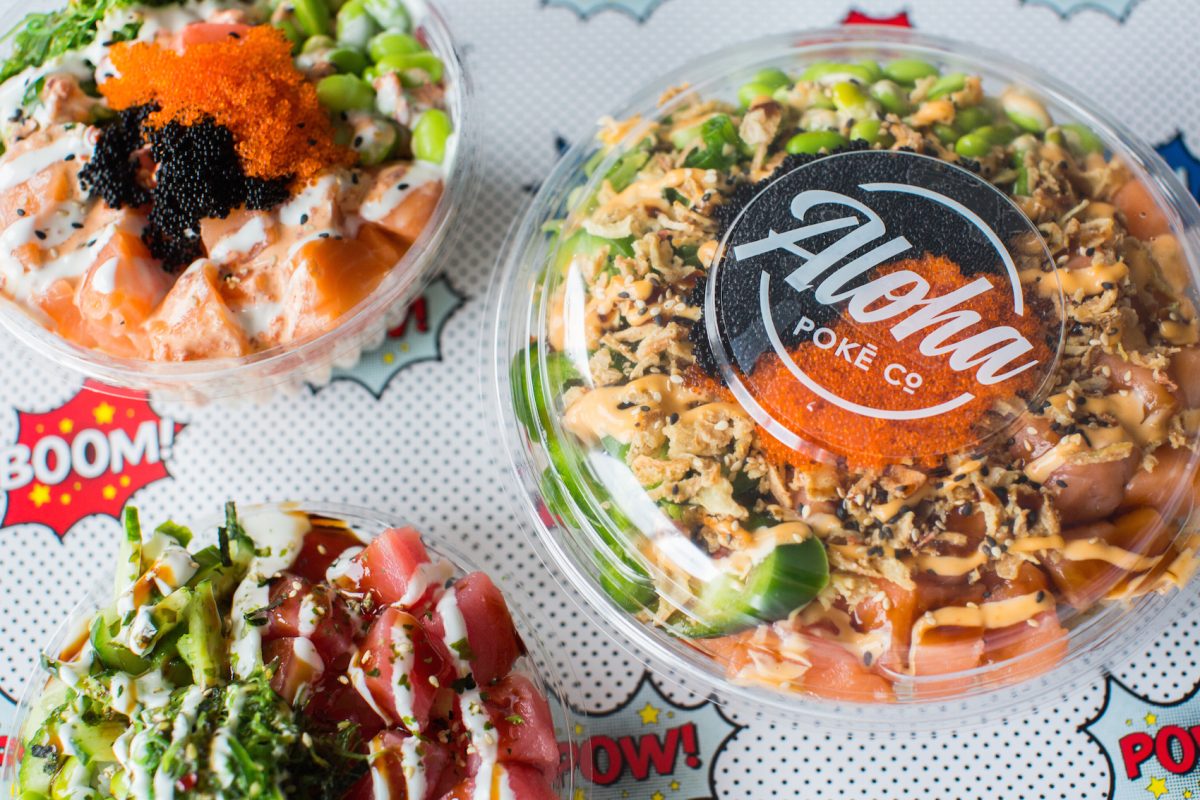 Aloha Poké started the poké craze in Chicago. Their intention is pretty simple: offer fresh and tasty bowls made with quality raw ingredients. Aloha Poké has a variety of flavors and their recipes are created based on their three flagship flavors: Original, Wasabi Mayo, and Spicy.
Aloha Poké is another excellent lunch spot option in downtown Chicago that has recreated the meaning of fast food — focusing not just on fast service but on healthy meal options, too.
Every bowl comes with rice and salad, your choice poké, topped with pineapple, scallions, and lime. The bowls come in different sizes: Little $7, Big $9, and Kahuna $14. There's also a wide selection of Standard and Premium add-ons to choose from.
Time To Make Your Way Downtown
Lunch is one of the boosters to get you through a long day, especially for workers and students who need to refuel midday. However, lunch meals don't have to cost a lot or taste mediocre. Downtown Chicago has a wide selection of best lunch spots that won't hurt your budget but will satisfy your palate — in more ways than one. From salads, poké bowls, to sandwiches and ramen, hopefully, these 10 cheap but best lunch spots in downtown Chicago will make the midday routines a little more bearable.