There's nothing like traveling across America by road. This is the home of iconic Route 66, the Blue Ridge Parkway, the Pacific Coast Highway – there are myriad bucket-list journeys to take.
Yep, hitting the great open asphalt in the USA can mean crossing dusty Arizonan deserts where cowboys once roamed. It can be about feeling the salt spray of the Californian ocean through your window. Or, it can mean weaving through the snow-dusted tops of the Rocky Mountains. It's for all those reasons and more that Cruise America RV rentals are such a popular option for travelers…
In fact, an RV rental could be precisely what you need to take that American odyssey to the next level. Not only do these wheel-spinning rides promise to get you out and about in the great outdoors. They also offer you the chance to take all those prized creature comforts with you. How? Well, Cruise America fields a whole host of possible autos. They start with small-scale vans for the no-frills freedom seeker and go all the way to fully-fledged motorhomes. The latter throw in extras like gas cooktops, refrigerators, showers, and electrical generators. It's like cruising with a hotel in tow!
So, if you find yourself searching for that dream Cruise America RV or sifting through Cruise America reviews, be sure to read on. This guide has useful info and titbits that can help you plan the perfect RV rental. Before you know it, you'll be gliding through the hemlock-hemmed ridges of Appalachia or pulling up at salt-washed surf spots on Oregonian shores. Let's get started…
What exactly is Cruise America?
Cruise America is one of the leading providers of RV rentals in the United States. Since opening in 1972, it's been offering adventurers the chance to lease large-scale motorhomes and smaller travel trucks to live the American dream of cruising through cities, states and wonderful landscapes. It's now an employee-owned enterprise that trades publicly.
Where can I get an RV rental from Cruise America?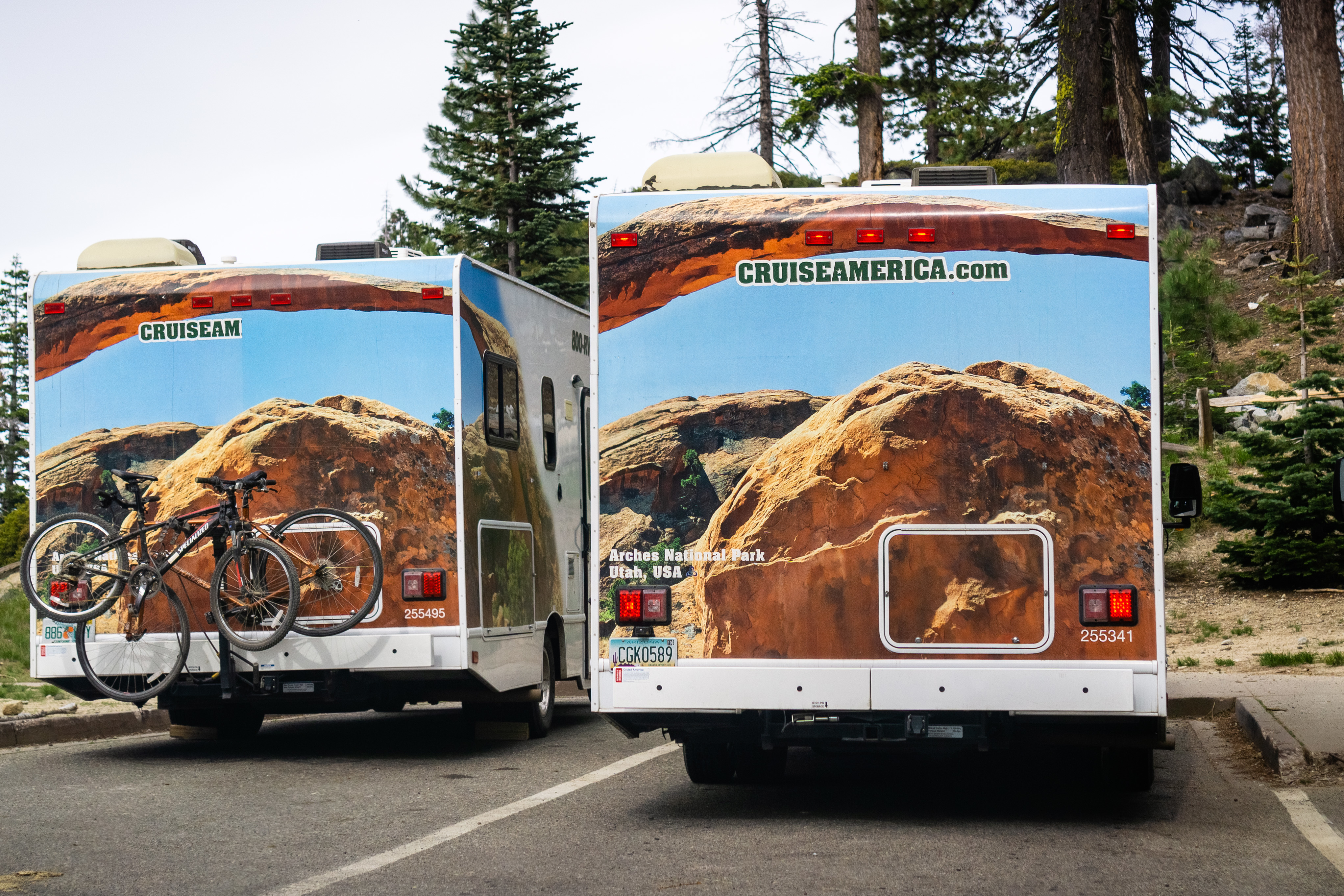 There are hundreds of locations where you can pick up a Cruise America RV rental in the United States. From East Coast to West Coast, the Arizonan deserts to the redwoods of the Pacific Northwest, your ride can be waiting for you pretty much wherever you want. That's thanks to a whopping 132 outlets across the continent (yep, it's possible to find Cruise America in Canada, too). Some offices are found in town centers, others in industrial parks on the outskirts of major cities. Those near big airports are often linked directly to the terminals by shuttle bus.
What types of RV rental does Cruise America offer?
In a world dominated by assisted braking, eco fuel pumps, and diesel-infused engine valves, Cruise America has opted to keep things simple with its range of rental options. Would-be drivers have just four packages to choose from. Each has its own price point, pros, and cons, and is aimed at a different type of traveler. Let's take a look at each, beginning with the smallest…
Truck Camper rental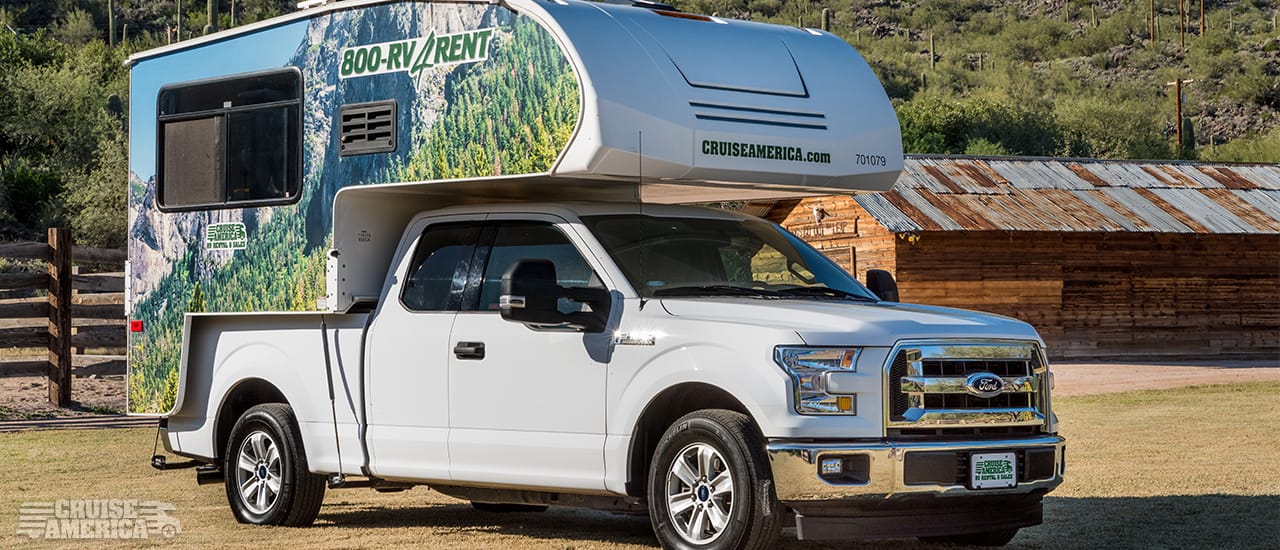 Starting the ball rolling is the Truck Camper Rental. This is the smallest of the bunch. You can expect more of a glorified roadster than a motorhome. The engine room of this bad boy is an F-150 Ford with a five-liter V8 under the hood. You get all the bonuses of power steering and cruise control, along with an AUX-input sound system that's great for playing The Eagles on repeat on any long-haul drives through Cali. Of course, the main limitation of this is the size. Inside, it's compact with room for a small seating area, a double bed, and a small kitchenette.
Compact RV rental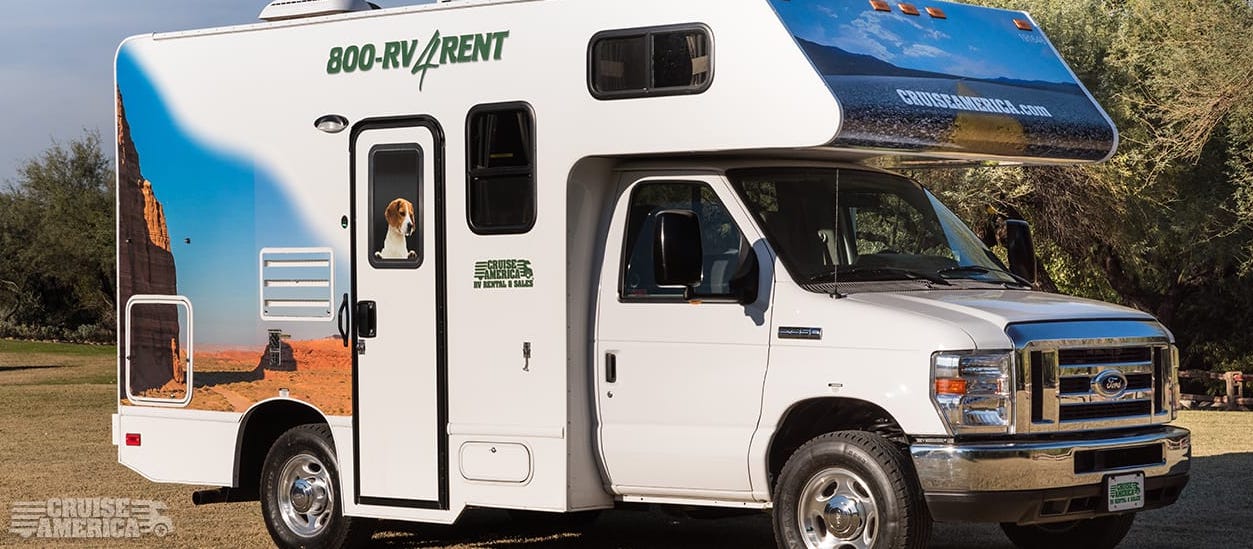 The next size of RV rental on the menu with Cruise America is the compact. Small but not too small, this one's interior boasts extra prep space in the kitchen, two seats up front, and a partitioned dining area. Said dining spaces transform neatly into one double bed come evening, while a lofted section above the driving cab also comes with space for a sleeper. The lower height and width make the compact RV a little less bulky than its larger compadre. That makes it easier to drive in high-wind conditions and on winding mountain roads.
Standard RV rental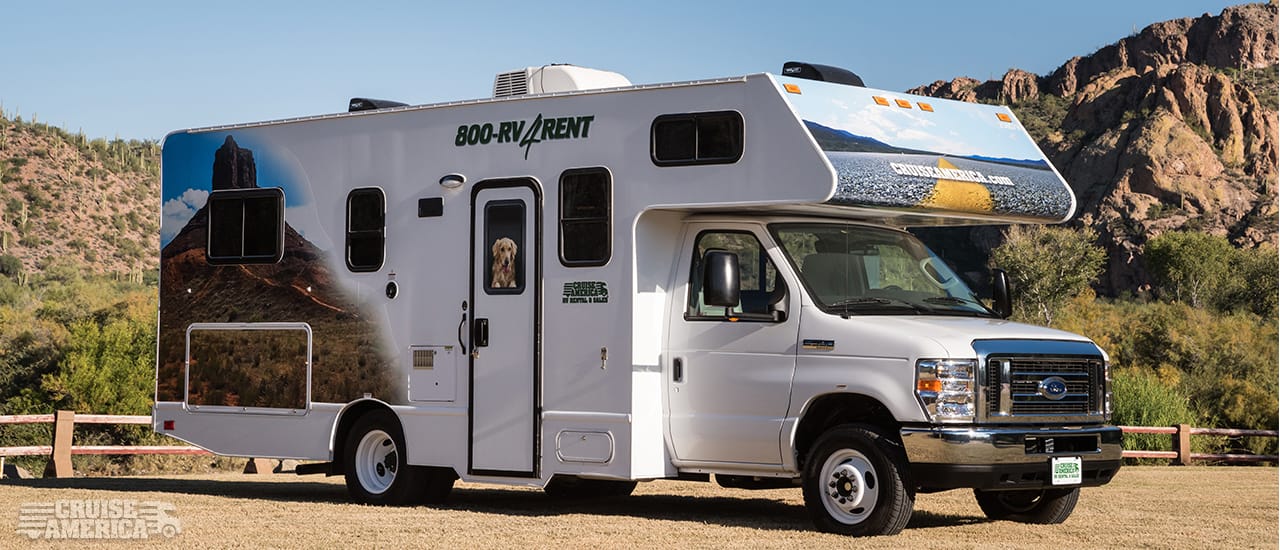 The Standard RV rental option is perhaps the most common choice among Cruise America customers. It's a midrange, mid-sized vehicle that packs in plenty of space and extras to make that roadie across the USA a comfy one.
It's really a classic motorhome, offering a partitioned bedroom, a dining sector, and a large kitchen. You get all the comforts of gas stoves and refrigerator in the cooking area, and there's a roomy bathroom that's loaded with a flowing shower and fresh-water loo. You might want to consider this style of an auto if you're after the classic RV experience. It's also got room enough for the whole family and is an all-round versatile ride.
Large RV rental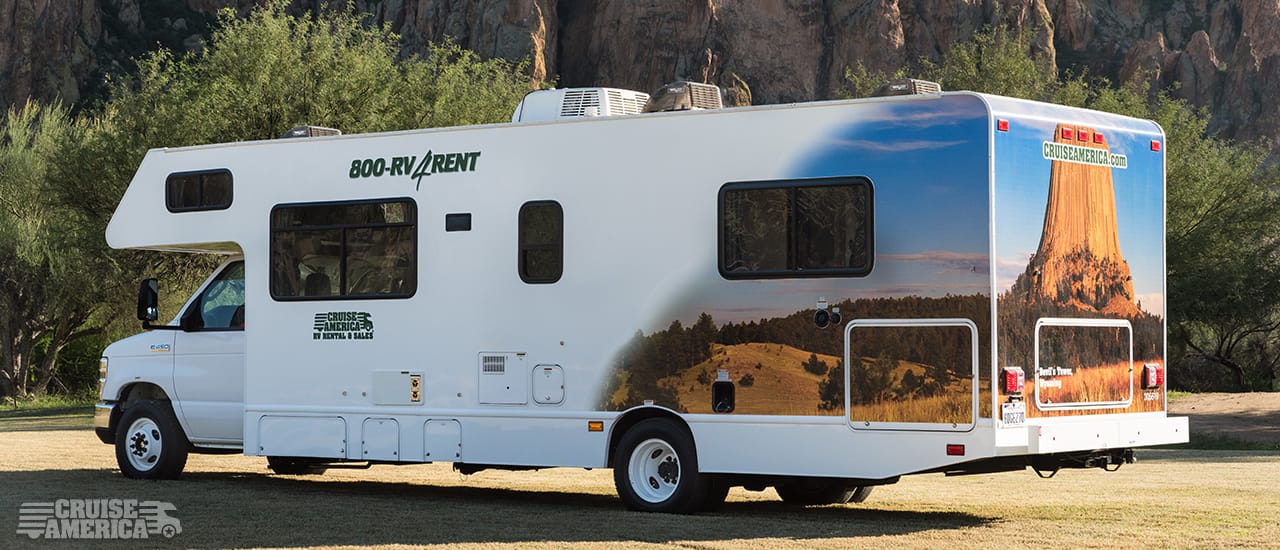 Whoever said size didn't matter? The largest RV rental on offer from Cruise America is powered by a Ford V10 engine and comes with the biggest amount of square meterage of all the options. It's one for extended families who are looking to bring their pets in tow. And it's a top choice if you're looking for more creature comforts on a longer, coast-to-coast road trip. Benefits include a trio of double beds, a single sleeping area, and dual rear tires for a smoother journey.
How much does an RV rental with Cruise America cost?
As with all sorts of vehicle rentals, the costs of a Cruise America RV can be tricky to calculate. What with daily rates, fuel surcharges, add-on policies, and a whole host of potential other extras to factor in, it's usually best to take a holistic approach. That means calculating what your whole trip will cost, from the moment you collect your RV to the moment you drop it off.
Daily Rate 
Naturally, the daily rate will change depending on what particular RV rental you plump for – larger motorhomes will set you back more than smaller ones. On average, the price of a standard motorhome is about $50-60 a night. For a 10-day trip, you're looking at $500 all in.
Miscellaneous Top-Ups 
What's more, personal kits continuing necessities like pillowcases, matches, and plates can be added for around $100 per ride. There are state taxes to tack on, as well as the cost of electrical generators. You'll also have to pay a deposit on pick-up, which is blocked at $500 on a credit card or taken in $1000 cash. And that's not even mentioning the price of mileage (see below).
The upshot of all this is that the cost of a Cruise America RV rental depends on oodles of factors and extras. You might be able to bring a short, local trip in at under a few hundred dollars. For longer rides with all the bells and whistles? It's probably going to be a price tag in excess of $3,000-$4,000 a pop…
All about Cruise America mileage options
One of the things that affect the bottom line on Cruise America RV rentals the most is the mileage. There are surcharges for mileage applied to every vehicle. That comes in at $0.35 per mile and is counted at 100 miles on local rentals, and 250 miles on point-to-point rentals. So, you can expect to pay upwards of $35 more per day when renting on a standard RV just to cover the cost of getting around. Of course, that estimation may go up or down according to your policy and location.
Some RV rentals with Cruise America might be eligible for a premium unlimited mileage option. This is by far the simplest way to go about things. It's not available for all vehicles but means you won't have to keep an eye on that distance ticker.
Where can I go with my Cruise America RV?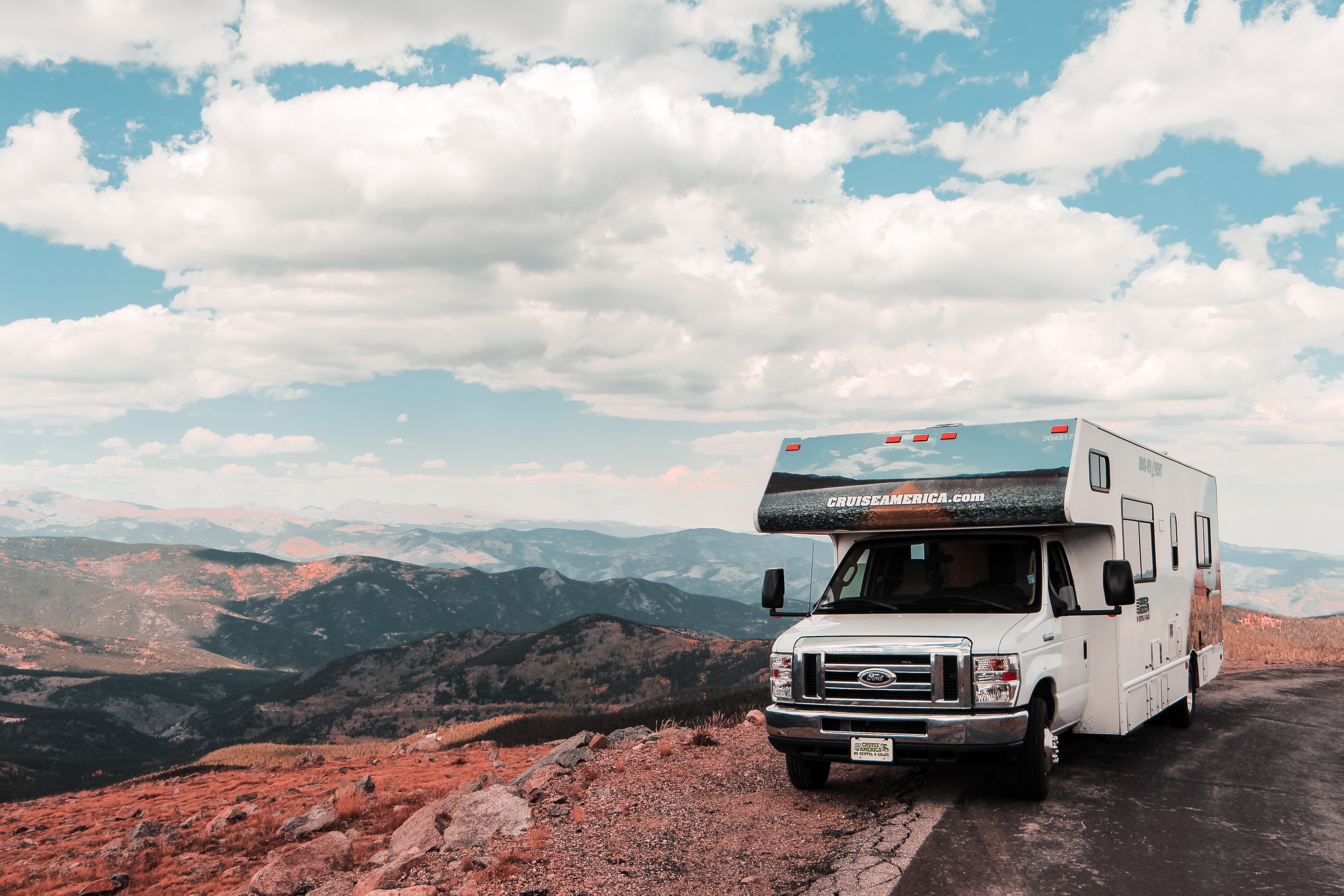 One of the joys of opting for a Cruise America RV is the freedom it brings. If you've ever dreamed of hitting the open road – this is where that dream becomes reality. Yep, from the ancient granite domes of Yosemite to the sand-blasted beachfront of the Carolinas, the wetlands of Florida to the sleeping volcanos of the Washington Cascades, there are not many limits on the wonders you'll be able to see when driving your motorhome across the stars and stripes.
It's really one-way RV rentals that make all that possible. They allow you to go from A to B without worrying about how you're going to return your wheels at the end of it all. Cue New York to San Diego trips. Get ready for those jaunts down Route 66. Prepare for odysseys up the surf-washed Pacific Coastline. You get the idea.
Before starting your trip, it's worth reading up on the few restrictions there are on RV rentals with Cruise America. For example, customers won't get recovery if they go off-road in the far-flung Yukon. And there's no help for breakdowns in extreme Death Valley locations come the scorching summer months, either.
Where can I sleep with my Cruise America RV?
One of the most common questions that would-be renters ask is where they can spend the night. Of course, RV rentals are equipped with a bed (sometimes several). But does that mean you can rock up and catch some Z's wherever you want?
The answer: Within limits.
In fact, just glossing over Cruise America reviews is usually enough to see the variety of places where RV rental folk have gotten some shuteye. They include Walmart parking lots (it's recommended to ask permission of the store manager beforehand, though) and rest stops on the roadside in a whole host of states (some states, like Arizona and Texas, don't permit it).
However, by far the most comfortable place to spend the night in your RV is in a dedicated RV campsite. There are more of these than you can poke a Buffalo wing across the United States. They sit in sleepy city suburbs and cling to the edges of breathtaking national parks alike. Some have modern facilities with electrical hookup points and flushing toilets. Others are more rustic affairs, where it's likely to be just you and the engine and the starry skies.
You can soften the cost of staying in RV rental campgrounds by getting passes of all sorts. Take America the Beautiful pass as an example. It costs $80 for the year but provides the holder access to loads of federally operated recreation sites, many of which contain paid campgrounds at a small extra charge.
What's it like driving a Cruise America RV?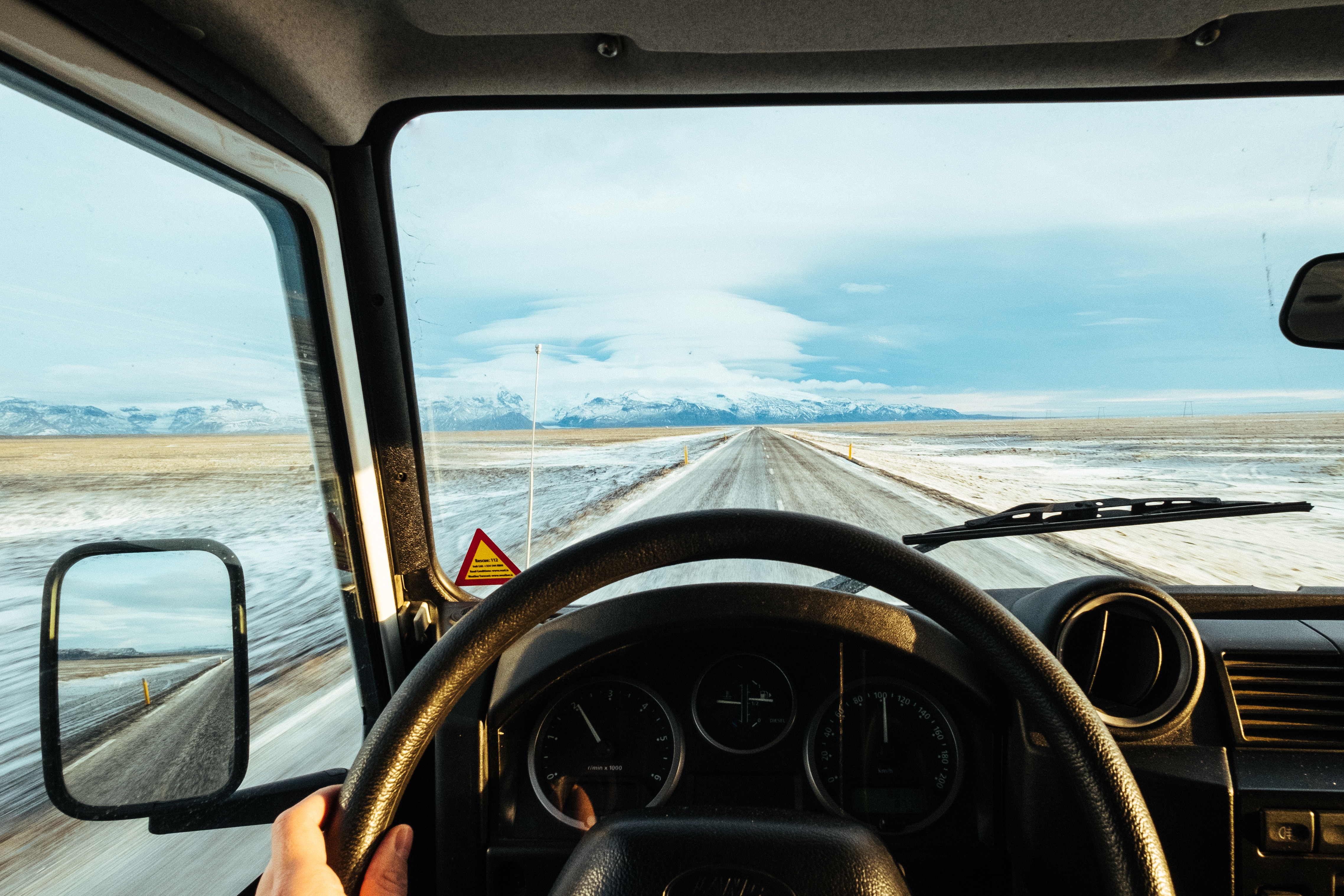 Let's not pretend that driving a dual-wheeled 20-footer is the same as purring around in an economy car. It's not. C-type motorhomes are a little different from classic autos, but not so different you won't be able to handle them.
The major changes are the effect that high winds and adverse weather will have on your driving. You might find you'll need to compensate more on the wheel as you come over the blustery buttes of Colorado, for example. Adding to that, the extra weight means it can often be tricky getting up steep slopes, though powerful Ford engines and modern tech usually takes care of that too.
Takeaways
One thing for sure is that there are plenty of RV options for you to choose from. But if you're down to choosing the best Cruise America RV, you'll find your answer right here. However, if you're seeking some of the best places to camp with your RV, here are some suggestions.